On hot summer days there is nothing better than enjoying a water parks for a day of fun and escaping the heat. As the locals can attest, Alabama summers are nothing to scoff at! These water parks are one of the best day-trip or mini-vacation destinations for you and your family or group of friends. It's always better to go in groups for maximum fun, enjoyment, and memories.
In this guide, we list some of the best water parks in Alabama. From major amusement parks that attractions thousands of visitors every year to local mainstays that are equally well-loved by its community. While these aquatic playgrounds may have different attractions, they all deliver on the most important part — a day of fun!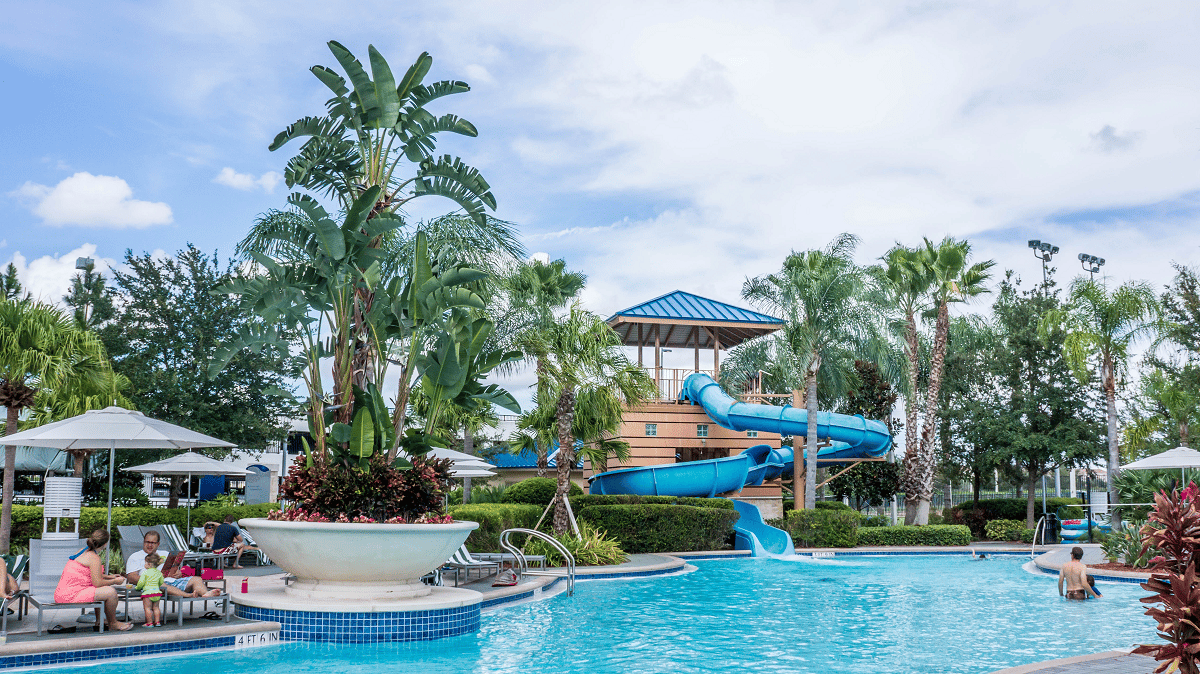 Map of Waterparks in Alabama
Best Water Parks in Alabama
Top 13 Waterparks in Alabama
There are several water parks in Alabama where you can cool off and have fun, especially during the summer. Below are some of the best water parks in Alabama to include in your list of places to visit in the state this summer.
1. Alabama Splash Adventure Water Park – Bessemer, AL
The heart of central Alabama is the home to Alabama Splash Adventure. This 89-acre water park is located just off Interstate 20/59 in Bessemer City. It is part of a larger amusement complex, the Alabama Adventure Amusement Park.
The entire water park features more than 26 exciting attractions, 10 of which are located in the Splash Adventure Water Park. Some of the main attractions include:
four enclosed water slides
a lazy river
a kids play area with five water slides
large rolling wave pool
water booby-trapped maze filled with surprise showers and trigger water chutes.
If you're a thrill-seeker, Alabama Splash Adventure Water Park features a some of the best water slides in the state:
Free Fall -an extreme open-flume drop slide
Twister – another high slide filled with twists and turns
UpSurge – a five-story slide that ends with a 216-foot flume
The Rocket Racer – the water park's newest addition with a 400-foot long mat racer featuring six slides side-by-side at more than 50 feet high.
Aside from the thrilling water rides and slides, the water park has other fun perks that come with your admission ticket. All guests visiting the water park and the amusement park get to enjoy free live shows, life jackets and inner tubes, and all-day parking. Best of all, you can get free unlimited soft drinks from the Pepsi Oasis stations found all over the park!
Directions from Birmingham: Map
Address: 4599 Splash Adventure Parkway, Bessemer, AL 35022 | Phone: (205) 481-4750 | Website: https://alabamaadventure.com/


2. Guin Water Park – Guin, AL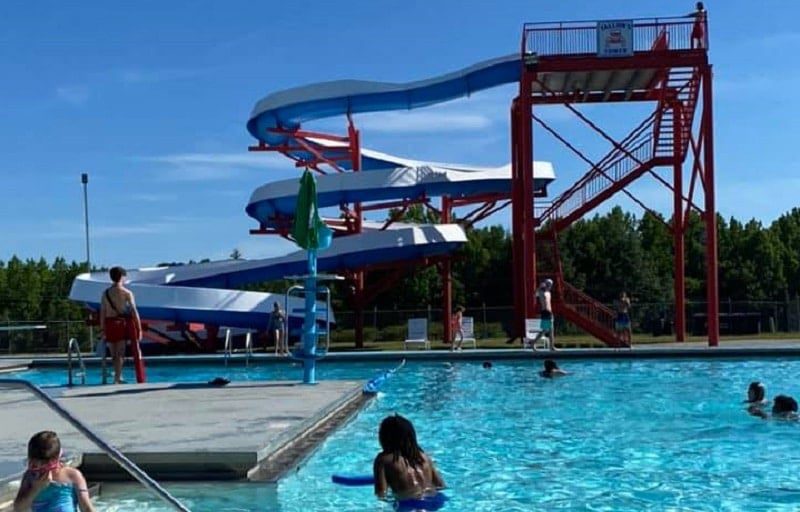 Guin water park is a small hidden aquatic gem tucked away in Guin, Marion County. Located just a stone's throw away from Guin Baseball Park, this local water park is much-loved among its community. For just $6 per person, you can enjoy a whole day of fun at Guin water park. It features:
Olympic size swimming pool
two diving boards
large twisty water slide
rain tree
If you and your family are major water park enthusiasts, then you'll love this park's $250 Season Passes.
Guin Water Park might not have a lot of extravagant attractions, but what it does have is everything you'd want for a day of aquatic fun. One of the advantages of a smaller water park is that you can affordably reserve the place for a private party! Guin water park also holds regular water parties, complete with glow sticks and a live DJ.
Directions from Birmingham: Map
Address: 245 County Highway 16, Guin, AL 35563 | Phone: (205) 468-3045 | Website: https://www.facebook.com/Guin-water park-280430262383823/
3. Indoor Water Park At OWA Parks & Resort – Foley, AL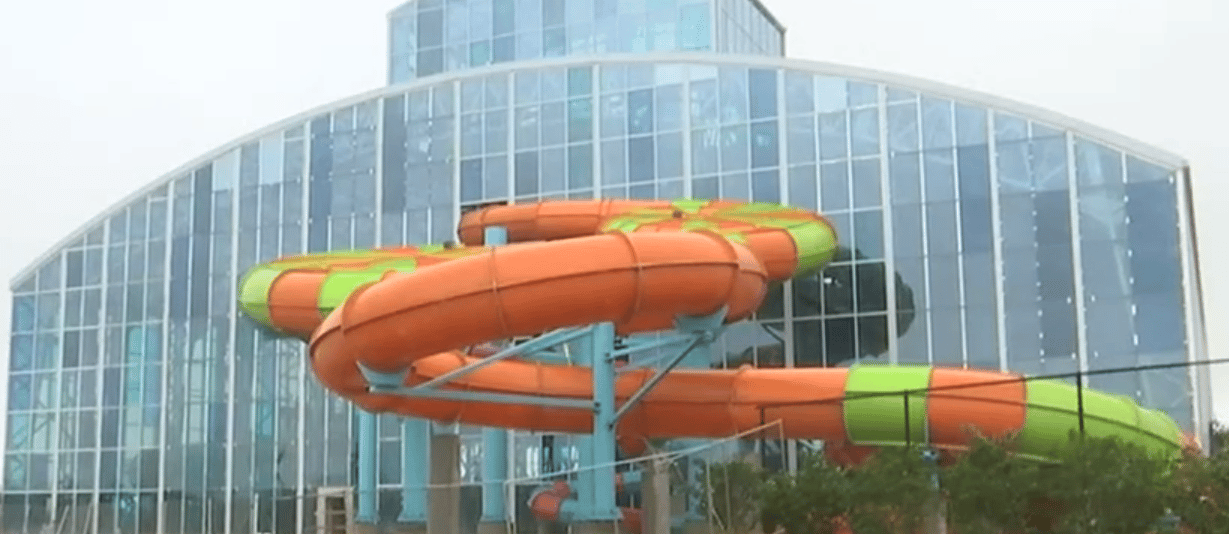 Water parks are an amazing way to cool off during Alabama's hot summers. Sometimes, though, not even the lure of exciting water attractions and refreshing pools is enough to get you out and about during Alabama summers. That's what makes the Tropical Falls Indoor Water Park the perfect choice. This indoor water park is set to open in late June 2022 ,but iit's already making waves among locals and tourists.
Located inside the 520-acre OWA Parks & Resort in Foley, AL, the Tropical Falls Indoor Water Park is set to become the largest and one of the best water parks in Alabama. Visitors can thrill and chill inside the man-made indoor tropical escape, which features a convertible glass roof, color-changing lights, and over 200 palm trees.
The indoor water park's attractions will include a huge 30,000 square-foot wave pool and 142-foot twisting water slides, including mat racers, tube slides, and body slides. If you're looking for even more adventure, Gravity Island inside the OWA Parks & Resort compound has everything you need to try wakeboarding, wakeskating, or kneeboarding. It also has two inflatable obstacle courses for fun times with the whole family.
Directions from Mobile, AL: Map
Address: 101-N South OWA Blvd, Foley, AL 36535| Phone: (251) 923-2111 | Website: https://visitowa.com/tropic-falls-coming-this-summer/
4. Pirate's Bay Water Park – Leesburg Town, AL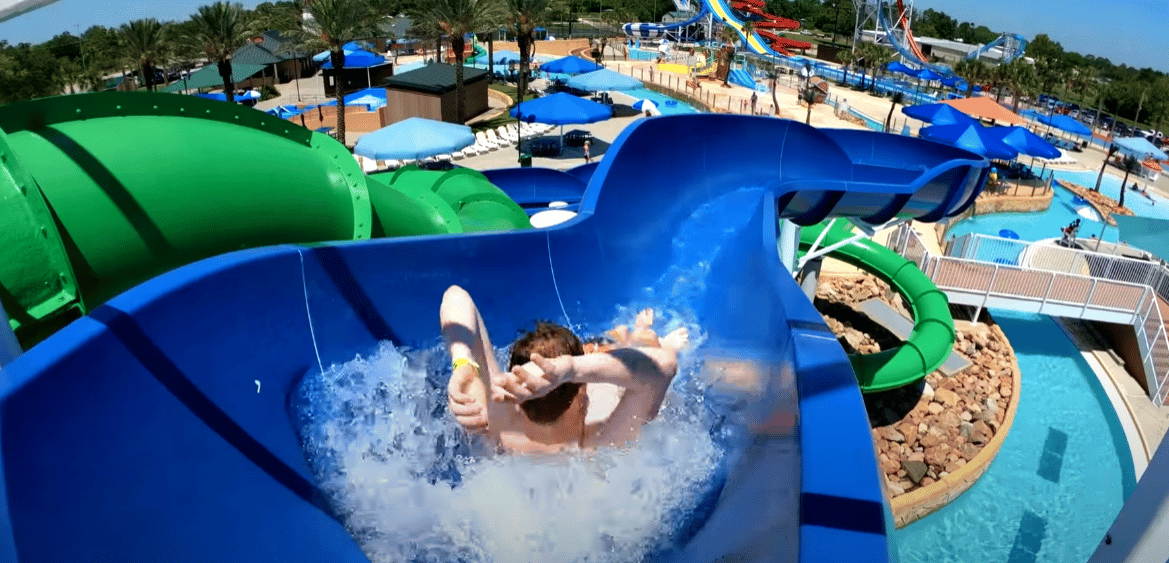 Anyone looking for a barrel of fun and games in Leesburg won't go wrong with setting sail for Pirate's Bay Water Park. This fun water park offers several pools, waterfalls, tall slides, and a safe water zone for kids to play in. Aside from the sprawling aquatic playground, Pirate's Bay also has many other treasures and gems. After enjoying the pools and slides, you and your friends can wind the day down with a few rounds of mini golf or a meal at the water park's dining pavilion.
This local water attraction is built for hours of playtime and leisure. If a whole day of sliding and swimming isn't enough for you, the park is located near two premier family vacation accommodations: Chesnut Bay Resort and Great Escapes RV Resort Chesnut Bay.
Directions from Birmingham, AL: Map
Address: 44541 County Road 147 Leesburg, AL 35983 | Phone: (256) 613-8442 | Website: https://www.piratesbaywater park.com
5. Red Bay Water Park – Red Bay, AL

Red Bay Water Park, also known as Red Bay Family Fun Park to some, is one of our favorite water parks in Alabama. It's located in the Bankhead & Sipsey Wilderness Area in north Alabama and offers hours of fun for locals and tourists who want a day of beat the heat.
The water park has three swimming pools, two huge water slides, and four small kid-friendly slides. For just $8 per person, you get to enjoy these attractions plus a skateboard park, kid's play area, and a quarter-mile walking trail around the park.
If you're planning a trip up north to visit Red Bay Water Park, make sure to plan your trip before September. The water park is open daily from lunchtime to 5 PM, but only from Memorial Day weekend until the middle of August.
Directions from Huntsville, AL: Map
Address: 650 2nd Street NW, Red Bay, AL 35582 | Phone: (256) 356-2115 and (256) 356-4473 | Website: https://alabama.travel/places-to-go/red-bay-water-park
6. Water World – Dothan, AL
Its name might be simple, but Water World in Dothan, AL is easily one of the best waterparks in Alabama! Filled with amazing attractions for all ages, this water park is one of the most popular attractions for both locals and tourists every summer. They offer exciting thrill rides to a day of relaxation in their RipTide Wave Pool. The facility features 450,000 gallons of crystal clear water, a soft carpeted beach area, and gentle 3-foot waves coming your way every 10 minutes.
If you're looking for more excitement, the park's four-story Great White high velocity slide is everything you've dreamed of. There is also:
three 40-foot tall body slides filled with twists and turns
a speed slide
an open-flume slide
a closed-flume slide
spinning and sliding Storm Bowl
Water World ensures kids not tall enough for the big slides can still enjoy their time at the aquatic amusement park. The Kids Cove is filled with water cannons, tippy buckets, enclosed kiddie slides, and pools.
Directions from Montgomery, AL: Map
Address: 401 Recreation Road Dothan, AL 36303 | Phone: (334) 615-3750| Website: https://www.waterworlddothan.com
7. Waterville USA – Gulf Shores, AL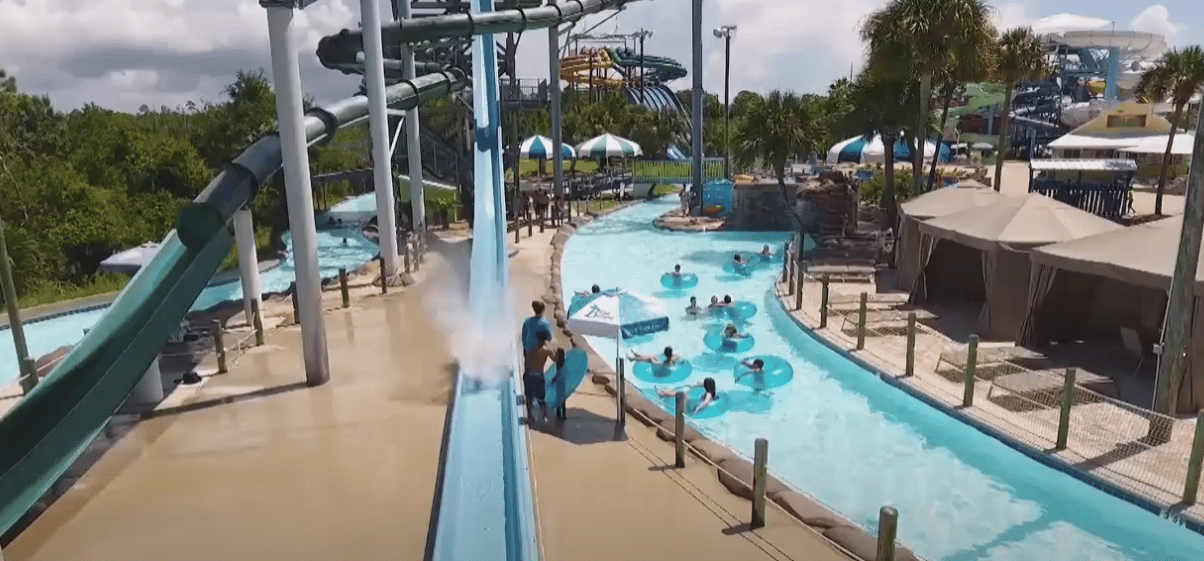 Waterville USA is one of the best water parks in Alabama for the whole family. With several huge and tall slides, it's no wonder why Waterville USA attracts tons of visitors each year. Best part is it's located right on a beach within the Gulf Shores to provide additional fun under the sun.
The water park has a total of seven water slides. These include the 60-foot high-speed Screamin' Demon slide, a 350-foot-tall Jet Stream slide, and the iconic Great White slide which passes through a tunnel and waterfall before dropping you to a lagoon.
You and your friends can race each other down the park's Dune Racer, a 55-foot-tall, six-lane mat racer with a large curve before the drop. Waterville USA also has a simulated surfing and bodyboarding attraction. For kids and anyone looking for something more mellow, the water park has a slow, flowing river, a wave pool, and the Rainbow Falls slides. The park also has two water playgrounds for kids and toddlers: the Shrimp Boat Village and Wawa World.
Waterville USA also offers rental cabanas for when you and your companions get tired and washed out. The private cabanas not only offer cool shade but also come with food and beverage service.
Waterville USA offers more than just a wet and wild water park. Inside the compound, you'll also find other amusement park attractions, including a mini golf course, a launch pad, and arcade. They also have an escape house to test you and your friends' teamwork and a virtual reality center!
Directions from Mobile, AL: Map
Address: 906 Gulf Shores Pkwy, Gulf Shores, AL 36542 | Phone: (251) 948-2106 | Website: https://watervilleusa.com
8. Southern Adventures, Huntsville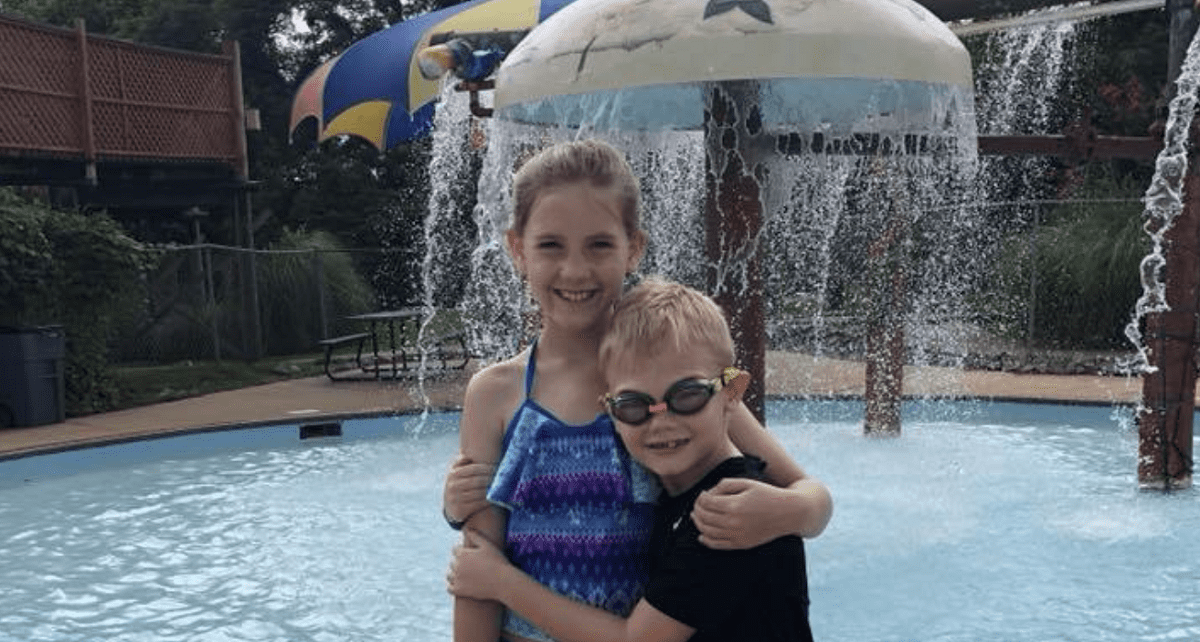 Southern Adventures in Huntsville, Alabama is an amusement park for the whole family. It offers a wide range of activities and attractions to keep everyone entertained. From thrilling roller coasters to classic carousels and from bumper cars to mini golf, Southern Adventures has something for everyone! Featuring over 30 rides and attractions, this amusement park also houses a variety of restaurants and shops that appeal to all ages.
The star attraction at Southern Adventures is its signature wooden roller coaster called The Rampage. This legendary ride features two 360-degree loops as well as several other exciting drops and turns that make it one of the most thrilling experiences in the state. For those looking for more relaxed fun, there are plenty of slower-paced options like kiddie rides or a relaxing train ride through Animal Kingdom Park where you can see exotic animals up close.
For families wanting more than just rides, Southern Adventure's waterpark offers endless aquatic thrills with slides, wave pools, lazy rivers and much more! With lifeguards on duty at all times it's perfect for little ones who want to splash around in safety while older kids take on some bigger challenges with body slides or tube rafting adventures. There are also cabanas available which provide shade during your day out so you can relax away from the sun's rays while still having easy access to all the action nearby!
Whether you're looking for thrills or chills (or both!), Southern Adventures has something for every member of your family – making it one of Huntsville's top destinations year after year!
Directions from Huntsville, AL: Map
Address: 2150 Leeman Ferry Cir SW, Huntsville, AL 35801
9. Point Mallard Park, Decatur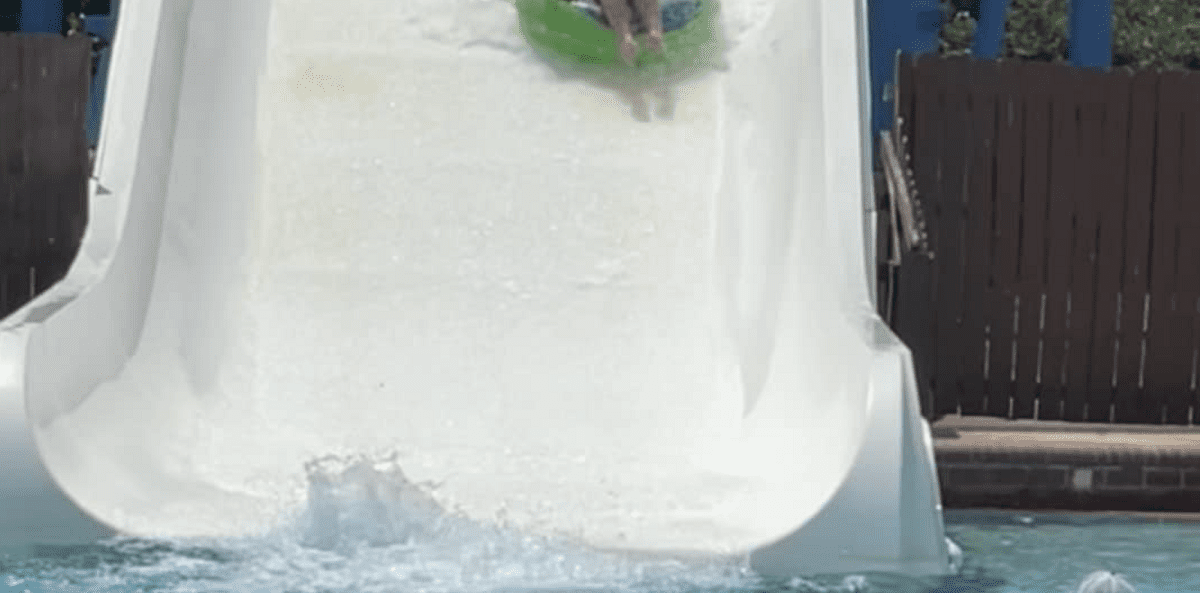 Alabama Point Mallard Park is a public park located in Decatur, Alabama. It is one of the most popular attractions in North Alabama and offers visitors a wide variety of activities to enjoy. The park covers over 600 acres and includes:
two large lakes
Olympic-sized swimming pool
18 hole golf course
miles of walking trails
playgrounds for children
Point Mallard Park offers a Wave Pool which has been described as "one of the greatest wave pools ever built" by USA Today newspaper. This manmade lake was designed to simulate ocean waves that can reach up to four feet high! You can also have fun surfing or body boarding on these waves or just relax while watching friends or family attempt to. There are also water slides and other water features available throughout this section of the park that provide lots of entertainment for families with kids.
Directions from Huntsville, AL: Map
Address: 2901 Point Mallard Cir SE, Decatur, AL 35601 | Phone: (256) 341-4900 | http://www.pointmallardpark.com/
10. Hartselle Aquatic Center, Hartselle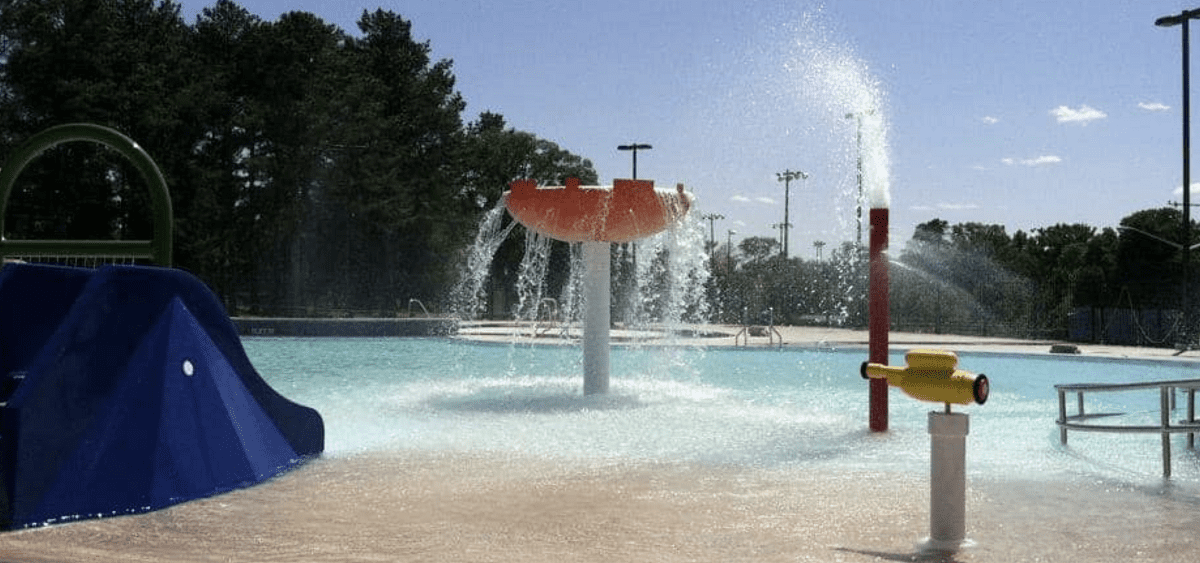 The Hartselle Aquatic Center is a state-of-the-art aquatic facility located in the city of Hartselle, Alabama. The center offers a variety of water sport activities and amenities that make it an ideal spot for both competitive swimmers and leisurely visitors.
Hartselle Aquatic Center offers a large warmup pool available to use before and after meets or practice sessions. There are also locker rooms equipped with showers and changing areas for people who need them. When you are ready to jump into the waters, the center provides slides, splash pads, lazy rivers, spray fountains, whirlpools and more!
Address: 406 Nance Ford Rd SW, Hartselle, AL 35640 | Phone: (256) 751-5668 | Website
11. Adventureland, Dothan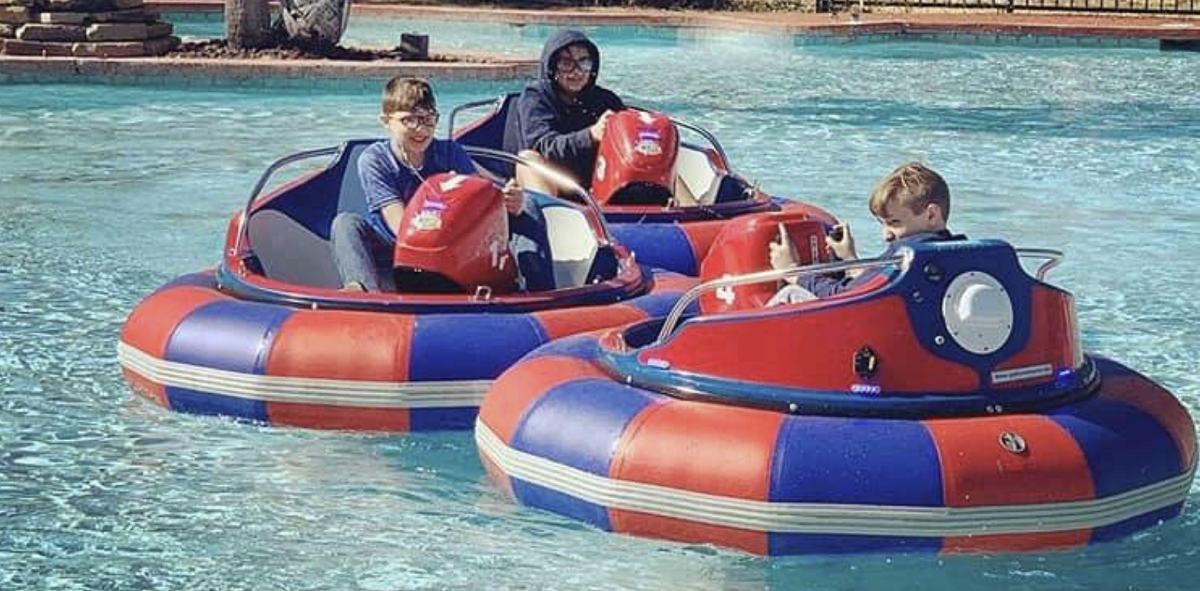 Adventureland in Dothan, Alabama is a family-friendly amusement and water park with more than 25 rides and attractions. It features classic kiddie rides like the carousel and Ferris wheel and roller coasters like the Wildcat and Twister. There are also plenty of water activities to enjoy such as bumper boats, lazy rivers, and water slides.
he park is open seasonally from April through October each year with special events throughout the season including Fourth of July fireworks displays and holiday celebrations. Admission prices vary depending on age but there are discounts available for groups or those who purchase an annual pass. Parking is free of charge so visitors can come early to get the most out of their day at Adventureland!
Address: 3738 W Main St, Dothan, AL 36305 | Phone: (334) 793-9100 | Website
12. Fayette Aquatic Center, Fayette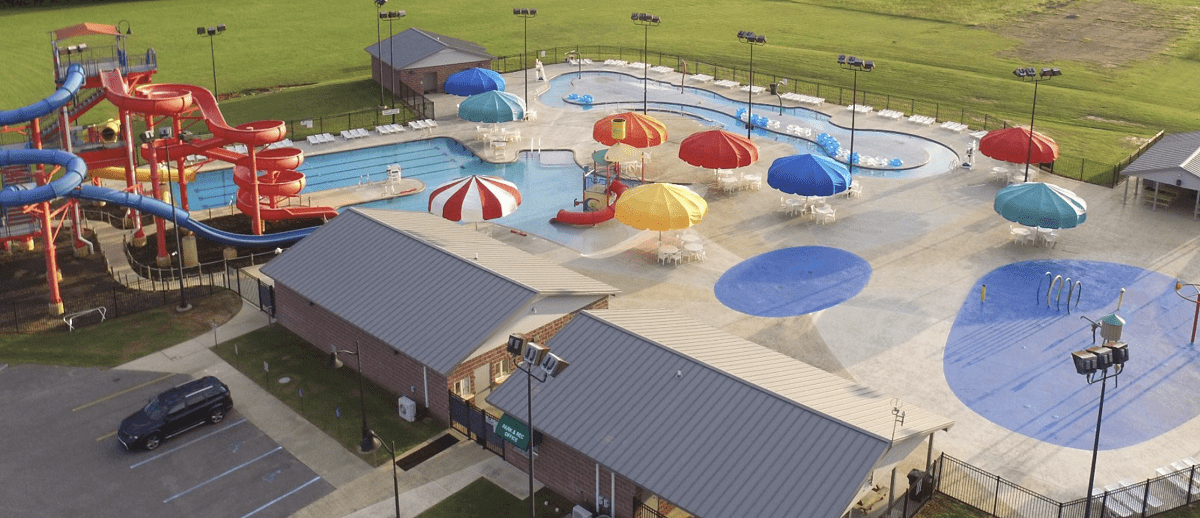 The Fayette Aquatic Center is popular water park in Alabama for it's variety of water attractions to choose from. It features two outdoor pools, one shallow pool with a zero depth entry feature and another larger pool suitable for lap swimming or recreational play. There are also two outdoor water slides that provide hours of fun!
The center also has an indoor leisure pool which is heated to 84°F year round and features bubble benches, interactive fountains, sprayers and more. The indoor area also includes a lazy river and whirlpool spa perfect for relaxing after a long day. There are several other amenities at the Fayette Aquatic Center such as locker rooms with showers, party rooms available for rental, playgrounds, and much more.
With its reasonable rates this aquatic center can easily become your go-to destination when looking for something fun to do on hot summer days!
Address: 218 23rd St NE, Fayette, AL 35555 | Phone: (205) 932-2196 | Website
13. Cullman Wellness and Aquatics Center Water Park
The Cullman Wellness and Aquatics Center Water Park is a one-of-a-kind facility located in Cullman, Alabama. It features:
two large outdoor pools
indoor water park with slides and interactive play areas
aquatic therapy pool
The center also offers fitness classes, lap swims, open swims, a diving well, and spa services. The outdoor pools feature sun decks with plenty of lounge chairs so you can soak up some rays while still enjoying your time in the pool. Inside there are several slides including the Black Hole which takes riders through tunnels filled with lights before dropping them into a splash landing! There's also an activity pool for younger children that includes basketball hoops and interactive water toys like geysers that spray up out of the ground.
Directions from Birmingham, AL: Map
Address: 1636 Field of Miracles Dr SW, Cullman, AL 35055 | Phone: (256) 775-7946 | Website
13 Amazing Water Parks in Alabama
1. Alabama Splash Adventure Water Park
2. Guin Water Park
3. Indoor Water Park At OWA Parks & Resort
4. Pirate's Bay Water Park
5. Red Bay Water Park
6. Water World
7. Waterville USA
8. Southern Adventures
9. Point Mallard Park
10. Hartselle Aquatic Center
11. Adventureland
12. Fayette Aquatic Center
13. Cullman Wellness and Aquatics Center Water Park
Be sure to also check out our list of the best indoor water parks where you can enjoy amazing water slides and pools year round!
Looking to explore Alabama? Here are some other great things to do in the state: