Water Parks in Connecticut
When the sun's out, so should be your bathing suits. As the summer slowly creeps in with its blazing heat, waterparks start looking like the perfect summer paradise. If you live in Connecticut or are visiting, you're lucky enough to have a few different waterpark choices. There are many different types of waterparks, from the ones with massive slides and gravity-defying drops to the more family-friendly ones with calmer waters. No matter your preference, there's a waterpark in Connecticut that will suit your summer needs.
In this guide, we've outlined some of the best waterparks worth visiting in Connecticut. So, whether you're looking for an adrenaline-pumping experience or a serene summer getaway, keep reading!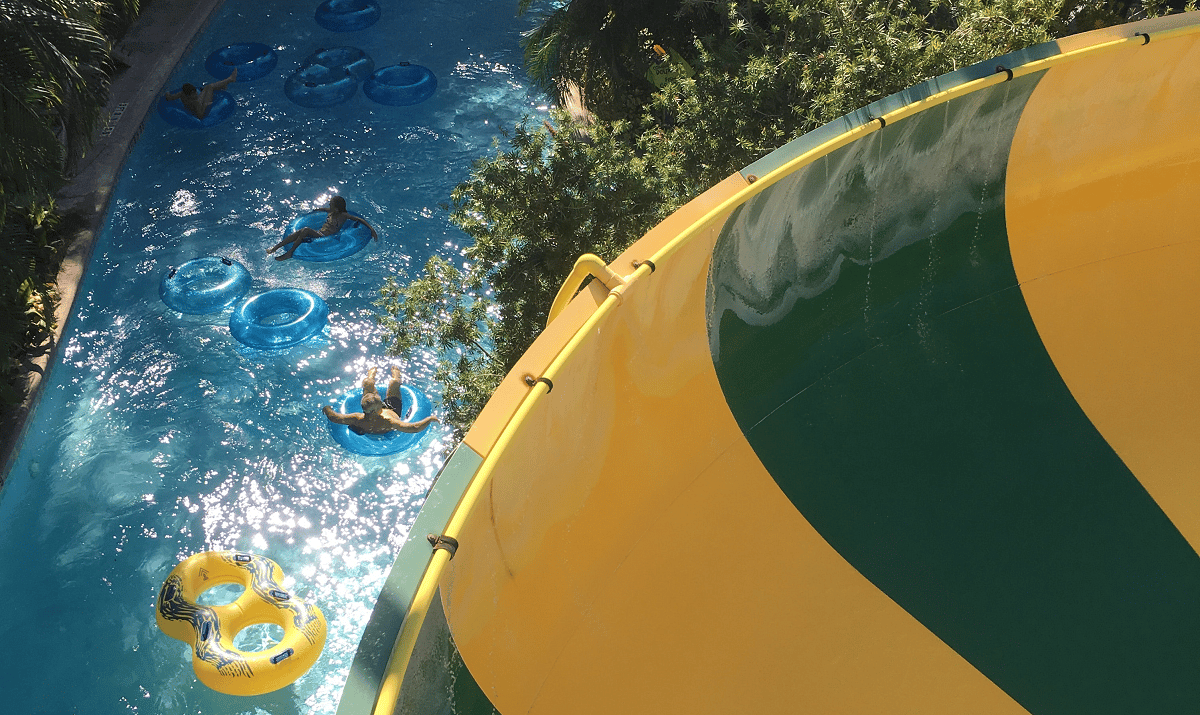 Best Waterparks in Connecticut
Let's Get Splashing! Spending the day at a waterpark with your family or friends is one of the best ways to enjoy the summer heat. It's the best way to make lasting memories and reconnect with your loved ones. There's a great waterpark waiting for you and your family no matter where you are in Connecticut. With various parks to choose from, you can never run out of places to chase your summer fun.
So, what are you waiting for? Go ahead and call your friends or gather your family members and start planning your next big waterpark adventure.
1. Lake Compounce – Bristol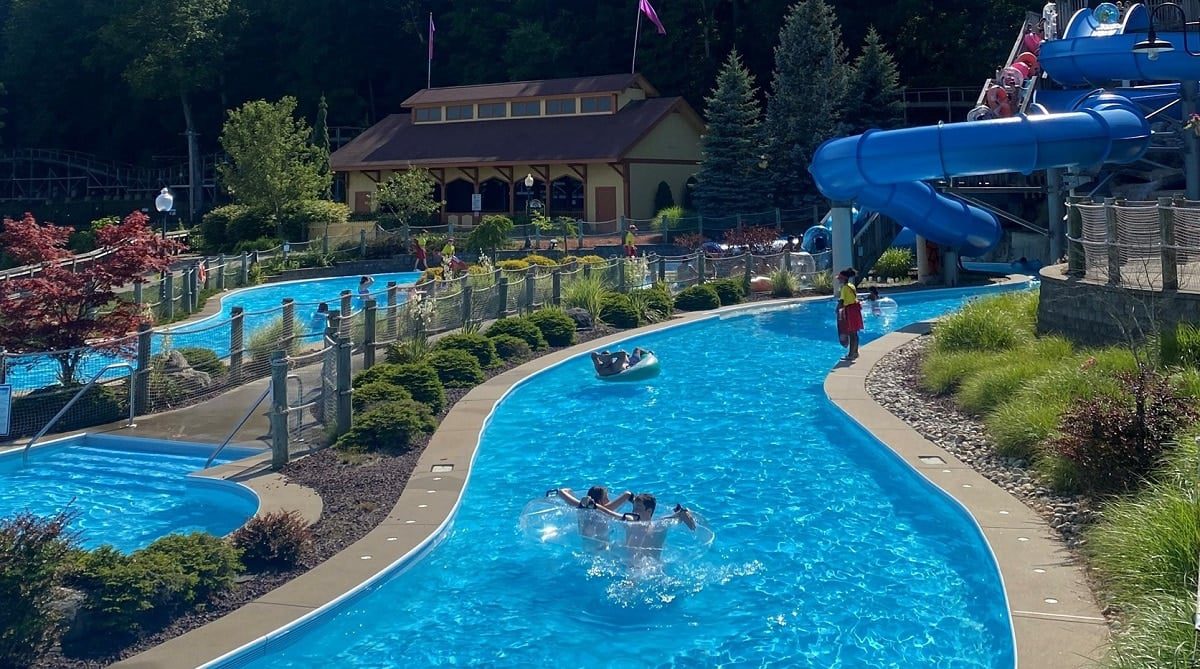 With more than 170 years of providing fun, Lake Compounce boasts its rich history as North America's "oldest, continuously-operating amusement park." This 332-acre water and amusement park in Bristol is a crowd favorite and one of the best waterparks in Connecticut.
Lake Compounce offers a wide variety of activities perfect for a whole family. You can set up camp at the Lake Compounce Campgrounds or take a dip at Bayou Bay. As a hybrid water and amusement park, visitors can also enjoy their Ferris wheel, bump cars, and other exciting amusement park rides. Some of their most popular waterpark attractions are the Mammoth Falls, Clipper Cove, Anchor Bay, Riptide Racer, and Storm Surge. Spending a day at Lake Compounce is the perfect way to bond with your family and friends.
Ticket prices may vary per season. Because of this, it's critical that you check their website first to see the updated rates. As of writing, a single-day admission costs $59.99, but they offer a discounted price of $39.99 if you buy a ticket online.
Address: 185 Enterprise Drive, Bristol, CT 06010 | Phone: 860-583-3300 | Website: www.lakecompounce.com
2. Ocean Beach Park – New London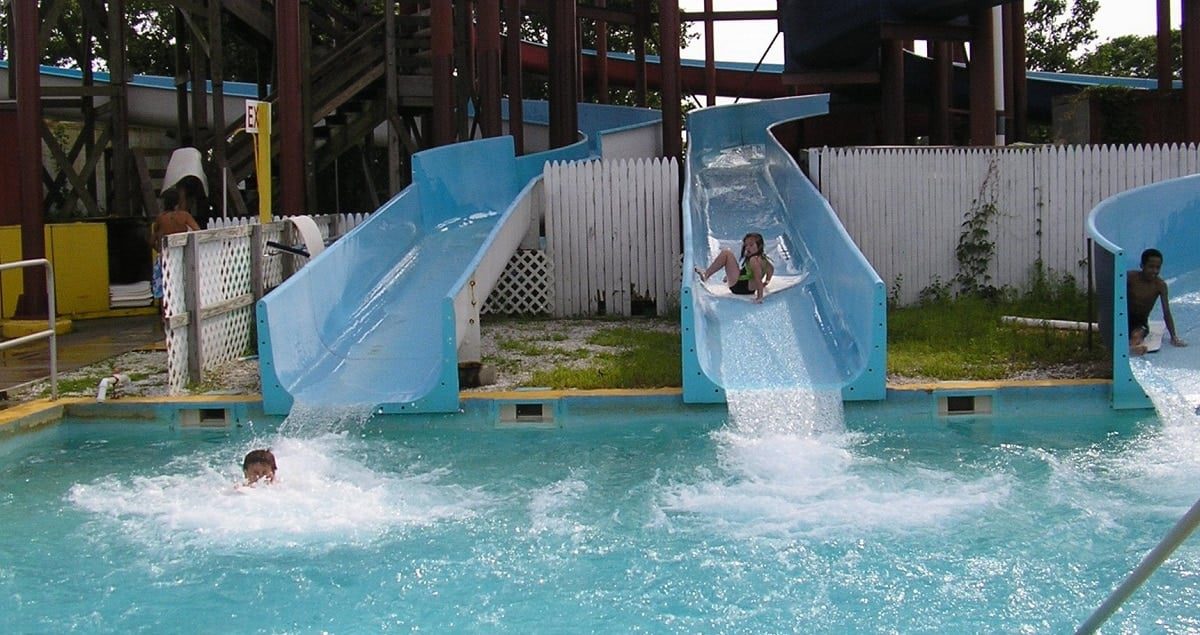 Ocean Beach Park is located in New London, Connecticut, near Ocean Drive. This 50-acre waterpark boasts a beautiful white sand beach view, 50-meter Olympic pool, and a beautifully landscaped 18-hole miniature golf course.
Aside from being one of the best waterparks in Connecticut, Ocean Beach is also a great place to get lost in and bask in the magnificence of nature with its Nature Walk. If you're looking for an indoor family activity, you can visit their game room and enjoy some classic arcade games. Currently, it will cost you around $25.00 to $30.00 to enter the waterpark. You can check their website for more detailed pricing information.
Address: 98 Neptune Avenue in New London, Connecticut. | Phone: (860) 447-3031 | Website: ocean-beach-park.com
3. Splash Away Bay Water Park – Middlebury
Splash Away Bay Water Park is a part of the 20-acre Quassy Amusement and Water Park located in Middlebury, Connecticut. This waterpark features a wide variety of slide attractions, such as the Tunnel Twisters, BulletBowl, and FreeFALL Extreme Body Slides.
Other than its upbeat and thrilling slides, Splash Away Bay Water Park is well-known for its Saturation Station. This water playground is perfect for crowds of all ages as it has several spraying fountains, bubbling jets, and a giant dumping bucket. Admission to the Quassy Amusement and Water Park will cost you around $20.00 to $35.00 per person. You can visit their website or call their hotline for more accurate pricing.
Address: Lake Quassapaug, Rt. 64 (2132 Middlebury Road, CT 06762) | Phone: 1-800-FOR-PARK or 203-758-2913 | Website: www.quassy.com
4. Action Amusements Waterslide – New London
As one of our favorite water parks to visit, this aquatic facility has everything you'd want in a day of escaping the heat. They feature several water slides that twist around each other until crashing into a large pool below. Other attraction attractions include a huge lazy river and even a wave pool that springs to live every 30 minutes.
There is also a nice kids zone with water cannons and dunk tanks that spill over before refilling again. When you are hungry, check out their food court which has all the classics such as pizza, hot dogs, and fries.
Address: 98 Neptune Ave, New London, CT 06320 | Phone: (860) 383-5273 |
5. Quassy Amusement & Water Park – Middlebury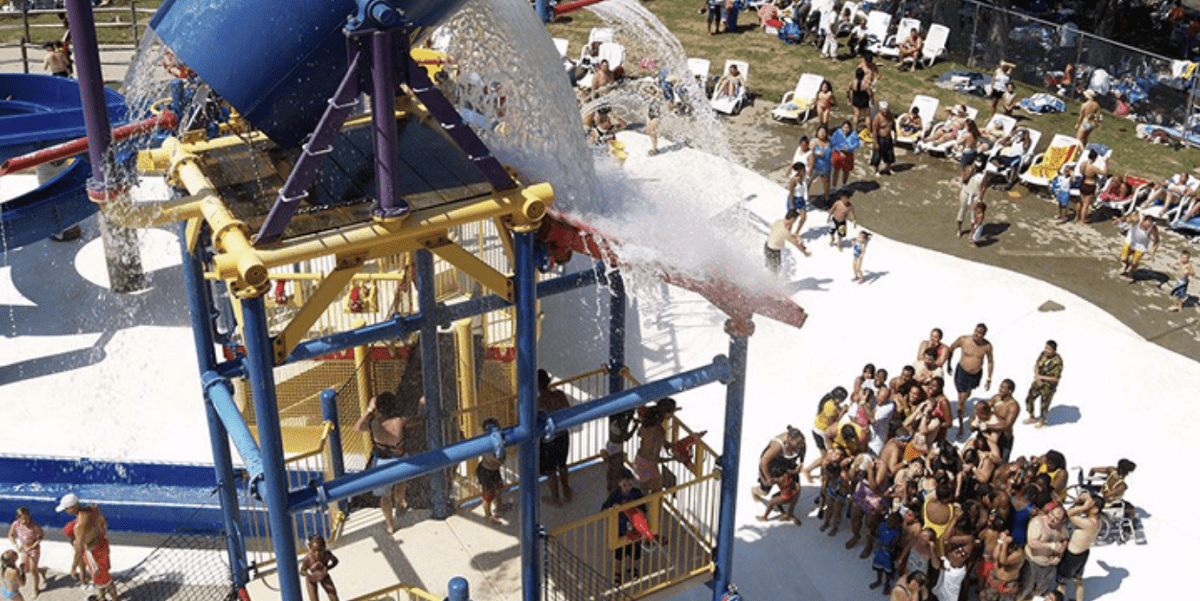 With over 20 different rides to choose from, Quassy is easily in the top 3 when it comes to best water parks in the state. Some of their main water attractions include:
Saturation Station – Kids can enjoy this place house as over 300 gallons of water gets dumped over the entire jungle gym. There are also two small slides that end in a splash zone with water cannons to blast your friends.
Tunnel Twisters – Race your friends or family on dueling water slides that twist and turn before ending side by side. The red slide is fully enclosed while the yellow one allows light through.
BulletBowl – This two person tube ride shoots you off into a bowl where you spiral around until being dumped down the middle into a large pool.
FreeFALL Extreme Bodyslides – Just as the name suggests you'll body slide down a tall water slide hitting top speeds before body surfing along the bottom waters.
Category 5 Rapids Raft Rides – A unique attraction to this park that gives you the feeling as though you were rafting through white water rapids.
Rocket Rapids Water Coaster – As one of the most popular water slides at the park, this one not only shoots you down various tubes, but also up them!
Address: 2132 Middlebury Rd, Middlebury, CT 06762 | Phone: (203) 758-2913 | Quassy Water Park
Map of Waterparks in Connecticut
9 Best Water Parks in Connecticut
1. Lake Compounce
2. Ocean Beach Park
3. Splash Away Bay Water Park
4. Action Amusements Waterslide
5. Quassy Amusement & Water Park
6. Brownstone Adventure Sports Park
7. Lake Mohegan Splash Pad
8. Splash Pad at Eisenhower Park
9. Wolcott Park
A Guide To Visiting Waterparks in Connecticut
Spending a day in waterparks means hefty preparations. Whether you're going with your family, friends, or work buddies, preparation is key to having the best waterpark experience.
Here are some tips on how to construct the best waterpark day:
Before You Go:
Do Your Research: Not all waterparks are created equal. Some waterparks are intended for younger children, while others may have more thrilling rides for older kids and adults. It's essential to conduct research and read reviews beforehand. This way, everyone can have a fun summer getaway.
List Out Things You Need To Bring: Forgetting things at home is always a pain, especially when you're already at the waterpark. Save yourself the trouble and make a list of items you need to bring, such as sunscreen, swimsuits, towels, and snacks. This way, you can peacefully close your eyes and enjoy your day without worrying about forgetting anything.
Dress Appropriately: Wearing the right clothes is as crucial as bringing the right things. Make sure to wear comfortable clothing that won't restrict your movement. It's also a fantastic idea to wear swim shoes or sandals to protect your feet from the scorching pavement.
In the Waterpark:
Arrive a Few Minutes Early: Arriving at the waterpark a few minutes beforehand has its perks. For one, you can avoid the long queues and get on the rides right away. You also have a better chance of getting a great spot at the pool or lazy river.
Keep Your Eye Out for Your Children: Waterparks can be pretty hectic, so it's essential to keep an eye on your children at all times. When going with young kids, make sure they are always within reach.
Secure Your Belongings: You'll inevitably have to leave your stuff unattended at some point during the day. When that happens, secure your belongings in a locker or keep them close where you can see them.
Be sure to also check out our list of the best indoor water parks where you can enjoy amazing water slides and pools year round!
Looking to explore Connecticut? Here are some other great things to do in the state: