Water Parks in Arizona
Visiting water parks is a summertime tradition for many families. Not only is it a great way to cool down during the season, but it's the perfect opportunity to bond and have a great time with loved ones. While going to the beach is a completely viable option, water parks offer something a little more than just sun, sand, and surf. Water parks mean exhilarating slides and giant wave pools where you can surf without fear of drifting too far from the shore. Many water parks also have kid-friendly areas where you can splash around with your little ones or let them enjoy activity pools with other children.
If you're in Arizona and you're planning to visit a water park sometime soon, this handy guide to visiting the best water parks in Arizona can narrow down your list so you can plan the best summer getaway with friends and family!
Map of Waterparks in Arizona
Best Water Parks in Arizona
Here are the hottest water parks in Arizona for enjoying a cold splash of fun!
Big Surf Water Park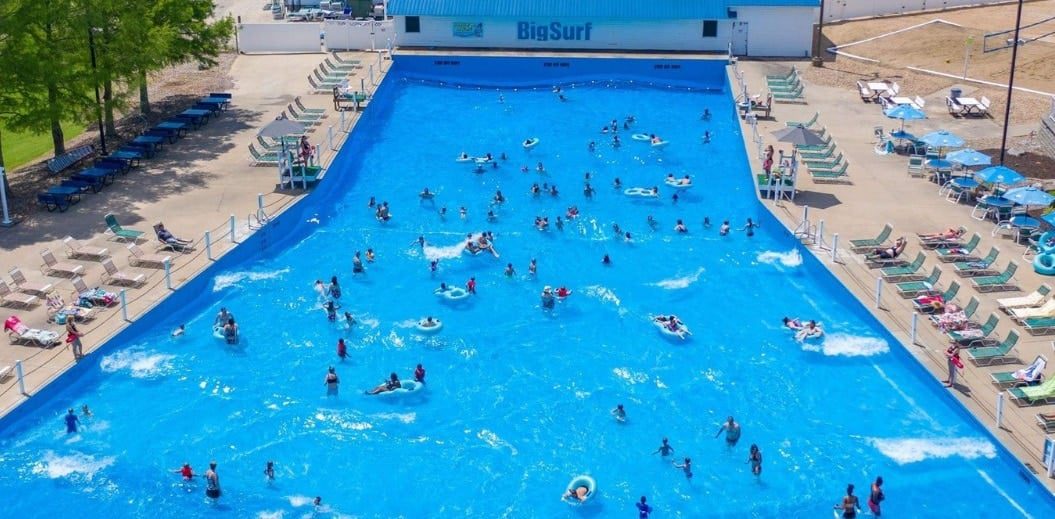 With over 50 years in business, Big Surf Water Park in Tempe has become a favorite destination among families looking for a cool place to surf, slide, and swim! What began as a wave machine in founder Phil Dexter's backyard has now grown into a full-fledged summer destination.
There's something for everyone at Big Surf, whether you're trying to entertain kids looking for fun slides, surfers trying to catch the biggest waves, or daredevils who want to experience thrills on waterslides. One of the most notable attractions in Big Surf is the Waikiki Beach Wave Pool, which is dubbed as America's original wave pool. With 2.5 million gallons of water, the Waikiki Beach Wave Pool should be on every surfer's bucket list!
Those looking for an exhilarating experience won't be disappointed in Big Surf, either. Here, you can enjoy the thrilling twists and turns of monstrous slides like the Hurricane Slides, The Black Hole, Tornado Twisters, White Serpentine Slides, and the Kilauea Cove Slides. Even kids can get in on the excitement when they go on the more kid-friendly thrill slides like the Tahitian Twisters or the Cyclone and Tsunami Slides. Younger kids can also have some fun under the sun when they go down the Otter Slides and into Bora Bora Bay. Toddlers and their parents can have a refreshing time at Captain Cook's Landing alongside some stone animals.
Address: 1500 North McClintock Dr., Tempe, AZ 85281 | Phone: 480-994-2297 | Website: https://bigsurffun.com
Funtasticks Family Fun Park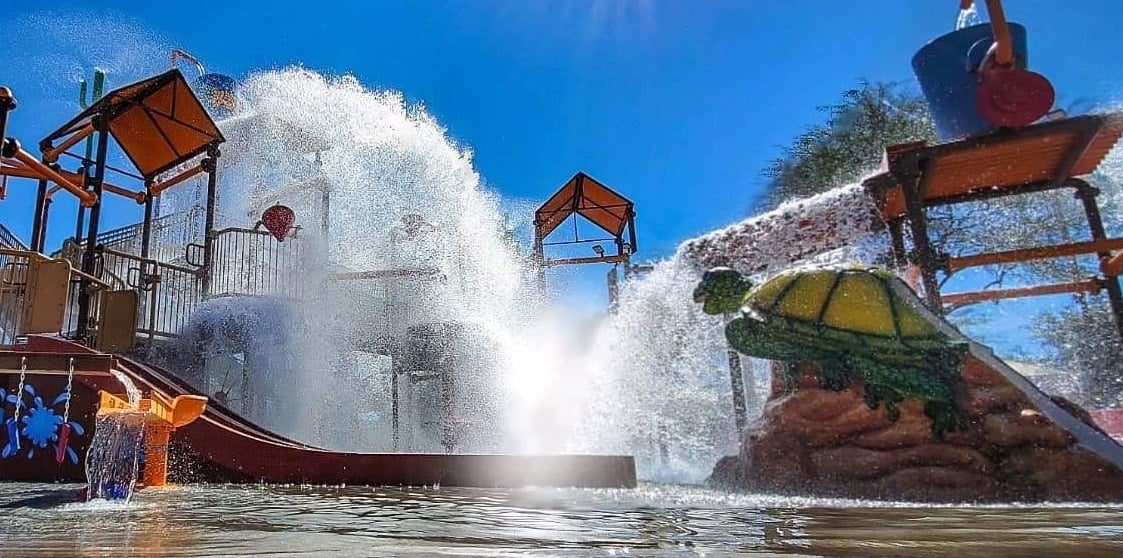 The Funtasticks Family Fun Park in Tucson is more than just a water park. It's got a handful of other attractions that will make the trip well worth it!
If you're heading to the Funtasticks Family Fun Park to beat the summer heat, then you'll definitely enjoy Cactus Springs. This park attraction features numerous water slides on multiple levels that cater to guests of all ages. More than just a water jungle gym you can play on, Cactus Springs also has giant tipping buckets that dump as much as a thousand gallons of water on park guests every 10 minutes. Kids and kids-at-heart will also enjoy the bubbler jets, water curtains, water wheels, and waterfalls all around Cactus Springs. The best part is, Cactus Springs has a private cabana rental just beside it. If you want to take a break, you can rent one of these shaded areas so you can sit back and relax until you're ready to roam again.
Other attractions in the park include the Bumper Boats, where you can drive electric boats and squirt other boaters. You can also test your driving skills at the go kart racetrack or your aim at the three-level, 52,000-square-foot Atlantis Laser Tag arena — the biggest in Tucson! For something a little less intense, you can also try the mini golf course or play some games at the arcade.
If you're bringing younger kids along, you can also take them to the Kiddie Land area, which features the CozmoJet virtual reality ride or the Frog Hopper.
Address: 221 East Wetmore Road, Tucson, AZ 85705 | Phone: 520-888-4653 | Website: https://www.funtasticks.com
Golfland Sunsplash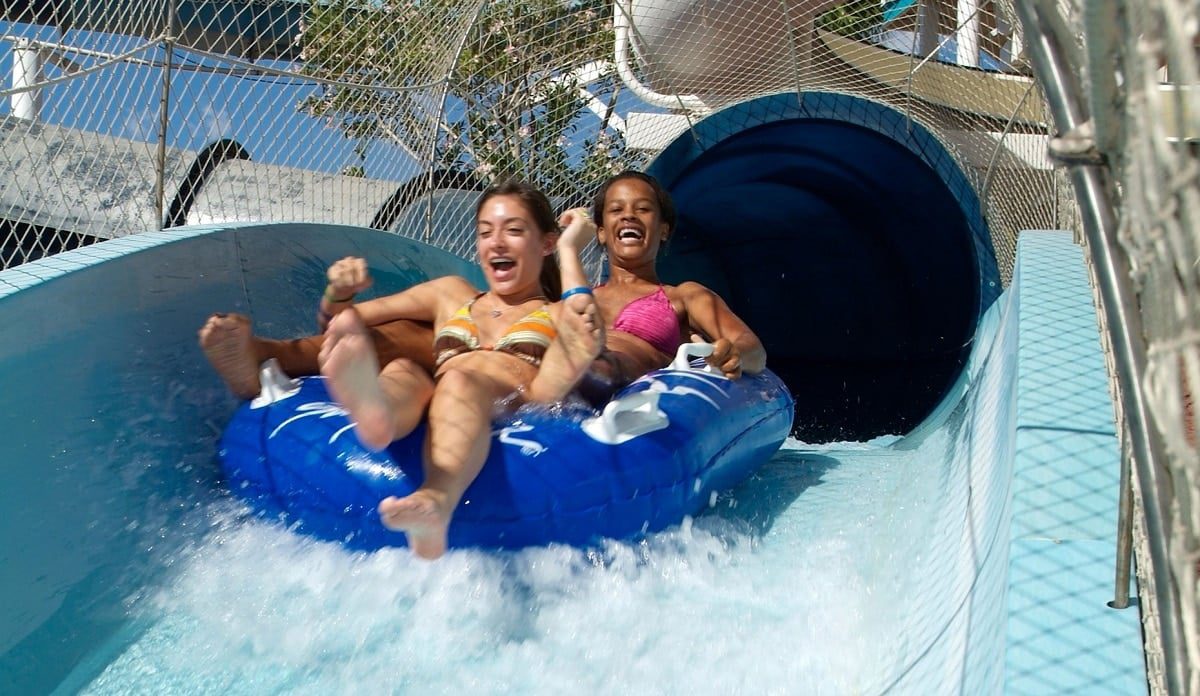 When you're going to a place called Golfland Sunsplash, you might already have an idea of what to expect. This water park in Mesa is full of water play attractions that will satisfy just about anyone who wants to have some fun under the sun! With over 30 rides and attractions, you'll need a whole day to try out each one.
If you're the more adventurous type, you'll definitely enjoy thrilling water rides like the Double Dare, Thunder Falls, Stormrider, Sidewinder, Revolution, Splashwater Harbor Slides, Master Blaster Water Coaster, Dragon Tail Slides, Bonzi Speed Slides, and The Cauldron. These are slides and water coasters that you can enjoy individually, as pairs, or as a group, depending on the ride's capacity.
For guests that have kids or are looking for a more relaxed time, you can try driving the bumper boats or swimming at the Thunderbay Wave Pool, Lazy River, Toddler Tadpole Pool, Shipwreck Rock Slides, Caribbean Water Works, or the Activity Pool. Golfland Sunsplash also offers other attractions if you want to stay dry during your visit. Here, you can enjoy King Ben's Castle, the award-winning mini golf course, an arcade, a laser tag arena, bumper cars, and the Fastcar Raceway go kart track.
When you've had your fill of fun and you want to recharge, you can also check out the park's food outlets, such as the Iceberg Drive Inn, Kings Kitchen Pizza and Subs, or the Oasis Snack Bar.
Address: 155 West Hampton Avenue, Mesa, AZ 85210 | Phone: 480-834-8319 | Website: https://www.golfland.com/mesa/
Oasis Water Park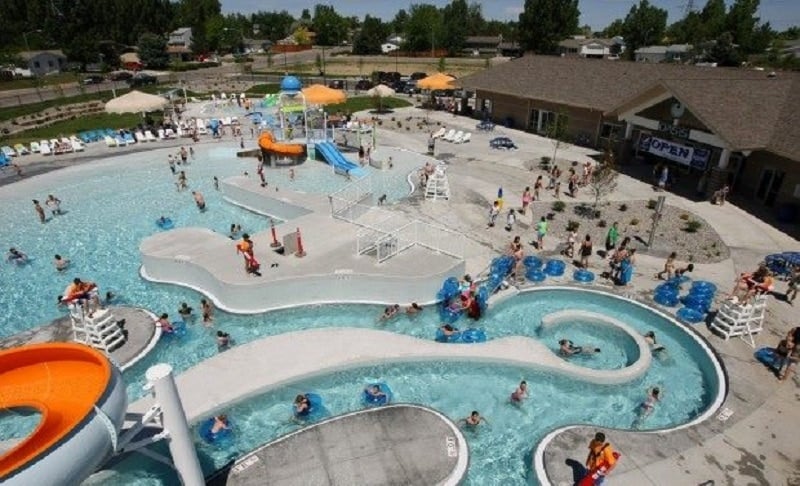 Located in the Arizona Grand Resort & Spa, the Oasis Water Park in Phoenix is practically a summer paradise for families. Hailed as one of the top 10 water facilities in the U.S., the Oasis Water Park features lush foliage, beautiful waterfalls, and various pools spread throughout its 7-acre location.
Adults who want to sit back and soothe their aching bones will love the Caliente Springs, a hot tub that features relaxing jets of rolling water and can hold as many as 25 people. On the other hand, kids who want to learn how to catch some waves can head on to the Oasis Wave Pool. Otherwise, kids can also try out the Wild Cat Springs — a heated pool with water jets and a spray deck — or the Zuni River, which resembles the feeling of going down an actual river.
Thrillseekers won't be disappointed, either. The Oasis Water Park features the Slide Canyon Tower, an eight-story thrill ride with three water slides: the Free Fall (225 feet long), Roadrunner (220 feet long), and the Sidewinder (300 feet long).
Address: 8000 S. Arizona Grand Parkway, Phoenix, AZ 85044 | Phone: 877-800-4888 | Website: https://www.arizonagrandresort.com/oasis-water-park/
Six Flags Hurricane Harbor Phoenix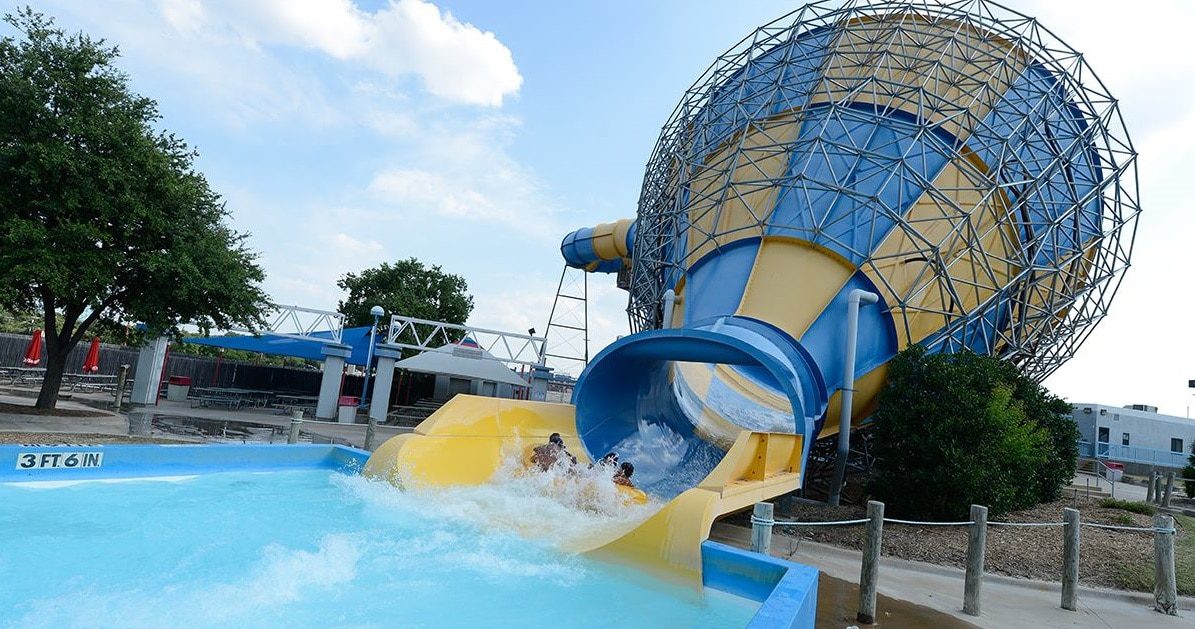 When thinking about the most popular amusement parks, Six Flags is a name that will always come up. After all, it has 27 parks across the United States, Canada, Mexico, and soon enough, Riyadh in Saudi Arabia.
If you're in Phoenix, you won't want to miss the Six Flags Hurricane Harbor Phoenix. It's one of the best water parks in Arizona, as it has tons of exciting rides to offer for kids, families, and just about anyone looking to satisfy their thrillseeker's thirst in a water park.
Kids and parents can splash around family-friendly attractions like Coconut Bay, Soak 'em Playground, Splash Island, Splashwater Beach, Adventure River, Big Kahuna, Hurricane Bay, Wahoo Racers, and the 42,000-square-foot Paradise Island. Paradise Island even has Paradise Grill, where you can get some grub after a good splash. Those who want to experience twists, turns, dramatic drops can slide or raft down attractions like the Anaconda, Bahama Blaster, Bonzai Pipelines, Mammoth Falls, Tornado, and the Typhoon Twister/Serpentine Complex. Their names alone are already exhilarating!
Address: 4243 W. Pinnacle Peak Road, Glendale, AZ 85310 | Phone: 623-201-2000 | Website: https://www.sixflags.com/phoenix
Waylon's Water World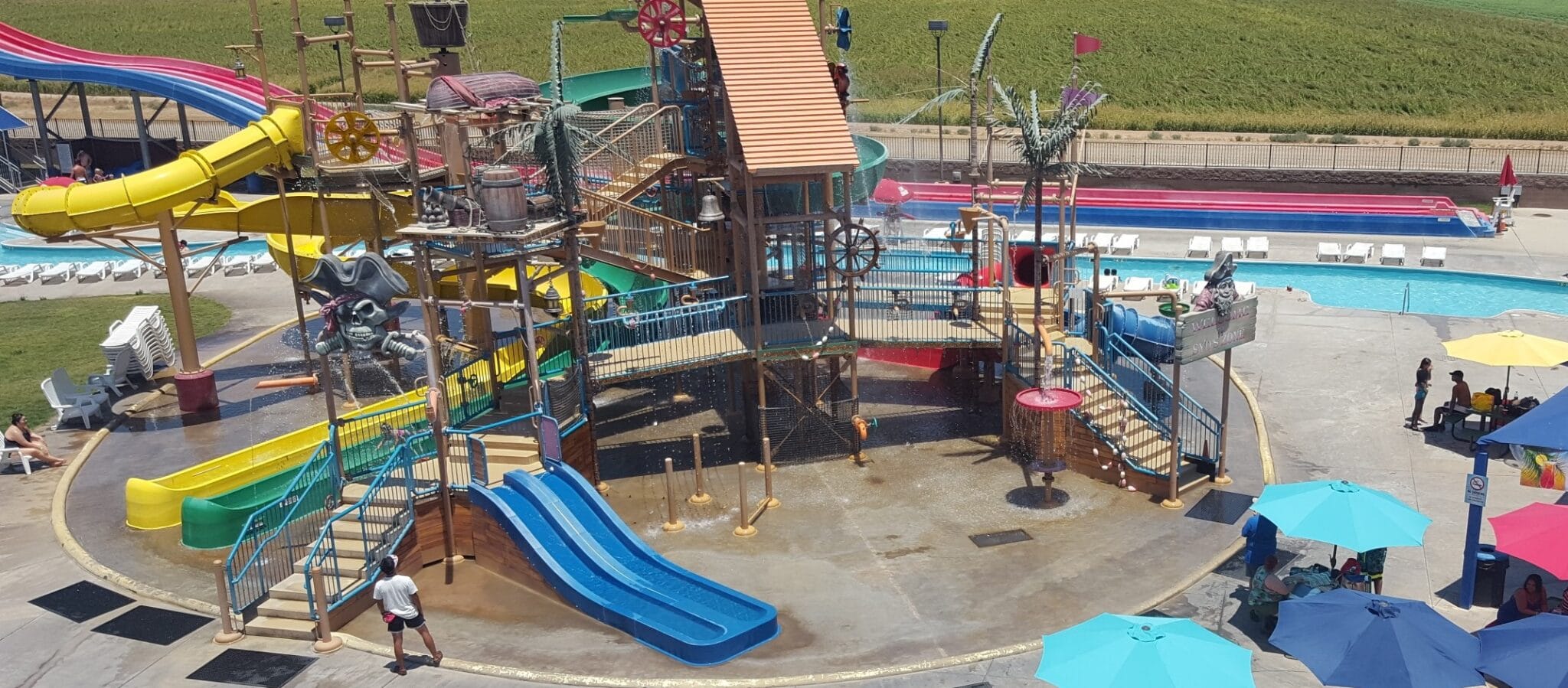 Waylon's Water World in Yuma, which is inside Z Fun Factory, is a seasonal water park that opens every summer. It's something to look forward to during weekends as kids, adults, and even seniors will have something to enjoy at this water park!
Waylon's Water World has six attractions, but don't think this seemingly small number means you won't have a great experience. It only means you'll get to spend more time enjoying each one!
For starters, the Toddler Area will keep your little pirates busy. It has small slides that they can try out, and it even has a separate water filtration system than the rest of the park, making it extra safe for your little ones. Older kids can explore Syd's Zone, which is exclusive for children. Four slides, water cannons, rope bridges, and a 250-gallon water drop will definitely keep them busy for the rest of your stay.
For some well-deserved summer R&R, the 850-foot Lazy River is the perfect place to drift off on a float with a cold drink in hand. Once you're feeling more energetic, you can try any of the thrill slides that Waylon's World has to offer. You can choose to race friends on the Mat Racer, barrel down the twists and turns of the tubes of the Red Racer, or spin around the unique and exciting Big Bowl!
Address: 4446 E County 10th St., Yuma, AZ 85365 | Phone: 928-726-6000 | Website: https://www.zfunfactory.com/copy-of-zfun-factory
Maximizing Your Water Park Visit in Arizona
Check the water park's website: Each water park mentioned below has an accompanying website link that you can check out. This will allow you to plan your trip in advance. Aside from just checking the location and operating hours, you can also decide which attractions you'll want to go on first. This can be especially helpful if you're bringing kids along or if you're going in a group. Be sure to check if the park has a map that you can use to plan your itinerary during your visit.
Book in advance: Waiting in long queues isn't something anyone enjoys, and it might dramatically cut down the time you can spend enjoying the park's attractions. To avoid this, always buy your tickets in advance. If the water park offers rentals for cabanas or shaded areas, we highly recommend placing advanced reservations for these as well. By booking tickets in advance, you might even secure a discount, which is a huge plus when you're going in a large group.
Bring sunscreen and extra clothes: Since you'll be going to a water park, don't forget to bring along the essentials like sunscreen, additional swimwear, towels, and a clean pair of clothes. A plastic bag to hold wet swimsuits is also advisable so you can bring them home without getting anything else wet. If you want to be extra prepared, consider bringing extra footwear, as well.
Bring water-friendly footwear: Speaking of footwear, remember to bring footwear that you'd be comfortable using even if they get wet. If you don't want to wear slippers or sandals on the way to the water park, you can always pack them in your bag and use them when you're in the park itself.
Pack some accessories, too: Most water parks will provide or let you rent life vests and floats, but not goggles or boogie boards. It's best to include these accessories in your bag as well. You may also check out the park's rules and regulations, especially if you're bringing your own board. Hats, sunglasses, and umbrellas can also help you stay cool under the sun as you explore the water park.
Leave small items at home: Jewelry and other small items that could easily be dislodged or lost while swimming or riding water slides should be left at home. Before going to a water park, it's wise to remove valuables like bracelets, necklaces, and earrings. If you'll be wearing prescription glasses, make sure that you bring a safe case that you can keep them in while you swim.
Bring your own food: Check if the water park you're visiting has places where you can eat and drink. Otherwise, check the park's rules and regulations about bringing your own food and beverages. If a water park states that it doesn't allow outside food and drinks, it's more than likely that there are establishments within the facility itself where you can purchase meals and rehydrate.
Arrive early: To really maximize your trip, make it a point to arrive at the water park early. That way, you'll have more time to explore without rushing through the attractions.
Beat the Summer Heat With These Water Parks in Arizona!
Exploring the water parks of Arizona is a great way to have some fun under the sun and quench your thirst for thrills! Whether you're going with kids or as a group of adults, you'll never get tired of the many attractions these water parks have to offer. Be sure to plan in advance and get ready to chill out when you set foot in these Arizona water parks!
Be sure to also check out our list of the best indoor water parks where you can enjoy amazing water slides and pools year round!
Looking to explore Arizona? Here are some other great things to do in the state: