Summer is for making fun and lasting memories with your friends and family. However, not everyone has the budget and time to relax and deep dive into tropical islands. The solution? Waterparks!
Visiting waterparks is a great way to escape the everyday hurly-burly monotony of life without spending too much money. Moreover, most of these establishments are available no matter where you are in the country.
If you happen to find yourself in Minnesota or are planning a road trip there, we've rounded up the six best waterparks in Minnesota for you, your squad, and your family to try.
Best Waterparks in Minnesota
Cascade Bay, Eagan
Cascade Bay is the place to go if you're searching for a waterpark that the whole family can enjoy. This Eagan award-winning outdoor water park includes a leisure pool, zero-depth entry pool, slides, lazy river, sand area, mini-golf course, and more.
As mentioned, this waterpark has something for everyone. The Shipwreck Cove is perfect for toddlers who love to play in the sprays and bubblers. The older kids might enjoy the Twin Falls or the exciting Typhoon slides, while adults generally enjoy the Cardio Bay.
The entrance fee to Cascade Bay varies depending on age, ranging from $10 to $13 for a four-hour session. You can pay $19 per person if you want full-day access and an entry to the golf course.
Address: 1360 Civic Center Dr., Eagan, MN 55122
Phone: (651) 675-5577
Website: https://www.cityofeagan.com/cascade-bay-waterpark
Soak City, Shakopee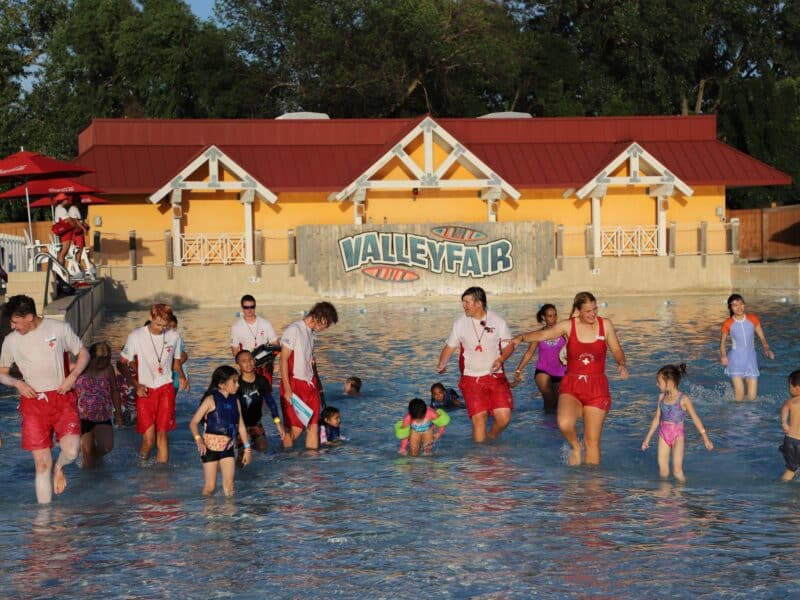 Valleyfair's Soak City is one of the oldest running waterparks in Minnesota. This waterpark first opened its doors to the public in 1983 under the name "Liquid Lightning." The waterpark continuously improved as time went by and became the famous 7-acre park in Minnesota we know today.
Soak City is the perfect place to visit if you're looking for a waterpark with high-speed slides. You can try their Hurricane Falls, which is a seventy feet tall waterslide. If you're looking into a more calm yet fun activity, the park's Ripple Rapids is perfect for you.
The park's single-day admission ticket is priced at $32.99. However, if you have a friend with a season pass, you can bring this price down to $24.99.
Address: Valleyfair, 1 Valleyfair Dr, Shakopee, MN 55379
Phone: (952) 445-7600
Website: https://www.valleyfair.com/soak-city
Great Wolf Lodge, Bloomington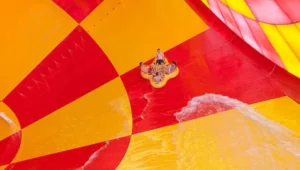 The Great Wolf Lodge is a famous nationwide lodging chain with an indoor waterpark. You can find one of their renowned branches in Bloomington, MN. This massive indoor park is popular among families with small kids since it has a wide array of kiddie-friendly attractions.
One of the most popular attractions in the lodge is their Wolf Rider Wipeout. This pool produces waves that are perfect for bodyboarding. You should also try their Otter Rush, which is a water slide that is unique to the lodge.
The price of admission to Great Wolf Lodge varies depending on the season. However, it is around $50 per person for a full-day pass and $40 per person for half-day access.
Address: 1700 American Blvd E, Bloomington, MN 55425
Phone: (800) 905-9653
Website: https://www.greatwolf.com/minnesota
Venetian Indoor Water Park, Maple Grove
Another popular indoor waterpark in Minnesota, Venetian Indoor Waterpark, is a great place to spend your summer vacation or a quick getaway. This 25 sq. ft. waterpark is large enough to hold the heavy traffic of people spending their weekends in the park.
This waterpark boasts two giant slides that are four stories tall, ideal for young thrill-seekers who love a good adrenaline rush. They also have an in-pool basketball hoop to play in while you're relaxing in the water.
Unfortunately, you can only access the indoor waterpark if you're a guest at Holiday Inn & Suites Maple Grove. The price for an overnight room stay in the hotel varies widely. It could cost you around $207 to $350 per night.
It's also important to know that the indoor waterpark is only open every weekend, so book your stay accordingly.
Address: 11801 Fountains Way North, Maple Grove, MN 55369
Phone: (763) 425-3800
Website: https://www.venetianwaterpark.com/
Water Park of America, Bloomington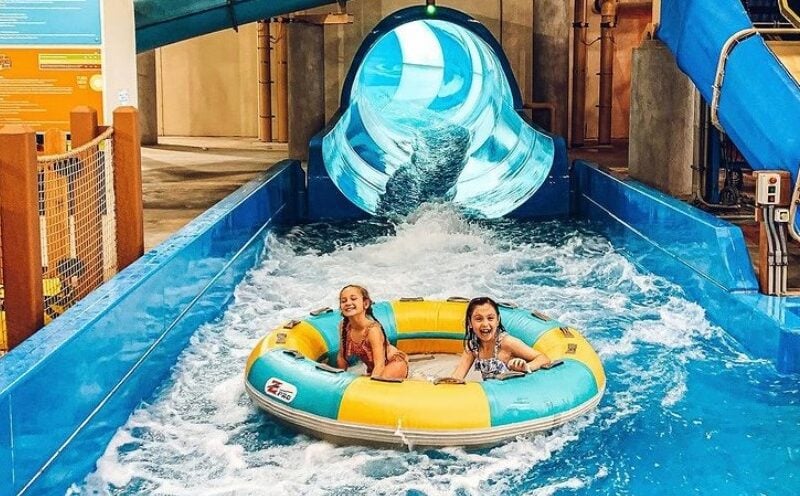 The Water Park of America was one of the most popular waterparks in Minnesota. This massive waterpark is located in Bloomington near the Mall of America. This 70,000-square feet park features a slide tower reaching over ten stories high.
This waterpark is perfect for thrill-seekers as it has many high-speed slides. You can try their ten-level tube slide that twists and turns until it dumps you into a giant tornado funnel. The waterpark also used to feature a lazy river and a wave pool.
What you need to know about the Water Park of America is that it's now part of the Great Wolf Lodge. Back in 2006, Evolution Hospitality owned this famous waterpark. However, they announced in 2017 that the Great Wolf Lodge purchased the rights to this park.
You can still find this popular waterpark's former slides and amenities when you visit the Great Wolf Lodge!
Address: 1700 American Blvd E, Bloomington, MN 55425
Phone: (800) 905-9653
Website: https://www.greatwolf.com/minnesota
Wild Mountain Waterslides, Taylor Falls
If you're looking for a "summer camp" vibe outdoor waterpark, you should check out the Wild Mountain Waterslides in Taylor Falls, MN. This carbon-neutral waterpark is one of the environmentally-forward waterparks and it aims to achieve 100% clean energy in the upcoming years.
The park is famous for its Wild Adventure Island's 350-gallon dump bucket that soaks visitors as they play in the water. They also have a long lazy river surrounding Wild Adventure Island. Drift down this river as you take in the beautiful scenery of the luscious tall trees around you.
A single Superday season pass is priced at $85 until June 27th and will return to its original price of $99 on June 28th. This Superday pass can grant you access to the Wild Adventure Island, Avalanche Alley Waterslides, Arctic Rush Alpine Slide, Go-Karts, and the FreeFall XP.
Address: Wild Mountain, 37200 Wild Mtn Rd, P.O. Box 455, Taylors Falls, MN 55084
Phone: (651) 465-6365
Website: https://wildmountain.com/waterpark/attractions/wildadventureisland
A Guide To Visiting Waterparks in Minnesota
Whether you're organizing a family reunion or a simple get-together with a few close friends, preparation is the key.
Adequate preparation ensures that your day at the waterpark will be packed with loads of fun, laughter, and excitement instead of headaches and missed opportunities.
To help you get started, here is a comprehensive guide to visiting waterparks in Minnesota:
Double-check your schedule: Although waterparks are open all year round, some may have seasonal operating hours. Make sure to check the program of the waterpark you are planning to visit beforehand so you can make necessary adjustments to your itinerary.
Make a list of things to pack: Nothing puts a damper on a good time like forgetting to pack sunscreen or swim diapers. To avoid this, create a list of items you need to bring and make sure that everyone in your group packs their own essentials.
Arrive a few minutes early: Waterparks tend to get crowded, especially during the peak season. To avoid the long lines, aim to arrive early. This will also give you time to familiarize yourself with the layout of the park and decide which attractions to try first.
Don't miss the main attraction: Research the waterpark you're planning to visit and know which attractions you shouldn't miss. Luckily for you, we've compiled the main attractions of the best waterparks in the state, so you can plan your itinerary accordingly
Secure your kids: Although waterparks have lifeguards on duty, it's still your responsibility to watch over your kids. Make sure to keep an eye on them at all times, especially when they're using the slides.
Dive Right Into the Fun
Summer is the perfect time to reconnect with nature and have loads of fun under the sun. This is also the best season to spend time with your family and friends.
Leave the stress and worries of your work and studies behind and enjoy the rest of your break at one of these top waterparks in Minnesota.
Whether you're looking for an indoor or outdoor waterpark to explore, there are many options for you to choose from in Minnesota. Each waterpark has its own unique attractions that are sure to be a hit with the whole family.
Be sure to also check out our list of the best indoor water parks where you can enjoy amazing water slides and pools year round!
Looking to explore Minnesota? Here are some other great things to do in the state: