For those who like to torture themselves in this crazy game we call golf, we have collected the best and most challenging courses around the world for you. From testing your skills on the rolling hills of Scotland and Ireland to putting on glass at Pebble Beach, there is a course that will challenge every part of your golf game and make you wonder why you ever picked up a club to begin with.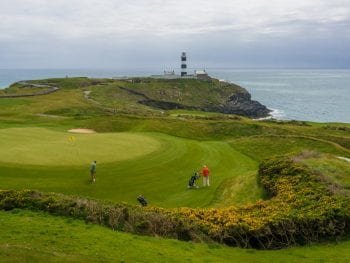 Ireland is known for it's majestic scenery and historical monuments, but when you add golf courses in between castles, cliffs, and coastal beaches, you now have something magical. There are roughly 300 golf courses in Ireland that all have their own personal flare. Rory McIlroy and Padraig Harrington have really help increase the Best Golf …
Guide to Golfing around the World
Most of these courses we have listed aren't for the beginner golfer. There isn't a particular guide on golfing outside of learning how to swing a club so we will cover the types of courses you can play:
Links course – You will often find these in countries such as Scotland, Ireland, and England. A links course consists of a sandy soil and goes along a coast line. These can prove to be quite challenging as you face winds and rain that come and go at a moments notice.
Parkland course – These courses get their name from feeling like you are golfing in a park. These are man made and often have many trees and lush grass.
Heathland course – The best way to describe a heathland course is to say it's a links course, but away from water. You will find most Heathland courses in Britain.
Sandbelt course – These courses are located in the Sandbelt region of Australia and are some of the finest courses in the world.
Stadium/Championship course – This is more of a variety of courses and is referenced to places who have hosted big name tournaments.
Par 3 course – Just as the name states, these are much shorter courses and only host par 3 holes.
These are among the best golf courses in the world.