Best Amusement Parks in the World
One of the main reasons why people visit the United States is to experience their world-renowned amusement parks. Whether it be the jaw-dropping rides at Six Flags or the nostalgic and fantastical adventure at Disney World, there's absolutely something for everyone to enjoy! With over hundreds of millions of visitors every year, the amusement parks in the United States are some of the most visited attractions in the world. You're definitely going to miss out on these incredible experiences if you choose to forego them altogether.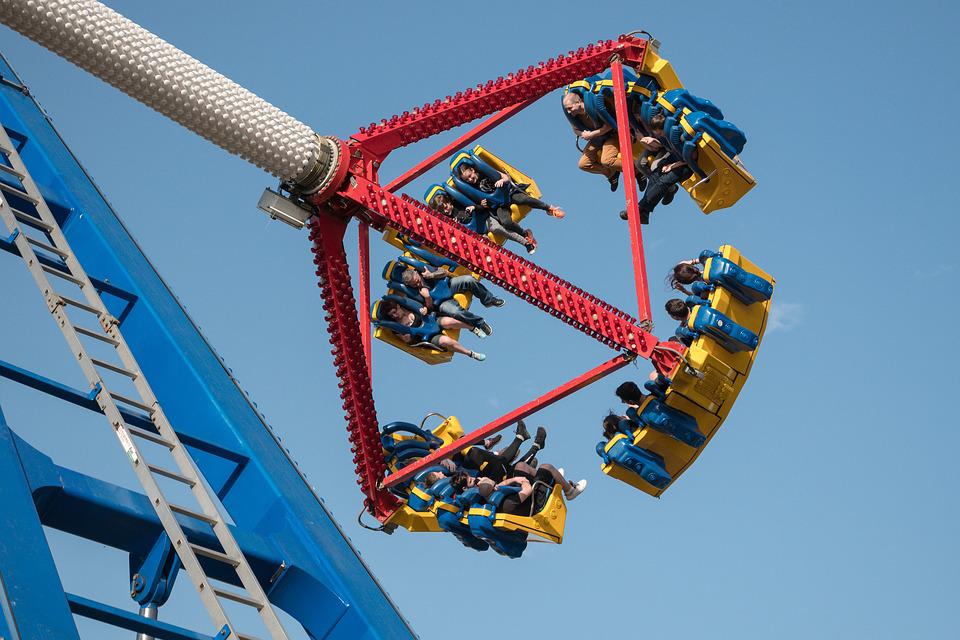 Theme Parks in the United States
History of Amusement Parks in the United States
From ferris wheels to thrilling roller coasters, the history of Amusement Parks in America dates back to the late 1800s. The concept of an amusement park came from Europe, but it debuted first in Coney Island, New York. What began as an island for wealthy people of New York City to spend their summers in gradually grew into an entertainment hub for even the middle and working classes. In 1884, the nation's first roller coaster called the "Switchback" was built by La Marcus A. Thompson. It became a crowd favorite among visitors and eventually became an iconic symbol of amusement parks everywhere.
The success of Coney Island as the first amusement park became known nationwide. Soon, it became the inspiration for Forest City Park and Washington Park. In the following years, many more parks emerged in various cities to seize the business opportunities found in these innovations. But by the 1960s to 1970s, the golden age of these parks slowly died down. The original parks closed down and people switched to another form of amusement — the movies.
The popularity and fantasy of film opened a new opportunity for amusement parks. To garner the audience's attention, they decided to merge the fantasy with their rides. They followed themes found in movies to create fun destinations for families to enjoy. The first account of this change happened in the 1950s when Disneyland was developed. Now, the innovations of Disneyland became the foundation of the modern amusement parks you see today. As it stands, all Disney franchises remain at the top list of amusement parks to visit.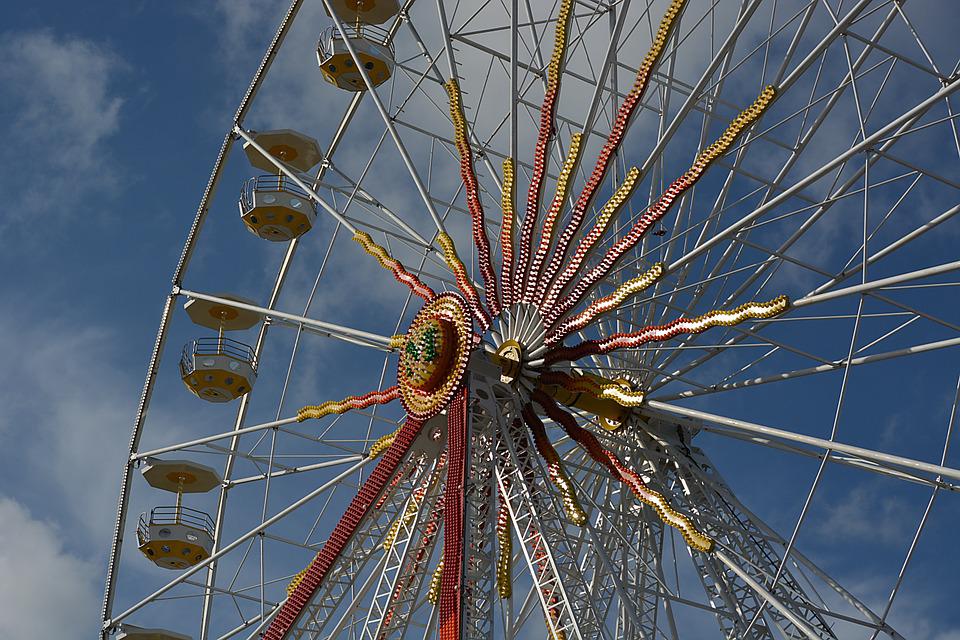 Reasons Why People Visit Amusement Parks
In the early days, amusement parks became the escape that people yearned for from everyday life. It was a place where they can gain new experiences found nowhere else.
After all these years, the same mentality holds today. While entertainment and escapism remain the primary reasons why people visit amusement parks in the United States, there are also other reasons why people yearn to visit. These are the following:
To Step into a Different World – There's no better place to experience extraordinary adventures than the top amusement parks in the US. Imagine leaving your daily life behind and immersing yourself in a world of fun and imagination! Amusement parks can transport you into realms of fairies, clowns, pirates, astronauts, and so much more! By simply stepping into the gates of the park, you can immediately see the difference and indulge in the wonders of these attractions.
To Release Stress – About the previous point, visiting amusement parks can make you forget about their stress and woes. This is because when you go to the best amusement parks in the US, all you think about is how much fun you're having that you let your fear and anxieties of the future go. In fact, according to studies, focusing all your energies on fast-paced rides can be a positive outlet to help you overcome your stress.
To Conquer Fears – Theme parks don't only cater to children and families, they also welcome thrill-seeking and adrenaline junkies. If all you want to do is try something new and conquer your fears, amusement parks in the United States are the destinations you need to go to. Whether it's the speed or the height that's scaring you, you will eventually learn to control your fears and begin to enjoy the thrill the rides offer. At the end of the day, it will not be the fear you remember but the joy and happiness you experienced because you conquered it.
To Bond with Family and Friends – Spending time with your friends and family becomes even more special when you know everyone is having fun. So, where better to achieve a memorable bonding experience than at an amusement park? You will end up spending hours with each other doing everything you enjoy or discovering something new. At the end of the day, you'll create unforgettable memories with loved ones that are sure to bring a smile to your face every time you look back at them.
The Best Amusement Parks in the US
Whatever your reasons are for visiting the best amusement parks in the United States, know that the country is filled with a diverse range of options to choose from, ranging from attractions owned by international brands to local favorites. Truly, there's always something for everyone to enjoy.
Magic Kingdom Park in Orlando, Florida
The Magic Kingdom Park in Orlando, Florida is a classic and family-friendly destination where you can meet some of the beloved characters of the Disney franchise. One of the most iconic and photo-worthy attractions in this amusement park is Cinderella's Castle located at the center of it all.
Other attractions you definitely should not miss include:
Space Mountain: Arguably one of the best rides to exist at any Disney theme park, Space Mountain is a must-try. It's essentially an indoor roller coaster that takes you through the vast wonders of outer space. Through technology and sci-fi music, you can immerse yourself in an intergalactic space adventure that's full of climbs, dips, and high-speed fun!
Peter Pan's Flight: Moving to another destination in the park, Peter Pan's Flight is an incredible ride that flies you through the fantastical story of Peter Pan. Complete with pirate ships, nighttime views of London, and a glimpse of the well-known characters, this ride is sure to entice every visitor of all ages.
Big Thunder Mountain Railroad: Another adrenaline-high attraction you can't miss is the Big Thunder Mountain Railroad. It follows a cowboy theme and is located outdoors, giving you a full view of the park from up on high. But besides the exciting portion of the ride, what many people love about this is its knack for visuals and story-telling. Every dip and run feels like a journey to complete a narrative.
Haunted Mansion: The Haunted Mansion, based on a Disney movie with the same name, is an interactive ride full of whimsical games and gadgets. Even before the ride starts, you'll be surrounded by engaging visuals and props that give you a glimpse of what the actual mansion looks like. Because of this, it's become an immediate fan favorite.
With these attractions and more, the Magic Kingdom Park is easily one of the best amusement parks in the US. In 2019, it was recognized as the most-visited theme park in the world, raking nearly 21 million visitors.
Universal's Island of Adventure in Orlando, Florida
Another top destination to visit when you're in Orlando, Florida is Universal's Island of Adventure. It follows the same concept as Magic Kingdom Park, but this time, the characters, rides, and attractions come from the leading production company, Universal Studios.
Some of what you'll find here include:
The Cat in the Hat: One of the rarest rides offered by Universal Studios is The Cat in the Hat. It's made with high-tech animatronics that instantly transports you to the whimsical world of Dr. Seuss. It's a classic, charming, and fun ride that takes you through the familiar plot of the book. If you're ever interested to see and feeling what it's like to be in a different world, this is a ride you need to check out.
Jurassic Park River Adventure: Based on the 1993 film, Jurassic Park, this is a water ride that starts like a Jungle Cruise style boat trip where you get to interact with robotic dinosaurs. Then, it quickly evolves into a high-speed ride that spikes your adrenaline. Before you know it, you're dropping off of an 85-ft plunge, soaking wet.
The Incredible Hulk: Out of all the rollercoasters in Universal Orlando, The Incredible Hulk is perhaps the most anticipated one. From the launch to the end of the ride, you will go through two loops, an underground tunnel, and a zero-gravity roll that is sure to leave you breathless. Because of its twists and turns, the Incredible Hulk is one of the most intense rides in the park. So, if you're ever feeling like taking on a challenge, this is the ride for you.
Harry Potter and the Forbidden Journey: If you're a fan of the Harry Potter series, then this attraction is right up your alley. This ride not only takes you inside Hogwarts but also flies you around the magical world of Harry Potter. That's not the best part: throughout the ride, you get to interact with some of your favorite characters. So, you can only imagine how much fun and immersive this ride will be.
The VelociCoaster: Taking its position alongside The Incredible Hulk, the VelociCoaster is another intense ride in Universal Orlando that you have to try. It holds some of the state records as the tallest and fastest rollercoaster in Florida. So, if you're up for the thrill, make sure to visit this ride when you enter the Jurassic Park section of the park.
The Amazing Spider-Man: What makes The Amazing Spider-Man a must-ride attraction is its impressive motion simulator technology that fully engrosses you with a combination of physical sets and floor-to-ceiling projection screens. It seamlessly integrates life-sized props with innovation to give you a completely immersive and revolutionary ride you will want to keep coming back to.
EPCOT in Orlando, Florida
If you've ever dreamed of traveling around the world, EPCOT in Orlando, Florida is the place to go. The park is one of the largest amusement parks in the United States. It is divided into different sections representing different countries like China, France, Germany, Italy, and Morocco. In every section, you can experience the unique culture of each country through the restaurants, shops, and of course, rides.
Besides its classic rides, it also undergoes multi-year transformations to give every visitor something new to look forward to. One of the newest attractions that are set to open on May 27, is the Guardians of the Galaxy: Cosmic Rewind. Based on Marvel and Disney's new feature film of the same name, the ride is sure to be full of exciting surprises.
Six Flags Magic Mountain in Valencia, California
While the previous parks on the list are well-known for recreating magical worlds based on well-loved movies and characters, Six Flags got its reputation for offering some of the most intense and gravity-defying roller coaster rides perfect for thrill-seekers and adventurers.
Some of the iconic rides you have to try when you visit the park are CraZanity, Goliath, and Full Throttle. Once you get your fill of all the excitement, be sure to drop by one of their many shops to bring home souvenirs.
Cedar Point in Sandusky, Ohio
One of the oldest amusement parks in the United States is located in Sandusky, Ohio. Cedar Point first opened in 1870 and features over a hundred fun and exciting rides. 18 of which are thrilling roller coasters you need to try.
Besides their attractions, you can also get world-class entertainment here as it showcases numerous plays inspired by popular musicals and Broadway throughout the day. Plus, if you're up for it, you can also sign up for exclusive experiences like glass blowing classes and wine tastings that you don't normally find in many amusement parks. Despite its age, Cedar Point is still one of the country's well-loved and thoroughly-visited parks to this day. That said, if you find yourself in Ohio, be sure to drop by.
Knott's Berry Farm in Buena Park, California
If you're looking for something unique and local, Knott's Berry Farm in California is surely up your alley. It's divided into four areas, each of which has its theme. One of the sections is an authentic ghost town from the 1800s. Among the many attractions, this is one of the more popular ones for its spooky appeal. While there are rides that you can enjoy in the park, what makes it stand out is its seasonal activities throughout the year. Events like Halloween specials, festive Christmas extravaganzas, and the iconic Boysenberry festival draw in thousands of guests daily.
That said, if you want to experience these exclusive events, it's important to time your visit wisely.
Hershey Park in Hershey, Pennsylvania
If you're a chocolate lover, Hershey Park in Pennsylvania is the perfect playground for you. The theme park features plenty of attractions revolving around candy themes. From Jolly Rancher Remix coasters to Chocolate Town treats, this amusement park is a paradise for dessert lovers everywhere.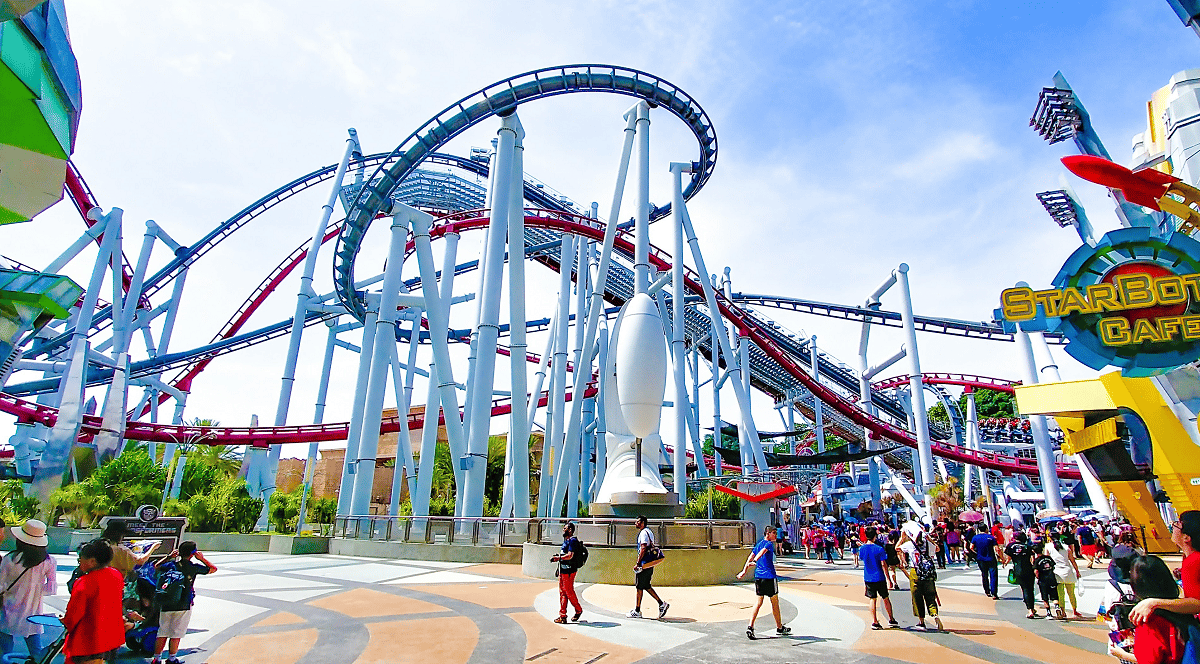 Tips for Visiting the Top Amusement Parks in the US
The US is home to some of the largest amusement parks. So, it should come as no surprise that visiting them will require proper
Look for Discount Tickets – Because of the innovative technologies being used, amusement parks don't come cheap. Some of the ticket prices range from $100 to over $500. So, can you just imagine how costly it would be to pay for a family of 4 or 5? Besides the ticket, you also have to consider buying meals and souvenirs from inside the park. These factors will add up, and before you know it, you end up spending over $1000 on your amusement park experience. To help you cut down on the costs, it's recommended that you search for promos online rather than purchasing tickets on the spot. Some attractions offer group discounts or annual passes, which can be helpful to you.
Research the Rides in Advance – Remember, not all parks are the same. So, before booking your tickets, make it a point to search for the rides each park offers. This will give you the advantage of selecting the ideal one that every family member will enjoy.
Pack the Right Gear – Parks are massive. On average, they can span over 110 acres of land, which will require a lot of walking. That's why it's important to wear breathable and flexible outfits, as well as comfortable footwear. You'll be walking hours and hours on end, so you need to make sure that you gear up appropriately. Wearing something impractical like high heels or tight-fitting clothes can dampen all the fun. Before you know it, you're no longer enjoying the experience but complaining about the discomfort. And of course, you wouldn't want that to ruin your day.
Get there Early – Amusement parks can get packed real fast. That's why it's recommended to get there early. The earlier you are, the more activities you can squeeze in in a day.
Be Realistic – As much as you'd like to try all the rides and cover all areas of the park, doing so is just not realistic. So, instead of lining up for every attraction you see, it's better to plan your visit. Mark areas you want to try out the most, and prioritize them. Then, if you have time, you can go back to your favorite rides or try something new.
Wrap Up
Amusement parks are a must-visit when you travel to the United States. They offer incredible experiences that are sure to excite and delight you and your family. From the timeless and classic ferris wheels to dizzying and adrenaline-inducing rides, amusement parks are versatile enough to cater to your whims and fancies. Just make sure to heed the tips above to ensure you make the most of your visit.
With this list, hopefully, you get a better idea of where to go and what attractions to see on your trip to America. Whatever you choose, it'll be one for the books!