What's summer without spending your time splashing around in the water? If you're looking for a fun-filled day of sliding, lazy drifting, and swimming, look no further than Michigan's waterparks!
The Wolverine State is known for many things, but its fantastic waterparks are often overlooked. From huge resort-style parks to smaller community gems, there's a waterpark perfect for every type of family here. If you're a local looking for nearby waterparks, a frequent visitor of the state, or simply planning a summer road trip, this comprehensive guide to the best waterparks in Michigan will help you make the most out of your trip!
Best Waterparks in Michigan
Now that you're all set for a fantastic day at the waterpark, it's time to choose which one you'll be visiting. We've rounded up the eight best waterparks you can visit in Michigan!
Adventure Island Family Fun Park, Cadillac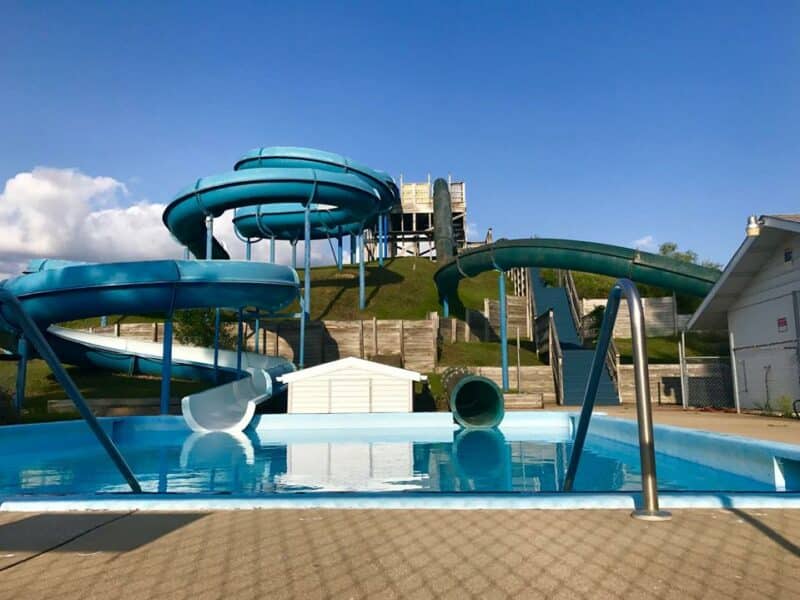 If you're looking for a waterpark with a fantastic golf course, look no further than Adventure Island Family Fun Park in Cadillac.
This family-owned waterpark has been around since 1989 and initially offered go-karts, batting cages, an arcade, a playground, and 18 holes of mountain golf. As the years passed by, they also opened a waterpark of their own.
The Adventure Island Family Fun Park's waterpark is only one part of its many attractions. Their waterpark features a giant twisting waterslide that leads to the park's swimming pool. This is perfect for young children who are into thrilling rides.
Address: 6083 E M 115, Cadillac, MI 49601 | Phone: (231) 775-5665 | Website: http://www.aicadillac.com/
Avalanche Bay, Boyne Falls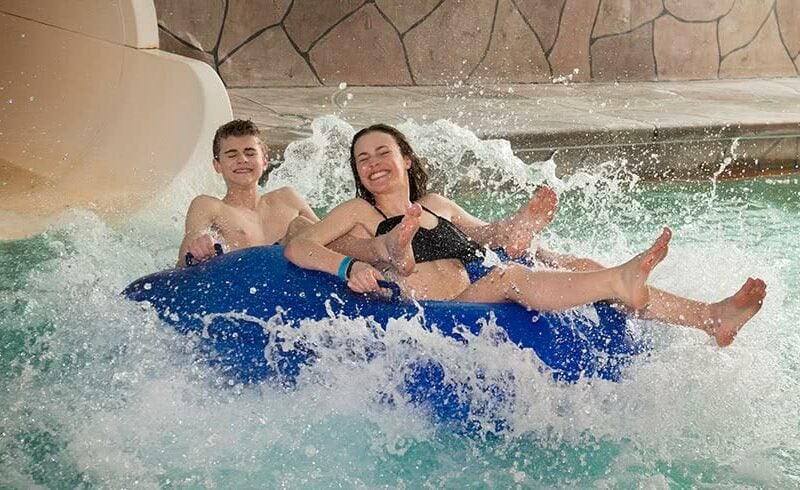 Branding itself as the largest indoor park in Michigan, Avalanche Bay is a must-visit waterpark whether you're planning a large family reunion or a delightful weekend getaway.
Avalanche Bay is part of the Boyne Mountain Resort, which offers a variety of activities such as skiing, snowboarding, mountain biking, and more. The waterpark is over 88,000 square feet and has slides, an activity pool, a lazy river, and a kids' play area.
The waterpark features a lot of attractions, slides, and rides. One of their popular slides is The Big Couloir, which is a vertical tube slide that sends you spiraling down to the pool. The park's glacier hot spring is popular among individuals who are into the calm and relaxing waters.
You can enjoy all this summer goodness for only $40 for a solo adult day pass. However, the park offers different rates if you are a group or a guest at their lodges.
Address: Avalanche Bay Indoor Waterpark, 1 Boyne Mountain Road, Boyne Falls, MI 49713 | Phone: (866) 976-6972 | Website: https://www.avalanchebay.com/
Full Blast, Battle Creek
True to its name, Full Blast will give you a blast whether you're visiting with your family or friends. It is a full-service recreation complex that offers sports facilities, an arcade, and an indoor waterpark called Flash Flood.
Flash Flood features a variety of slides, a playground area with spray cannons and dumping buckets, a lazy river, and a zero-depth entry pool. You can also enjoy their concessions while relaxing in their large hot tub.
Other than the fun-filled water activities, Full Blast also offers a Sports Forum and Fitness Center. Spanning an 88,000-square-foot area, the Sports Forum is the perfect place to play indoor ball games. The Fitness Center is ideal for individuals who want to stay fit and healthy while on vacation.
The price range for the Flash Flood indoor and outdoor waterpark costs $75 per person. However, if you're a family of four, you can buy four tickets for only $260 and save $40.
Address: 35 Hamblin Avenue, Battle Creek, MI 49014 | Phone: (269) 966-3431 | Website: https://bcparks.org/182/Flash-Flood-Water-Park
Great Wolf Lodge, Traverse City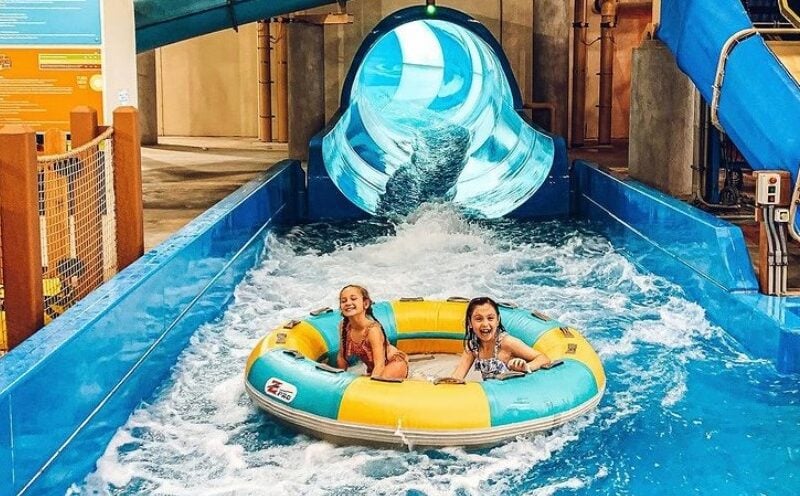 If you're planning to stay in Traverse City for a few days, consider spending a day or two at the Great Wolf Lodge. This resort has an indoor waterpark that will make your vacation memorable.
Great Wolf Lodge is a chain of lodging and indoor waterparks across the United States and Canada. In Michigan, they have a lodge in Traverse City that is just a drive away from the Grand Traverse Bay.
Some popular rides in the Great Wolf Lodge are the Alberta Falls and the Totem Towers. The Alberta Falls is a four-story waterslide that will take you on a thrilling fall. The Totem Towers is a water slide in Fort Mackenzie, a central water fort island in the indoor waterpark.
The day pass rates differ depending on when you book your schedule and how long you stay. In general, the price ranges from $50 to $70. It's advisable to confirm the price by booking your schedule online.
Address: 3575 N U.S. 31 S, Traverse City, MI 49684, USA | Phone: (800) 905-9653 | Website: https://www.greatwolf.com/traverse-city
Rolling Hills Water Park, Ypsilanti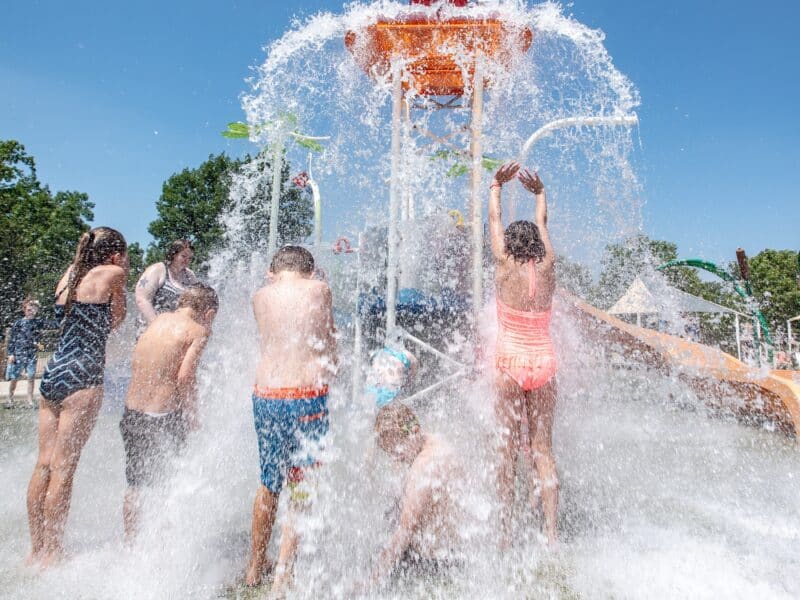 Rolling Hills Water Park is a great place to spend the day if you want some summer fun. The waterpark has something for everyone with its slides, pools, and water activities.
The Rolling Hills Water Park is an extension of the city's Rolling Hills County Park, which features a jaw-dropping view of the luscious trees and beautiful landscape.
The waterpark features a variety of slides and a lazy river. One of their most popular attractions is the Activity Pool. This zero-depth entry pool has a gentle bubbler, geysers, a waterfall, and a kiddie slide for young kids under 45″ tall.
If you have enough of the water, you can relax on the chaise lounges and sand chairs on the sun deck or in one of the grassy areas surrounding the park. The waterpark also has a concession stand if you get hungry from all the fun.
Address: 7660 Stony Creek Road, Ypsilanti, MI 48197 | Phone: (734) 484-9676 | Website: https://www.washtenaw.org/638/Rolling-Hills-Water-Park
Soaring Eagle Waterpark and Hotel, Mount Pleasant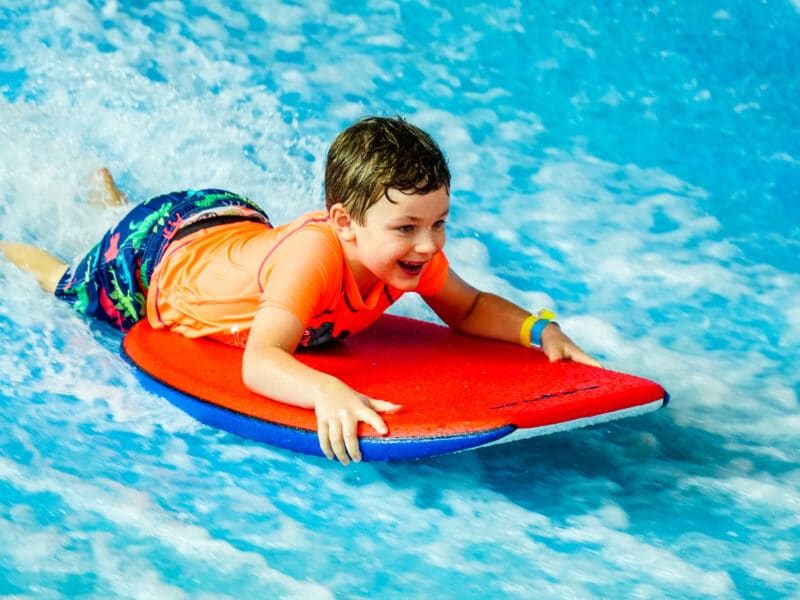 The Soaring Eagle Waterpark and Hotel is a great place to stay if you're looking for a waterpark in Michigan. This hotel is located in Mount Pleasant, just a few minutes from the Soaring Eagle Casino and Resort.
The waterpark features many fun-filled attractions, such as the Flow Rider, a surf simulator that will make you feel like you're riding the ocean waves.
Another hit attraction of this waterpark is the Loon's Loop. This three-story water slide will take you on a thrilling ride down to the pool below. The Loon's Loop also features iSlide technology, allowing you to choose the music and lights you want as you ride down the slide.
The waterpark also has a lazy river, a rock-climbing wall, a hot spring, and a floating acorn water obstacle course.
The price of day passes varies depending on when you're visiting the waterpark. It ranges from around $33 to $48, but children three years old and under are free of charge.
Address: 5665 E. Pickard Rd. Mt. Pleasant, MI 48858 | Phone: (877) 232-4532 | Website: https://www.soaringeaglewaterpark.com/
Splash Universe, Dundee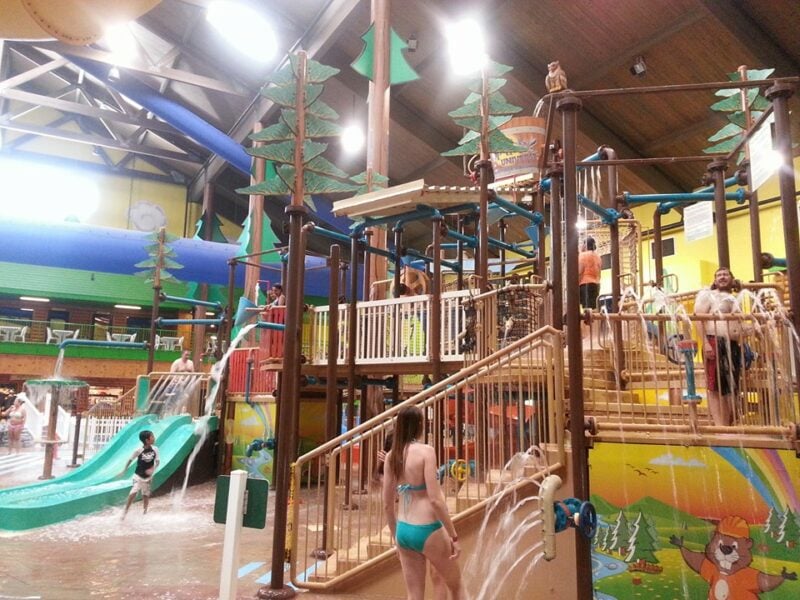 Splash Universe is a great place to take the kids for some waterpark fun. The waterpark features many exciting attractions, such as the Goldmine Adventure Water Slides and the River Raisin.
The Goldmine Adventure Water Slide is a four-story water slide that will take you on a thrilling ride down to the pool below. The River Raisin is a lazy river that will allow you to float around and relax.
The park's Water Adventure Treehouse is a great place for kids to play and have fun. The treehouse has many features, such as slides, water cannons, and spraying water fountains.
For $32, you can gain an entire day of access to Splash Universe. However, the park also offers a cheaper pricing option for a half-day pass ($25) and a twilight swim pass ($13).
Address: 100 Whitetail Drive, Dundee, MI 48131 | Phone: (734) 828-5004 | Website: http://splash-universe.com/
WildWater Adventure, Muskegon (part of Michigan's Adventure)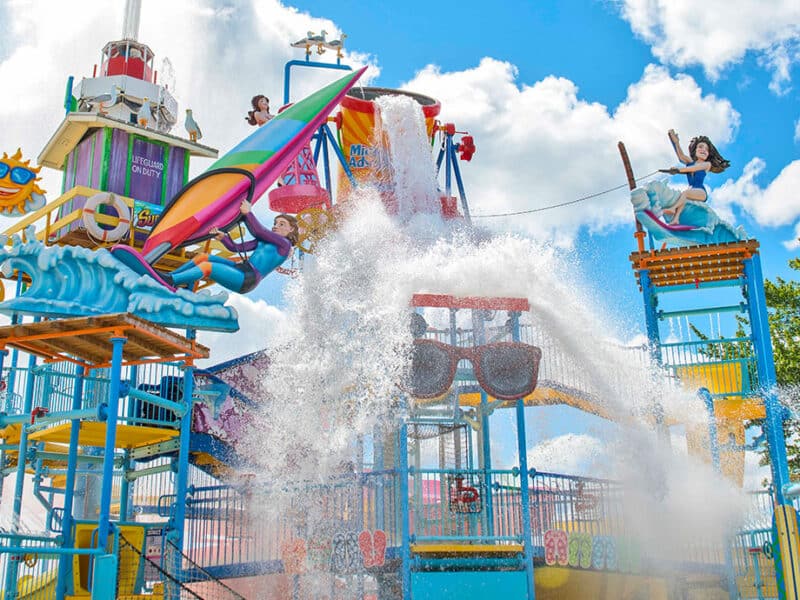 WildWater Adventure is one of Michigan's finest waterparks, and it is located inside Michigan's Adventure, an amusement park in Muskegon. The waterpark features many thrilling slides, rides, and attractions such as the Funnel of Fear and the Mammoth River.
As one of the park's most thrilling and fun-filled rides, the Funnel of Fear is a must-try. This four-person ride features a gigantic funnel that will plunge you into an enclosed tunnel and make you scream with fear and laughter. The Mammoth River is a giant water slide that will take you on a wild ride down a water-filled canal. This is an excellent ride for those who love thrills and adventure.
A whole-day pass to the WildWater Adventure will cost you $40, while a two-day pass will cost you $65.
Address: 1198 W Riley-Thompson Rd., Muskegon, MI 49445 | Phone: (231) 766-9959 | Website: https://www.miadventure.com/wildwater-adventure
Summer Lovin' Fun
Michigan is home to many great waterparks that are perfect for a summer day of fun in the sun. Whether you're looking for thrill rides, lazy rivers, or waterpark treehouses, there's a place for you in Michigan!
A Guide To Visiting Waterparks in Michigan
First things first, gear up! You don't want to remember everything you forgot to pack at the last minute, right? Forgetting the essentials spoils the fun of your summer trip. Here are some summer essentials you won't want to forget:
SPF or sun protection: You'll spend most of the day outdoors, so protecting your skin from the harmful U.V. rays is a must.
Swim gear: This one's a no-brainer. Make sure to pack your swimsuit, goggles, and other necessary equipment before heading out.
Dry bag: A dry bag helps store wet swimsuits and underwear. Bringing a separate bag for your wet items keeps your other clothes dry.
Towels: Don't forget to pack extra towels for everyone in the family.
When packing clothes for a waterpark day, it's important not to forget these essentials:
Bathing suit: Of course, you'll need a bathing suit! If you're planning on going down the slides, bring a swimsuit that won't fall off or get caught.
Something to cover up: While most waterparks have areas where you can take a break from the sun, it's always good to have something to cover up while you stroll the park in your swimsuit.
A loose and light outfit: After a long day of swimming, you'll want to change into something loose and comfortable. After all, you won't be spending the entire day in the waterpark wearing your bathing suit.
Underwear: It's always a good idea to have an extra pair of underwear in case you need to change.
Now, you're almost done preparing for your family's summer trip to the waterpark. Here are three things you need to do when visiting a waterpark:
Arrive a few minutes early: This gives you time to find a spot to put your things, buy any last-minute items, and use the restroom before the fun begins.
Research the waterpark: Make sure to look up the waterpark online before your visit. This way, you'll know what to expect and can plan accordingly. It also helps to obtain a copy of the park's map, so you know where you need to go and how to get there.
Don't miss out on the main attraction: Waterparks usually have one or two main attractions, such as a lazy river or waterslides. Researching these ensures you won't miss out on the best part of the park!
Be sure to also check out our list of the best indoor water parks where you can enjoy amazing water slides and pools year round!
Looking to explore Michigan? Here are some other great things to do in the state: