Zoos in Alabama are fun attractions for you and your kids if you are curious about animals. A zoo is an animal park where a wide variety of animals are well taken care of and exhibited to the public for educational and conservation purposes. There's no need to travel to different countries or go on an overseas safari since you can see both local and international species in person at the zoo.
Learn about wildlife from Alabama and all over the world by joining zoo tours. Meet and interact with cute creatures by participating in scheduled feedings. Witness the unique behavior and characteristics of different animals by watching zoo live shows.
We are proud to feature the best zoos in Alabama which you can visit with your family and friends. Keep reading to find out which popular zoos you can explore in the state of Alabama. Get an overview of what animals you can expect to see, what exhibits they feature, and where they are located. Discover tips on how to make the most out of your trip to the zoo. All the basic things you need to learn about Alabama zoos are written in this handy guide.
Best Zoos in Alabama
These are the zoos in Alabama that you should include in your must-see list as an animal lover:
Gulf Shores Zoo
The coastal town of Gulf Shores is the home of the Alabama Gulf Coast Zoo. The zoo is situated just 6 miles away from the gorgeous white-sand beaches. That's why you will feel that you have entered an exotic tropical oasis once you enter the venue.
The Alabama Gulf Coast Zoo features more than 199 species, 31 subspecies, and eight endangered species, including the African lion, Eurasian lynx, and gray-crowned crane. Some of the animals were born in the zoo, while others were given as gifts. Certain creatures were rescued after they were abused, abandoned, or orphaned. Some animals came to us because the owners considered them too sick, old, big, or hard to handle.
The non-profit zoo is considered one of the favorite family attractions in the area. The non-profit zoo was even voted as the "#1 Zoo in Alabama" for two consecutive years. It was called "Little Zoo" when it was featured in the 2006 hit documentary series "The Little Zoo That Could" on Animal Planet. However, the zoo is anything but little. After all, the 25 acres of space showcases wide pathways which allow you to see the animals up close and personal.The zoo presents "Animal Encounters," which are educational opportunities to interact with friendly, gentle animals in a supervised, secure environment. You can even make reservations if you want to host your party in the zoo.
The Alabama Gulf Coast Zoo features picnic areas, benches, and rest stops where you can take a break with your family and friends. It also has a restaurant and a gift shop if you want to have a meal or buy souvenirs. It welcomes people of all ages and levels of mobility, ranging from kids to teens to adults to senior citizens.
Address: 20499 Oak Rd E, Gulf Shores, AL 36542 | Phone: (251) 256-7008 | Website: alabamagulfcoastzoo.com
Hope Hull Zoo
Hope Hull is the location of Alabama Safari Park. This zoo exhibits animals from all over the globe, ranging from Australia to Uganda. The spotlight is put on various species so that visitors like you can learn about the wild habitat, special dietary habits, and other interesting facts about animals. You can interact with zebras, camels, and other creatures from the safety and comfort of your car as you ride through the 350-acre drive-thru safari. The animals in the park are granted freedom to play, run, swim, rest, and sleep as they like so you can observe how they naturally behave.
You can see male animals challenge one another to get noticed by the females. You could even see mother animals nursing their babies. Perhaps you might even be one of the privileged few to witness an animal birth or to see a baby creature take its very first steps. In Alabama Safari Park, you may also walk around the village to explore the various exhibits on foot and to meet kangaroos and lemurs. You can also feed the giraffes who live in a tower or play with farmyard animals like pigs and goats in the petting area.
Address: 1664 Venable Rd, Hope Hull, AL 36043 | Phone: (334) 288-2105 | Website: alabamasafaripark.com
Birmingham Zoo

The 122-acre Birmingham Zoo is named after Birmingham, its home base in Alabama. It is one of the most famous destinations in the state because of its rich exhibit of animals from different corners of the world. It is a must-see attraction for you if you want to meet red pandas, rhinoceros, orangutans, jaguars, hippopotamus, zebras, sea lions, bears, giraffes, and lions. These are just some examples of the 550 creatures from 180 species, which include endangered species from six continents.
This non-profit zoo is considered a national leader in elephant conservation because of its "Trails of Africa" exhibit. The trail showcases a herd of male African elephants. The exhibit aims to educate guests like you about endangered elephant species, as well as other well-known or not-so-familiar creatures.
Aside from this, the "Behind-the-Scenes Encounters and Experiences" program will allow you to meet and interact with the animals. You can join a tour of the behind-the-scenes animal areas. You can also ask questions about the creatures from Animal Care Professionals.
The Birmingham Zoo is recognized as a science and ecology hub for students because of its botanical and cultural focus. You and your kids can join a Zoo Camp if one day is not enough to appreciate the beauty of the animals in the zoo. The camp includes exciting activities like the Red Diamond Express Train, Giraffe Feeding, Carousel, and Keeper Chats.
Address: 2630 Cahaba Rd, Birmingham, AL 35223 | Phone: (205) 879-0409 | Website: birminghamzoo.com
Huntsville Zoo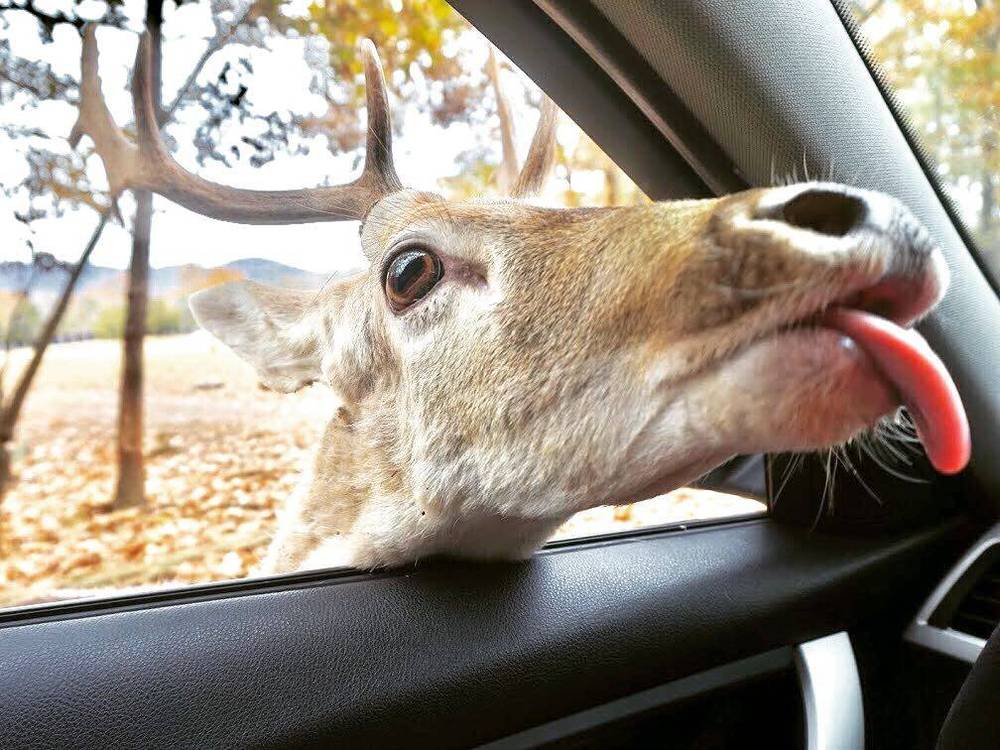 Huntsville is the spot in Alabama where the Harmony Park Safari may be found. The park is classified as a federally licensed nature preserve. It is the home of free-ranging endangered species and exotic animals. You can drive your car on the two-mile-long trail to see various creatures in the park. You can observe antelopes, zebus, buffaloes, ostriches, camels, kangaroos, tortoises, giraffes, and zebras. You can also visit the reptile house on foot if you want to see scaly reptile species.
Take note that the Harmony Park Safari is only open from March to November. This seasonal park is closed from December to February. Be aware as well that no pets or service animals are allowed inside this zoo.
Address: 431 Clouds Cove Rd SE, Huntsville, AL 35803 | Phone: (256) 723-3880 | Website: huntsville.org
Montgomery Zoo
Montgomery Zoo is named after Montgomery, the area where it is situated in Alabama. The goal of this zoo is to offer you and other visitors a fun, educational adventure. It features more than 500 animals from five continents, who live in natural, barrier-free habitats. It covers over 40 acres of landscaped grounds where you can meet endangered animals and exotic creatures. You can choose to walk around the zoo or ride on the mini-train as you observe wildlife like zebras, elephants, and lions.
You can drop by the flight-free aviary to see birds that originated from South America. You can also head to the lake to watch waterfowls. Afterward, you can marvel at the snakes and reptiles at the reptile house. If you want to take a scenic break, have a snack or drink at the Overlook Café which offers a picturesque view of the zoo.
A trip to the Montgomery Zoo is not complete with a tour of the Mann Museum. This museum has a collection of more than 250 exhibits of wildlife, fish, insects, and reptiles which are native to North America.
Finally, you can have a fulfilling visit to Montgomery Zoo by participating in its "Animal Encounters" attraction. Stand nose-to-nose with a tall giraffe or feed koi fish at the pond. Have a wet encounter with a stingray or let parakeets fly over your head. Watch the training sessions of male African lions, listen to the talks of the elephant trainers, and tour the elephant barns. Make friends with adorable creatures like llama, baby doll sheep, ducks, and African pygmy goats at the Petting Zoo.
Address: 2301 Coliseum Pkwy, Montgomery, AL 36110 | Phone: (334) 625-4900 | Website: montgomeryzoo.com
Tips To Maximize Your Visits to Zoos in Alabama
Follow these helpful tips to make the most out of your zoo trips in Alabama:
Plan Your Zoo Trip: Create a plan ahead of time to make sure that your day at the zoo will go smoothly. Confirm if the zoo will be open during the date that you want to visit. Check what the operating hours are so you will be aware of what time the zoo will open or close. Make a list of all the animals you want to see, shows you wish to watch, and the exhibits you hope to explore. List them down according to priority so you can visit them in order of how much they are important to you.
Buy Tickets in Advance: You can avoid getting stuck in long lines just to buy tickets for yourself and your family and friends at the zoo entrance. Order your tickets online or in-person before the actual day of your visit. If you are going with a group, it might be a practical idea to purchase your tickets in bulk since some zoos offer discounts for multiple tickets. In case there are different kinds of tickets, select the ticket type that will give you access to all the shows and exhibits you are interested in.
Download a Zoo Map: A map can help you navigate the zoo easily and quickly. It can help you avoid getting lost and wasting time by going around in circles. Some zoo official websites feature maps of the vicinity. Download the map on your smartphone or computer and print it out for your convenience. Take screenshots of the map if a downloadable version is not available. In case the map is not showcased on the website, just purchase a map at the zoo shop when you arrive there.
Be as Early as Possible: Sleep early and wake up early so you can head to the zoo while the day is still young. Being prompt will give you and your group the chance to spend as much time as you like in the zoo. You can take your time to appreciate each animal that you encounter. You will also have the chance to go around more exhibits and be part of the audience of more shows. You may also have more opportunities to interact with creatures directly since feedings usually take place in the morning.
Wear Comfortable Shoes: The level of comfort of your shoes will have an impact on your walking endurance during your zoo trip. Put on comfortable shoes with proper foot and ankle support such as high-quality sneakers or boots. Sturdy footwear that is made from water-resistant and dirt-resistant materials will also minimize damage to your shoes as you travel over dusty paths or uneven terrains at the zoo.
Bring Your Own Food: Unless there is a special meal at the zoo restaurant that you are planning to try, it might be a more practical decision for you to bring your own packed food to the zoo for you and your buddies or relatives. You can save money by preparing your main meal since zoo food is usually costly. However, it's alright to splurge on a special treat like ice cream or a hot dog if you want an extra dessert or snack.
Start Planning Your Trips to the Best Zoos in Alabama
Spending time at the attractive zoos in Alabama is an enjoyable way to learn more about local and international animal species. Take the opportunity to meet and interact with cute and majestic creatures alike by going on a tour of the popular zoos in the state. Whether you are going with your kids or with your fellow kids-at-heart, animal lovers like you will have the time of your life as you explore these Alabama zoos.
Bookmark our website now to discover more interesting places to visit in Alabama and other regions in the U.S.
Cities in Alabama who have Zoos
Looking to explore Alabama? Here are some other great things to do in the state: