Best Water Parks in Pennsylvania
Set against the backdrop of its beautiful waterfalls, cliffs, and lakes, the Pennsylvania waterpark scene is one of the state's best-kept secrets. Its waterparks offer the best places to cool off in a variety of settings throughout the year.
There is no better way to beat the heat in America's heartland region than by cooling off at one of the area's waterparks. Best known for its quaint towns, mountain recreation areas, and family values — this state offers an eclectic mix of waterpark fun. From floating the day away to speeding down a lazy river and jumping into the coolest pool around, you won't find a better cooling-off place than these waterparks in town.The list of water parks in Pennsylvania (PA) is huge.
Take a deep plunge into PA's bucket list of waterparks with this rundown of the best waterparks in Pennsylvania – both indoor and outdoor. Let's dive in!
Waterparks in Pennsylvania
Welcome to the best water parks in Pennsylvania! Here's a comprehensive list of attractions that will not just make your summer fun but safe and unforgettable.
Camelbeach Waterpark, Tannersville
• Address: 301 Resort Drive Tannersville, PA 18372
• Phone: (855) 515-1283
• Website: https://www.camelbackresort.com/
Nestled in the beautiful Pocono Mountains, Camelbeach is among the largest outdoor waterparks in PA. Boasting more than 37 slides and rides, the waterpark features exhilarating activities from mild to wild for thrill-seekers and sunbathers alike. Guests of all ages can enjoy an array of attractions — including wave pools, a lazy river, a mountain coaster, and so much more.
Adrenaline junkies can also hit Pharaoh's Phortress (a multi-person tube slide) or whiz down the single-person waterslides for a unique waterpark experience. The park has a FlowRider surfing and bodyboarding experience, an adventure river for rafting, and a tipping bucket structure for kids and adults to play in. And, don't miss their swim-up bar — where you can enjoy a cocktail after your next surf session.
If you aren't an adrenaline junkie, you can paint the town red in one of the comfortable cabanas or bask poolside in the hot summer rays on one of their serene lounge chairs. At Camelbeach, you'll discover a massive waterpark, an indoor amusement park, and more at your fingertips. Regardless of your choice, Camelbeach will whisk you away to a waterpark paradise.
Dutch Wonderland, Lancaster
• Address: 2249 Lincoln Hwy. East Lancaster, PA 17602
• Phone: 1-866-386-2839
• Website: https://www.dutchwonderland.com/
A 48-acre amusement park in Lancaster, PA, Dutch Wonderland is a waterpark for the old and the young at heart. It's a place to fall in love with amusement. Many may call it a "Kingdom for Kids," but their rides, entertainment, and activities will thrill everyone in the family. The park is perfect for children and thrill seekers, who can enjoy more than 35 rides and attractions. Plus, several other activities — including the world-famous Kingdom Coaster and Merlin's Mayhem.
From little kid rides to wild roller coasters, there's a magical world of cherished memories for people of all ages. You can take a spin on their vintage steam engine or get into the action on a modern rollercoaster. Visitors can also enjoy an exciting train ride around the park on the Dutch Wonderland Special. Overall, the wide range of rides, entertainment, and opportunities to have meals and shop make visiting this waterpark one of the ultimate destinations for a day of a merry good time.
Great Wolf Lodge, Pocono Mountains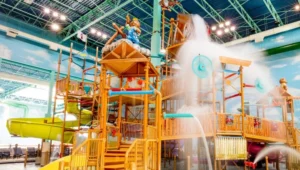 • Address: Great Wolf Dr. Scotrun, PA 18355
• Phone: (570) 688-9899
• Website: https://www.greatwolf.com/poconos/waterpark-attractions/indoor-water-park
Another waterpark resort in the Poconos, Great Wolf Lodge features a woodsy, indoor theme and massive water slides. It's the largest indoor waterpark resort and Pocono Mountain's newest attraction. A part of a chain of waterparks across North America, the resort boasts a massive pool complex with giant water slides, waterways, a Jacuzzi, and several family-friendly activities.
Fun for all ages, The Great Wolf Lodge is a great escape for adventure. The pure excitement of the water park will keep you entertained all day. A variety of rides and activities await you, where you can make the most of your Pocono Mountains getaway. You can indulge in various water activities such as the Hydro Plunge uphill water coaster, The Double Barrel Drop, the Coyote Canyon bowl ride, the river Canyon Run family raft ride, the Slap Tail Pond wave pool, and many more.
Moreover, guests can spend the day cooling off at the indoor waterpark. Then, enjoy a summer night out with family and friends as you tackle their ropes course, arcade games, MagiQuest, and howl at the Moon Mini Golf. Plus, a wide variety of dining options. With myriad ways to thrill the entire family, Great Wolf Lodge turns ordinary vacations into extraordinary adventures.
Idlewild and Soak Zone, Ligonier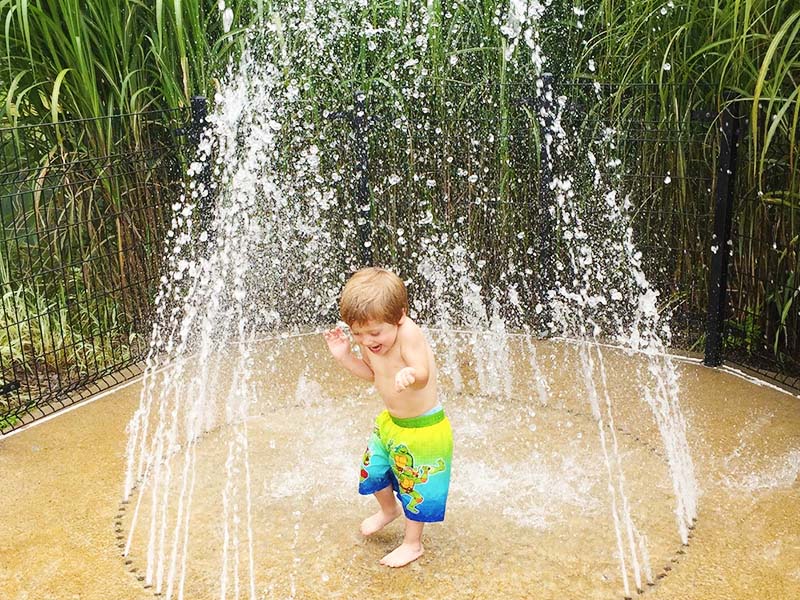 • Address: 2574 US Hwy 30 Ligonier, PA 15658
• Phone: (724) 238-3666
• Website: https://www.idlewild.com/
The longest-operating amusement park in Pennsylvania, it has won industry recognition as a top family attraction. Featuring water slides and activities, games, rides, and more, there are enough attractions to keep everyone cool through the warm summer months. The 280,600-gallon Wowabunga family wave pool is just one of the attractions that make this waterpark an exciting place to visit.
Idlewild and SoakZone is the perfect place for a fun day of swimming, playing in the arcade, and enjoying family time on warm summer days. It offers 12 different slides, a tipping bucket, and the Float Away Bay lazy river for everyone to enjoy. If you're looking for thrills and excitement, you can soar down the high-speed Surf Hill Plunge or try the adrenaline-pumping Pipeline Plunge and the Hydro Racers mat slides for a powerful and exciting rush.
With activities and amenities that appeal to young families, thrill seekers, and active seniors, it's the perfect place to celebrate whatever brings you together. You can simply rest, relax, and soak up a good time. Additionally, step back in time as you journey through our beautiful park on the vintage wooden carousel. If you don't mind splurging on food, then take a chance on the fair favorites like burgers, funnel cakes, and ice cream.
Montage Mountain Waterpark, Scranton
• Address: Interstate 81 – Exit 182, 1000 Montage Mountain Road, Scranton PA, 18507
• Phone: (570) 969-7669
• Website: https://www.montagemountainresorts.com/
Set among the picturesque trees of Northeastern PA and just minutes from the Poconos, Montage Mountain Waterpark provides you with a raft of excitement and fun. The park offers a playground of superhydrophobic slide modules that create an aquatic wonderland for splash-tacular memories. From the lazy river to the wave pool, you'll find plenty of ways to float and splash during summer.
Aggressive twists and turns, big thrills, and free-flowing water make Montage Mountain Waterpark a one-of-a-kind adventure. You can swoosh down the waterslides, or take on the excitement of the Tundra Tornado, then chill out in the lazy river. The current in this quarter-mile-long lazy river floats you alongside thrilling attractions. Meanwhile, the wave pool is sure to keep ocean lovers floating for hours. In addition, the little ones will have quite a time as they slip, slide, and splash in the kiddie pools of Polar Bear pond.
Whether you're planning an exciting day of adventure alongside friends or a quiet day of relaxation, you'll find just what you need. With something for everyone and an on-site hotel, you'll be set for an unparalleled vacation experience.
Sandcastle Waterpark, Pittsburgh
• Address: 1000 Sandcastle Dr. West Homestead, PA 15120
• Phone: (412) 462-6666
• Website: https://www.sandcastlewaterpark.com/
Experience Pittsburgh's biggest and best waterpark, where you can escape the summer heat in a 60-acre oasis right in the heart of the city. Since 1989, Sandcastle Waterpark has been promising a fun day of swirls, dips, and slides for the entire family. Located on the Monongahela River, the park offers over a dozen different slides and includes raft rides, wave pools, tube chutes, and children's areas.
Visitors can take a relaxing float trip in a tube down the lazy river, or splash with friends in one of the multiple pools scattered throughout the park. In 2022, the waterpark opened one of the most jaw-dropping, stomach-twisting, mind-numbing rides in the state — the Bombs Away free-fall slide. However, it's only recommended for teenagers and adults. The Tad Pool, Wet Willie's waterworks, and several other playful attractions will appeal to younger thrill seekers.
After a fun day in the waterpark, you can head to the shaded lawn and beach areas for some calmness and tranquility in a secure perimeter. Open from Memorial Day to Labor day, all visitors to Sandcastle Waterpark will experience first-class accommodations and a casual, friendly, neighborhood atmosphere. If you're looking for something fun to do this summer, check out Sandcastle Waterpark!
Splash Lagoon, Erie
• Address: 8091 Peach St, Erie, PA 16509
• Phone: (814) 217-1111 |
• Website: https://www.splashlagoon.com/
Splash Lagoon is one of the largest indoor waterparks in Pennsylvania. It features both tropical and lagoon themes in a tropical, Polynesian paradise. The best thing about this park is that It's heated to 84 degrees (F), so you can go all year round. There are plenty of activities to keep rowdy kids busy as well as a 12-level Tiki Treehouse water playground.
Here, you can experience the thrill ride of your life on a 6-foot high wave in their 200, 000-gallon wave pool. The lazy river lets you float around the park while the tipping bucket and bowl slides are perfect for some adrenaline rush. With its balanced mix of thrill and leisure attractions, Splash Lagoon offers the best day out for thrill-seekers and those seeking relaxation alike.
In addition to the water park, Splash Lagoon is packed with dry attractions that stimulate the player's cognitive, physical, and creative abilities. These include laser tag, a full-service arcade, and a ropes course that's 70 feet in the air.
Restaurants and shopping options in the area make it even more appealing.
WildRiver Waterpark, Entriken
• Address: 3101 Chipmunk Crossing, Entriken PA 16638
• Phone: (814) 658-3500
• Website: https://rvcoutdoors.com/lake-raystown-resort/wildriver-waterpark/
Part of the Lake Raystown Resort, WildRiver Waterpark spans over 49 acres of forest, waterfalls, winding waterways, and bridges. While it's a smaller indoor waterpark, the park is a great place to escape the heat, cool off in the water, and have some summer fun. From slides for the wildest water rides to a lazy river for those perfect days, the place offers an adventure that families and friends won't soon forget.
Hydro-blasting fun that includes 380-foot twisting slides, the White Water Innertube Ride, and the Atomic Blaster await you at the WildRiver Waterpark. Children will enjoy the children's splash and play pool. The waterpark also offers you a chance to forget the cares of the day, float lazily on the river and let your stress float away. A giant bucket then dumps a ton of water on you as you sit in chairs over it.
With its year-round, outdoor heated pool and three indoor pavilions, WildRiver Waterpark is also an ideal setting for company picnics, family reunions, or other special occasions. Open from mid-May to mid-September, the waterpark is as fun for families as it is for thrill-seekers — come see it for yourself!
Wildwater Kingdom, Allentown
• Address: 3830 Dorney Park Road Allentown PA 18104
• Phone: (610) 395-3724
• Website: https://www.dorneypark.com/
Immerse yourself in water adventure with every passing second at the Wildwater Kingdom. This outdoor waterpark features 19 rides, slides, and attractions — all conveniently located beneath the Lehigh Valley's warm summer sun. It's home to the Python Plunge, a thrilling six-story tube slide, and Lollipop Lagoon, an interactive splash zone for kids.
From the moment you enter, you'll be treated to the fun and excitement of a water park made for people of all ages. The park is also equipped with a lazy river, speed slides, a wave pool, family raft rides, and mat-racing water slides — along with a play area for younger children to enjoy.
The Wildwater Cove has a shallow area with water fountains and a slower wave interval sequence which provides visitors with a less overwhelming experience. Many visitors enjoy swimming and jumping in this wave pool with their children because it's generally calmer than the other pools. To keep everyone smiling and safe, we are fully staffed by on-site lifeguards.
Combining all the thrills of Dorney Park, a waterpark, and kiddie land all into one vacation destination, the Wildwater Kingdom is family fun at its finest. Within the park, a Tidal Wave Cafe has menu items that include pulled pork, build-your-own mac, and cheese bowls along with a signature craft beer. Indeed, a day in this park is filled with fun and excitement.
Plan Your Trips Now to the Best Waterparks in Pennsylvania
In closing, the waterparks in Pennsylvania are incredible for their variety and fun. The Keystone State has something for everybody, be you a thrill seeker or a family looking for the perfect place to cool down with fun and relaxation. Each waterpark is unique and has something to offer.
Regardless of your choice, these water parks will have you splashing in no time. Whether it be a ridiculous number of slides or a lazy river, the state of Pennsylvania has everything you need to beat the summer heat. What are you waiting for? Pack your swimsuit and head to one of the state's top-rated waterparks for some summer fun.
Be sure to also check out our list of the best indoor water parks where you can enjoy amazing water slides and pools year round!