Summers in Massachusetts can be quite a mixed bag. You could get really hot and humid weather one day and gloriously warm, perfectly sunny days the next. Regardless of which one you get, though, both are still perfect for spending the entire day cooling off in the water.
Known as the Old Bay State — or just Bay State — Massachusetts has everything you could want in a perfect summer vacation.
If you're looking for an idyllic and picturesque summer vacation, you can't go wrong with visiting one of the state's beautiful beaches.
However, if you're more of a thrill-seeker who wants an exciting, wet, and wild summer, then you'll want to check out one of the state's impressive waterpark offerings.
In this handy guide, we've got not only some of the best waterparks to visit in Massachusetts but also our expert tips and tricks to ensure you can make the most of your summer getaway.
Best Water Parks in Massachusetts
Massachusetts may already have over 1,500 miles of coastline and beaches, but you won't find a shortage of water amusement parks in the state. From outdoor and indoor water parks to hybrid entertainment zones complete with spas and suites, you'll surely find one that's perfect for you and your loved ones.
Make unforgettable memories with your family and friends while beating the summer heat at one of the most popular water parks in Massachusetts. Below are eight aquatic amusement parks to include in your bucket list of places to visit in the Old Bay State this summer.
Aqua Lagoon Waterpark — West Springfield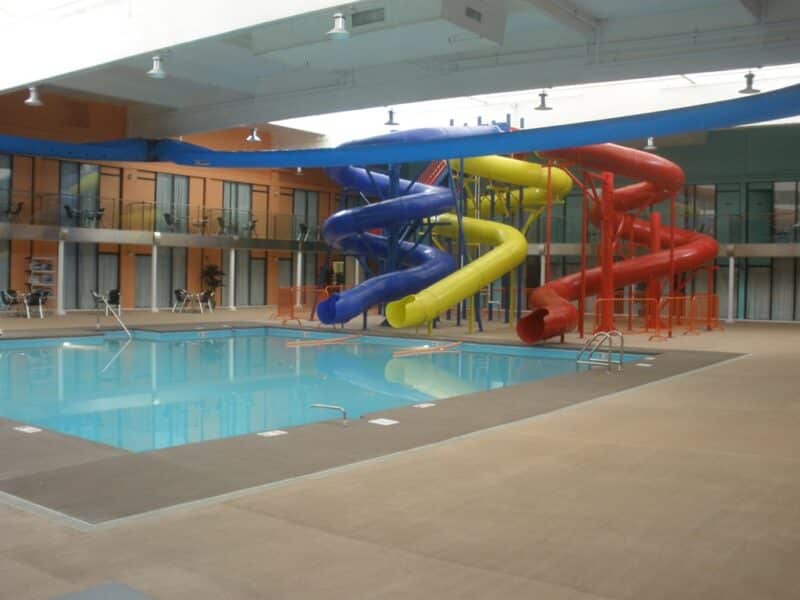 First on our list is the Aqua Lagoon Waterpark in West Springfield, MA. This indoor waterpark has been around for years and is beloved by both tourists and locals alike. Since the park is indoors, you can visit it anytime and during any weather and still have a fun, tropical experience.
Aqua Lagoon Waterpark is perfect for families with kids or a large group of friends. They accept bookings for semi-private group parties, complete with swimming time, pizza, and soda.
This park may not be the largest one on our list but it does have all the basics covered to ensure you'll have an enjoyable time. It features three twisty water slides with a landing pool, a splash pad with a water bucket brigade, palm tree showers, a curvy jet manifold, and a water dome.
Address: 1080 Riverdale Street, West Springfield, MA, 01089 | Phone: (413) 781-8750 | Website: https://www.aqualagoonwaterpark.com
Breezy Picnic Grounds Waterslides — Douglas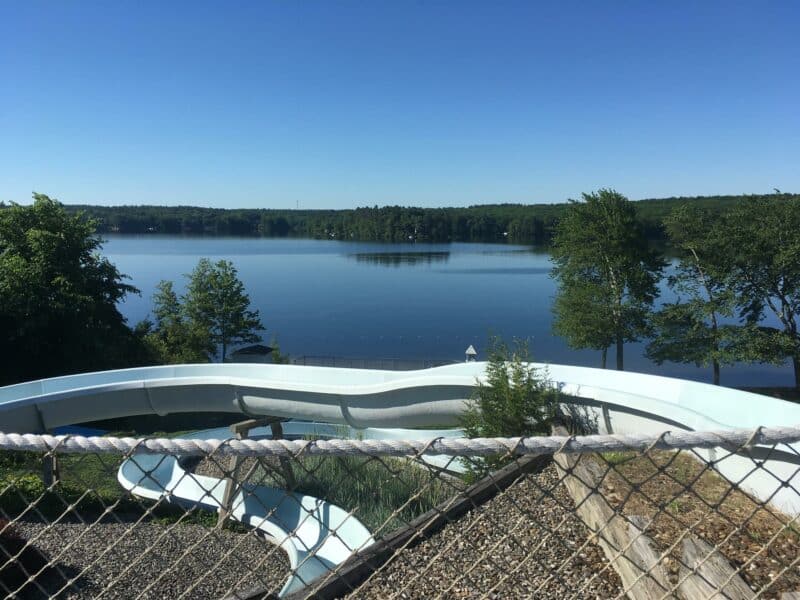 Nature lovers and adrenaline junkies will get the best of both worlds at Breezy Picnic Grounds Waterslides. Found in the heart of Douglas, MA, this unique place has it all — from three 300-foot tall and twisting waterslides to beautiful and relaxing park grounds.
Open since the 1950s, Breezy Picnic Grounds has been a favorite getaway for families not just from the Bay State but also Rhode Island and Connecticut. Here, kids and teens can have fun on the slides or lakeside beach while parents can have some quality R&R time basking in the sun and feeling the breeze on the picnic grounds.
The recreational facility has plenty of large tables perfect for big groups. It also has amazingly well-maintained grounds perfect for picnics.
Address: 520 Northwest Main Street, Douglas, MA 01516 | Phone: (508) 476-2664 | Website: https://breezysummer.com
Cape Codder Waterpark — Barnstable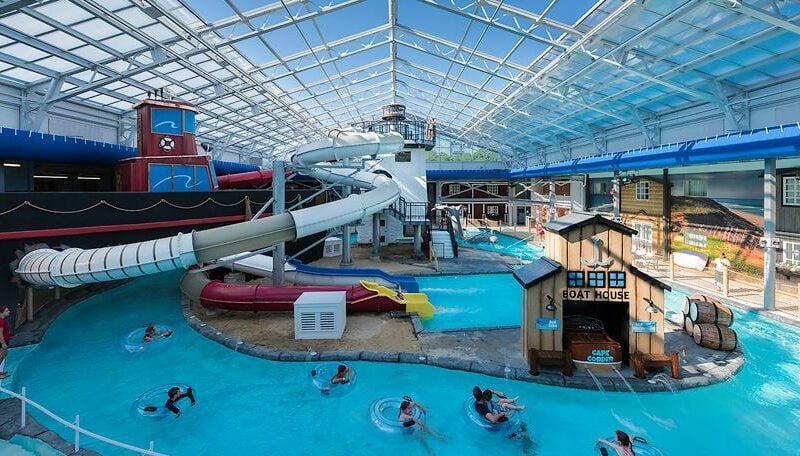 If you're looking for a wild but also relaxing weekend getaway, then look no further than Cape Codder Waterpark. Those descriptions might seem contradicting, but Cape Codder managed to make it work perfectly.
This water park is part of Cape Codder Resort and Spa in Barnstable, MA. It features both indoor and outdoor facilities, including a wave pool, water umbrella, water fountains, heated outdoor pool, and a pirate-themed kiddie spray pool with small slides and all the fixings.
The park also has two 160-foot high speed water slides and other winding slides of varying heights. There's even a 300-foot tall "stormy" river with waterfalls and rapids.
After running around and trying all the waterpark attractions, you can relax in the park's saunas, 24-person whirlpool, or have a hearty meal at its Gazebo Cafe. Cape Codder also has a full-service spa and offers complete packages for friends, couples, and families.
Address: 1225 Iyannough Road, (Route 132 & Bearse's Way), Hyannis, Barnstable, MA 02601 | Phone: (855) 861-4370 | Website: https://www.capecodderresort.com
Great Wolf Lodge — Fitchburg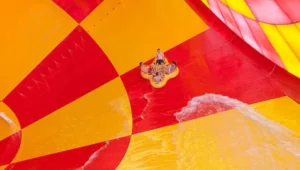 One of the biggest challenges when going on vacation with a large group of friends or relatives is that not everyone wants to do the same thing. Some may want to splash around and have fun at water parks but others might prefer to get their blood pumping while rock climbing or traversing rope courses.
Located in Fitchburg, MA, Great Wolf Lodge offers all of that and more. The place certainly lives up to its claim of being one of the best water parks in Massachusetts.
Among its many indoor water park facilities is a four-story water fort treehouse that kids and kids-at-heart will love. The park also features some well-loved family favorites like a five-foot deep wave pool, a lazy river, and a four-story tandem tube ride.
For some high thrill-level attractions, they've got the Howlin' Tornado, a six-story funnel favorite for groups of four, and the Wolf Tail, a high-speed, almost vertical 20-foot drop followed by an equally high-speed loop.
If you and your group are looking for some adventures on dry land, the Great Wolf Lodge also has a climbing wall, bowling alley, ropes course, arcade, build-a-bear workshop, and treasure hunt exploration game spanning the whole lodge.
Address: 150 Great Wolf Drive, Fitchburg, MA 01420 | Phone: (866) 678-9653 or (978) 343-9653 | Website: https://www.greatwolf.com/new-england
Six Flags Hurricane Harbor — Agawam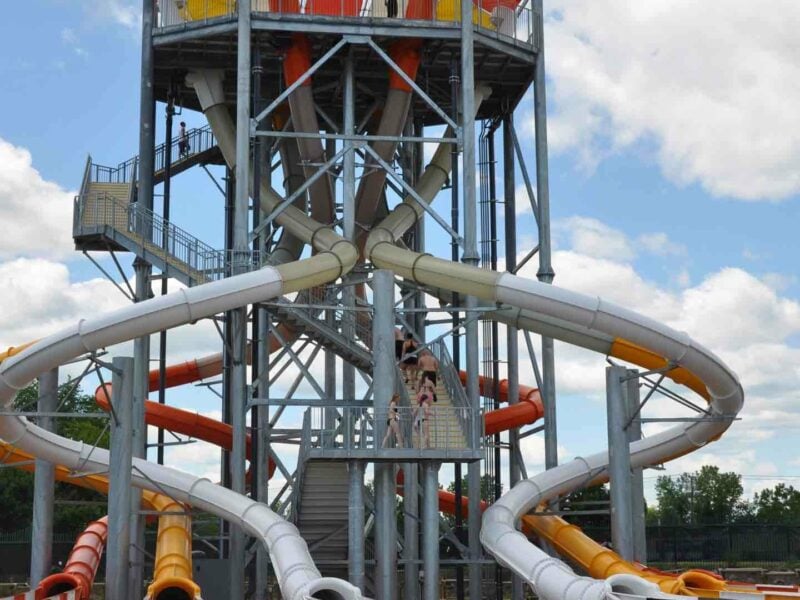 It's hard to find anyone who hasn't heard of Six Flags. When talking about fun, entertaining, and well-loved amusement parks, you certainly can't leave out Six Flags from the list.
Six Flags brings something new to the table with Hurricane Harbor, the biggest waterpark in New England. Visit Agawam, MA and get your share of adrenaline rush-inducing rides and other fun-filled attractions at the park.
The aquatic theme park has plenty of slides for visitors of all ages and thrill-seeking levels. If you're up for some heart-pumping fun, you can check out the 75-foot high Bonzai Pipelines, high-speed Cannonball Falls, and coiling Typhoon water coaster. For milder yet still fun times, there's the Commotion Ocean wave pool, Big Kahuna twisty tube slides, and Swiss Family Toboggan for the whole family.
Six Flags also has plenty of cabanas you can rent when you need to recharge before splashing away at the next slide. There's also plenty of concessionaires and dining areas to choose from.
Address: Route 159, 1623 Main St., Agawam, MA 01001 | Phone: none | Website: https://www.sixflags.com/newengland
The H2O at Cape Cod Inflatable Park — Yarmouth

This aquatic entertainment center located in West Yarmouth, MA is not your typical water park. The amusement center mainly features countless fun bouncy attractions like velcro walls and bouncy obstacle courses.
Recently though, the inflatable park added an all-new area for even more wet and wild summer fun. The H2O at the Cape Cod Inflatable Park has three different bouncy water slides for you and your family to try.
And if that's not enough, there are plenty more attractions at the Wicked Waves waterpark section. You'll find some waterpark staples like a wave pool and lazy river, as well as larger twisting slides, and a zone just for toddlers and kids.
Although you can't bring in food and drinks, the park has plenty of food options to choose from at the Shark Bites Cafe. There's even a poolside bar so you can enjoy your drinks and snacks while lounging in the pool.
Address: Cape Cod Inflatable Park, 518 Main Street Route 28, West Yarmouth, MA 02673 | Phone: (508) 771-6060 | Website: https://capecodinflatablepark.com/
Waterpark of New England — Danvers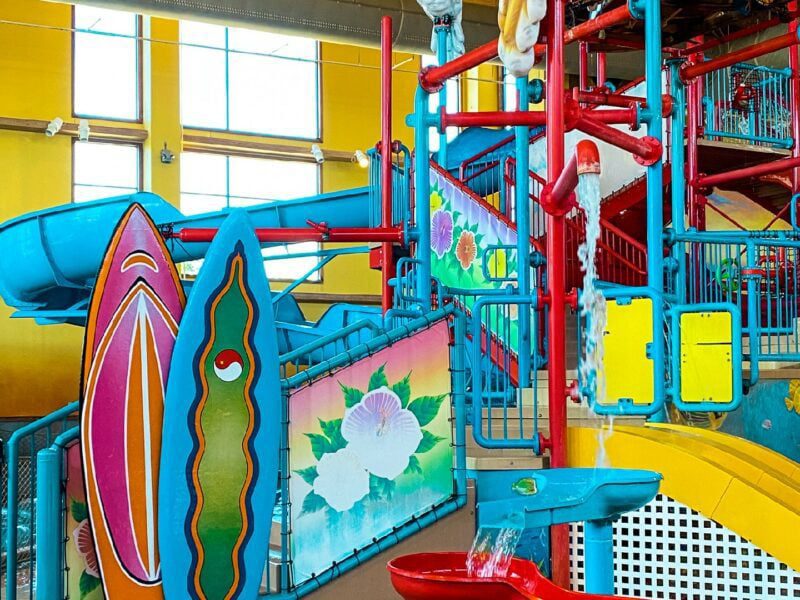 With over 65,000 square feet of exciting attractions, you and your friends will have hours of fun and adventure at the Waterpark of New England. Best of all, if you're sightseeing in Boston, it doesn't take much for a detour to Danvers — making this water park the perfect addition to your list of must-visit places in the Boston area.
Kids absolutely love the park's interactive water-filled jungle gym and dip-in theater, which has a zero-depth entry pool for kids' safety, kiddie slides, and plenty of water-dumping buckets. Additionally, the aquatic park has four exciting giant body and raft waterslides and a lazy river to float in.
Adults will also enjoy the indoor and outdoor spa facilities, which include giant hot tubs. The waterpark of New England also offers overnight stay packages in partnership with The DoubleTree by Hilton Boston North Shore, complete with two all-day access to indoor waterpark, fitness center, hotel indoor pool, and game room.
Address: 50 Ferncroft Rd. Danvers, MA 01923 | Phone: (978) 646-1062 | Website: https://waterparknewengland.com
Water Wizz — East Wareham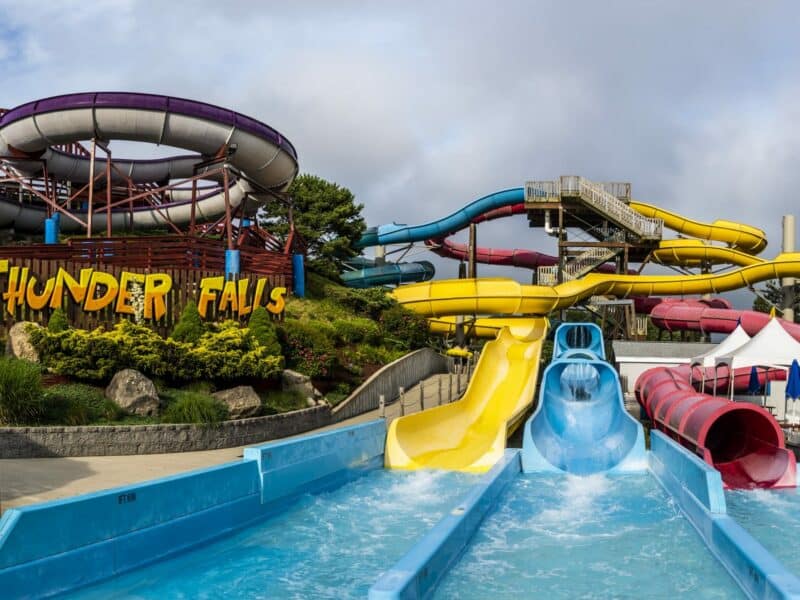 Last but most definitely not the least in our list is Water Wizz in East Wareham, MA. Advertised as the largest waterpark in Southern New England, the place has plenty of attractions and rides that will satisfy visitors of all ages.
Thrill-seekers love Devil's Peak, a 76-foot high pair of high-velocity, free fall slides, and the Thunder Falls, with its three ultra-fast and twisting tube slides for singles and doubles. There's also the Pirate's Plunge, another high-speed, high-altitude tube slide but this one ends in a flume. If you're into slides with rapid, death-defying turns, then the Squid Row is perfect for you.
Kids can also get their share of exciting, adrenaline-pumping, yet safe rides with their parents and friends at The Canal, a six-story high but smooth and easy-going tube slide. There are also interactive play areas for kids, a running river, and a lily pad crossing course to test your balance and strength.
Address: 3031 Cranberry Highway, East Wareham, MA 02538 | Phone: (508) 295-3255 | Website: https://www.waterwizz.com
Make the Most of Your Waterpark Experience in Massachusetts
Careful trip planning is a must when visiting water parks, especially if you are going with a large group of people. This will likely be a full day event so you have to plan the trip well. Always do your research and check the water park's website for their schedule, dos and don'ts, reminders, events, and other important information.
Here are our best tips and tricks to help you maximize your visit to any of the best waterparks in Massachusetts:
Be as early as possible: Unless you're fine with long lines at the entrance and attractions, it's best to get to the park around its opening time. Check when the gates open and try to arrive at least half an hour before that.
Best days to visit: Schedule your trip on weekdays. Water parks often draw in large crowds during the weekends, especially Saturdays, and the holidays.
Best months to go: Weather-wise, summer months are the best time to go to water parks in Massachusetts. July is typically the hottest month, so it may be better to visit before or after that month.
What to wear: Always check with the park if they have specific rules on what you can and can't wear. In general, one-piece bathing suits, rash guards, and swimming trunks or shorts are accepted. Choose ones that don't have a zip or long ties that could snag on the rides. Bikinis may come undone when you go down slides so it's best to avoid those.
Proper footwear: Concrete walkways can get really hot during summer. Wearing flip-flops, plastic shoes, or water shoes will help you avoid burning your feet. However, check with the water park first for their footwear guidelines.
What to bring: Always bring sunscreen and apply it every two hours. Other things to bring include goggles, change of clothes and underwear, wet bag for your swimwear, a hat or baseball cap, and some cash. If the park doesn't rent out towels, make sure you bring your own.
Phones and other devices: It's safer to leave your phone at home, in the car, or in a rental locker at the park. If you can't go without it, get a waterproof case to keep your gadgets from getting water-damaged.
Safety precautions: Bring water floaties or an inflatable life vest if you're visiting the water park with anyone who doesn't know how to swim. If you're going with a large group, have a designated meeting point in case you all get separated and don't have any means of contacting each other.
Plan Massachusetts Waterpark Getaway Today
Spending a whole day or weekend at one of the best water parks in Massachusetts is a guaranteed way to enjoy the summer. With plenty of amazing and top-notch water parks to choose from, it all just depends on what you and your companions want to do — or which one's nearest to you!
Take the opportunity to cool off and bond with your friends or family. Whether you're a student on vacation or a hardworking professional wanting to relax, you will surely have fun and be wanting to go back for more.
Be sure to also check out our list of the best indoor water parks where you can enjoy amazing water slides and pools year round!
Looking to explore Massachusetts? Here are some other great things to do in the state: