If you're looking for a fun way to cool down this summer, a visit to one of Iowa's many waterparks is the perfect solution! From enormous amusement parks with dozens of slides and attractions to smaller splash pads geared towards little ones, there's something for everyone.
Iowa is home to some of the best waterparks in the country. Bring your whole family and your friends with you so you can all enjoy the waterparks to the fullest. Waterparks were made to provide the perfect summer day, so don't miss out and make sure to visit one of these great parks!
We're proud to feature the best waterparks in Iowa for your enjoyment. All of these waterparks are clean, safe, and fun for the whole family. Check out our guide to some of the best waterparks in Iowa, and get ready for some splish-splashin' fun!
Best Waterparks in Iowa
Adventureland, Altoona
Adventureland Resort in Altoona is Iowa's largest amusement park. Water lovers will enjoy the Adventureland Lagoon, which features a lazy river, two water slides, and a splash pad. The whole family can also cool off in the wave pool or take a spin in the activity pool.
If you're looking for more thrills, head over to the Tornado, one of Adventureland's two giant water slides. You'll start out in a dark tunnel before being launched into a bright, open bowl. From there, you'll swirl around and around before finally shooting out into a pool of water.
No matter what your age, Adventureland is sure to have something for everyone in your family. There are thrill rides, kiddie rides, family rides, and adventure rides that you can explore all you want! Overall, this waterpark has over 30 rides to choose from.
Plus, there are attractions such as games and shows that will keep those who can't or don't want to get wet entertained. You can even stay the night by camping in the resort's campground!
Season passes and group passes are available to purchase, and there are always discounts and promotions going on, so make sure to check the website before you go. Waterparks are the perfect place to cool off and have some fun, so make your way to Adventureland in Altoona, Iowa!
Grand Harbor Resort and Waterpark, Dubuque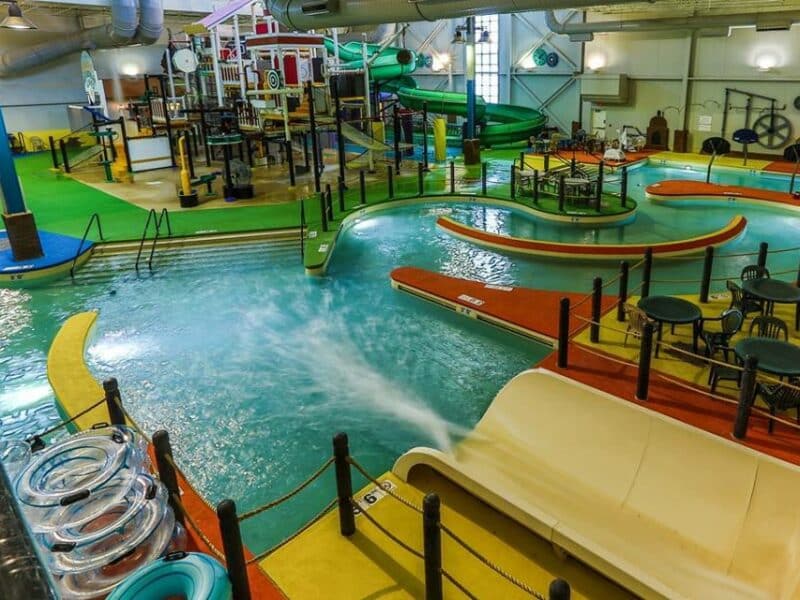 The Grand Harbor Resort features an indoor waterpark that kids, tweens, teens, toddlers, and even those who are young at heart will surely enjoy! There are days when the waterpark is reserved for hotel guests only, but there are also days when the public can enjoy the waterpark for a small fee. Make sure to call ahead and check the schedule so you can plan your visit accordingly.
Guests are not allowed to bring outside food into the resort. However, the Bait Shack, which is Grand Harbor Resort's on-site restaurant, offers a variety of food that the whole family will love. You can also choose to stay at Grand Harbor Resort's hotel so that you can have unlimited access to the waterpark.
If you're looking for a waterpark that the whole family will enjoy, then look no further than Grand Harbor Resort! Your family will have a blast splashing around and enjoying all the resort has to offer.
King's Pointe, Storm Lake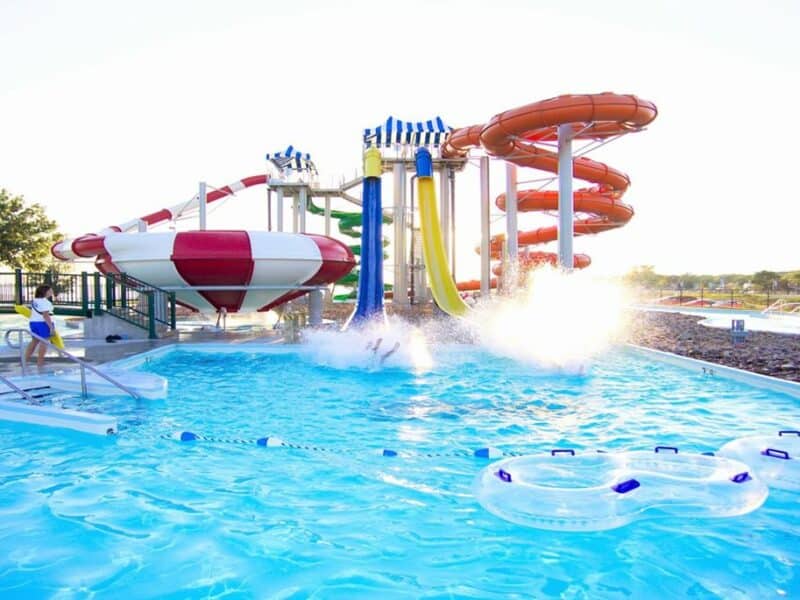 Kings Pointe in Storm Lake is a fun waterpark resort that offers something for everyone in the family. The Waterpark at Kings Pointe has a lazy river, two water slides, and a kids' play area with a zero-depth entry pool. If you're looking to stay overnight, there are also hotel rooms available that offer waterpark passes so that you can enjoy the park all day long! Cottages are also available to rent if you're looking for a more private getaway.
This waterpark has an on-site restaurant where you can grab a bite to eat, and there's also an outdoor center where children and adults can enjoy fishing, picture-taking, and picnics. This resort is pet-friendly, which means that you can bring your furry friend along for the fun! Just make sure to be responsible enough to take care of them and not leave them unattended.
If you're looking for a waterpark that the whole family will enjoy, you can visit Kings Pointe! You will get the guarantee that you and your family will enjoy it without having to worry about your safety. The resort has Red Cross-certified lifeguards who are always on duty to make sure that everyone is safe. So, just make sure to check their website for the availability of their waterpark since there are days when events are being held there.
Lost Island Water Park, Waterloo
Lost Island Waterpark is a great place to visit if you're looking for a Waterpark that has a lot of slides. They have 18 different slides that you can choose from, so you're sure to have lots of fun! They also have a lazy river where you can just relax and float around.
You can easily escape the heat by dipping yourself in one of the Waterpark's pools. They also have a kiddie pool for the little ones. Admission to the Waterpark is free for kids two years old and below. There are three dining options to choose from, and there is an adventure golf course if you're looking for something else to do.
You can also swim with mermaids and use their go-karts! If you're looking for a waterpark that has a bit of everything, this is the place for you. If you're planning on visiting Lost Island Waterpark, be sure to check out their website first to see if there are any special events happening that day. You may also want to try out the resort's theme park if you're looking for more ways to have fun!
Wasserbahn Indoor Waterpark, Williamsburg
The Wasserbahn Indoor Waterpark used to offer water slides, a water activity pool, a wading pool, and a multi-level interactive play that was great for kids and adults alike. However, this waterpark recently announced that it was closed for good.
Waterpark Tips for a Great Visit
If you want to make a splash this summer, there's no better place to do it than at one of Iowa's waterparks. Waterparks are the perfect way to beat the heat and have some fun with your family and friends. Here's a simple guide that will help you make the most out of your visit to an Iowa waterpark.
Be Sure To Bring Plenty of Sunscreen: Sunscreen is a must when spending a day at the waterpark. Be sure to apply sunscreen before you head to the park, and reapply it throughout the day, especially if you're swimming. Water reflection can intensify the sun's rays, so be sure to use a broad-spectrum sunscreen with an SPF of 30 or higher.
Bring Swim Diapers (If You Have Kids With You): Make sure to pack swim diapers for your little ones. Waterproof pants are not enough to contain accidents, and regular diapers will only make things worse. Swim diapers are specifically designed to keep everything in, so you can enjoy your day without worry.
Wear Water Shoes: The concrete around the pool can get hot, and there may be broken glass or other sharp objects on the ground. Water shoes will protect your feet and make your day much more enjoyable.
Pack a Cooler: You'll probably want to bring food and drinks with you to the waterpark. Most parks have picnic areas where you can enjoy your own snacks and save some money. A cooler will also come in handy if anyone gets hungry during the day.
Bring Extra Sets of Clothes, Just in Case: Water parks are, well, wet. Even if you don't plan on going in the water, you might end up getting soaked. It's always a good idea to bring extra clothes so you can change into something dry if necessary. Don't stick to one set of clothes, though! You never know what might happen, and it's always better to be prepared.
Check the Weather Forecast Before You Go: Water parks can be miserable if the weather is too hot or too cold. Check the weather forecast before you leave so you know what to expect. If it's going to be a hot day, make sure to pack sunscreen and hats for everyone. And, if it looks like it might rain, you might want to consider rescheduling your trip for another day.
By following these tips, you can be sure that you'll have a great time at the water park. Now, let us move on to exploring the best waterparks that Iowa has to offer!
Conclusion
Waterparks are great places to have fun with family and friends. If you're looking for a waterpark in Iowa, be sure to check out the ones on this list! You're sure to have a great time no matter which one you choose. Just make sure to pack your sunscreen! This way, you can enjoy the sun and the water without getting burned. Waterparks are also great places to cool off during hot summer days, so be sure to take advantage of them!
Be sure to also check out our list of the best indoor water parks where you can enjoy amazing water slides and pools year round!
Looking to explore Iowa? Here are some other great things to do in the state: