Waterparks in California
California is known for its hot and dry summers. For some people, this is one of the best parts of the experience. Traveling around the area under the heat of the sun may be one of the things that make their trip more memorable. However, when the heat gets too much, it may be time to take a dip and drive to the nearest waterpark for a nice splash of summer fun. California has a wide collection of waterparks to offer, which is why you will never run out of options to choose from.
We've compiled some of the best waterparks in California to narrow down your choices. If you want to know which waterpark you should add to your trip itinerary, then read on to learn more.
Map of Waterparks in California
The Best Waterparks in California
There are many waterparks to choose from in California. It's just a matter of choosing which attractions you like the most or which park is closer to you. Take the time to do your research before deciding on a park, just to be sure that you and your companions will be able to make the most out of your trip. Feel free to come back to this list for reference as well. The waterparks in California on this list are all fun, safe, and worth the visit!
Antioch Water Park, Antioch
If you are looking for a waterpark that offers extensive options for you and your companions, Antioch Waterpark is one of the first places you should consider. The park has over 10 slides and pools to choose from and enjoy. The park is spacious and family-friendly. Guests of all ages are guaranteed to enjoy their stay at the park as it has pools of different shapes and sizes to make sure that everyone has fun. Take note that the minimum height requirement for the smallest pool is over 30", so if your young ones are below the height requirement, it's best to keep a close eye on them at all times. There are also lifeguards available at the waterpark to ensure your safety.
There are four pools in total. The tad pool is a great hangout spot for kids, filled with only a 1'6" water depth. Adults can enjoy the rest of the areas. If you're looking for an adventure, then you can try out Antioch Water Park's rock-themed pool, the Boulder cove. Larger pools like the Lap pool and the sports pool are ideal if you're diving into a water park to hone your swimming skills or simply get some exercise in while having fun.
There are five slides to enjoy within the park as well. The Humphrey's slide, Rattle's Run, Canyon Cooler, Otter slide, and Crystal slide come in various styles and are spread out across the different pools inside the park. Lines can get a bit long, so you can also enjoy the scenery up at Prewett Peak for a stunning view of Mt Diablo as you wait for your turn. Lastly, Antioch Waterpark's newest attraction, the Cattail Harbor, offers a fun and refreshing splash area to beat the heat.
Aqua Adventure, Fremont
The Aqua Adventure waterpark in Fremont, California stays true to its name. As a place that offers a variety of pools, attractions, and fun programs, you will be getting an enjoyable adventure in one of the best water parks in California. Aqua Adventure's facilities and attractions were built to help guests of all ages enjoy their trip. The different playing areas and amenities make the experience more unique, adding some thrill to the pools with different kinds of slides and play areas.
There are only two pools inside the Aqua Adventure waterpark, but these two are enough to help you enjoy the day and swim the stress away. The Oasis Pool is a 25-meter lap pool where guests can swim around with ease and float to their heart's content. If you want some relaxation and adventure at the same time, then you can try out their Round About the River pool, a rapids-style swimming pool that is equipped with a gentle current to help you move around without even breaking a sweat.
The amenities and play areas may be one of the most interesting parts of the Aqua Adventure. The Lil Squirts area is a playground filled with fountains and sprays, giving kids a safe and fun area to splash around in shallow waters. The Bucket Bay is another attraction that is guaranteed to keep your kids occupied for the day, spraying 800-gallons worth of water as they navigate the attraction's mini playground. Lastly, the Fortress of Fun is the perfect fix for thrill-seekers, offering different types of slides that are connected to a four-story tower.
Buccaneer Cove at Castle Park, Riverside
Buccaneer Cove is one of the best waterparks in California if you are looking for different attractions in one place. Buccaneer Cove is only one out of many attractions and themed areas in Castle Park. If you're planning on taking a multi-day trip to Castle Park, then you may want to consider visiting Buccaneer Cove at least once. Access to the water park is included in the general admission tickets, so you won't have to pay twice if you feel like taking a dip in the pool while exploring the park. However, we recommend setting at least half a day aside to enjoy the water park so you can maximize the selection of pools.
Buccaneer Cove is the perfect fix for a hot summer day. It has four pools, five slides, and several other amenities and play areas within the vicinity. All pools come with different levels of depth, so guests of all ages will be able to enjoy swimming with no worries. The swimming area is built with many fun amenities. There are aqua domes, colorful spray loops, and fountains, different slides, and cool spray cannons. Cabanas are also available within the water park, in case you some shade while taking a break.
Casitas Water Adventure, Ventura
Can't figure out what to do while you're in Ventura? Why not try visiting the Casitas Water Adventure? This waterpark is located within the vicinity of Lake Casitas' recreational area. Casitas Water Adventure may not have as many options with pools and attractions as the other waterparks mentioned in this list, but it is still worth visiting if you're in the area. The Casitas Water Adventure is composed of two main areas. There's a large playing area for the children and a stream for guests of all ages.
There is only one main area for the young ones but the playground in Casitas Water Adventures is equipped with many features and amenities. The playground is built as one large, interconnected area with several slides, waterfalls, jungle gyms, and bridges. There is a lot to navigate through, so little ones can splash around and meet new friends in this fun and dynamic playing area. Aside from the playground, the main attraction is the Lazy River pool. Rest and relaxation are what this pool is going for. Inner tubes are available all around the pool for guests to use.
This 1,200-foot-long pool is both a memorable and calming experience. Guests will pass through an assortment of foggy bridges, waterfalls, and water jets as they float through the river pool. This attraction is great for a warm summer day. If you plan to visit Casitas Water Adventure, take note that they do not heat the water in their pools. We recommend visiting the waterpark on warm and sunny days.
DropZone Waterpark, Perris
You will never run out of things to do at the DropZone Waterpark in Perris, California. This water park is rich in both attractions and programs. If you are the type that gets bored of staying in one place at a time, then this is one of the ideal waterparks in California for you. Spend the day at DropZone waterpark and you're guaranteed to have an entire day of fun in the sun! Aside from the pools, there are also a lot of kid-friendly attractions, so both the young and young at heart can make the most of their stay at the park in their way.
Kids can enjoy some of the park's color playgrounds and attractions. Most of these attractions do not require life vests if the child is at least 36", so they can splash around freely with minimal risk and all fun! The Lil Jumpers playground is one of the best areas for children. It's a large play area, equipped with multiple spray cannons, slides, and a huge tipping bucket to interact with and use. Even smaller kids can have fun in the Launch Pad geysers, where they can run through a spray of water jets on the ground.
There are two pools available in the park, the Spring Pool and a competition pool for laps. If you're looking for something more interactive and newer, then you can try out some of the park's attractions. Feel free to float around in the jet stream river or ride some waves in the Hydroplane Flowrider. You can't have a waterpark with no slides, so you definitely cannot miss out on the Terminal Velocity slides. Lastly, DropZone also has a beach volleyball area if you want to take a break from the pools and play with your friends.
Dry Town Water Park, Palmdale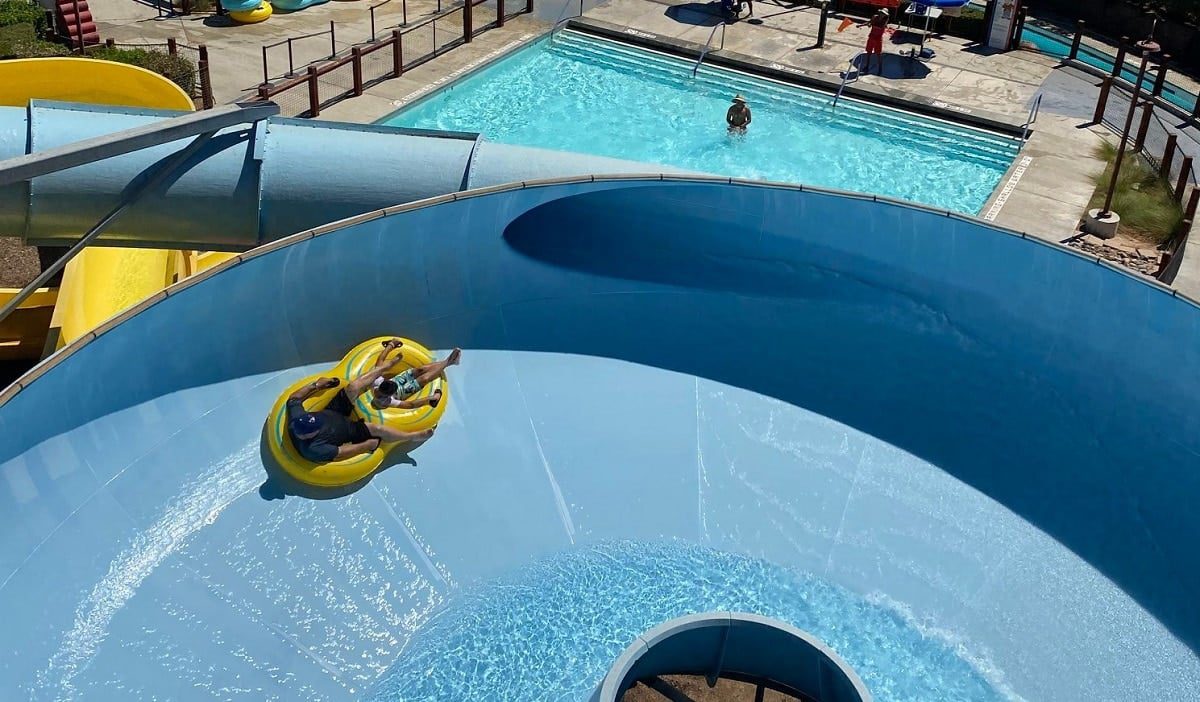 Don't let the name fool you. Despite being called Dry Town, this water park in Palmdale packs a good against hot and boring summer days. There are 6 attractions to choose from and enjoy, so your stay at the park will surely have the fun and adventure that you need to create a memorable trip.
A lot of these attractions are catered toward older kids and adults, so this is one of the best waterparks in California if you're looking for a bit of thrill during your visit. Rest assured that your kids won't get bored though. Smaller kids have a special playing area called the Little Miner's Camp. With its zero-depth pool, various slides, and fun amenities, little ones can have fun as you try out the different attractions in the park.
Dry Town Water park is best known for its rides and thrill-seeking attractions. The Devil's Punch Bowl and the Wildcatter are great group activities, allowing you and your companions to spin around and slide through an enclosed tube before landing with a splash. Dusty's Mineshaft Racer is for you if you're craving some friendly competition. Hop on your board and place your bets as you and your companions slide through sloped, open-air lanes to the finish lines. Rattler's Revenge will have you zoom in at high speed through an enclosed tube with several twists and turns. Lastly, the Big Rock River is the perfect way to end a day of fun and adventure. Grab a tube, relax, and let the current take you through the pool.
Golfland Sunsplash, Roseville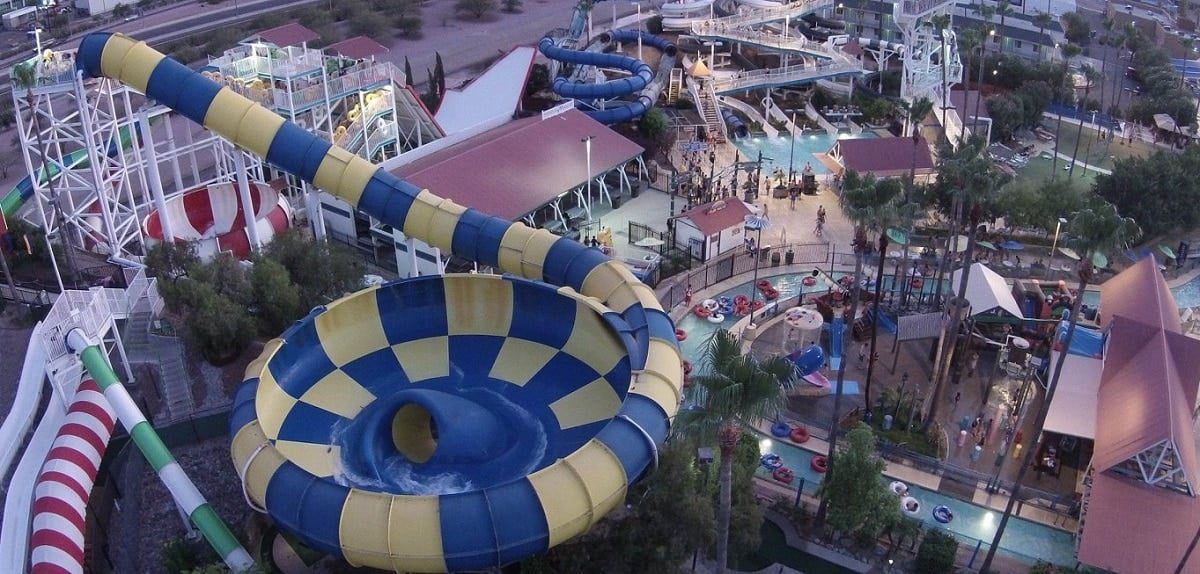 The Golfland Sunsplash in Roseville is every thrill-seeker's dream. This waterpark is built with 16 attractions in total. If you're going on a trip to de-stress, relax, and indulge in a day of fun and adventure, then this is one of the best waterparks in California for you.
Rides like the Stealth, the Revolution, Thunder Falls, Stormrider, Half-Pipe Water Slide, and the Zoomerang are some of the best group activities. Grab a partner and hop from one attraction to another in these exciting attractions. All of these slides feature a minimum of 7-story drops, so hold on tight and prepare your lungs for good exercise. Most of these rides have the same concept. They feature a mix of wide, open-air, and closed slides that allow you and your companions to take a high-speed glide through its course. These slides vary in color, shape, and style, so you will never get bored of each one! If you want to experience the same wide, open bowl slide by yourself, then you can also try the Vortex.
If you're sliding solo, then you can try slides like the Dark Holes and the Double Dare. Golfland Sunsplash takes extreme thrill to the next level with its rides. The Double Dare lets guests fall through a trap door and into a 7-story water slide drop. Rides like the Six Chuter allow you to compete with guests and companions on a rapid race to the bottom of the slide on a board. If you're tired from all these rides, then you can take a break and float through the Bermuda Triangle, a lazy river pool that takes pushes you with a gentle current. There's also the Thunder Bay Wavepool, which features a large pool with artificial waves.
Islands Water Park, Fresno
The Islands Water Park in Fresno has attractions for all ages and preferences. The waterpark ranks their rides based on thrill level on their website, which is great because it allows you to build an idea of how many rides you can enjoy during your trip. After all, trips should be fun for everyone, regardless of what kind of attractions they enjoy. Luckily, Islands Water Park comes prepared to match all of its guests' needs.
If you're into low-thrill and relaxing attractions, then you will love the Ohana bay and Waimea River. The Ohana Bay is perfect if you want the fun of going down a slide without the fright of going down a high-story drop. The Ohana Bay can accommodate all ages, so their slides are equipped with just the right amount of fun to keep you perked up. The Waimea River is also low on thrill, as it is meant to help guests relax under the sun as they float away through a lazy river.
Medium-thrill options make great warm-up rides before diving into the high-thrill attractions. The Hawaiian Fiji is an example of the slides we all know and love, placed a few stories higher for more excitement. Bora Bora Racers is a great activity for you and your companions, featuring a board race down a high-speed slope with several lanes. The Thrill of Fiji also takes the slides to a new level, taking guests through high-story slides with waves and turns.
You can save the best for last with Nature's Furies, which has the highest thrill level among all rides. This slide is built to take guests down a thrilling course with various turns and spins. It's equipped with a rapid water current, giving you a high-speed splash that you are bound to remember for the rest of the trip.
Knott's Soak City, Buena Park
This waterpark is located inside the Knott Berry Farm in Buena Park. Knott's Berry Farm is filled with rides and other fun attractions, but if you're planning on beating the heat, then Soak City is the best destination for you. Soak City has 11 attractions to choose from. There are several slides, pools, and other rides that you can try out during your stay. All of these include options with various levels of thrill. Whether you're looking for some excitement or a place to laze around and cool off, then Soak City has just the attractions for you.
Grab your board and race with your friends down the curved slides of the Banzai falls. If you want a taste of thrill on your own, you can try the Old Man Falls, a slide that features gravity-defying drops. Slides like the Laguna Storm Watch Tower, Malibu Run, and the Shore Break offer extreme excitement, taking guests through several twists and turns as they slide through a dark, enclosed tube. If you're craving something tamer, then feel free to try out the Sunset River and the Tidal Wave Bay, which are equally fun in their own ways.
Waterparks are always more fun if you're enjoying them with other people. Take your kids down to the Beach House, a three-story playground with lots of interactive amenities. Little thrill-seekers can also have their own fun in the Gremme Lagoon, which replicates the high-speed thrill but takes it down a notch. Lastly, you and your companions can make a big splash into the Wedge, a wide, open-air slide that accommodates groups of six per ride.
Legoland Water Park, Carlsbad
Lego is a familiar name that we all know and love. Just like the toys, the waterpark in Carlsbad is equally as enjoyable. We think it's one of the best waterparks in California. Even if you're not too into Legos, you will enjoy the Legoland Water Park during a summer trip to California. The park has seven slides and many other attractions. The majority of these attractions are kid-friendly, so this is an experience that even your smaller kids can enjoy.
One of the most unique attractions in the park includes the Build-A-Raft River, where you can create and design the raft that you'll use as you float through the park's river pool. A smaller version of this is the Build-A-Boat, where you can create an out of Legos and watch it move across the small sailing station. Legoland never runs out of slides to try. Slides like the Crug's Run, Duplo Splash Safari, Splash Out, and Twin Chasers are built in various shapes and courses. Most of them are even designed with statues of your favorite Lego characters!
The most kid-friendly options include amenities with large playgrounds and fun jet sprays, like the Splash Zoo, Soak-n-Sail, Wipeout Lagoon, and Joker Station. Of course, older kids and adults can still have their fun with thrilling rides like the Orange Rush and Riptide Racers, which are high-speed attractions that are best enjoyed in groups. Thee are some of the best amenities you can enjoy in Legoland Water Park. With the number of attractions, we recommend setting aside the whole day to enjoy them all!
Six Flags Hurricane Harbor Concord, Concord
Six Flags Hurricane Harbor is surely one of the places you cannot miss out in California. If you've already spent the day trying out different rides at the amusement park, then you may want to come back soon to give Hurricane Harbor a try. Hurricane Harbor is a waterpark by Six Flags in Concord. It's one of the best waterparks in California and is worth visiting If you've got an extra spot to fill in your itinerary.
Hurricane Harbor features 10 attractions in total. Many of these rides are tall, fast, and pack a strong punch when it comes to thrill. The Hurricane Slide Complex, Typhoon Slide Complex, and the Big Kahuna are high-speed slides equipped with rapid waters, giving guests the type of excitement, they've never experienced before. The Break Point Plunge is something worth trying, letting you free fall through its course after a tense countdown. Rides like the Honolulu Halfpipe and the Tornado are guaranteed to make you see stars, spinning and throwing you around on giant, open-air slides.
If you're not too into extreme activities, then you can spend your time in Breaker Beach. This wave pool mimics the sea and allows you to ride with the waves. Splashwater Island and the Caribbean Cove are also perfect for kids and the young at heart. Explore these interactive and unique playgrounds as you bond with your kids and try all the different sprays, jets, and cool features in the area.
Raging Waters, San Jose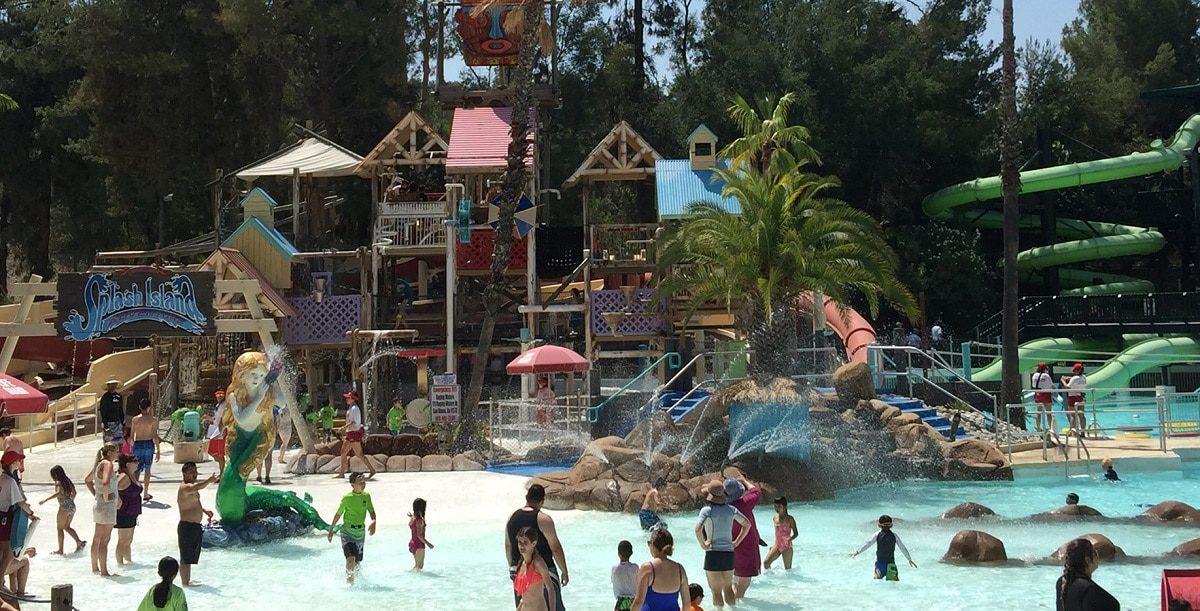 Whether you're a thrill-seeker who wants exciting rides or someone who loves more calming attractions to enjoy, Raging Waters San Jose is one of the best waterparks in California for you. This waterpark is also built with colorful and dynamic designs to the attractions, so it also makes a great venue for picture-taking.
Kids will never get bored during the trip. With attractions like the Activity Pool, Wacky Water Works, and Little Dipper, they will never run out of devices, play areas, and pool accessories to have fun with. Older kids can also hop on the adult rides, as long as they meet the minimum height requirement. Slides in Raging Waters are known for their many twists and turns. Rides like the Serpentine Slides, Shotgun Falls, and Blue Thunder are the perfect fix for excitement and thrill by yourself. Bombs Away offer a more exciting experience, with an intimidating but enjoyable 120-feet free-fall down a transparent tube. If you want to ride as a group, then you can try out the Barracuda Blaster, Great White Shark, and Dragon's Den, which are built to have you and your friends screaming all the way.
If you want a break from the excitement, then you can go ahead and explore the Pirate's Cove. This 40-foot structure is like a pirate ship, even allowing guests to shoot water cannons as a built-in feature. You can also take a relaxing ride down the Endless River or let the waves throw you around in the park's wave pool. If you want to go down a slide with less speed and thrill, then you can also try going on a slow glide down Slide Creek Falls.
The Cove Waterpark, Riverside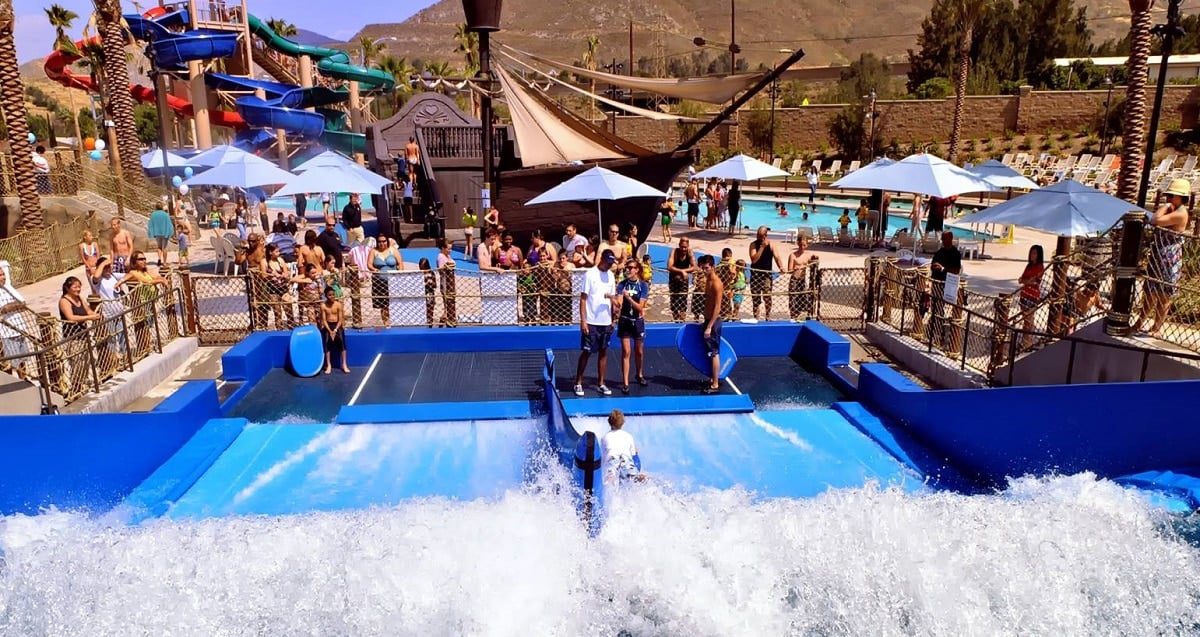 The Cove Waterpark in Riverside doesn't have a lot of attractions, but it's enjoyable enough to be known as one of the best waterparks in California. Although the Cove only has 5 attractions in the park, each area is built to maximize the fun for all guests. If you have some time to spare during your trip, then you should consider giving this waterpark a visit.
First on the list is Lil Mates Lagoon, a large wet playground for all the young ones who want to have some fun of their own. This attraction features mini slides, strong spraying gets, and the classic tipping bucket. Next is the Crow's Nest, which is a 180-foot-tall collection of different slides. All of them are built-in several styles, heights, and sizes. All guests are free to try all of them out, experiencing a different level of thrill each time. The Ne'er Endin' River is a classic for waterparks, so you can't miss out on a calm stream that surrounds the park.
If you want to try something new, then you can go 'Cowabunga!' in the Riptide Reef Flowrider, an attraction that stimulates a fun surfing experience. If you've always wanted to try surfing, then you can try doing it first without the sea. The park personnel will coach you throughout the experience, which is great for first-timers. Lastly, a competition pool is also available. This is a 25-yard by the 35-meter pool with 13 lanes, allowing guests to swim around, hone their skills, or just relax and take a dip.
WaterWorks Park, Redding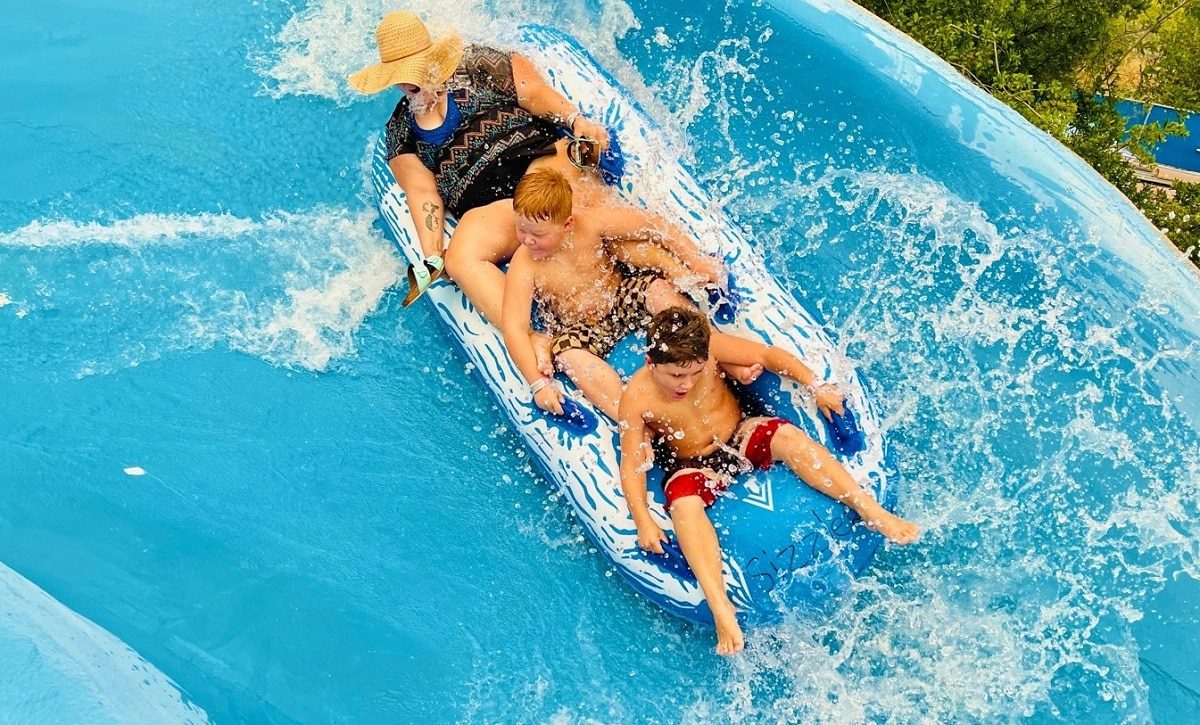 The WaterWorks Park in Redding makes a great addition to your trip to California. It's one of the best waterparks in California if you're looking for a mix of thrill and relaxation for the entire family. Many young guests love the Dragon, which allows them to slide through the mouth of a dragon and into the pool below. The Kiddy playground also has a lot of similar options. They have slides shaped like animals and magic mushroom fountains that sprinkle water from the top. Your kids will surely love splashing around in this adorable area!
As for the adults, this waterpark offers many exciting options. For the most thrill, you could try rides like the Amazing Avalanche or the Raging Rapids. These are large slides that you can go down in groups, gliding at high speed from a 210-feet slide as you and your companions share a tube. For adventures by yourself, the Cyclone is a must-try option. This takes guests down an enclosed tube until they land in a large dome, being spun and thrown around before descending into the pool.
WaterWorks has three options for the traditional giant waterslides: the Bucking Bronco, Whipper Snapper & the Corkscrew. All of these slides contain twists, turns, and loops that are bound to have you screaming until the last moment. Lastly, there is also a wave pool and river pool for lazy breaks between splashing around and sliding down the tall rides.
Ravine Waterpark, Paso Robles
The Ravine Waterpark in Paso Robles, California does not disappoint with its list of options for rides. For little swimmers, they have an entire area called the Tadpool. This area may be the only one suitable for smaller kids, but it comes with a 9,000 square-foot pool that is about 0 to 2 in-depth. The Tadpool has several slides, a playground, and a Big Squirt attraction to ensure that your kids have their playtime as the adults enjoy the rest of the park.
The newest addition to Ravine Waterpark is their SideWinder slide, which takes guests through a thrilling ride with many twists and curves in a giant slide. If you aren't a fan of tall slides, then you can try out the Anaconda & Viper, another slide that is equally exciting but with less height. The next attraction is the Kamikaze, which has guests reeling from a 5-story-high slide at high speed. If you want something different, then try out the Vertigo. This plunges guests from a 35-foot-long tube and into a large dome-like slide, swirling them around until they reach the pool below.
No waterpark would be complete without fun for large groups. The Thunder Run is the best option, accommodating up to 4 riders per raft as they slide and spin through a tall slide with raging waters. Aside from that, the Quadzilla promotes friendly competition, allowing guests to race each other as they glide down a 5-story slide on a race to the bottom. Lastly, the Kickback Kreek is a river pool for the whole family. This is best for warming up for the thrill rides or ending the day after enjoying the entire park.
Other Waterparks in California
The waterparks we listed above are our top picks for the best waterparks in California, but here are some honorable mentions that deserve to be acknowledged.
Mustang Waterpark, Arroyo Grande – The Mustang Waterpark is equipped with three attractions. A kiddie pool, 600-foot-long giant slides, and a ride called the Stampede. The park also has Cabanas for guests and a snack bar on-site.
Raging Waters, Sacramento – The Raging Waters waterpark in Sacramento is similar to San Jose but has fewer attractions to enjoy. There are 9 attractions in total, including a few familiar rides like the Honolulu Half-Pipe and the Dragon's Den. Raging Waters in Sacramento also has its own unique rides, such as the Cliffhanger and the Splashdown. Kids can also enjoy more attractions like the Shark Pool and Treehouse Reef.
Six Flags Hurricane Harbor, Valencia – This is another version of Hurricane Harbor located in Santa Clarita, Los Angeles. Like the Hurricane Harbor in Concord, the park in Valencia features tall and exciting water slides, thrilling rides for groups, and special areas for younger guests. There are 12 attractions but according to their website, a few may be temporarily closed at the time of writing this.
Splash! La Mirada Aquatics Center, La Mirada – The Splash! La Miranda Aquatics Center is more of a swimming center than a waterpark. There is a large lap pool, a recreational swimming area, and a spa for visitors to enjoy. The center also offers swimming lessons and water exercises for all ages. Lastly, there is a large playground to enjoy, built with bridges, slides, and other fun inclusions.
The Wave Waterpark, Vista – This waterpark is one of the most popular attractions in its area and has been open for over 20 years. It's a favorite among both locals and tourists, featuring a wide selection of giant slides, different kinds of pools for all ages, and fun activities to enjoy with friends. Cabanas and food stalls are also available within the park.
Wild Water Adventure Park, Clovis – This waterpark in Clovis never seems to run out of options for guests. All visitors can enjoy different types of slides, from tall and high-speed slides to closed tubes with many twists and turns. One of the most popular attractions is the gigantic wave pool, coming at 30,000 square feet. The Adventure Bay is also a great hangout spot with many interactive attractions, specially designed for younger guests.
A Guide to Visiting Water Parks in California
Visit the website before coming – Doing your research about the parks you plan on visiting should be the first thing you do while planning your trip. This gives you an idea of how the costs, such as ticket admission fees, transportation fees, accommodation fees, etc.
Check the attractions – You need to check what kind of rides and attractions the waterpark has before coming. If you have young children, then some parks may not be suitable for them. This is also the best way to find what you'd enjoy the most, so it helps you enjoy the experience more in the long run.
Dress appropriately – A lot of the rides and attractions in the park require a specific dress code, otherwise you won't be able to get on the ride. A swimsuit is the best option for visiting waterparks. Rash guards are an option but some places don't allow them, so it's best not to wear a swimsuit instead.
Make sure there more adults than kids – Many waterparks offer zero-depth pools for smaller children but it's always best to have a guardian with them at all times. If you have enough adults, you can take turns watching over the kids and having fun at the waterpark. This ensures that everyone has fun but stays safe throughout your stay.
Make a checklist – When you're visiting a waterpark, forgetting something is the last thing you want to do. Make sure to create a checklist for your things, such as swimsuits, sunscreen, extra clothes, etc. Most parks have gift shops that have these things but expect them to be pricier. The same goes for food. If the park allows you to bring outside food inside, then you may be able to save more money by packing your lunch and snacks.
Be sure to also check out our list of the best indoor water parks where you can enjoy amazing water slides and pools year round!
Looking to explore California? Here are some other great things to do in the state: