Hot Springs in Arizona
The state of Arizona is home to some of the best attractions in the United States. You may think it's just desert and cacti, but you'd be surprised to find ski resorts, national forests, world class golf courses, and of course hot springs. Most of the natural springs are closer to bigger cities like Phoenix, Scottsdale, Tucson, and Sedona, but there are a few out in the wilderness which will take some discovery to find.
Here are some of our favorite Arizona hot springs to grab a good soak.
Map of Hot Springs in Arizona
Use the map below to get a better idea of where each hot spring is located. Your phone will be your best guide as the maps can give you step by step directions. For some of the more primitive locations, an actual map may come in handy as you can mark areas of interest including places to camp at night.
Click on a location in the interactive Arizona hot springs map below to find more information and links to the hot spring of your choice. Don't see what your are looking for? Send us an email and we will get that springs added to the site and map asap. Enjoy exploring!
The ecosystem in Arizona creates the perfect opportunity for hot springs to emerge across the state. As you relax while taking in some very scenic views, the natural healing minerals will absorb into your body leaving you in a zen like state and ready to conquer the world. Here is a brief overview of some of our favorite springs to enjoy.
Castle Hot Springs – Near Phoenix, AZ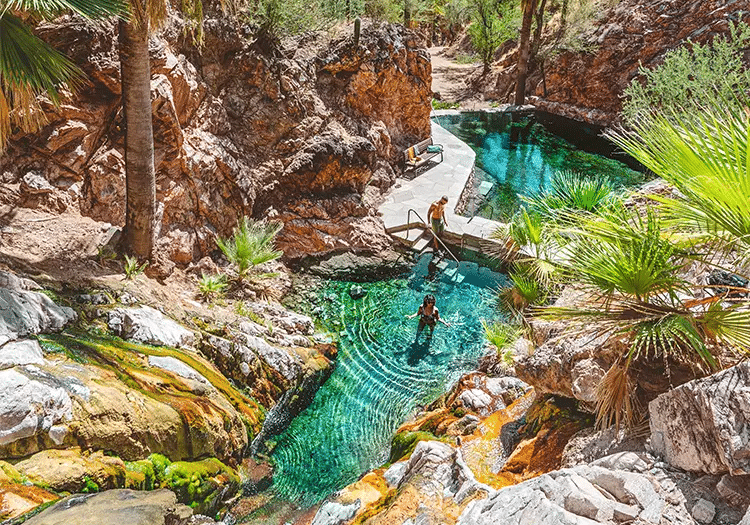 This may be the most popular hot springs resort in the entire state. Dating all the way back to 1896, Castle Hot Springs first used by the native tribes in the area for it's natural healing benefits. The springs themselves are actually head from the mountain, creating the hottest pool not heated by volcanic magma.
A gentleman named Frank Murphy purchased the land in order to develop it into a wellness center and capitalize on this primitive land. Although the hot springs is in a fairly remote location about a hour from Phoenix, once you arrive you will think you have entered a whole new world.
There are multiple different hot springs to enjoy, but the true beauty of this place lies in the peacefulness and seclusion from the world. The resort has gone above and beyond to offer anyone staying 5 start accommodations including:
Spring Bungalows – Who wouldn't want to stay in their own private room with an outdoor tub which has the natural minerals waters pumped in.
Sky View Cabins – 17 cabins at this resort give you exactly as the name implies. On your deck with a private springs tub includes a telescope view star gazing or catching Arizona's most beautiful sunsets.
Historic Cottage – This may be the most luxurious accommodation at Castle Hot Springs. Sleeping up to 6 people, you can tell people you stayed at the same place as some of histories great like the Rockefellers and Roosevelts.
Standard Lodging – You don't have to live like a king to still stay at the resort. The standard rooms still include a lot of amenities including a tub that feeds in hot springs mineral water.
There is also local dining at the resort that features cuisine local to the area. This Arizona hot spring near Phoenix is a must visit attraction.
Address: 5050 East Castle Hot Springs Rd, Castle Hot Springs, AZ 85342, USA
Season: Year round
Website: castlehotsprings.com
El Dorado Hot Springs, Tonopah, AZ
Another fantastic hot spring near Phoenix is El Dorado. It's well known in the state for it's odorless pools and 8.2 PH making it feel like you are soaking in natural conditioner for your skin. The water itself is regulated to a temperature of 107 degrees making it ideal for everyone to grab a soak.
There are several different pools for you to enjoy, both private and public.
Public Hot Springs – There are three options available at El Dorado Hot springs. The first is Desert Pete which is a nude only hot springs. This adult area features a shower and even some lounge chairs to relax in. The second is sunset area which features stunning views of Saddle Mountain and can seat up to 6 people. The last option is desert view which also gives scenic views of Saddle Mountain.
Private Hot Springs – The Desert Saloon is the perfect tub to just be one with the world.
There are a few overnight accommodations as well if you plan on staying the night. Because you will be close to several cities including Phoenix, it's also a short drive if you want to stay somewhere else.
Address: 41225 Indian School Rd, Tonopah, AZ 85354, USA
Season: Year round
Website: el-dorado.com
Essence of Tranquility, Safford, Arizona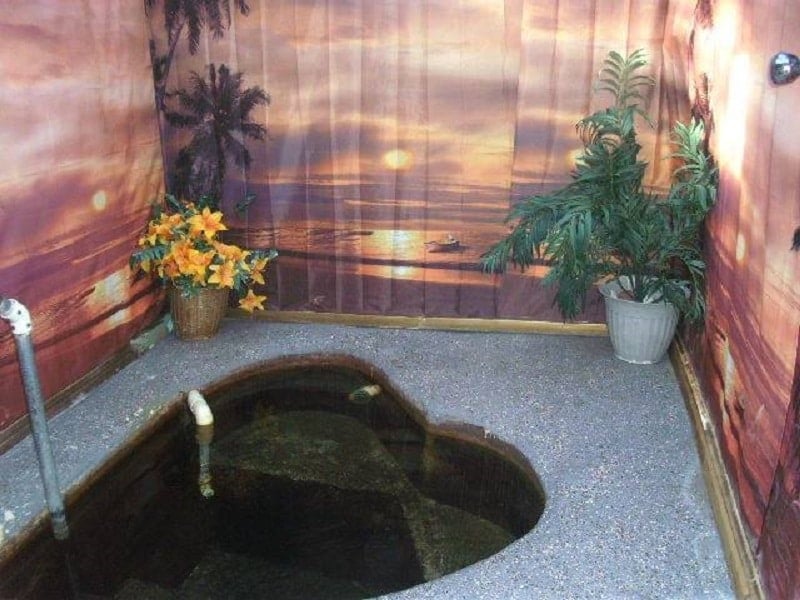 One of our favorite names as it's the perfect way to describe this southern Arizona hot spring. Located near Tucson (roughly 2 hours), it offers six different soaking options ranging in temperatures from 98 degrees up to 105. Each tub is section off into their own private rooms allowing patrons the option of wearing clothes or going nude.
Waterfall Room – private hot spring – 103 degrees
The Cave – private hot spring – 102 degrees
The Blue Lagoon – public hot spring – 98 degrees
Asian Trek – private hot spring – 104 degrees
Greek Vacation – private hot spring – 104 degrees
Island Escape – private hot spring – 105 degrees
The resort itself isn't luxurious as some other springs in the state, but the rustic charm and casitas tie the place in perfectly with the local culture. Once you visit and enjoy a nice long hot soak, you will see why so many people enjoy coming to Essence of Tranquility.
Address: 6074 S Lebanon Loop Rd, Safford, AZ 85546, USA
Season: Year round
Website: azhotmineralspring.com
Hot Well Dunes Hot Springs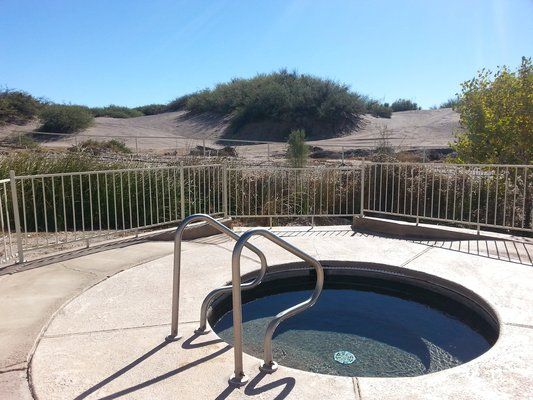 Another amazing hot spring near Tucson, AZ is Hot Well Dunes. Just as it's name suggests, this location is the ideal location for the off road junky as it's situated within 2,000 acres of trails and dunes to explore. For people with ATVs or off road vehicles it's the perfect day to blaze around and stop for a quick relaxing soak before heading back out for more fun. For people that don't have recreational vehicles, take your time as the road to Hot Well Dunes can get a little challenging with avoiding all the potholes.
There are two main tubs available at this facility, which are powered by solar and get reach temperatures of 106 degrees. Locals will tell stories of how the springs were created from oil drillers who unfortunately struck water instead of oil bringing up the natural mineral waters to Safford. At first it wasn't what they wanted, but once they developed a tub to contain the water, it was the perfect way to end a day. Each tub is drained at the end of the day and refilled the following morning to keep the facility clean and well maintained.
To make a day of fun in Safford, some things you can do before or after having a soak are:
Camping
Fishing
Off Road Driving
Dune Exploring
There is also a local RV park and tent designated area situated near Hot Well Dunes. During the summer peak months it can get a bit overcrowded with all the off road enthusiasts so the winter months are typically the better time to visit this hidden gem of Arizona.
Address: Safford, AZ 85546
Website: blm.gov/visit/hot-well-dunes
Kaiser Hot Springs, Wikieup Arizona
Kaiser Hot Springs is the perfect destination for those looking to get away from the city for a while and enjoy being one with nature. As you drive to Wikieup you will feel like you are leaving Arizona and entering Utah with canyons and forest surrounding you. To reach the springs it's roughly a mile long hike, but an extremely easy trail so people of all ages can visit.
There are two different natural pools to enjoy with the water temperature staying roughly 100 degrees all year. What makes this such a popular Arizona destination are the scenic views and landscape to observe as all the stress in your body escapes. The primitive and underdeveloped pools are a well kept secret and you may even get lucky and enjoy a soak with nobody else there.
Ringbolt Hot Springs – Lake Mead National Recreation
Also known as Arizona Hot Spring, Ringbolt is located on the boarder of Nevada and offers a full day adventure as you hike a 6 mile trail (about a 60-90 minute walk) to reach your destination. Some prefer just the hike as it's a beautiful backdrop as you walk through Lake Mead National Recreation Area. However, the trail is only open between October and May due to the summer temperatures being to hot for travel.
Once you reach Ringbolt Hot Spring you have the option of four different pools ranging from 100 to 120 degrees. The bottom two pools are located near the Colorado river and offer some breathtaking views of canyons and moving waters, while the top two are accessible by ladder and are quite a bit hotter in temperature.
There are also a few options on how you can reach Ringbolt Hot Springs in Arizona. Most prefer the 3 mile hike as it's an enjoyable walk and the hot springs perfect to relax the muscles during the break in action. The second and third options both involve floating or paddle boarding the Colorado river (float from the Hoover Dam or Paddle from Willow Beach). Either way the adventure makes this hot spring a premiere destination for many visitors to the state.
Address: Willow Beach, AZ 86445, USA (near Boulder City, NV)
Season: October to May
Sheep Bridge Hot Springs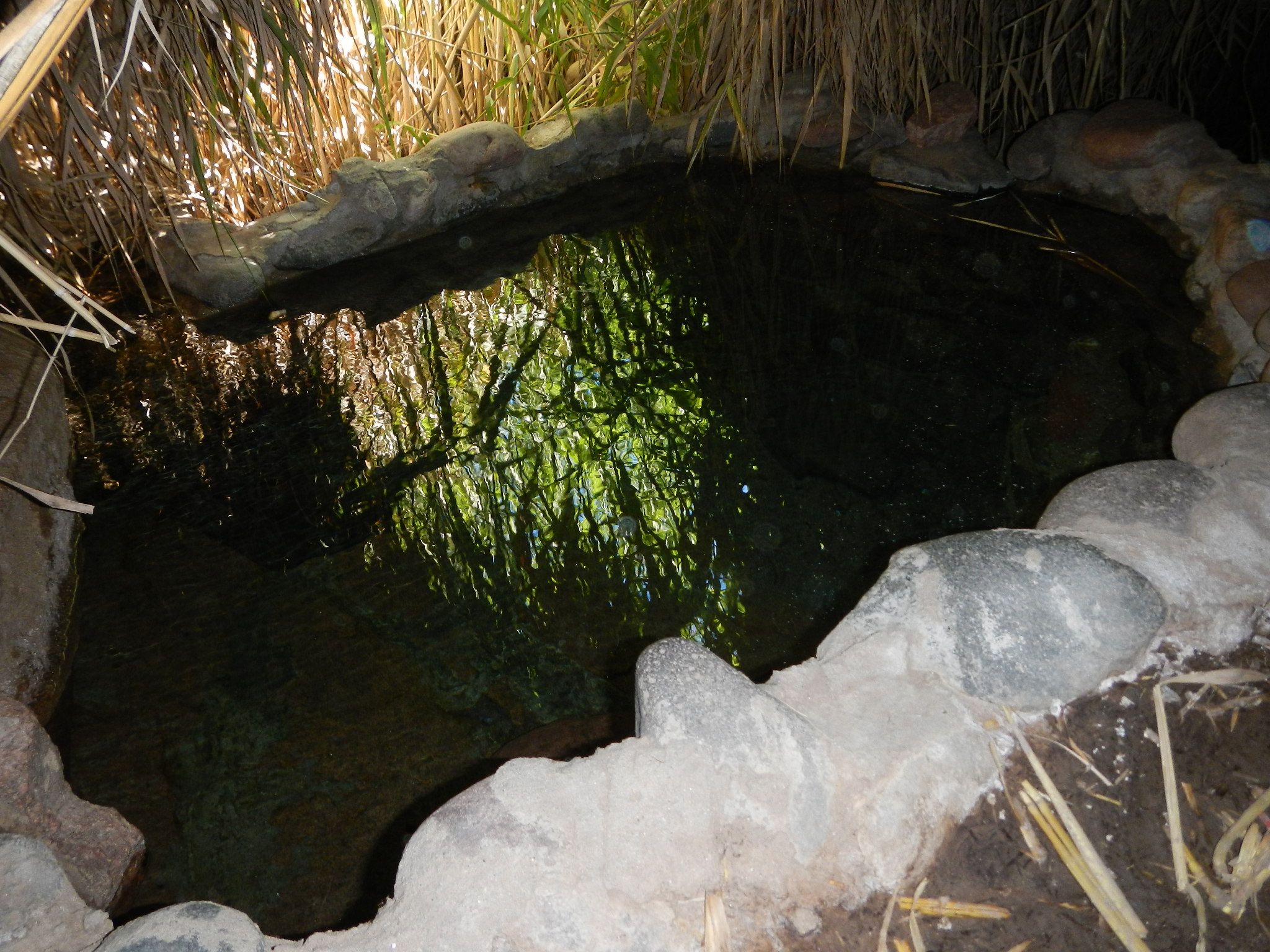 Located in Yavapai County and near Sedona lies a beautiful hot spring with quite a few activities to do in the surround area. The name originated back in the early 1900's when a bridge was constructed to help herd sheep across the canyon. These days there are no more sheep and the bridge has been renovated to continue to allow tourists and locals to enjoy a scenic hike in the area.
The hot springs is used year round and can get quite crowded in the winter and fall months. The reason for the popularity is there is some great camping and even cliff jumping along the Verde River which brings in more people that are looking for adventure rather than just a soak. If you can make it through the pool was created with river rocks and keeps an average temperature of about 100 degrees. Roughly 3 people can enjoy a natural springs soak so try and get their early to avoid waiting (although cliff jumping is a great way to pass some time and makes the hot springs that much more enjoyable)
Address: northeast of Phoenix Valley, Tonto National Forest, Arizona
Season: Year round
Website: fs.usda.gov/recarea/tonto/recarea/?recid=35219
Verde Hot Springs, Yavapai County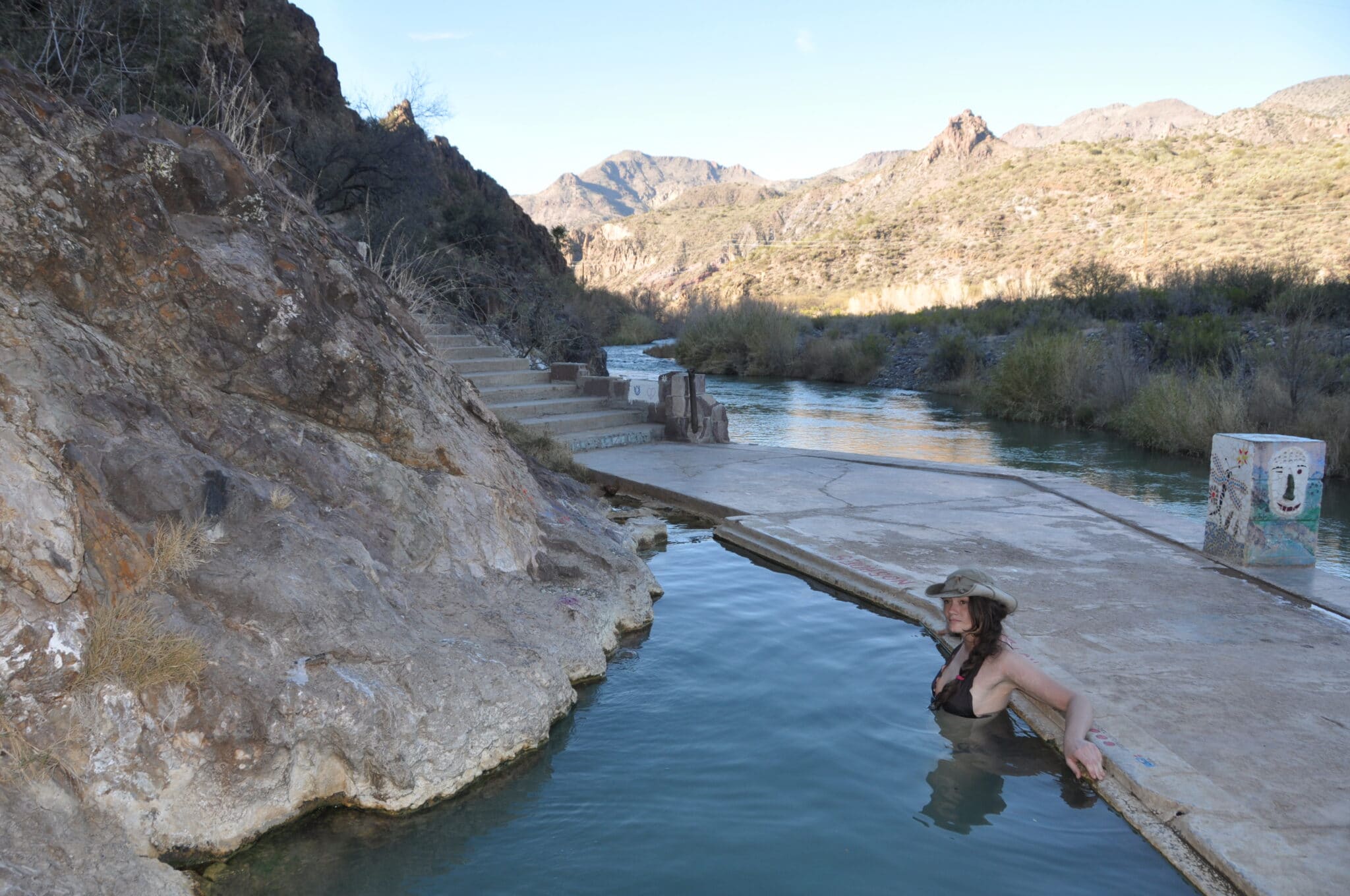 Verde Hot Springs has been through quite the transformation over the years. What was once a premiere resort has vanished and all that is left are the warm pools. Regardless it still is considered one of Arizona's best hot springs due to the scenic views while relaxing in natural mineral waters. It is also located in Yavapai County and offers adventurers a bit of a challenge to be rewarded with a soak.
The pools are still attached to the burned down hotel, but have been renovated with a deck to relax on. The temperatures can range from 98 to 104 degrees (the square tub along the hotel is the hotter of the two with the other one down next to the Verde river a cooler spot) making the perfect spot during the winter months. When you aren't soaking in the springs there are quite a bit of activities in the area including hiking, horseback riding, and even camping under the stars.
Address: Child's Power Rd, Yavapai County, Arizona, 86322
Season: Year round
Hot Springs Near Phoenix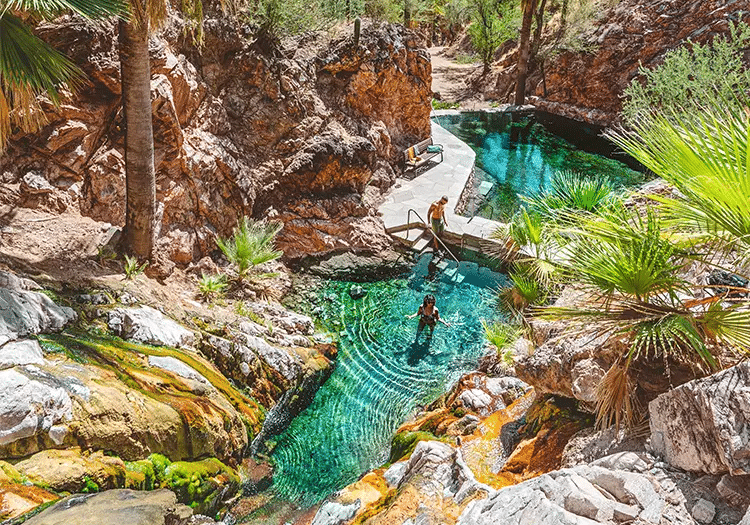 Hot Springs in Phoenix Phoenix Arizona is well known for it's perfect winter season weather and activities to do in the area. From golfing some of the best courses in the world to relaxing in one of their natural hot springs, you can find endless enjoyment when visiting this beautiful state. Here are some of …
Phoenix is well known for it's variety of activities, especially during the winter months when the temperature is ideal. From concerts to golfing, there is something for everyone to do. You will also find several amazing hot springs in the Phoenix area to enjoy. Most are within thirty minutes to an hour which gives you the ability to make a great day trip to one of these attractions. Here are a few local pools near Phoenix to try out.
If you plan on staying in the Phoenix area, there are also a few other amazing locations in the area just a bit further in cities such as Sedona and Tucson. Don't miss out on the opportunity to check off all the springs on your bucket list.
Hot Springs Near Tucson
Hot Springs in Tucson, Arizona Often forgot about, Tucson, AZ is an amazing town with a wide range of activities to do. Millions of people flock to the area to check out Tombstone, but stay to enjoy the botanical gardens or Saguaro National Park. After a day of checking things off your buck list, be …
Just a short drive from Phoenix, Tucson Arizona is another popular destination for visitors looking for a wide range of activities to do on their vacation. From bike tours to exploring Tombstone, millions of people visit Tucson each year. In the winter months when it's in the 70s, the town becomes alive with people adventuring through the Saguaro National Park or taking in the sights of Tucson's Botanical Gardens. After a long day of activities it's then time to head to the hot springs near Tucson to relax those muscles and prepare for the next day. There are two natural hot springs near Tucson to enjoy and many make it a weekend trip to do some camping under the stars.
Hot Springs Near Sedona

Hot Springs in Sedona Sedona has become a traveling destination for tourists all over the world due to it's picturesque landscape of red rocks and variety of local wine. Although the town isn't that big, there are so many things you can do and attractions to visit that it will take at a week to …
Many people love to visit Sedona, Arizona for it's remarkable scenic views, hiking and bike trails, local tourist city attractions, and of course wine. However, once you venture out of the town there are some remarkable hot springs in the area. During the day Sedona can get quite busy with people wanting to shop in a rather small town so having a day of adventure will allow you to enjoy the red rocks and beauty of the state without feeling like you are smack dab in the middle of a big city.
The surround area of Sedona is definitely worth the drive as parts can feel like you are in Utah, while other areas remind you of Colorado. You don't have to travel far to really understand why so many people love visiting the state.
Hot Springs Near Scottsdale
When you think of the state of Arizona, one of the first cities that comes to mind is Scottsdale. This upper scale city near Phoenix attracts millions of visitors every year as one can spend an entire day shopping and then hit the nightlife in Old Town Scottsdale. There seems to be daily events in the area including art walks, live music and even horse carriage rides. If you are tired of walking just flag down a golf cart taxi ride to your next destination.
Outside of the town of Scottsdale you will find a few amazing hot springs to enjoy.
Why Visit Hot Springs in Arizona?
Sure, soaking in the hot geothermal water can feel amazing, but does the water in every state have mineral-rich qualities like the hot springs in Arizona? You be the judge! The hot springs in Arizona are an in-demand commodity. People from all across the world, all walks of life, and from diverse cultures consider visiting the hot springs in Arizona for several reasons. Even though soaking in hot water can be relaxing, several fun tourists visit the springs in Arizona for the water's famous healing properties.
Geothermal pools are chock-full of beneficial minerals. These minerals come from deep within the earth since the water in these pools reaches the surface after flowing inside the earth's surface. While traveling beneath the surface, it picks a variety of minerals beneficial for the human body. Some of these minerals and their benefits are:
Nitrogen: a mineral that's good for your nails, hair, and skin
Boron: strengthens your bones and improves brain function
Silica: popular for acting as a remedy for hair thinning
Calcium: strengthens your bones and is good for health overall
Phosphate: is essential for your body's metabolism and for storing energy
Sodium: it's an electrolyte that has a vital role in muscle function, nerve function, and enzyme operations
Zinc: it boosts the body's digestive and immune system
Sulfate: is needed for maintaining healthy skin, nails, and hair, and it can also act as a natural painkiller
Iron: is a vital component of the body's immune system, and it also upkeeps the body's blood health
Lithium: Produces a sense of calmness and can also elevate a person's mood
Manganese: helps strengthen our bones
Potassium: is vital for kidney and heart health
Magnesium: increases the body's energy levels
Fluoride: Good for bones
Chloride: helps regulate the pH levels and blood pressure of our body
Soaking in the hot springs in Arizona can help our body absorb the minerals present in the water which is beneficial for our body. Moreover, since it's a largely passive activity, you're not breaking a sweat while your body absorbs the minerals from the water. Some of the hot springs can also add therapeutic movements into the mix, which can also help individuals recover from both minor and major injuries.
While your doctor won't necessarily write you a prescription to soak in the springs in Arizona, you may return on your own once you've been a part of the experience.
The Breathtaking Hikes in Arizona
The Copper State is renowned for its ample awe-inspiring, and breathtaking hiking trails that keep mountaineers and thrill-seekers coming back for more. The difficulty of these trails ranges from advanced-only to beginner-friendly, and they all offer an adventurous experience that helps inquisitive travelers find themselves. While even the easiest trails can knock the wind right out of you, the aesthetics that they provide make the climb worth the hassle.
For instance, tourists can find West Fork Trail near Sedona. This is, quite possibly, not only the best trail in Arizona but also the best trail in the country. It offers magnificent views that make the climb one you'll remember your whole life. You must bring your camera along. The Bright Angel trail is near the Grand Canyon and offers brilliant views. That said, these aren't the only trails in Arizona that are worth your time! Experiences are subjective, and you get to decide which one has the most entertaining climb!
Reasons Why You Should Visit Arizona
Grand Canyon – Probably the number one tourist attraction in the state is the Grand Canyon. Located far north of Phoenix, you will feel like you are in a different state with vastly different temperatures and cold winters. The Grand Canyon is considered one of the Seven Wonders of the World and offers guided tours that cover the history and nature of this remarkable attractions.
Phoenix and Scottsdale – Two of the more amazing cities in the United States with the amount of attractions in the area. People enjoy some of the unique destination features such as Spring Training, Sonoran Desert, Artwalks, off-road ATVing, world class golfing, and more.
Wilderness Exploration – Not too far outside of the main cities you can start to adventure in the forest for camping, hiking, and even skiing. Not many states allow you to ski in the morning and golf in the afternoon.
Resorts – Arizona has some of the greatest resorts in the world that offer 5 star accommodations. Outside of summer months, the state is regarded as one of the best places to visit as the temperatures range in the 70s – 80s. Many cities attract travelers with their resort and spa packages for a day of relaxation.
Golf – There are over 300 golf courses in Arizona with many that host professional tournaments. During the summer months you can experience what the pros do at very affordable rates (drink a lot of water), and in the winter months experience true paradise.
There is a little bit of everything one can do in Arizona. If you plan on visiting the state, be sure to put several of these hot springs on your bucket list. They are often forgotten about, but one of the most relaxing and enjoyable activities you can do.
Looking to explore Arizona? Here are some other great things to do in the state: