The Grand Canyon states hosts some amazing aquariums to visit. Although it's landlocked, they have brought in marine life from all over the world to inspire young minds and educate the locals on the preservation of aquatic habitats. Explore life under the sea and experience some of the best attractions Arizona has to offer.
Guide to visiting Aquariums in Arizona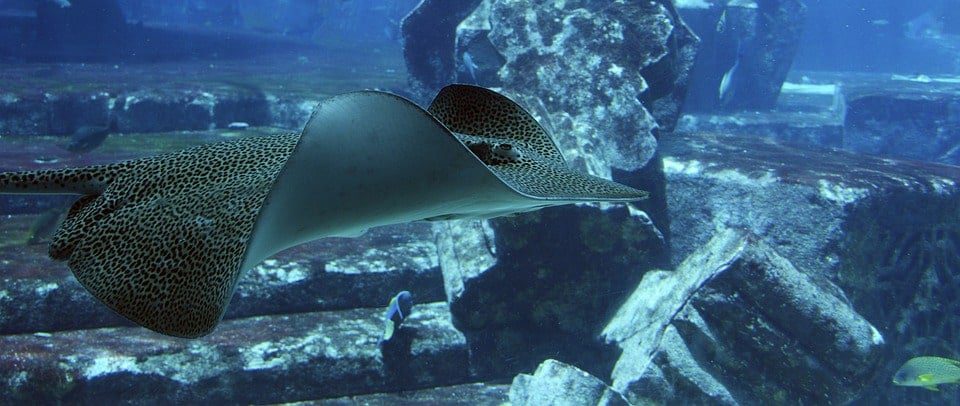 There are four aquariums near Phoenix you can take your family to in Arizona.
Scottsdale Arizona Aquariums
Dolphinaris Arizona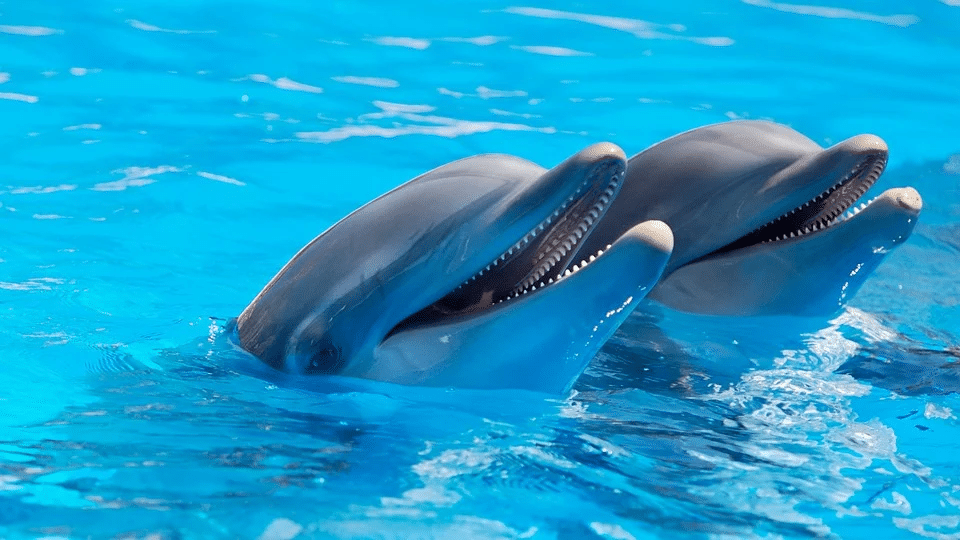 Located in Scottsdale (near Phoenix), Dolphinaris Arizona allows people from all over the world come to see live demonstrations and up close interactions of dolphins. It sits right next to OdSea Aquarium giving you a full day of aquatic fun. The facility has 5 different lagoons with different exhibits at each one.
The Dolphin Land experience keeps you dry and allows kids and adults the chance to touch a dolphin and even receive a kiss of they are feeling extra playful.
Next is the Dolphin Water experience in which you can get into a waste high pool where dolphins will swim up to you for petting.
The deluxe dolphin experience goes one step further where you can swim out into deeper water and get a once in a lifetime experience of having dolphins swimming all around you.
Finally there is a Dolphin Trainer Experience where you get a lesson on the life of a trainer and learn about how to care for this mammal.
In the summer time kids can attend a day camp where they learn all about dolphins and their habitat.
OdySea Aquarium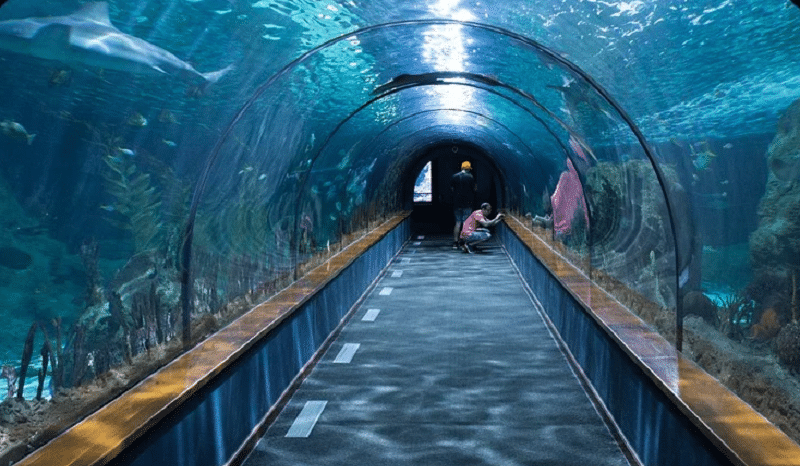 The OdySea Aquarium is a modern marvel and attracts people from all over the world to come share in it's wonderment. As the largest aquarium in the southwest, it houses over 6,000 sea creatures from 350 species. To make sure they can all these mammals in their natural habitats, the city of Scottsdale built a 200,000 square foot facility with over 2 million gallons of water. If you plan on visiting Arizona or even live there, you have to put the OdySea Aquarium on your list of things to do. With 65 different exhibits plan on spending a full day enjoying life under the sea.
Some of the more popular attractions at this Scottsdale aquarium include four different touch tanks (worlds only Russian Sturgeon touch tank, two stingrays touch exhibits, and a touch pool). Also they have the worlds only rotating theatre exhibit. The state of the art aquatic center make sure there is attractions for all ages.
OdySea Aquarium Exhibits
Rivers of the World – There are 19 different interactive exhibits within this attraction including fresh water fish from all over the world. As you learn about the different rivers and what aquatic species habitat those areas, you can enjoy turtles swimming or relaxing on the hot rocks, touch a live Russian sturgeon, and get up close and personal with some local Arizona sea creatures such as Apache and Gila trout as well as Siamese crocodiles.
OdySea Voyager – This 20 minute ride takes visitors through the aquariums four largest exhibits, Open Ocean, Sea Turtle Reef, Shark Waters, and Sea Lion Sound. In this interactive theater setting which rotates, there are key speakers who give a great educational lesson on the types of species that swim all around you. This is one of the most popular exhibits at the aquarium so arrive early to avoid waiting in long lines.
Otter Banks – These otters are quite the chatty and playful bunch. Peanut, Gizmo, and Pepper can be seen playing and performing acrobats, while vocally talking in twelve different tones. They love putting on shows for the millions of people who visit.
Seatrek – This is one of the more unique experiences you can enjoy at this Scottsdale aquarium near Phoenix. Put on a helmet and go underwater where you can be one with the fish for 20 plus minutes. The trainers will even spray a little krill into the water to make sure the fish, stingrays, and even sharks come right up to you to say hi. This exhibit will be one you don't forget for a very long time.
Touch Pools – OdySea Aquarium offers four different attractions where you can touch Sturgeons, stingrays, and sea stars.
Penguin Point – Polly and Pip are the featured penguins at the aquarium where they strut around most of the day before diving into the water which you can enjoy through an underwater viewing area. Both are quite playful and will put on shows for all the visitors.
Deep Ocean – As you continue you journey through the aquarium, you will know you have arrived to the big exhibit when you step into the elevator that starts taking you down and down farther into the depths. As the doors open you will be transported into some mesmerizing underwater views of sharks, turtles, sting rays, and thousands of fish. This is a breathtaking view and moment where you realize just how small you are in the grand scheme of things.
Bizarre and Beautiful – In this exhibit you can enjoy some of the more weird sea creatures underwater.
Reef Jewels – There is a reason why people love traveling to tropical paradises to catch glimpses of tropical fish swimming through vibrant reefs. No need to travel as this Scottsdale aquarium brings all this and more to you.
Sea Life Arizona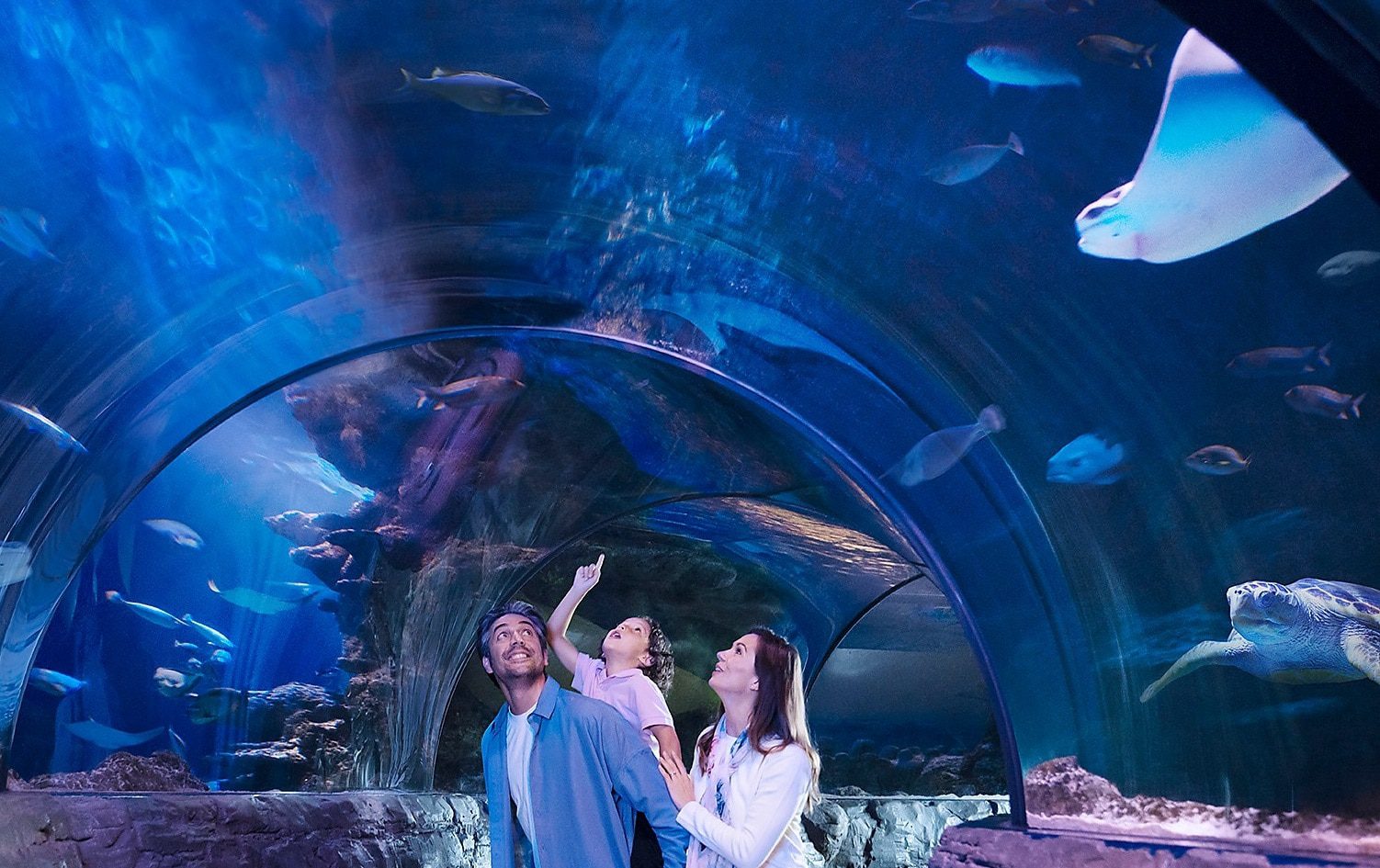 Sea Life is an amazing company who's primary goal is to take in aquatic life who may have been injured or disabled and give them a home. This Tempe aquarium houses one of the more endangered turtles in the world known as the green sea turtle. The facility itself showcases thousands of sea creatures and several amazing exhibits for families to enjoy. If you are near Phoenix and in the Tempe area, make sure to take a few hours out of your day to check out these awesome sea creatures.
Sea Life Arizona Exhibits
Ocean View Exhibit – Tour life under the sea in an underwater tunnel with views of turtles, sharks, and fish in a 180,000 gallon tank.
Bay of Rays – The aquarium set up a beach setting where you can see sting rays gliding across the white sands.
Touch Pool – You'll see hundreds of kids trying to get to this attraction to touch sting rays and sturgeons.
Shipwreck Exhibit – After leaving the beach area, it's time to check out shipwreck which showcases some of the most dangerous and venomous sea creatures in the world.
Temple of the Seahorse – One of the more unique sea creatures, get up close and personal with potbellied, lined, and spotted seahorses as they eat plankton and shrimp with their famously funny snouts.
Wildlife World Zoo and Aquarium
This zoo and aquarium near Phoenix is home to a huge selection of mammals from all over the world. The aquarium within the facility is the first public aquarium in Arizona and althought it isn't that big, it does give visitors a chance to view some aquatic life such as sea lions and penguins.
Looking to explore Arizona? Here are some other great things to do in the state: