Hot Springs in California
Nothing beats the therapeutic experience of soaking in geothermally heated water. Thanks to California's varied geography and the state's changing conditions have forced several mineral-rich and natural springs to appear on the Earth's surface. The Golden State is full of great refreshing sites that provide a once-in-a-lifetime experience, which is why a visit to the hot springs in California need to be an essential item on your bucket list.
The state's diverse, sweeping, and broad topography stretches 163,000 square miles, making it the third-largest state in the USA. Be it mountains, valleys, or a wide variety of private and public hot springs, California is one of the most geographically-gifted states in America.
However, before you decide to visit one of these hot springs, you must know some essential things.
What You Should Know About the Hot Springs in California
There are ample natural resources in the state, one of them being the hot springs. Be it the springs in the north or south, all of them provide travelers something they can fit into their budget. That said before you set out to visit a hot spring, consider the budgeting aspects. The price range for the hot spring you visit depends on the travel tours involved, the accommodation, food, and flight expense.
The number of travelers on a trip can impact the overall expenses. The more people you're taking along with you, the more expensive a trip can be. There are several hot springs in California. Apart from the trip's cost, these also vary in size, historical values, and outlooking views. Not only are these geothermally heated pools brilliant for therapeutic dips and relaxation, but they also have luxurious services such as massages and mud baths. These are also good for your body.
Why Are the Springs in California Hot?
The state is located within the Ring of Fire, which consists of volcanoes. The hot springs in California were born because of volcanic activity. As a result, these springs are revered by people from different walks of life. Be it the rustic naturally-heated pools that can be only be accessed through hiking or the easily nearby five-star resorts; these springs hold something for everyone.
The geothermal warmth that heats these springs radiates from the Earth's interior. The water in these springs was once moving alongside Earth's mantle, which also meant it came in contact with scorching hot rocks heated by magma. It isn't boiling by the time it comes out of the Earth's surface, but it's still warm enough to relax a tired hiker's muscles.
Safety Precautions
While visiting these hot springs, it's essential to remember you must pack well since most of these locations are far from cities. If you're going to a spring in California, consider packing the following list of items:
A tool kit for your car
First aid kit
Road flares
Knife
Rope
Sleeping bag
Tent or another kid of shelter
Waterproof matches
Things to Remember
Remember not to use shampoo or soap in the springs. Natural or public hot springs are different from commercial springsm which have improved facilities. Private springs have filters, and other people are responsible for cleaning these springs, while the same can't be said for springs open to the public. You can pollute the natural flow of the water by using these products.
When you're packing up to leave, do not forget to clean up the mess you've made. This will save time and effort for other visitors or other volunteer keepers for the springs. Leaving the spot in a better condition than you found it can be a rewarding experience for the travelers who will visit after you.
Some of Our Favorite Hot Springs in California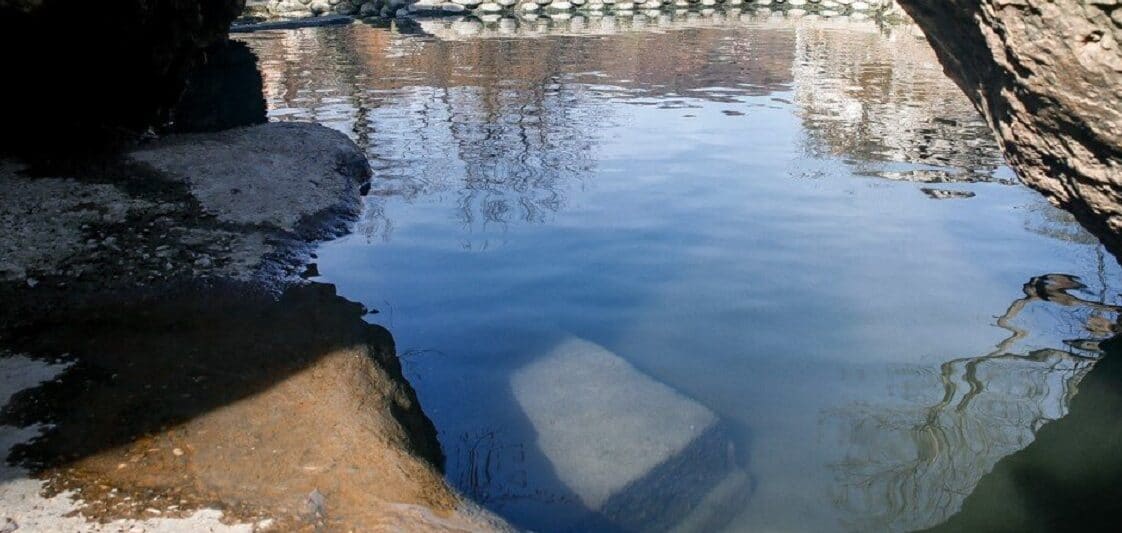 Best Hot Springs Near Santa Barbara Southern California is well known for it's amazing beaches, world class golf courses, and of course it's abundance of natural hot springs. Santa Barbara may not have warm pools within the city, but there are quite a few in nearby that are well worth the drive. Here are a …
Desert Hot Springs
This southern oasis in the California desert is located just outside Palm Springs and is two hours from Los Angeles. There are approximately 20 hot spring resorts inside Desert Hot Springs (making it the largest collection of hot springs in the United States). It welcomes both day and overnight guests. This location is only a twenty-minute drive from downtown.
Wilbur Hot Springs
This location is an off-grid, historical, and solar-powered hot spring resort in Northern California that started operations in the 19th century. It's a 90-minute drive from Sacramento and is about two and a half hours away from San Francisco. It's inside the town of Williams, and the springs are designed in Japanese-style hot springs called onsen. Clothing is optional in some of them, and there's also a spring-heated sauna and pool. There's also a geyser on location (not for bathing, only for viewing).
Why Visit California?
In this infamous state from the west coast, there's something for everyone. Be it adventure, history, fun, or beauty, California epitomizes everything it means to be American, and then some. It was made an official state in 1848 in North America and has acquired a rich history covering the last couple of centuries.
The popular Gold Rush brought several settlers towards the state looking for wealth; Hollywood became the capital for filmmaking when producers realized that Thomas Edison's Company's strict rules didn't apply here, and in 1945 the largest United Nations signing happened in San Francisco. To put it simply, a curious mind will never get bored of California. The state has the country's most beautiful national parks, one of which is Yosemite National Park.
It stretches for up to 1,200 miles and is full of majestic views. Another famous spot is Redwood National Park, the world's tallest redwood tree, and Sequoia National Park. Just outside of the boundary of San Francisco are the popular Marin Headlands. Not only is this site where Star Wars was filmed, but it also has some of the most diverse habitats in all of America.
Wrapping Up
Apart from the natural beauty that California is known for, the state offers traveling enthusiasts several opportunities for traveling. The state is rich with natural resources, and the hot springs spread all across the state offer convenient options for your travel plans. Which hot spring do you plan to visit first?
Looking to explore California? Here are some other great things to do in the state: