If you plan on visiting the wonder state of Alaska, be ready for some breathtaking activities to do. Although it may not be on your bucket list, the state has over 20 hot springs that we highly recommend you visit. Some are deep into the wilderness which will require you to remember how to use a compass and map, but many are in populated areas where access is as easy as driving up. Below we will dive into some of the best Alaskan hot springs you can explore, while relaxing under the northern lights.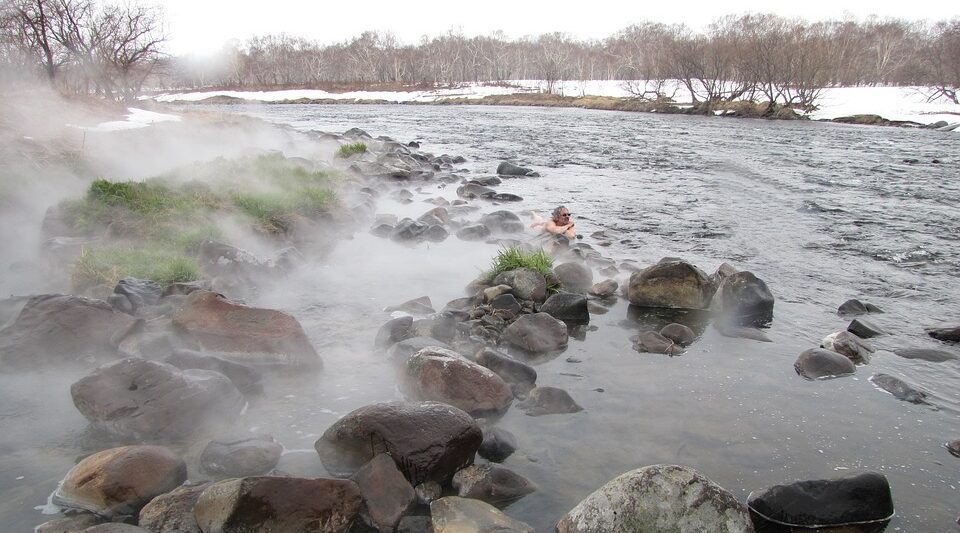 Best Hot Springs in Alaska Alaska is known for several things: its wildlife, cold climate, and unrelenting wilderness – but did you know it's also popular for having a significant amount of hot springs? The best hot springs in Alaska can help your muscles relax after several cold hours of tiring adventure. Submerge yourself in …
List of Hot Springs in Alaska
Map of Hot Springs in Alaska
It's one thing to learn about a hot spring, but another whole challenge on figuring out how to get there. Get an idea of the different hot springs in Alaska with this interactive Google map. Click on a location within the map to view information and a link to the specific Alaskan hot springs you are looking for. Don't see a hot spring on the map? Let us know and we will get it added asap.
Remember this map will give you a better understanding on the location of the hot springs in Alaska, but for some you will need an actual topographic map as they involve trekking into the wilderness where Google Maps won't be of any help. Many cities in the state offer maps to buy and it's a useful thing to have in case of an emergency.
Found in the Aleutian Islands, Akutan Hot Springs is quite the secluded attraction. Starting at the valley near the bay, it flows down to Hot Springs Bay Valley. There are five different areas for you to enjoy a nice relaxing soak with temperatures varying depending on the location near the river. It's a bit of an adventure to get to this location, but well worth the travel.
Address: Akutan Island, Alaska
Season: Summer
Sitka, Alaska has quite a few hot springs for you to enjoy. This hidden gem is one of the better kept secrets as it's located deep into the wilderness and requires a boat ride to get there. There are nine different natural soaking pools for you to enjoy including a bathhouse with breathtaking views of the bay and even a waterfall. This is definitely one of our favorite springs to visit.
Address: Sitka Baranof Warm Springs, Alaska 99835
Season: Summer | You can't access Baranof Warm Springs in the winter
GPS: 57°05′22″N 134°49′59″W
Fairbanks is one of the more popular destinations for visitors coming to Alaska. There are an abundance of activities of things to do including heading over to Chena Hot Springs for a relaxing soak. If you are in the area, be sure to stop by see why thousands of people flock here every year for a taste of the Alaskan life.
Address: Mile 56.5 Chena Hot Springs Road Fairbanks, Alaska, 99711
Season: All Year
Website: chenahotsprings.com
For a true wilderness experience, head over to the Tonga National Forest and enjoy one of the most natural hot springs locations in the world. Chief Shakes Hot Springs offers two different hot tubs, one inside and the other out. The scenic views are what sets this attraction apart from the rest.
Address: Wrangell, AK 99929
Season: All Year
GPS: 56.726944, -132.052222
Website: fs.usda.gov
Goddard Hot Springs is another hot spring near Sitka, Alaska and offers two bathhouses to soak in. This primitive wilderness attraction is free to the public and allows you to reconnect with nature. As the oldest natural hot springs in the state, it has grown in popularity over the years and can often get crowded. As long as you get their early you won't have to wait for this spectacular springs.
Address: Sitka, Alaska 99835
Season: All Year
GPS: 56.846531, -135.379772
If you are a thrill seeker and looking to find a hot springs that only few go to every year, then Hutlinana Hot Springs is the perfect adventure for you. Located far into the Alaskan terrain, the trek alone is a story in itself. If you can find this gem, the refreshing natural pools will be well worth it. There are even a few campsites in the area for you to use as you stare at the northern lights. The journey will most likely take you a few days so pack accordingly and set off on a journey of a lifetime.
Location: Mile Market 103 on Elliot Highway, 99756
Season: All Year – Best in winter
GPS: 65-12'55" N, 149-59'31" W
This is another one of those remote and off the grid springs that is nearly impossible to find, but if you do it's another story you can tell for the rest of your life. Located in Artic Cirlce, Kanuti offer two different natural springs for you to enjoy.
Location: Kanuti National Wildlife Refuge, Alaska | 12 miles west of MP103 on the Dalton Highway
Season: All Year but we recommend the warming months to avoid too much snow.
GPS: 66º 20′ 30″ N 150º 50′ 44″ W
One of the oldest and more popular hot springs in Alaska to visit. Originally a vegetable farm, this attraction will take you back in time as soak in a greenhouse full of plants and vegetation. There are three different pools for you to relax in with constant temperature regulation. There are also a few amenities in the community including lodging and dining.
Address: 100 Front St, Manley Hot Springs, AK 99756
Season: All Year
Guide to Alaska's Natural Hot Springs
The greatest part of a hot spring is how they are created. As the water moves up through the Earth, it captures hundred of minerals until it finally reaches the surface. When you sit back and relax after a long day, you get to also benefit from these minerals as they release stress and even contain healing qualities. Back in the day, Alaskan natives used these hot springs solely as healing pools, but as technology evolved so did the ease of finding these locations making it a popular destination for millions of people every year.
Unlike most states, there is a very wide range of the types of hot springs you will find in Alaska. Ideally if you are on a week long vacation you can stop at some of the more popular ones, but if you plan on becoming one with nature, Alaska offers some of the hardest warm pools to get to as you trek along their challenging tundra.
Types of Hot Springs in Alaska
There are three main types of hot springs you will discover during your journey.
Primitive and Underdeveloped
Resort Like Atmosphere
Rustic Community Setting
Alaska Primitive and Underdeveloped Hot Springs
Although these aren't the most popular springs to enjoy due to the nature of getting to them, they by far provide the most breathtaking views of God's country. Usually getting to a primitive or underdeveloped location involves a lot of planning, hiking, boating, snowmobiling, cross country skiing, trekking over mountains, and so many more things we can't mention in a sentence. However, if you can successfully make the trip you will be in a unique class of hot spring seekers who truly appreciate the adventure with a nice little perk at the end.
Don't worry if you don't have the skillset to make the arduous trip by yourself. Many cities in Alaska offer local guides who can help navigate you the the primitive springs. The reward is having your own personal pool miles away from other tourists while you gaze into the starring night. Because you are so far away from civilization, due make sure you pack all the necessary gear as don't expect to have any amenities such as lodging or bathrooms. Primitive basically means it's just you and nature.
The underdeveloped pools themselves are usually created by people that have been their before you. Whether that means someone built up a pool by rocks off a riverbend, or created a wooden tub to allow you to soak in, the luxury springs you may be accustom too will be offset by the zen like atmosphere that surrounds you. Temperatures can vary greatly because many are regulated with cooler water so make sure to test the pool before you just jump in.
Alaska may be the best state when it comes to primitive hot springs to enjoy. Each one is not only an adventure, but a story you will have for the rest of your life. Here are a few underdeveloped springs to enjoy.
Alaska Rustic Hot Springs
Without taking away from being one with nature, the next type of hot spring is your rustic settings. Unlike a primitive location, these will have a few nicer facilities and are often maintained by a local town or forestry service. These springs are still out in the wilderness, but you may find that some of the tubs are enclosed within a cabin and even have an outhouse. Locals tend to use these the most as they are still secluded enough where you won't be elbow to elbow, but not so far off the beaten path that is is a pain to get to. However, with that being said some of these are only accessible by boat or plane so do some research prior to picking which hot spring in Alaska you want to adventure too. Local cities in the area will often have boat charters or even scheduled flights to some of these premiere destinations.
As far as amenities, again it's a step up from an underdeveloped spring, but not close to a resort type atmosphere. You typically will have the option to either camp in the area or head back to a local town to set up shop for the night. Here are a few options for Rustic Hot Springs in Alaska.
Alaska Hot Springs Resorts
And lastly for all those who just want a relaxing soak without all the nonsense of trying to get there, you have your resort style hot springs. These feature every amenity you could want with lodging, dining, and local attractions to enjoy. Of course resort style pools are the most popular due to the ease of accessibility and luxury facilities. You can expect large crowds during hours of operation as visitors from all over the world want to experience an Alaska experience. Luckily some hot springs are only available to people staying at the resort so you won't have to wait to jump into one of the natural mineral waters.
Many resorts also offer local attractions for you to enjoy. In Alaska some of the top attractions are the northern lights and dog sledding. If you plan on staying near a larger city, check out what other things you can do in the area.
Top Reasons To Visit Alaska
Most people don't consider vacationing in Alaska as all they know is the "Last Frontier" with thoughts of endless snow, no sunlight, and having to live in an igloo. However, Alaska offers some of the greatest attractions in the world. Here are a few things you can do when visiting this beautiful state.
The Northern Lights – One of the greatest parts of the Alaskan night sky is catching a glimpse of the Northern Lights. You may know this as the aurora borealis, which is an interaction from the sun and Earth's magnetic field. The sun solar winds wrap around the planets magnetic fields, giving vibrant bursts of colors that are best viewed in Alaska. It's one thing to witness it and a completely different feeling when viewing it from one of Alaska's hot springs.
Skiing – Of course Alaska is going to have some of the best mountains to ski or snowboard. Winters come with countless snowfalls making the backcountry adventure all the more fun. There are some amazing ski resorts, but the true enthusiast can rent a snowmobile and hit the open terrain. After a long day on the trails, kick back in a hot spring to heal up for your next days adventure.
Glaciers – Alaska is said to have over 100,000 glaciers spread all throughout the state. Many are accessible as you drive along the coastline and attract thousands of visitors every year. Several you can walk through and really get a sense for how large these natural wonders are.

Glacier in Alaska

Fishing – If you have ever spoken to an avid fisherman you will hear them talk about stories of their fishing adventure in Alaska. All stories also mention the words "epic" and "world class". The states hosts an abundance of fish including halibut and salmon with charters eagerly waiting to take you out to sea. If you enjoy fishing, come see why Alaska will change your hobby into an obsession.
Wildlife – Because Alaska isn't like most states with populated cities every 100 miles, the wildlife can flourish. Bears, Orcas, Moose, and Sea Lions are just some of the mammals you will see as you travel the state. There are also State and Marine parks with guided tours for your pleasurer. Make sure you don't miss out on nature at it's finest and take some time during your trip to enjoy the beauty of the state. Several primitive hot springs will also get you one with nature where you can get up close and personal with the wildlife (have some bear mace as a safety precaution).
Wilderness – Sometimes it's good to just get away from the world for a while and reconnect with yourself. As the largest state in the US, there are endless adventures off the beaten path where you can hike mountains, trek through unknown terrain, and camp under the stars. Roads can often get you to a starting point, but it's the miles and miles of wilderness that attract tourists to claim a little piece of land as their own for a few days. Who knows, you may even stumble upon a hot spring nobody else has been to yet.
Alaska is one of those states you must visit in your lifetime. Hot springs only make up a small portion of this majestic land, but still one of the best attractions as you travel around.
Alaska Related Activities
We will continue to update this site with other things to do in Alaska. From hiking, camping, skiing, golfing, and even aquariums in Alaska to visit, there is endless fun to be had.
Looking to explore Alaska? Here are some other great things to do in the state: