Travertine ​Hot Springs – California
Located in Bridgeport, this natural Northern California spring is special in that it is only one of a few in the world that is created by sedimentary rock. This phenomenon happens when carbonate minerals hit the earths surface due to the geothermal heat from under the ground. Through thousands of years this rock formation has created one of the greatest hot springs in the entire state. Best part is Travertine is open to the public and is free to use at any time.
Details about Travertine ​Hot Springs
The hot springs are composed of travertine, which is formed from limestone deposits created by water flowing over heated rocks beneath the surface. This creates a unique environment where mineral-rich hot water bubbles up through fissures in the rocks and forms pools with temperatures ranging from 98-104 degrees Fahrenheit (36-40°C). The area surrounding Travertine Hot Springs features lush forests, rolling hillsides and majestic mountains. Visitors can enjoy breathtaking views while soaking in one of several large thermal pools located at various levels along the hillside.
There are also smaller rock formations scattered around which provide visitors with private areas to relax in seclusion or take picturesque photos. In addition to being able to soak your cares away in one of these amazing natural wonders, there are plenty of other activities you can do while visiting Travertine Hot Springs such as hiking trails that wind their way through nearby Mono Lake State Park or exploring some nearby ghost towns like Bodie or Aurora Nevada for those who love history and adventure! You could even spend time horseback riding on scenic trails or fishing on nearby lakes if you're feeling particularly adventurous!
The best part about Travertine Hot Springs is its accessibility – it's open all year round so no matter when you decide to visit this gorgeous location you won't be disappointed! Furthermore, due to its popularity amongst locals and tourists alike there are many facilities available such as restrooms and changing rooms so visitors have everything they need during their stay here at this beautiful site! Finally, what makes this particular spot stand out above all others is its affordability – not only does it offer free admission, but camping fees are minimal meaning people don't have break the bank just for enjoying a few days away from home surrounded by nature.
It's extremely easy to access Travertine Hot Springs, which also leads it to becoming quite crowded during the peak season. It is also clothing optional so if you plan on bringing the kids, try go to during the weekdays or hours other than dusk and dawn.
There are three rock pools, three more rustic pools, and a tub available for you to relax and enjoy. The tub, created by cement, is father down near where you can park and is the hottest out of all the pools at roughly 100 degrees. The rustic pool area under the sedimentary rocks are usually the fan favorite and average around 98 degrees. The water flowing down the rock almost creates a zen like atmosphere as you soak in the mineral waters. The last section is the hottest and can range from 105 – 120 degrees depending on the time of year.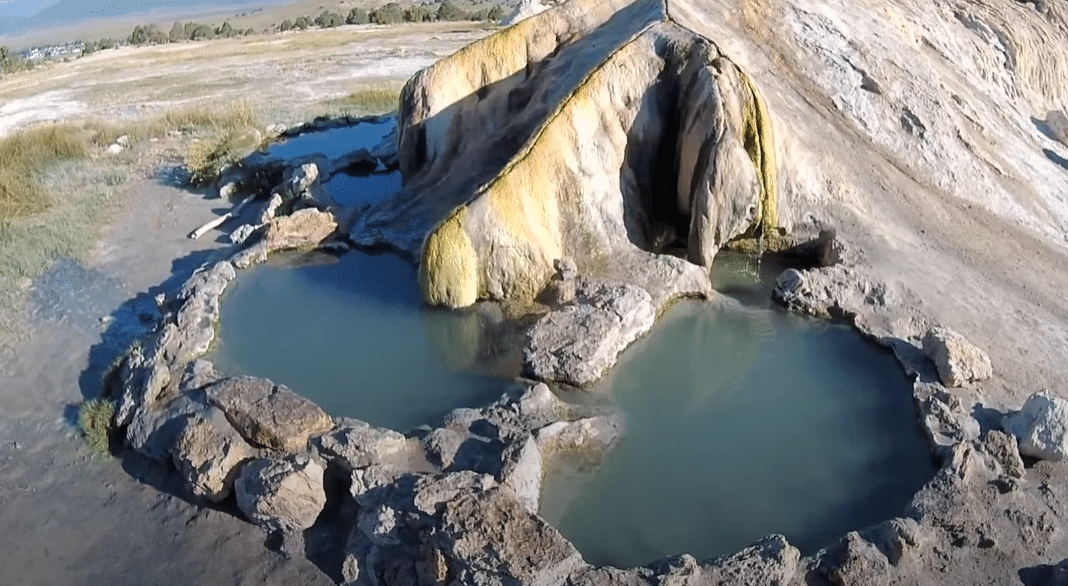 Directions to Travertine Hot Springs
1. From Bridgeport, go south on route 395 for roughly a half mile.
2. Turn left onto Jack Sayer Road
3. Continue on Jack Sawyer Road for a mile until you reach the parking area.
Travertine Hot Springs is on BML land so the state does ask that you respect the land and leave it as you came. If you are looking to stay the night, there are several lodging options in the city of Bridgeport for you to enjoy.