For many reasons, Missouri is known as the "Show Me State," and it certainly has a lot to show to visitors. Missouri is well-known for many things, including its unique food scene, interesting geography, and long history. However, a lesser-known fact is that Missouri is home to many of the best amusement parks in the country.
Missouri has a variety of top-rated amusement parks where you can enter a different world and find plenty of opportunities to have fun, unwind, or face your fears. From top-notch thrilling rides to exciting carnival games to delicious snacks and food, Missouri amusement parks offer world-class adventure, fun, and incredible experiences that will last a lifetime.
Whether you're visiting alone or with friends and family, the Missouri amusement parks will never fail to amuse you. This article will give you an overview of what fun activities and features you can expect, more information about each amusement park, where they are located, and provide you with tips on how to make the most out of your trip to the best amusement parks in Missouri.
Branson Mountain Adventure Park – Branson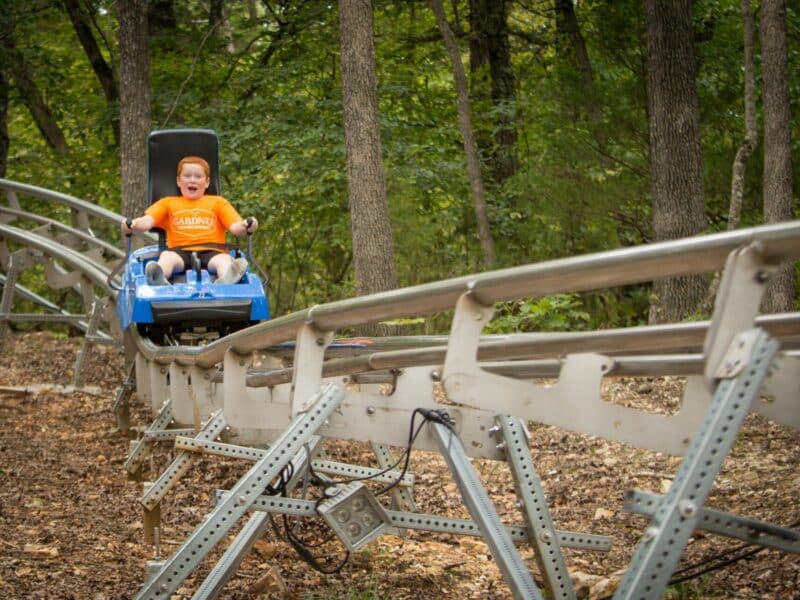 Branson Mountain Adventure Park is home to the first mountain coaster in Ozark. The adventure park is famous for its family-friendly thrill coaster "The Runaway," which travels over 5,000 feet of rail track. The coaster will give you the thrill of going through two 360-degree horizontal loops as you speed to the bottom of the hills at up to 30 miles per hour. What makes it more fun is you will have the option to experience the ride at top speed for the ultimate thrill experience or use a personal brake system to travel more slowly, take in the natural beauty of Branson, and enjoy the breathtaking views as you go down the mountain.
Additionally, Ziplines are available at Branson Mountain Adventure Park, where you can enjoy the thrill of soaring above the Ozark Mountains — one of the region's most breathtaking views. They also offer mountain gem mining in the longest gem mine in the Ozarks, located close to Fall Creek's banks. You can decide what kind of treasure you want to look for. At Branson Mountain Gem Mining, you can find fossils, gemstones, and a lot more.
As long as the weather permits, Branson Mountain Adventure Park is open all year round. They won't operate in lightning storms, low light conditions, or any other dangerous weather situations. Make sure to check the weather and their website before going to the park.
Address: 935 Historic State Hwy 165, Branson, MO 65616, United States | Phone: +1 417-334-7337 | Website: bransonalpinemountaincoaster.com
Miner Mike's Adventure Town – Osage Beach
Miner Mike's Adventure Town in Osage Beach is an outstanding 50,000-square-foot family fun center that features thrilling rides, challenging games, simulators, and excellent food. They offer the largest indoor raised electric go-kart track in the United States. They also boast their 12,000-square-foot mining town called Buster, which includes hundreds of games geared toward older kids and adults. Buster will take you back to the mining town in the 1890s with unmatched indoor entertainment. You will come across a variety of structures that look just like they did in the old mining towns of the West as you stroll down the brick pathways.
Miner Mike's offers a top-of-the-line, high-tech playground with almost every game imaginable. You can also experience unlimited exciting rides and enjoy fun mazes. A trip to Miner Mike's adventure town is perfect for spending time with friends and family.
Address: 4515 Osage Beach Pkwy, Osage Beach, MO 65065, United States | Phone: +1 573-348-2126 | Website: minermikes.com
Paradise Park Family Entertainment Center – Kansas City
With its unique attractions, educational, exploratory, discovery play, and team-building activities, Paradise Park is Kansas City's top family destination. It is well-known for its extensive list of fun activities, which include:
Go-karts
Mini golf
Laser tag
Rock climbing
Discovery play
The foam factory
Bumper cars
Kids' play garden
If you're visiting Missouri with your kids, family, and relatives, you can all spend time and have fun together at Paradise Park Family Entertainment Center in Kansas City. They offer entertaining and educational activities for all ages.
Address: Address: 1021 NE Colbern Rd, Lee's Summit, MO 64086, United States | Phone: +1 816-246-5224 | Website: www.paradise-park.com/
PowerPlay Family Entertainment Center – Kansas City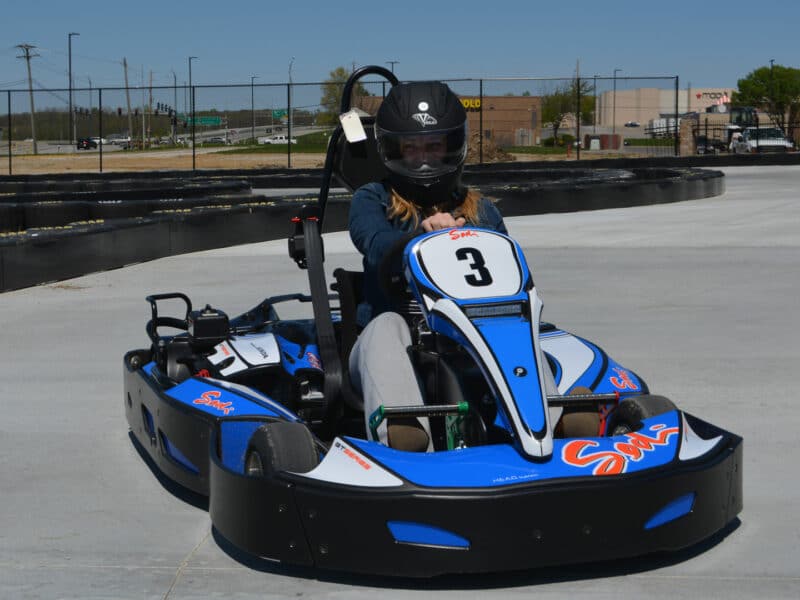 PowerPlay Family Entertainment Center is a 50,000-square-foot entertainment facility with rides and attractions that cater to every age group. Their venue has a fantastic room for kids' birthday parties and business events. They also provide a wide range of indoor and outdoor attractions for all ages.
The ax-throwing lanes, laser maze, and laser tag are must-try games. All other activities, including bumper cars, a carousel, bowling, go-karts, and many more are all exciting to experience as well. Every Wednesday and Thursday of each week, PowerPlay offers 3 hours of unlimited indoor attractions and arcade games for you to enjoy.
If you get hungry after all the fun games and activities, PowerPlay offers several food options, including giant pizzas, chicken bits, nachos, and more. Additionally, they have a concession stand where you can purchase hot dogs, pretzels, and their famous funnel cakes.
PowerPlay is closed on Mondays and Tuesdays. They are open from Wednesday through Friday from 12 PM to 10 PM and Saturday through Sunday from 10 AM to 10 PM.
Address: 509 NW Barry Rd, Kansas City, MO 64155, United States | Phone: +1 816-268-4386 | Website: powerplaykc.com
Shepherd's Adventure Park – Branson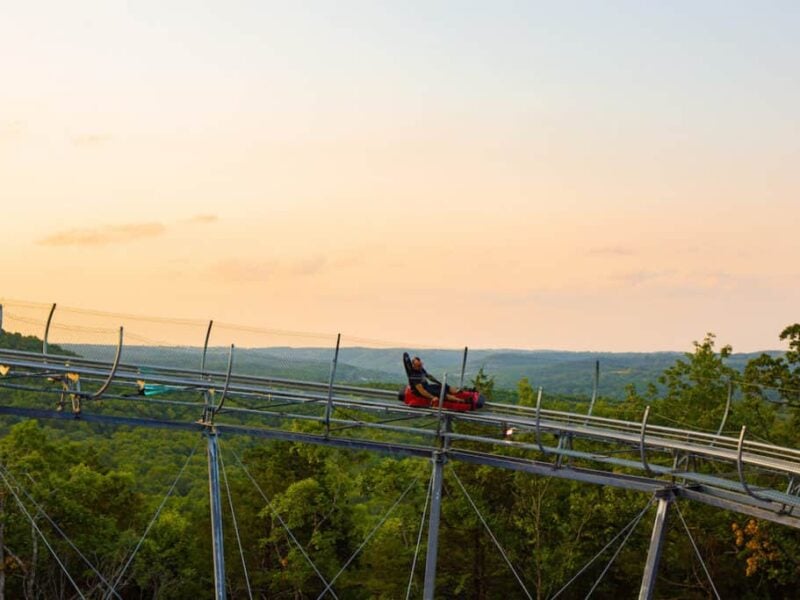 In 2019, USA Today ranked Shepherd's Adventure Park as the number 1 aerial adventure park in the nation. If you're in Missouri, make sure to visit Shepherd's Adventure Park! The Ozark Mountains provide the ideal setting for an action-packed day of family fun and adventure in this adventure park, which offers a lifetime of fun and exciting experience. It boasts many exceptional fun activities for you to choose from, including:
Copperhead Mountain Coaster: The longest downhill mountain coaster in Branson, it winds through thrilling loops, drops, and twists in the breathtaking Ozark Mountains.
Inspiration Tower: This allows you to ascend the Inspiration Tower to view the Ozark mountains from above in all their beauty. The Inspiration Tower, which was constructed on the site where Harold Bell Wright authored The Shepherd of the Hills, is the ideal position to experience a summer sunset or enjoy a stunning afternoon sky.
Sky Trek Challenge Ropes Course: A multi-course rope challenge that stands next to the well-known Inspiration Tower and offers the same breathtaking views as well as a thrilling ascent.
Zipline Canopy Tour: Lets you soar across the horizon from 8 distinctive tree-suspended platforms while taking in the natural awesome view of the Ozark landscape.
Vigilante Extreme ZipRider: This allows you to fly on a zipline from the 230-foot Inspiration Tower to overcome your fear of heights. As you soar through the air, you will get to admire the stunning hills from above. The zipline is available in four lines, which is a special way of spending time and having fun with loved ones.
Address: 6021 76 Country Blvd, Branson, MO 65616, United States | Phone: +1 417-334-4191 | Website: theshepherdofthehills.com/adventure-park
Six Flags St. Louis – Eureka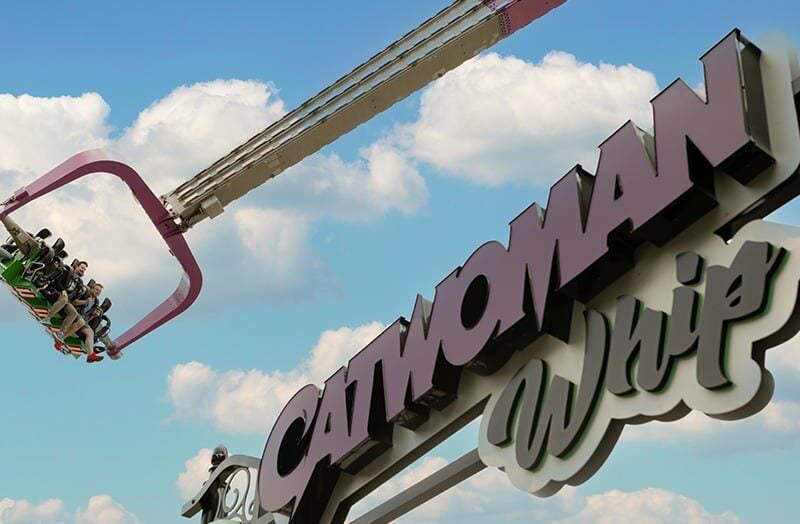 Six Flags is an amusement park with attractions and characters from numerous Warner Bros. movies and television shows, including Looney Tunes, DC Comics, Scooby-Doo, Batman, and many more. With 38 exhilarating rides, including 9 enormous and thrilling roller coasters, Six Flags St. Louis is one of the largest amusement parks in Missouri. Six Flags St. Louis provides any exciting ride you can imagine. It has a wide variety of rides, including thrilling rides, family rides, children's rides, water rides, and many more.
The park also offers amazing live entertainment shows for a complete amusement park experience. If you're hungry, there are multiple restaurants and dining areas within the park. It also has shops with a wide range of fantastic Six Flags St. Louis souvenirs and merchandise. Anyone, of any age, will undoubtedly be amazed in this enormous amusement park.
Address: 4900 Six Flags Rd, Eureka, MO 63025, United States | Phone: +1 636-938-5300 | Website: sixflags.com/stlouis
St. Louis's Incredible Pizza Company – St. Louis, Missouri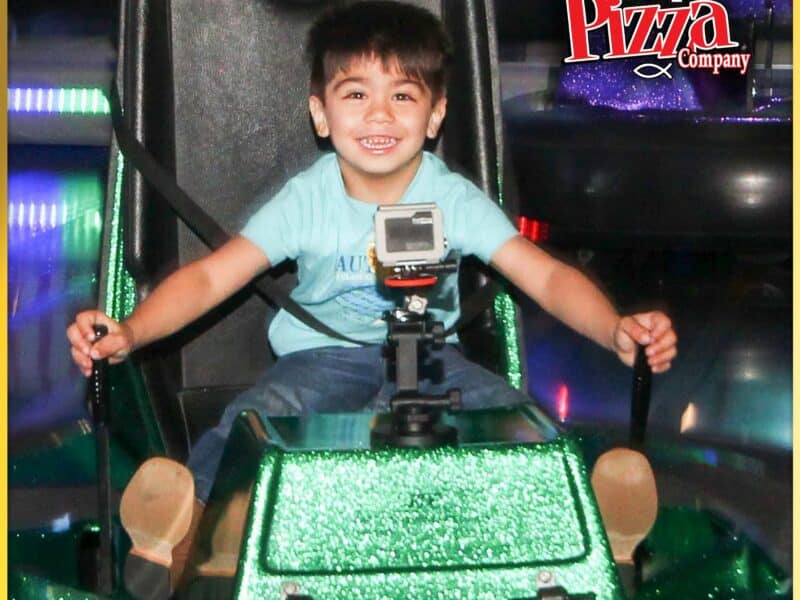 The St. Louis Incredible Pizza Company is a huge entertainment complex that features activities, rewarding games, a pizza buffet, and casual dining. Not only is this a great place to bring your kids, but you and the grownups will also love this entertainment area. You won't get bored because there are so many family-friendly activities and attractions available. Every day of the week, it features an Eat & Play Special, among other unique deals.
Here are some fun activities available at Incredible Pizza Company in St. Louis:
Kids Birthday
Playground
Redemption Games
Arcade and Video Games
Glow in the dark Mini Golf
Laser tag
Paintball
Go Kart
Bumper cars and boats
And don't forget the food. It offers a large selection of pizza, spaghetti, and soup dishes. You can also create your own tacos, hot dogs, and salads. The entertainment center has amazing sweets too, such as soft-serve ice cream and cinnamon rolls.
Address: 5254 S Lindbergh Blvd, St. Louis, MO 63126, United States | Phone: 1-888-516-3846 | Website: incrediblepizza.com
Track Family Fun Parks – Branson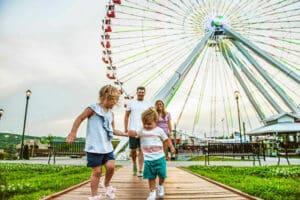 Three Branson locations of The Track Family Fun Parks offer memorable and top entertaining experiences. You're guaranteed to find something entertaining for people of all ages with the Skycoaster, Skyscraper, Ferris Wheel, high-rise go-kart courses, laser tag, bumper cars and boats, and much more.
The greatest deal is to buy an unlimited pass, which gives you access to limitless rides for several hours, a day, or a whole year. Every Track site offers a variety of additional attractions and activities, including chill and relaxed rides, thrilling rides, and a wide range of arcade games.
Due to crowd traffic, weather conditions, and safety issues, the park's operation hours may change, however, they consistently update their website so that you can accurately plan your visit. Make sure to check out the website before visiting Track Family Fun Parks.
Address: 3345 W 76 Country Blvd, Branson, MO 65616| Phone: (417) 334-1612 | Website: fivestarparks.com/branson-tracks
Worlds of Fun – Kansas City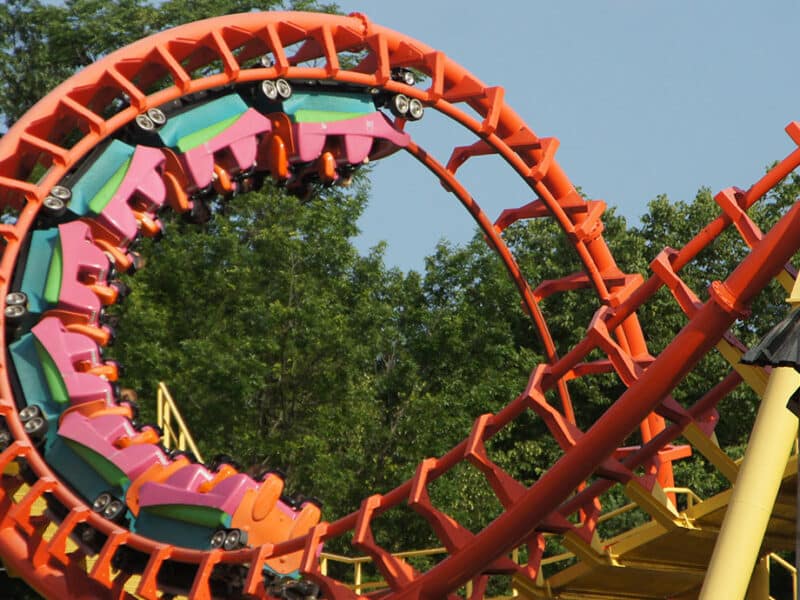 Worlds of Fun is a more than 235-acre entertainment complex, boasting the biggest amusement park and water park in the Midwest. Bring your friends and family to Worlds of Fun to experience a tour across the world where you experience world-record attractions, world-famous food, world-class events, and world-changing fun.
As the biggest amusement park in the Midwest, Worlds of Fun has any ride you can think of. Everyone of all ages can experience adventures in the park's five regions:
Africa
America
Europe
The Orient
Scandinavia
Kids and little ones can also enjoy their own world tour with kid-sized attractions.
If you want to cool off, you can enjoy the Oceans of Fun, which is the coolest spot in the Midwest to slide, splash, relax, and eat while escaping the heat. A variety of restaurants and snack bars at World of Fun provide cuisine from all over the world. Different menus from various countries are available for you to enjoy and explore.
Worlds of Fun is open daily, with the amusement park opening at 11 AM and closing at 8 PM, and the water park opening at 11 AM and closing at 7 PM.
Address: 4545 Worlds of Fun Ave, Kansas City, MO 64161, United States | Phone: +1 816-454-4545 | Website: worldsoffun.com
Tips for Making the Most of Your Missouri Amusement Park Visits
Decide which amusement park you're going to visit and make a plan in advance to ensure that your day at the theme park will go smoothly. Check to see if the park will be open on the day you wish to go.
Check the weather forecast and make sure the weather is pleasant so you can fully enjoy your trip to the amusement park.
Be there as early as you can after checking the amusement park's opening hours. The majority of amusement parks have plenty of fun activities and rides, so allow enough time for you to try each one.
Wear comfortable clothes and shoes and bring an extra set of clothes. Amusement parks require a lot of walking, running, and possibly getting wet at a waterpark. It's nice to have dry clothes to change into after a long day.
To avoid waiting in line at the theme park's gate to get tickets, buy them online ahead of time. Then you won't have to worry about tickets being sold out on the day of your visit.
Conclusion
Missouri has some of the best theme parks in the world for tourist attractions. Missouri theme parks have something to offer for everyone with a mixture of offerings that include a variety of snacks, refreshments, shows, and activities, as well as thrilling and relaxed family rides. Whether you visit Missouri during the colder months to enjoy hot beverages and snow-covered cottages or during the warmer seasons to enjoy water activities and heart and jaw-dropping rides on roller coasters, the best amusement parks in Missouri offer out-of-this-world excitement, amusement, and the opportunity to make lasting memories and experience with friends and family.