Just south of Wichita in a town called Derby is a smaller aquatic center known as Rock River Rapids. Although it's not the biggest water park in the state, they still offer plenty of water attractions that bring thousands of people each year to enjoy. With close to a million gallons of water, there is no shortage of pools for families and friends to swim, slide, and splash around in.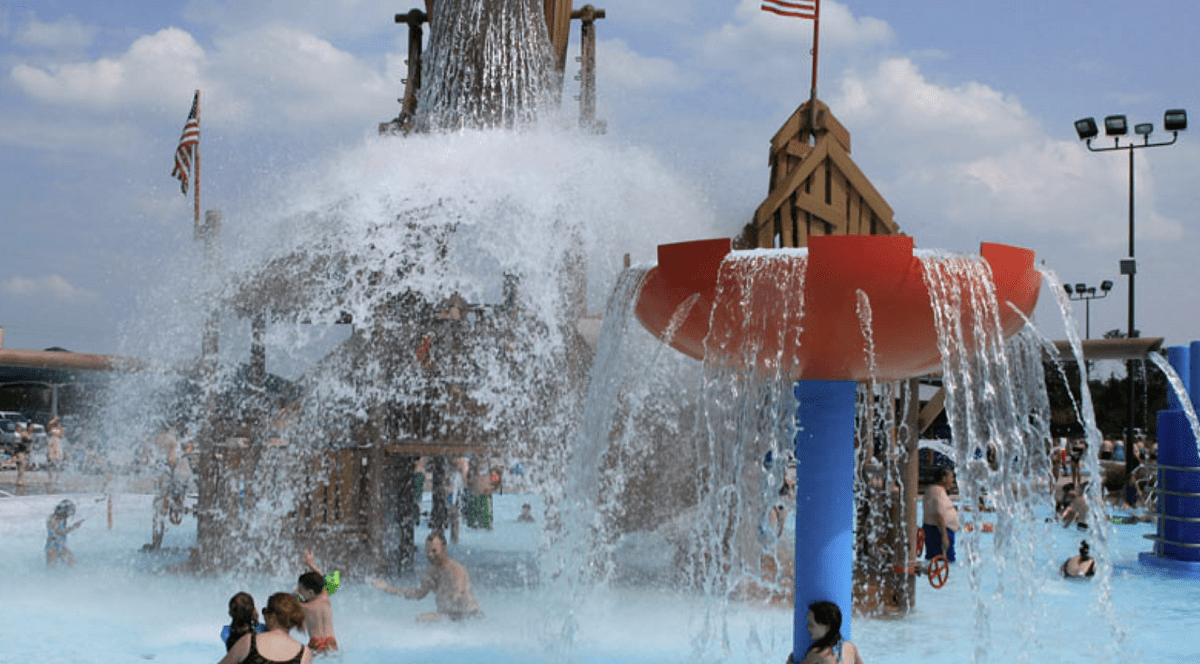 Rock River Rapids
There are 4 main areas the water park has created that each have their own unique features. Like most water parks, they do gear the fun more towards the little ones as the adults can relax on pool side lounge chairs or float along the lazy river. During the peak season it can get quite busy so we highly recommend trying to plan a trip to this waterpark in Derby during weekdays.
Main Water Park Attractions
Zero Depth Pool – Kids immediately gravitate to this large water playground splash area with all the bells and whistles. Some of the more popular features are their water canons, small slides, waterwalk, floatables, and dump bucket. Even toddlers can get in on the action with several toys specifically geared towards them. It's a never ended wall of water that will keep kids entertained for hours.
Lap Pool – The large Olympic sized pool offers a few lanes for those who would like to get in some exercise. It also features sections where you can play basketball, jump off a diving board, or even try your luck at a climbing wall. In the far corner there are two drop slides that quickly shoot you into the deep end.
Water Slides – Derby Water Park has 4 different slides you can choose from. Their blue slide offers a 2 person tube ride that spirals down to a splash area. Their orange and yellow body slides are perfect for those who which to race one another around quick curves and steep drops. Their green slide is the latest addiction and probably their fastest attraction at the park. It's also a body slide with several twists and turns.
Lazy River – The perfect place to cool down and relax as you float around the entire facility. They do offer one and two person tubes if you'd like to double up.
Rock River Rapids also offer several amenities including changing rooms, lockers, concession stands, gift store, and lounge chair areas.
Ticket Prices and Hours
Tickets
Day Pass
2 and under: Free
Kids: $9.00
Adults: $10.00
Seniors: $9.00
Season Pass – $75
You can buy your season passes online with discounts if you purchase before the season.
Hours
Opening Day: May 29th
Closing Day: Labor Day
Monday – Sunday: 12:30pm – 7:00pm
Location
Directions from Wichita,: Map
Address: 1900 E James St. Derby, Kansas 67037
Phone: (316) 788-7665
Website: http://www.rockriverrapids.com/