This may be the best resort and waterpark in all of New Jersey when it comes to year round activities. Aside from their amazing water park, Mountain Creek attracts people from all over the country who are looking to ski, bike, snow tube, zip line, and even get married. With the entire facility built into a mountain they have been able to create some of the best water slides for thrill seekers that can compete with any other place in the world.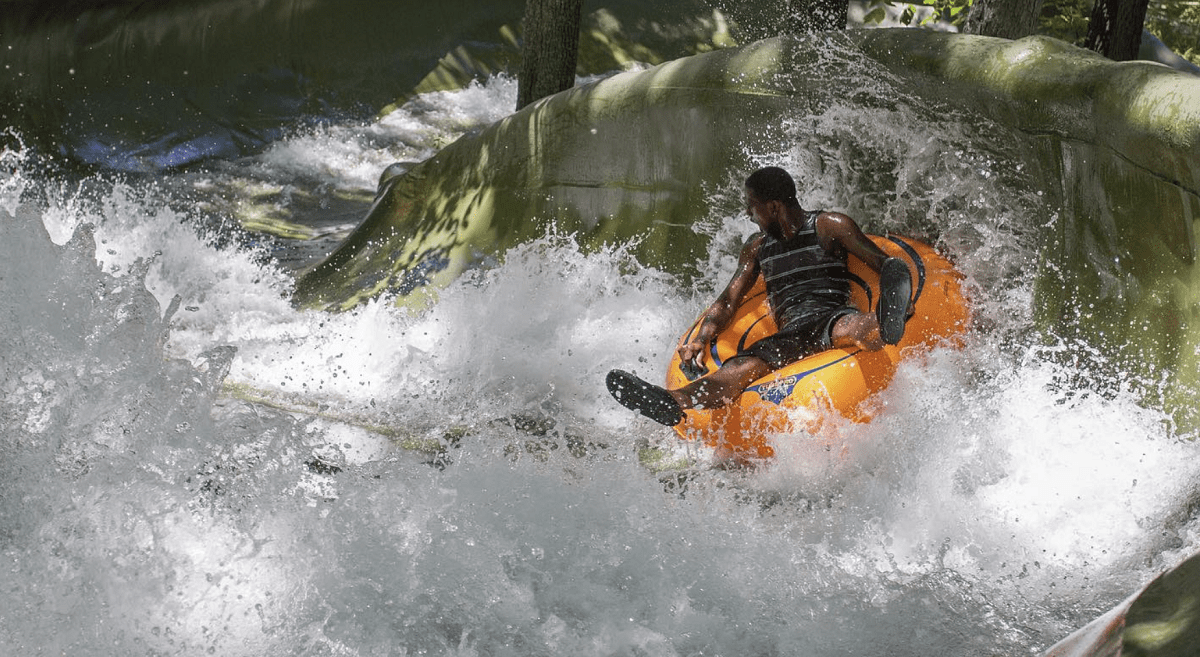 Mountain Creek Waterpark Details
There are a total of 22 different water attractions that range from complete relaxation on their lazy river to death defying water slides. The resort also did an amazing job at making sure they catered to kids who are looking for thrill seeking rides. When you need a day or even weekend getaway, Mount Creek is our top recommendation to bring the family.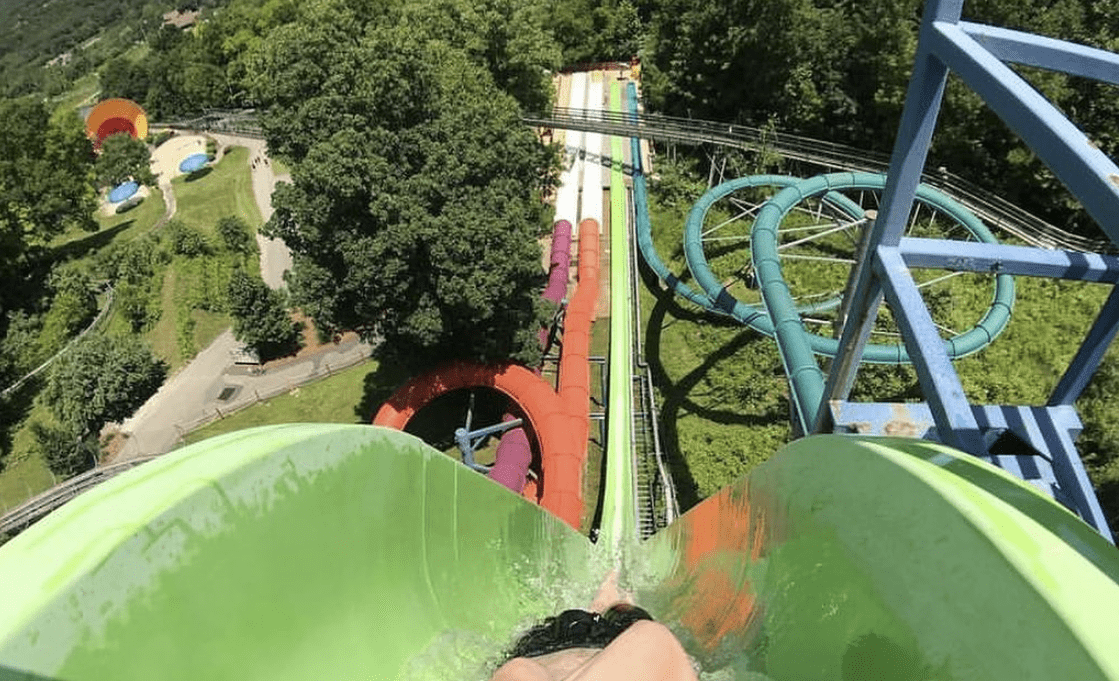 Main Water Park Attractions
For the little ones:
LOST ISLAND RIVER – Kids have their own lazy river they can enjoy when they need a quick break from the action.
SPRAYGROUND – Another attraction for the little ones with interactive water features and jets that shoot water up through the ground.
FISHING VILLAGE – Kids can race around the playground that has several sides, water jets, waterfalls, dump buckets, and climbing ropes. It doesn't take long to tire your children out at this popular attraction.
THE HOOK – This water slide is made for kids to get the same thrills who are under 4ft tall. Grab a 2 person tube and race around the open slide before dumping into the Lost Island River.
For adults and kids over 42″- 48″:
COLORADO RIVER – One of our favorite white water rafting rides that shoots you around the mountainside. Brace for rapids, sections of darkness, and even a waterfall.
BOMBS AWAY – No time to panic as you body slide down a quick vertical before the tube ends and you freefall 18 feet down into a large pool.
HIGH TIDE WAVE POOL – As one of the biggest wave pools in New Jersey, once the attraction begins you'll feel like you are at the beach as waves come barreling towards you.
THUNDER RUN – 2 person tube ride that launches you side to side as you wind down the mountain.
THE GAULEY – Very similar to Thunder Run, but it's a solo mission with a waterfall to keep you on your toes.
CANYON CLIFF JUMP – Not many water parks can say they offer cliff jumping. Mountain Creek Waterpark gives thrill seekers a little more to think about before making the leap into a large pool below.
ZERO-G – Starting at over 100 feet, a trap door will eventually open and you'll find yourself plunging straight down into a double loop. It may be the most exciting ride the park features.
H2OH!-NO – Very similar to the Zero G ride, this body slide also has a straight vertical drop at over 100 feet.
ALPINE RUSH – This wider slide is one of the longest at the park and has sections of enclosed areas, 180 twists, and waterfalls .
VORTEX – This two person tube ride is completely enclosed. You won't know what's coming as you make your way through twists and turn in complete darkness.
VERTIGO – Another enclosed water slide, but this one offers steep drops that will take your breath away.
SURF HILL – This attractions features 8 different mat slides where you can race your friends and family to the bottom for ultimate glory.
Mountain Creek Waterpark also offers cabana rentals if you'd like a little more privacy and shade when needing a break. For $250 you can have up to 8 people with lounge chairs, refrigerator, locker, and bottle of water. There is also a cabana server to help with anything you need. These quickly get reserved so make sure you book ahead a time.
Ticket Prices and Hours
Tickets
Day Pass – $39.99
Season Pass – $69.99
Tickets or Passes must be purchased online. There isn't any on-site ticket sales.
Hours
Opening Day – You'll want to check their website for the official opening day. It's usually mid to late June.
Closing Day – Again confirm on their site, but is around Labor Day
Monday – Sunday: 11am – 5pm.
Location
Directions from Vernon, NJ: Map
Directions from New York City: Map
Address: 200 NJ-94, Vernon Township, NJ 07462
Phone: (973) 827-2000
Website: https://mountaincreek.com/waterpark/park-info-hours/