For over 20 years Ray's Splash Planet has been one of the best indoor water parks near Charlotte, NC. As a cooperation between the county and schools in the area, the idea was to provide local residence an aquatic facility where the community could come together an enjoy a day of fun for all ages.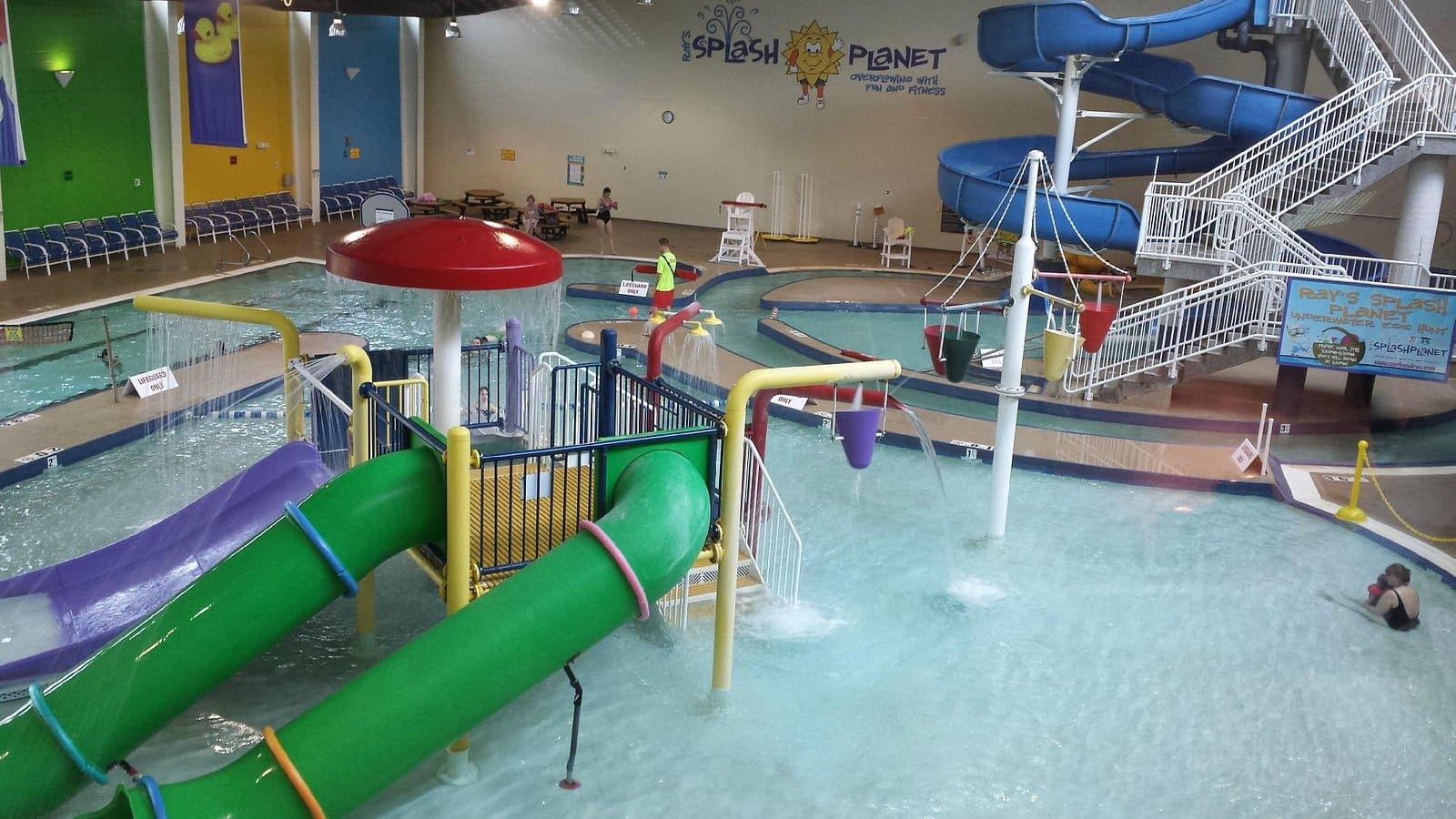 Ray's Splash Planet
The indoor water park has racked up quite the list of awards over the years ranging from "best place to get wet" to "best place to host a birthday party". The entire aquatic facility holds over 115,000 gallons of water with a full list of attractions for thrill seekers, sports enthusiasts, and the little ones.
Main Water Park Attractions
Blue Comet – This is their signature water slide that starts over 3 stories high and winds you around in two figure eights before dumping you into a catch pool.
Lazy River – Families can relax as they float around the Blue Comet. It's not the biggest loop, but the fact Rays Splash Planet put a lazy river in their indoor water park is still impressive.
Meteor Showers – Dump Buckets casually fill up before suddenly spilling over onto unsuspecting kids.
Moon Beach – A smaller pool that has a beach like feel with shallow waters that gradually get deeper. Kids love to splash around in this attraction.
Saturation Station – The most popular area for kids that features several small slides, water cannons, and dump buckets.
Sea of Tranquility – Ray's Splash Planet also provides a few lap lanes and a section where you can enjoy water basketball and volleyball.
Sun Drops – Before you enter Moon Beach there is an obstacle of floor jets that may get you if you aren't quick enough.
Vortex – A unique attraction where the pool uses jets to push you around in a circle.
Ticket Prices and Hours
Infant: No Charge
Ages 1 -17: Resident: $8 / Non Resident: $10
Ages 18-54: Resident: $10 / Non Resident: $15
Ages 55 and over: Resident: $8 / Non Resident: $10
Hours
Monday, Wednesday, Friday – 4pm – 7:30pm
Tuesday, Thursday – 10am – 2pm
Saturday – 10am – 6pm
Sunday – 1pm – 6pm
Location
Directions from Charlotte: Map
Address: 215 N Sycamore Street Charlotte, NC 28202
Phone: (704) 432-4729
Website: https://www.mecknc.gov/ParkandRec/Aquatics/RaysSplashPlanet/Pages/default.aspx