Splash Kingdom is a small chain of five waterparks located throughout the U.S. Each one offers similar attractions for both adults and kids that we will summarize below. If you are looking for the one in Redlands, CA, unfortunately there was a fire back in 2020 and the complex had to be demolished. Luckily there are great a lot of water parks in California with a few nearby.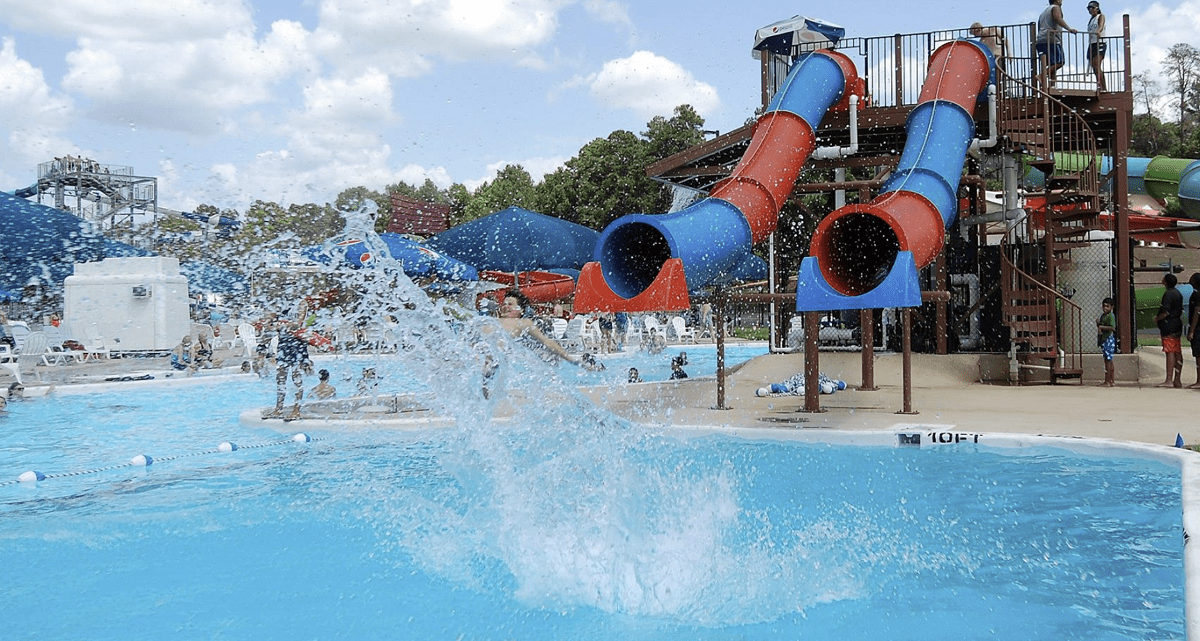 Splash Kingdom Water Park
Splash Kingdom offers roughly 12-15 different rides and attractions to enjoy. Some are the more common features you'd expect like a lazy river or wave pool, while others bring a little more excitement to mix. If you need a day of relief from the heat, Splash Kingdom is the perfect place to take your family.
Main Water Park Attractions
White Lightning – One of the signature water slides at Splash Kingdom. Grab a friend and race around the tubes that feature several quick drops and turns before ending in a large splash pool.
Blue Thunder – Another one or two person tube ride similar to white lighting. It's a little less thrilling and is better suited for children.
Royal Flush – Drop into a large vortex that swirls you around before being dumped down the center into a catch pool. It's a guessing game as to when the waters will spill you down.
Volcano Mountain – Two body slides where you can race your friends down to the bottom.
Mat Racer – With several racing tracks, try to beat your family or friends as you speed down the waving slide.
Flow Rider – Get a feel of being at the beach as you attempt to surf on a simulating wave. If you don't know how you can also use a boogie board to body surf.
Wave Pool – Boasting an impressive 300,000+ gallons of water, everyone loves playing around in the shallow area before the waves are turned on and the pool transforms into a beach vibe.
Paradise Island – For smaller guests, there are two smaller water slides that are surrounding by water features like spray cannons.
Kids Attraction – Probably the best children's area at any water park you'll go to. The area has 11 slides, countless toys, and a playground area all in just 10 inches of water.
Lazy River – No need to wait in line to enjoy Splash Kingdom. Take a break and cool off in their amazing lazy river that winds you around the facility.
Pink Panic – One of the more popular body slides at the park that has quick drops before sliding through a run out.
The Express – The fastest water attraction with a vertical drop that gets you from the top to the bottom in 3 seconds.
Ticket Prices and Hours
General Admission – Online: $29.95 or $34.95 at the Ticket Window.
Season Pass – Ranges from $59 (one park) to $249 (access to all 5 parks)
Locations
Texas
18814 Interstate 20 Canton, TX 75103
6501 Interstate 30 Greenville, TX 75402
1001 Cinema Drive Weatherford, TX 76087
401 N. University Drive Nacogdoches, TX 75961
Louisiana
7670 W. 70th Street Shreveport, LA 71129