This might be one of the hardest adventure locations in Alaska to find. Hutlinana Hot Springs is located roughly 150 miles north of Fairbanks, Alaska and requires quite a bit of gear to get there. If you are able to make the cross country adventure, hike through the rugged terrain, and stumble (yes stumble) upon this hidden gem, then you will have discovered one of the best geothermal springs pools in the state. The journey itself is also worth the adventure.
Hutlinana Hot Springs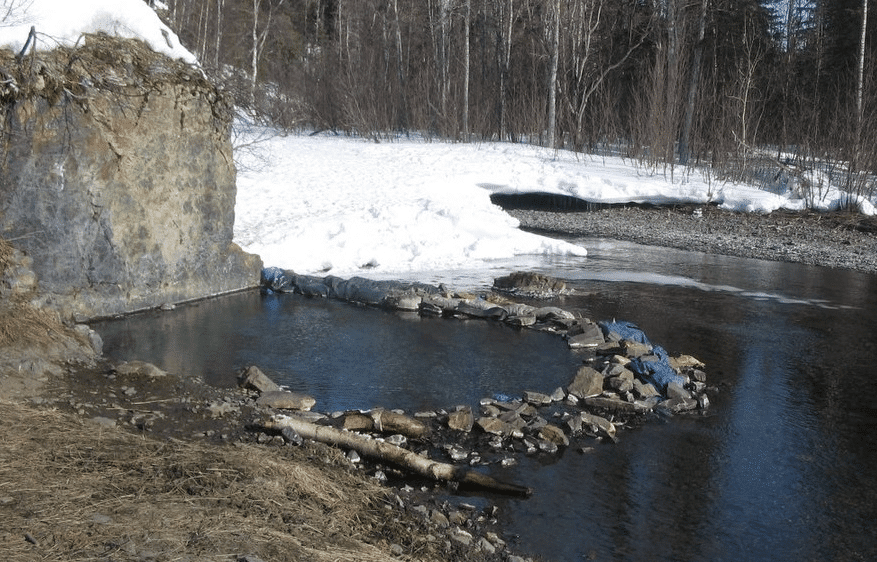 We do recommend making the trek during the winter time where the springs temperature hovers around 106 degrees Fahrenheit. You'll notice a small wall made of stones that divide the hot springs from Hutlinana River (freezing cold so double check which one you are jumping in to). Other than relaxing in the warm water, it's just you and mother nature. There are no amenities like lodging or outhouses so be prepared to bring all the supplies you need for a night under the stars. You will find a few campsites that have been used before by prior guests to give you a head start on setting up shop.
Getting to Hutlinana Hot Springs
Mile market 103 down Elliot Highway is going to be the starting point for you journey. You will see Hutlinana Creek Bridge where you can park your vehicle and begin your journey on the poorly marked trail. Past travelers and locals have tried to leave markers such as socks on trees, but make sure you have a map and compass as it's roughly a 7 mile trek and will test your explorer skills. In the spring and summer months the trail can get quite muddy which is why we recommend the winter time where snow machines or cross country skiing can make it much more manageable.
Once you stumble upon Hutlinana Hot Springs, kick back and relax as you just found the hidden gem in Alaska! Be sure to take pictures as well to show off to friends, family, and those who attempted and failed.
Details
Location: Mile Market 103 on Elliot Highway, 99756
Season: All Year – Best in winter
GPS: 65-12'55" N, 149-59'31" W