Oregon is a haven for hot springs and breathtaking sites. Some pools are completely developed with resorts and spas, whereas other pools are undeveloped and only accessible via an unmarked pathway. Let's take a look at some Oregon hot springs pools that are definitely worth a dip.
Map and Details of Oregon Hot Springs
Guide to Oregon's Natural Hot Springs
Hot Springs Near Ashland, Oregon


Located close to the border between Oregon and California. Ashland is often the first city travelers pass when driving north into Oregon. If you are in the area and looking for things to do, consider a few amazing hot springs just a short distance away. Here are our favorite pools near Ashland for you to …
Oregon is one of the prettiest states in the nation, with ample opportunities for soaking in thermal hot springs. Some Oregon hot springs are so hot that they may not be good for soaking. This may be the case if the source of the spring water is near a region that has frequent volcanic activities.
What Are Hot Springs?
Hot springs come into existence when the heated water from beneath the surface of the earth bubbles up. The water is usually rich in minerals and healthy in so many ways. It is known to treat various conditions such as musculoskeletal problems, eczema and detoxification. Some of these are public and accessible to all for free, whereas others flow on private lands, and can be enjoyed only upon payment of charges.
Factors to Consider:
When selecting the best Oregon hot springs to visit, the following factors are important and should be considered.
Facilities – If the hot springs flow through an area that has not been developed, there are usually no facilities. In such a case, you may even have to take drinking water with you. However, hot springs that are managed properly do offer Jacuzzis, spas, luxurious accommodation options and plenty of other amenities. To access to these springs, you have to pay.
Seclusion – Some Oregon hot springs are way too occupied and may not be your best bet simply because of the crowd. Generally, you can enjoy the most relaxing soaking sessions at night, but for this, you'll probably have to book a suitable accommodation option as well.
Easy Access – Your chosen hot springs in Oregon must be easily accessible. If any of the roads are closed, which may be the case during the cold winter months, they may not be such a good choice.
Water Temperatures – The pool temperatures must be hot enough to be enjoyable. The water shouldn't scald your skin. If you soak in a tub or bathing pool, you may even be able to regulate temperatures at a comfortable level.
Cleanliness – Springs that are open for all are often filled with trash. Soaking in dirty pools is definitely not fun. So prefer sites that are clean and well-maintained.
A Few Oregon Hot Springs Worth Visiting: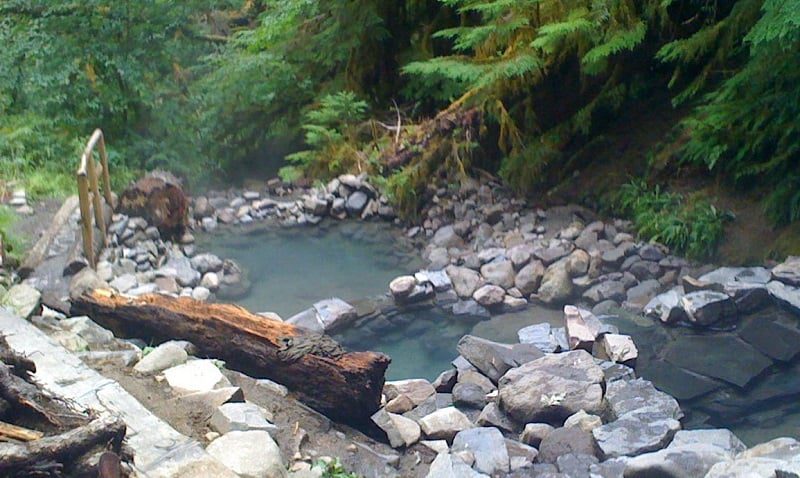 Oregon is well known for it's primitive hot springs as you relax in the states natural mineral waters surrounded by forest and wildlife. People who live or are visiting Bend, OR unfortunately don't have the luxury of having a hot spring just a few minutes away. However, if you are ok with making a day …
Cougar Hot Springs – Cougar or Terwilliger Hot Springs feature serene, cascading pools that are separated by rocky stone slabs. Every descending pool has a lower water temperature than the one above, beginning from 112oF or 44oC till 90oF or 32oC. All pools are deep enough to allow your body to submerge fully. Cougar springs are located near Eugene and accessible for $6 per day.
Belknap Hot Springs – Belknap Hot springs are closed to McKenzie River and are fully developed. There are two soaking pools to choose from and they are both surrounded by beautiful gardens. On-site accommodation is available.
Summer Lake Hot Springs – Summer Lake Hot springs offer natural indoor pools and several accommodation options including guesthouses, cabins and campgrounds. The daily charges are $10 per person.
A hot spring or a thermal spring has temperatures significantly higher than surrounding air temperatures. This is because most of these springs discharge heated groundwater, which is a result of molten rock or magma intruding in volcanic areas. Water temperatures may also be high due to convective circulation. The temperatures of most hot springs are usually around 100oF or 37oC, but there can be variations due to different factors like the amount of heat supplied, rate of water flow and colder groundwater flowing into hot water.
Oregon is filled with hot springs that are exciting, adventurous and rejuvenating spots. Not only are they a great getaway from your usual daily routines, but they also offer a number of health benefits. Generally, the mineral content of hot springs is high because heated water dissolves more salts, so you can expect these springs to contain a wide array of nutrients like calcium, silica, magnesium. These nutrients serve as the perfect vitamin for your skin. Plus, the temperatures soothe aching muscles, boost blood circulation, detoxify the body and relieve stress.
Here are some of the primary benefits of soaking of hot springs in Oregon!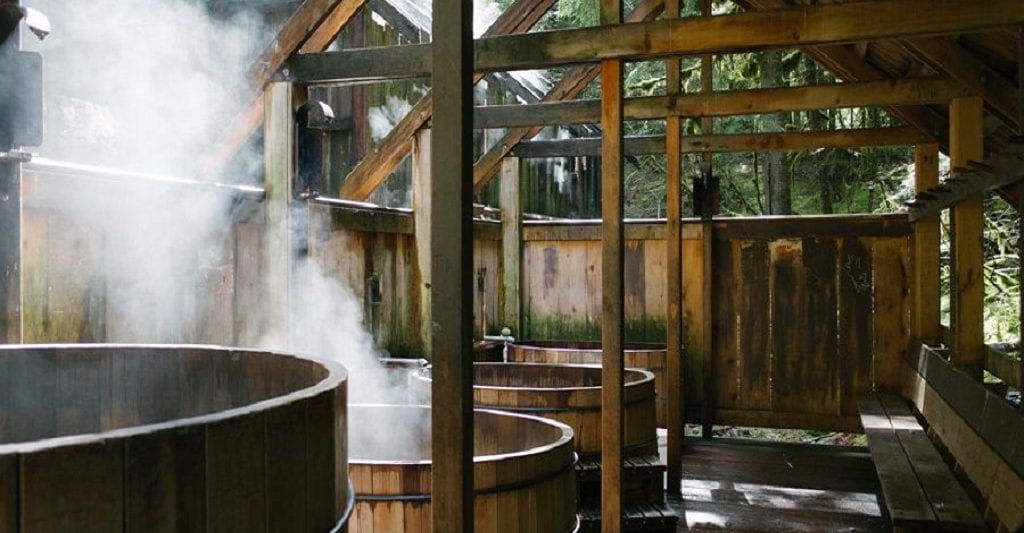 Oregon has some of the best natural hot springs in the United States and it's no surprise that many people like to take a break from their daily lives and head off into the wilderness where they can unwind and re-energize. Many people who live in Portland, Oregon will take a day trip or even …
Musculoskeletal Problems – Hot springs have been known to ease symptoms of muscular conditions like muscle ache, fatigue, swollen joints, ligament damage and arthritis.
Eczema – Eczema is a condition characterized by the presence of dry and flaky skin. This condition is observed in nearly 15% of Americans and Canadians.
Circulation – Treating the condition can be challenging, but soaking in the hot springs has proven to be quite beneficial. It reduces the redness and itching to a notable extent in patients who suffer from this disease. Mineral hot springs are rich in calcium and sodium bicarbonate, improving blood circulation in the body, leading to lower blood pressure levels.
Nasal Congestion – Heat that is emitted from water combines with sulfur and produces a rotten smell that can be observed at many hot springs in Oregon and elsewhere. However, this odor is effective in treating nasal congestion, regardless of what the cause may be.
Detoxification – Soaking in Oregon hot springs allows your body to sweat more, which eliminates toxins from the blood.
Lower Calories – Hot spring soaks can burn around 140 calories in an hour. While this may not directly lead to weight loss, it can prevent your weight from rising.
Relaxation – High stress levels expose you to so many health risks like hypertension and depression due to higher cortisol levels. Soaking your body in naturally heated water helps you rejuvenate and relax, lowering down your stress levels, and thus, preventing the associated risks.
Visit some of the most popular hot springs in Oregon today so that you can enjoy their numerous benefits. Follow our blog for more great travel advice!