Paulina Lake Hot Springs consists of numerous thermal springs emerging from the bottom of Paulina Lake. Most of the hot springs are secured by the lake and mixed with cold water of the lake. Fortunately, there are a few hot springs on the north shoreline of Paulina Lake, accessible by foot or boat.
Paulina Lake is one of two alpine lakes nestled in Newberry Caldera. A large volcanic Newberry crater is one of the most active geothermal areas in the United States. As a result of past volcano activities, the caldera was created hundreds of thousands years ago, when overlying volcano's rocks collapsed. The second lake of the Newberry Caldera, East Lake is located 2 miles east of Paulina. East Lake also has hot springs on its shore, known as East Lake Hot Springs.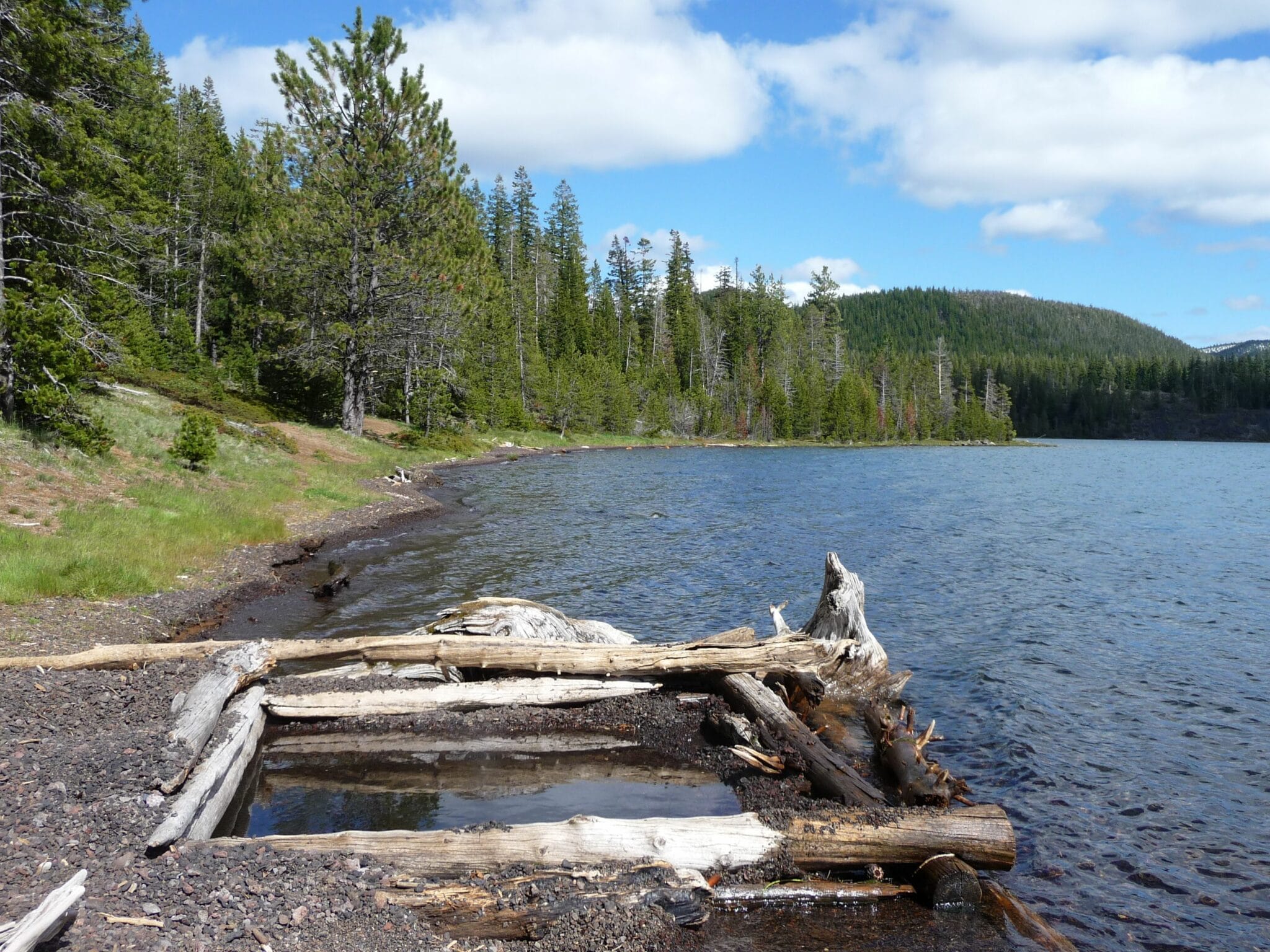 Details about Paulina Lake Hot Springs
The springs are part of a larger area known as Paulina Lake which includes two large lakes, East and West Paulina Lakes, connected by underground streams. Visitors can enjoy swimming, fishing, hiking or just lounging on its banks while taking in stunning views of nearby volcanic peaks such as Mt Bachelor and South Sister. The springs themselves are believed to be formed by geothermal energy from deep below the surface; when water seeps into cracks between layers of rock it heats up due to pressure from deeper down and creates small pockets where it rises back up again at higher temperatures than before. This heated water then forms pools which are accessible for bathing purposes through man made channels called runways built around them; these runways keep sediment out so that people can enjoy clean hot spring baths without having to worry about getting dirt or debris inside their bodies!
Visitors can access Paulina Hot Springs from several different directions depending on what activities they'd like to do during their visit: there is a road leading straight into the parking lot near one entrance point with plenty room for cars & RVs; another approach involves driving along Forest Service Road 4610 past numerous camping areas until you reach your destination (this route may require 4WD vehicles though); finally if you're feeling adventurous enough you could hike around 5 miles directly uphill from Highway 97 towards East Lake – although this will undoubtedly make your day much longer!
Whether you come here seeking relaxation or adventure there's no denying that Paulina Hot Springs has something special waiting for everyone who visits its shores – crystal clear blue waters surrounded by lush green forests offer an unbeatable combination that simply cannot be replicated elsewhere!
On the shore, you can find five or more man-made pools along the quarter-mile length gravel Hot Springs Beach. Some of the pools are reinforced by logs. The hot springs bubble up from the depth through the black and red volcanic gravel.
In early spring, when water has the highest level, the hot springs on the beach are submerged with the lake and become exposed only when the water level drops. The best time to visit Paulina Lake Hot Springs is May through July when the soaking pools have enough water to cover a bather. When the water level in the lake is the lowest, the hot spring pools don't have enough water even for feet soaking.
The actual temperature of the water depends on the time of year and varies between 90 and 115 degrees Fahrenheit. The temperature of the source located directly out of the ground has been reported as high as 176 degrees Fahrenheit. The geothermal water has no smell of sulfur.
According to USDA Forest Service, because this is a riparian zone, you should use existing soaking pools, new pools digging is not allowed.
Camping and fires are prohibited on the Hot Springs Beach
Paulina Lake Hot Springs is a non-commercial hot springs located near the Newbury Volcanic Monument in the Deschutes National Forest. The hot pools at Paulina Lake are primitive, to say the least – typically featuring circular dugouts within the sandy banks of the lake where some pools are bordered with rocks and wood.
The hot springs pools are located in an area of Paulina Lake known as Hot Springs Beach and are accessible either through the Paulina Lake Hot Spring Trail, the Hot Springs Spur Trail or by kayaking or boating Paulina Lake. The relatively remote location of the hot pools result in limited visitors and is a perfect place to escape to and relax when visiting the Deschutes National Park.
Paulina Lake Hot Springs Pool Information
The Paulina Lake Hot Springs complex include five geothermal pools situated within the sandy banks of Paulina Lake Beach. The hot springs pools are relatively small and typically accommodate one person per pool. The water temperature ranges from 90 to115 degrees Fahrenheit depending on the time of year.
Seasonal Access Information
For the best experience, consider visiting Paulina Lake Hot Springs between May and July. During other months, the hot springs are fully submerged under Paulina Lake.
Hiking to Paulina Lake Hot Springs
You can reach Paulina Lake Hot Springs from either the Paulina Lake Hot Springs Trail or the Hot Spur Spring Trail. The Paulina Lake Hot Springs Trail is the longer route covering over 7.5 miles around the picturesque Paulina Lake loop. This hike is perfect for experiencing more of the natural beauty of the Deschutes National Park and also ideal for those wanting a more challenging hiking option. The Hot Spur Trail is the quickest way to get to the Paulina Hot Springs; it is a 1.2 mile hike across the eastern shores of the Paulina Lake with extremely limited elevation.
Camping Information
Paulina Lake Hot Springs is located within the Deschutes National Forest, and there are camping areas relatively close to the Hot Springs if you choose to stay overnight and experience as much of the natural beauty of the volcanic area as possible. The Paulina Lake and Little Crater Campgrounds are excellent options for those interested in hot springing.
The Paulina Lake Campground is located on the south shore of the Lake and includes amenities such as potable water and restrooms. The cost to stay overnight at this campground is $18 per night for one RV and an additional $9 per if you are adding a second RV. For a Dump Station, the nightly rate is $10. The Day use fee for the Paulina Lake Campground is $10. It is recommended that you make prior reservations for this campsite. Paulina Lake Campground is open between May and October.
The Little Crater Campground includes 49 camping sites and is found almost at the edge of Paulina Lake. The Campsites here can accommodate RV's, trailers and tents and potable water and flush toilet facilities are available. This campground is available between May and October. The cost for an overnight stay at Little Crater Campground is $18, an additional $9 is charged for a second RV and the Day use fee is $10.
There are also a handful of backcountry campsites available at North Cove Beach, which is about 1 mile west of North Beach.
From the town of Bend Oregon, drive approximately 23 miles south on US Highway 97 until reaching Paulina East Lake Road. Take a left turn onto Paulina East Road and drive 14 miles east until reaching Little Crater Campground. Turn left and travel to the end of the Little Crater Campground Road until you get to the Paulina Lake Hot Springs Trailhead.