Australia is one of those countries that many dream of visiting. When it comes down to things to do, one tends to think of beaches and surfing. However, Australia has much more to offer with their Blue Mountains, exotic wildlife, architectural marvels, and some of the best markets in the world.
When you decide it's time to make the trek to the 'land down under', make sure you take a couple weeks so you can really get the full feel of the outback. Australia is a vast country! Below we list the top tourist attractions in Australia, which span multiple cities and climates as you enjoy coastal scenery, ancient rainforests, and desert adventures.
1. Great Barrier Reef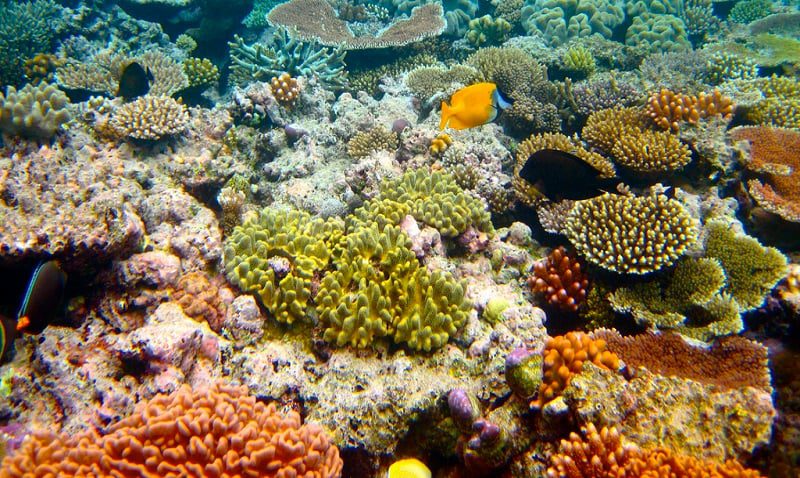 We had to list Great Barrier Reef as one of the best things to do in Australia. As the largest living thing that can be seen from space, this 1800 mile marvel stretches from the town of Bundaberg all the way to the north tip of Cape York. Visitors flock to this popular destination as it hosts many tropical islands and more importantly, a vast marine life.
For touring the Great Barrier Reef, you can put on your bathing suit and go snorkeling or scuba diving to catch glimpses of 400 different types of coral, 1,500 types of fish, 20 different types of reptiles, and even giant clams. If you aren't a fan of getting wet, there are many tours you can also do by boat or even helicopter. When taking a break from site seeing, make sure to relax on one of the many tropical beaches and get the full Australia experiences.
On special days of the year, you may also get to see humpback whales as they migrate from the Antarctic for breeding purposes. All said and done, The Great Barrier Reef is a place where you could see something new every day for a year. It's no wonder why it's the hottest destination spot for tourists and even locals to come to catch a piece of paradise at one of the seven wonders of the world.
2. Sydney Opera House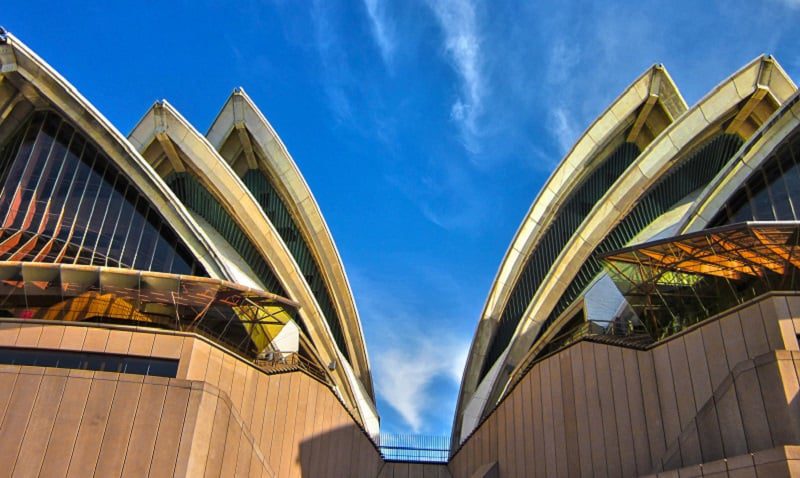 When you hear 'opera' you may not be interested, but make no mistake that the Sydney Opera House is anything but boring. As one of the most recognized and notable buildings in the world, it's roof shaped like sails and location right on the water gives a unique entrance to the city.
The opera house offers guided tours through it's theaters, concert hall, studio, rehearsals, and back stage. You will not only get to view the architectural beauty, but also learn the history of this magical place. Once you have toured the facility take some time and enjoy a good bit at one of their restaurants. If you plan on staying in Sydney, you can even attend a concert as they host over 1,600 venues every year.
A few things to note about the Sydney Opera House:
If you plan on attending an event book your tickets well in advance and show up early to allow enough time to find your seats.
One site outside the opera worth noting is their Royal Botanic Gardens and Mrs Macquarie's Chair (very popular for photography)
Foreign language tours are available
3. The Blue Mountains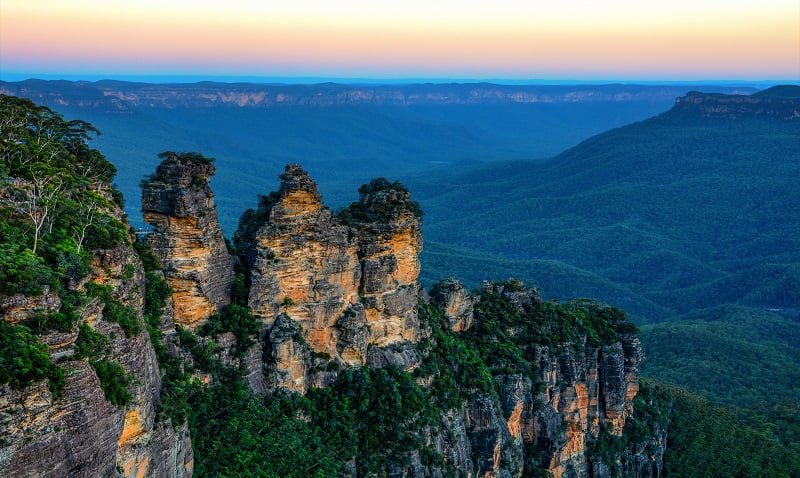 Located in New South Wales and roughly 2 hours away from Sydney by train, The Blue Mountains allow one to get away from the urban life and relax in a tropical escape. This destination is definitely more for the adventurer as the stretch of beautiful landscape allows for hiking, horseback riding, bicycling, canyoning, or just a scenic tour by car. There are many small towns you can also visit for a quick bite to eat as you mingle with the locals.
Some of the more prominent things you will want to do are:
Take a tour on the world's steepest railway car as you descend into a rainforest
Take in a performance at Waradah Aboriginal Centre
Go off the beaten path and discover several waterfalls
There are many activities you can do throughout the day at The Blue Mountain. Accommodations are also available as far as numerous restaurants and hotels if you plan on taking a few days to enjoy this paradise.
4. Taronga Zoo
With over 4,000 animals, the Taronga Zoo is a world renown attraction in Sydney, Australia. As you tour this magnificent facility you will see endangered and rare exotic animals along with Australia's local natives. The tour comes with several shows and zoo keeper presentations, along with free admission to the Sky Safari. Just a few tour options:
Nocturnal Platypus Habitat
Asian Elephant Exibit
Roar and Snore
The Taronga Zoo has a new sky high adventure which allows you to go through obstacles and suspension bridges as you view scenic view of Sydney Harbour. It's only a 12 minute cruise by ferry from Sydney or you can park at the zoo (for $18)
5. The Giant Stairway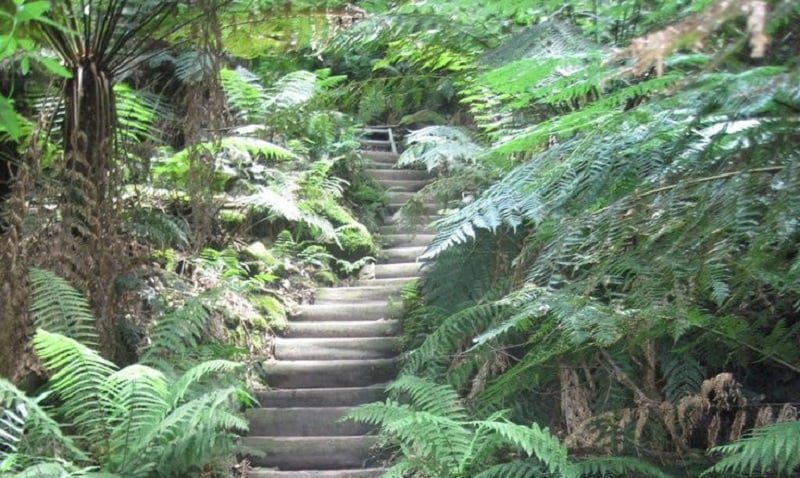 As you continue to find things to do in Australia, eventually you'll come across The Giant Stairway in the Blue Mountains. This can be a more challenging and physical excursion unless you decide to take the Scenic Railway (just know the last car leaves at 4:50pm). If you do decide you want to take on this challenge, get ready to climb almost 900 stairs up to some of most scenic views in Australia.
Three Sisters is probably the most recognized mountain chain in the country and to see it as you stroll towards Katoomba falls give you an every better view. In total you are in for about a 3 hour walk and worth every second.
6. Bondi Beach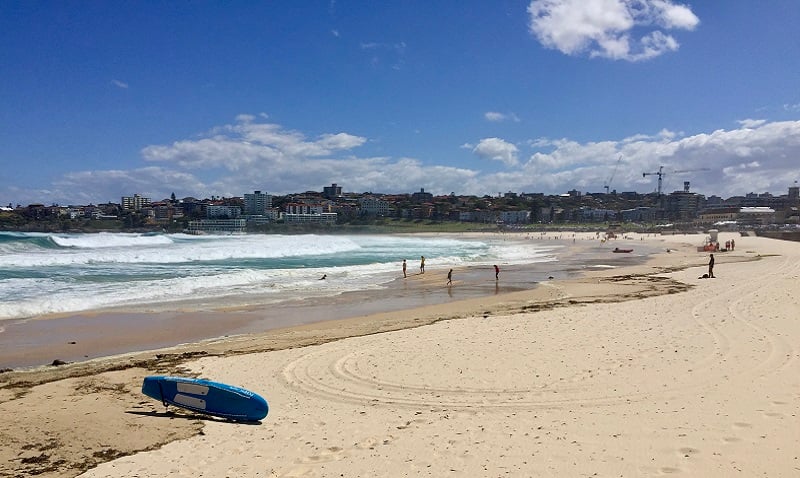 Boni Beach is the perfect beach to sit back and relax as you suck up the sun. This world famous beach does offer just about anything you'd one to do while you on vacation. They have premier surfing, white sandy coastline, and shopping as far as the eye can see. Because of all the accommodations Bondi Beach can get rather crowded during the peak seasons so make sure you get there early for a prime spot.
Pubs, hotels, and restaurants are littered all around the beach for the perfect day to just relax. There are so many things to do in Australia that it's always good to take a day or two to just take a breather and enjoy some personal time.
7. The Twelve Apostles
As your ride down the Great Ocean Road, you'll come to another beautiful scenic attraction in Australia. The 12 Apostles seem to rise out of the ocean like a sculpture of limestone. As they have been battered by water and wind, they have been slowly deteriorating and as of today there are currently 8 Apostles that remain.
On your trek you will also see many other pillars and majestic views as you drive feet away from cliffs, but The Twelve Apostles is by far the most photographed and enjoyable memory you'll have.
8. Daintree Rainforest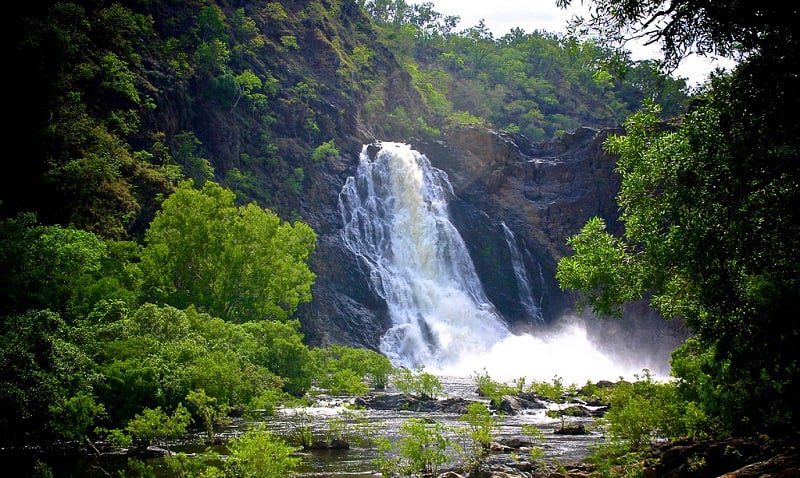 Located in North Queensland, the Daintree rainforest hosts the most eclectic range of animals and plants in the world. This protected rainforest has so many things to do and see that we recommend a day tour in order to capture all the beauty (from waterfalls to remote beaches). If you plan on staying a few days, there are many lodges you can stay at or even grab some camping gear and stay under the stars.
When you think of beaches you probably haven't seen anything as spectacular as in Daintree rainforest. The crystal clear water, tropical beaches, and solidarity gives you the feeling like you are the only person left on earth. As you tour more of the forest you will come across rare wildlife and plants that are all worthy of photos. This place is truly special and easily in a top recommendation for a travel destination.
9. Queen Victoria Market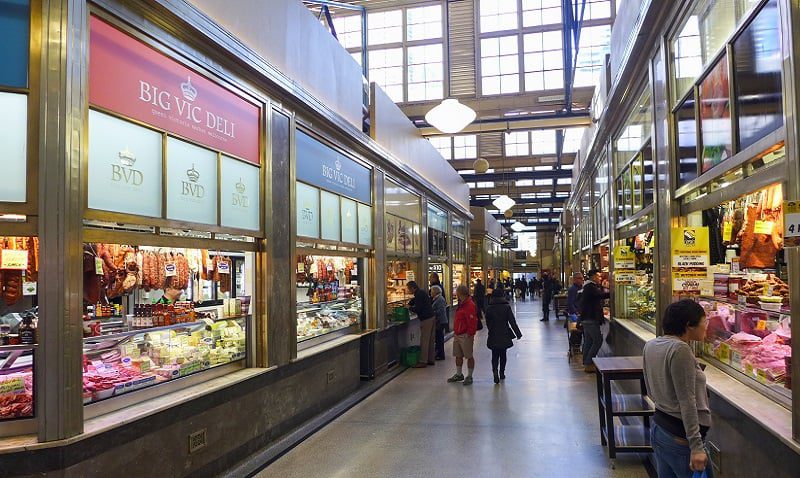 Queen Victoria Market is the largest open market in the southern hemisphere. With over 600 different venders to choose from, you'll find the perfect souvenir to bring back home with you. Outside of world class shopping, there is also a two hour food tour you can take which covers the many cultures and history of food.
If you decide you want to take on the market by yourself, make sure you try local artisan cheeses, meats, seafood, and seasonal vegetables. Whatever you decide, the Queen Victoria Market has everything you could possible hope for.
The market itself spans several city blocks and is a historical landmark in Melbourne. Because of this there is always roaming customer service people who are eager to help you explore and the market and help answer any questions you may have. In certain seasons of the year there is also night time and weekend festivities that include live entertainment and street food that bring this place to life.
10. The Royal Botanic Gardens Victoria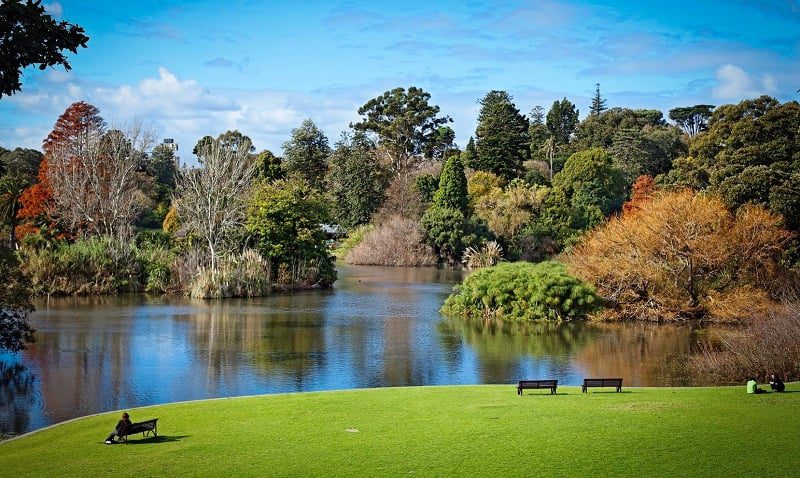 If you are visiting Melbourne, you'll want to make sure you take some time to visit The Royal Botanic Gardens. Attracting almost 2 million people each year, the gardens offer a diverse collection of around 8,500 species of plants and native wildlife for you to enjoy. As you walk the path yo will also discover scenic views of their serenity lakes and beautiful vistas as you start to get an idea on the historical significance of this place.
You have the option of walking the Royal Botanic Gardens by yourself or book one of several tours. Just a few of tours you can do:
Star Gazing Night Tour – Located in the Melbourne Observatory
Aboriginal Heritage Tour – Learn the history and tradition of the Koolin nation. Indigenous people will not only take you through the garden, bu you can enjoy a smoking ceremony as you learn how the plants were use back in the day for food and medicine.
Punt Cruise – Enjoy a trip around Ornamental Lake with some majestic views of the islands and bay.
If you decide you'd like to do your own thing, there are many walkways you can take around the gardens with information popping up almost everywhere you go. In the summer time you will also be treated to additional exhibitions, performances and outdoor cinema. Once you finish the tour, be sure to stop by their souvenir shop or relax at one of their cafes.
11. Sydney Harbour Bridge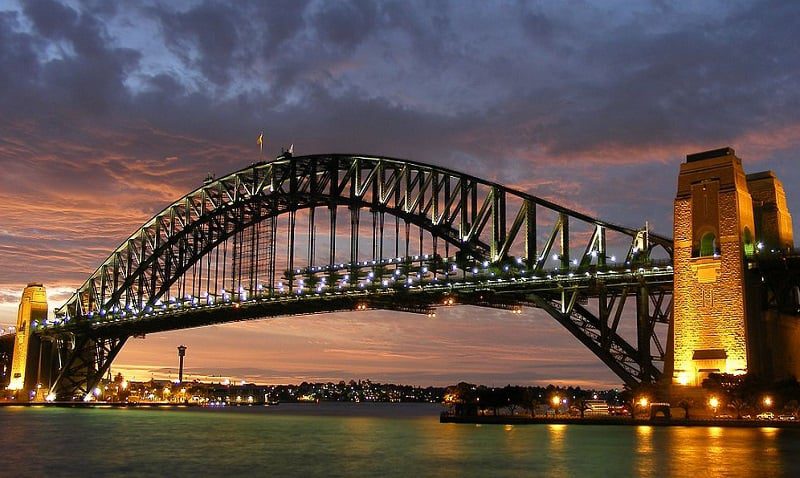 They Sydney Harbour Bridge should be at the top of your list on things to do in Australia. Located next to the Opera house, there are three options you can do to get the full experience.
Free – You can easily walk across the bridge for free and take in some great sites of Sydney. It's recommended you go either in the early or late hours so you can see the city come alive with a perfect sky setting. If you can only cross it once, start on the north side and head south so you can get the best views possible
$11 – You can head to the Pylon Lookout and get a quick history about the bridge while you still enjoy scenic views of Sydney.
$200+ – You can put on your big boy pants and do the Bridge Climb. This is both exhilarating and challenging, but provides a once in a lifetime opportunity that few get to do. As you are clipped into a safety line and start to scale over the arch you will be able to look down (assuming you aren't afraid of heights) and claim you conquered Sydney. You will also get a complimentary family photo to prove you made the journey.
Whichever option you choose, doing the Sydney Harbour Bridge tour needs to be on your list of things to do at night or weekends.
Other things to do in Australia:
Cape Pillar Sea Cliffs
Darling Harbour
Federation Square
Gippsland Lakes
The Great Ocean Road
Kings Park
Lake Hiller
Sunshine Coast
Lords Safaris
Uluru – Ayers Rock
Whitehaven Beach
William Ricketts Sanctuary
Australian War Memorial
Rottnest Island in Western Australia
Wineglass Bay in Tasmania
Kakadu National Park