There is definitely no shortage of Irish pubs in Dublin, Ireland (the current total is somewhere around 1,000). From the historic bars that have been around for over 100 years to the more modern ones with different stories you can frequent, each one brings in their own character to this already charming city.
We find the best pubs to visit are ones that give you the full experience. Many Dublin bars will not only serve traditional Irish whiskey and beer, but also provide live music for your enjoyment. The best part is you don't have to walk far to find a local watering hole in Dublin. So go grab a table, order a Guinness, and talk to some locals to learn more about Dublin and possible things to do there.
1. Hogans Bar
Located at Georges and Fade streets, Hogans bar is right in the heart of Dublin. Its beautiful Irish style design is both simplistic and yet gives an historical feeling all throughout. Large corner windows allow you to view the busy streets as you relax and enjoy a good pint. At nighttime , Hogan's bar really comes alive with Dublin locals and tourists getting together to share music, beers, and an all around good time. If you in the area and want a good authentic Irish experience, this bar is for you.
Address: South Great George's Street, Dublin 2, Ireland
Phone: +353 1 677 5904
2. The Stags Head
For a true Dublin experience, The Stags Head is the pub to go. Built centuries ago and reconstructed back in 1895, this staple of Dublin is a popular place for patrons to go and enjoy a good beer and friendly folks. It's not the easiest pub to find and you may even pass it without knowing it as it's hidden down a narrow passage. However, once you do stumble upon it you will be taken back into history with stained glassed windows and a large stag's head perched above the bar.
The Stags Head is available on most pub tours so if you want to do a little site seeing and enjoy several different areas, you will definitely get a chance to check out this best bar in Dublin. Afterwards you can then hit grafton street, which is close by for some shopping.
Address: 1 Dame Ct, Dublin, D02 TW84, Ireland
Phone: +353 1 679 3687
3. O'Donoghue's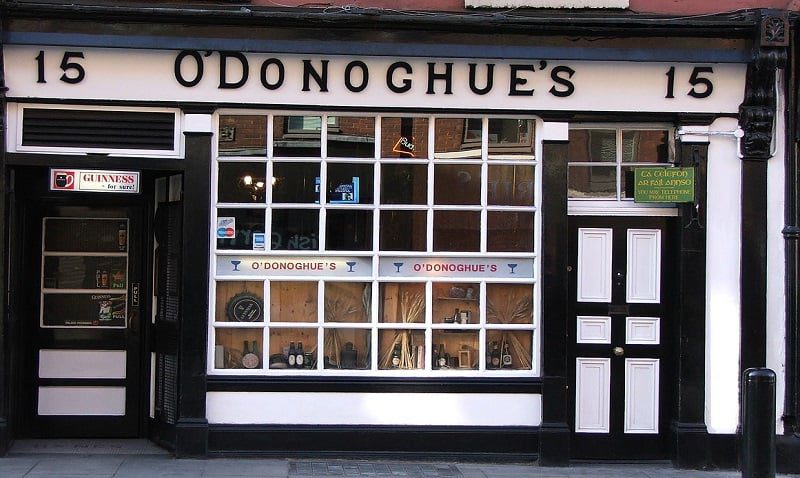 Another staple pub of Dublin is O'Donoghue's. Built on the backbone of musicians, their walls are covered in pictures of past Irish Musicians and they keep that tradition alive every night of the week. While you are enjoy entertainment they do also have a full bar with local beers and cocktails. For food they are a little limited, but do offer soup and sandwiches if you are looking for a quick bite to eat.
Address: 15 Merrion Row, Dublin, Ireland
Phone: +353 1 660 7194
4. Fagans Bar
Located in Drumcondra (just on the outskirts of Dublin), this Irish pub has become increasingly popular due to it's renaissance revival in recent years. Famous actors and musicians from around the world have been to this watering hole to enjoy a pint of Guinness and some great food.
Address: 146 Drumcondra Rd Lower, Drumcondra, Dublin 9, Ireland
Phone: +353 1 837 5309
5. The Brazen Head
The Brazen Head is the oldest pub in Ireland, although it's hard to tell how much of the original structure is still in place. As soon as you walk in you will get the feel of going back in time with historical pictures and scrolls that are worth stopping to view. The pub does have live music and also serves some amazing traditional Irish cuisine.
The Brazen is a popular tourist spot so make sure you go their early to get a spot. They are just a few minutes away from the Guinness Storehouse so if you want to continue your buzz, it's another great place to visit.
Address: 20 Lower Bridge St, Merchants Quay, Dublin 8, D08 WC64, Ireland
Phone: +353 1 677 9549
6. 57 The Headline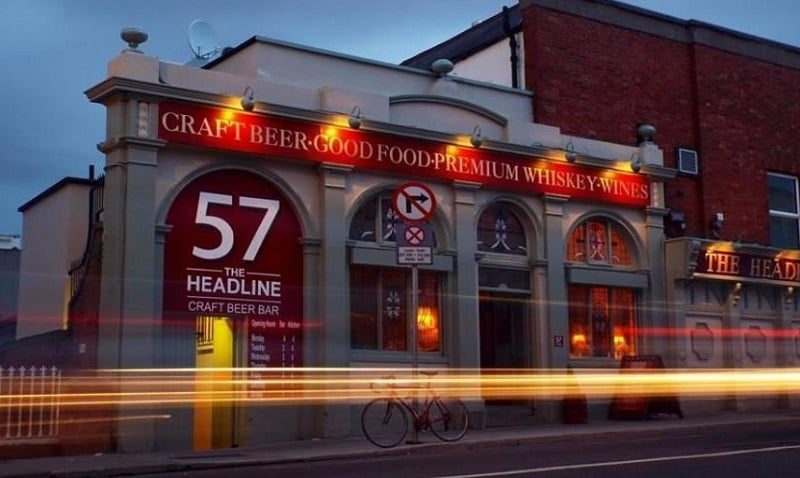 With over 24 craft beers on tap, it's an easy choice to put them as one of the best pubs in Dublin. If you want something a little stronger they do also offer a great whisky tasting tray where you can get a feel of Irish tradition. Their top floor does feature a fairly extensive menu with both Irish cuisine and a mix of unique dishes (things such as chicken wings, Lamb burger, pork belly banh mi, and more)
The scene at nighttime at this Dublin pub does turn into a younger crowd as entertainment and drinks start going down much faster.
Address: 56-57 Clanbrassil Street Lower, Merchants Quay, Dublin 8, D08 HC79, Ireland
Phone: +353 1 532 0279
7. McDaid's Bar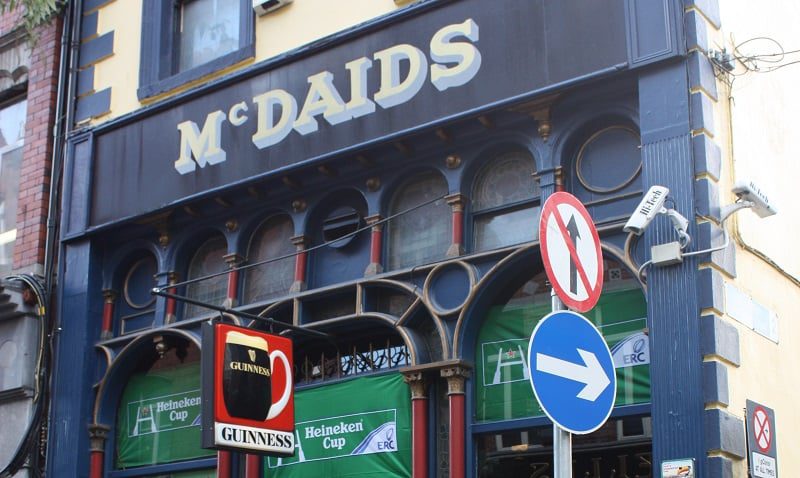 For a no frills bar experience, McDaid's pub is the perfect place to go. As their slogan says, "have a pint and enjoy yourself". There is no music, entertainment or flare. Just patrons sitting back and talking to one another. If this is right up your alley, you will be able to make new friends in no time and even learn of some hidden treasure in Dublin from the locals.
This bar is located right off of Grafton street, bringing in many tourists so if you are looking for a little breathing room, head on up to the top floor for a smaller ball section.
Address: 3 Harry St, Dublin, Ireland
Phone: +353 1 679 4395
8. Grogans Bar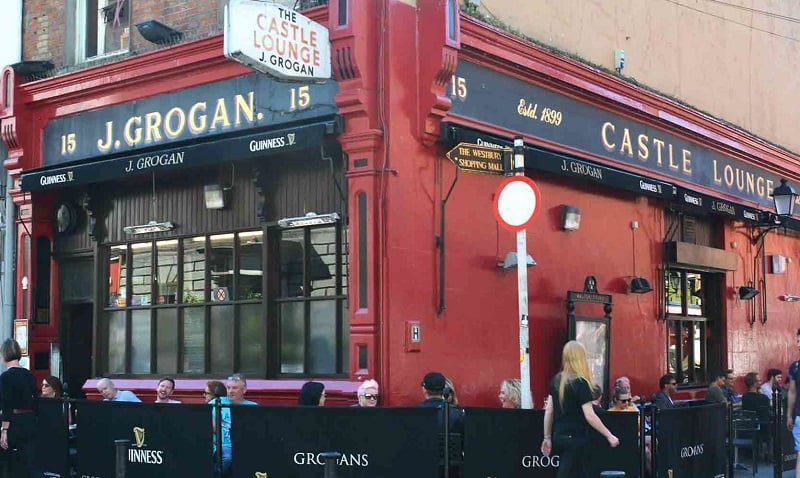 Another no frill bar, Grogan's Castle Lounge is the ideal pub for a drink and a quick bite to eat. Their famous toasties (ham and Irish cheese) is a huge hit and brings in crowds every day of the week. Other than that, this is another place to sit down and talk to other tourists or locals from Dublin and just have a good conversation. They do have pieces of art all throughout their bar which are for sale.
Address: 15 William St S, Dublin 2, D02 H336, Ireland
Phone: +353 1 677 9320
9. The Long Hall
Located on Georges Street, this is one of the more traditional Irish pubs you can visit in Dublin. It still holds it's Victorian era with it's beautiful outside veneer and indoor decor. Like the name, the Long Hall boasts a very long room and bar where patrons can mingle while enjoying a cold drink. This is another popular bar for visitors to come in which is why we cap it as our last best pub to visit in Dublin.
Address: 51 South Great George's Street, Dublin 2, Ireland
Phone: +353 1 475 1590
While we're on the subject of pubs, it's always nice to learn to say cheers in different languages.
More Things To Do In Dublin
Dublin's 8 Must See Tourist Attractions
Top Luxury Hotels In Dublin
[wp_blog_designer id="12″]