Ireland is known for it's majestic scenery and historical monuments, but when you add golf courses in between castles, cliffs, and coastal beaches, you now have something magical. There are roughly 300 golf courses in Ireland that all have their own personal flare. Rory McIlroy and Padraig Harrington have really help increase the
Best Golf Courses in Ireland
popularity of golf in Ireland and now there are several links courses that rank in the top 50 of the world.
Northern Ireland hosts Royal County Down and Royal Portrush which may be the best golf courses in Ireland. However, the ones below are all challenging as well as scenic as each one makes you navigate the different terrains while dealing with inclement weather. If you plan on staying in Ireland for a couple weeks, it worth checking out several of these courses and really get a sense of links golf.
1. Royal Portrush Golf Club
– Antrim County
Royal Portrush Golf Club hosts two separate golf courses that are both equally challenging in their own rights. As you play either course you will be taken back into history as you view the Dunluce Castle (13th century ruins), Isle of Islay, and the hills of Donegal. Founded all the way back in 1888 and re-designed in the mid 1900's, Royal Portrush was the first golf course in Ireland to host the Open Championship.
We recommend this golf club to experienced golfers as you can easily get frustrated as you try to navigate huge sand dunes that protrude all around the greens. Precision is key to shooting a good round and as you make it from hole to hole, take in the very scenic sites of cliffs, islands, and vistas. The fifth and fourteenth holes are Royal Portrush's signature holes. The fifth known as 'White Rock' can take your breath away as your two shots need to be perfect to have a chance at par. Hit it too far and you will be fishing your golf ball out of the Atlantic. The 14th known as 'Calamity' is another hole that requires two perfect shots or you will be facing a 50 foot incline below the hole.
If you have the guts to play Royal Portrush in Antrim County, you'll quickly realize why it ranks in the top 20 golf courses in the world.
Address
Dunluce Road
Portrush
County Antrim
BT56 8JQ
Office / Tee Times – 028 7082 2311
Club Shop – 028 7082 3335
Ladies Club – 028 7082 3351
2. Royal Country Down
– Down County
Another Norther Ireland staple, the Royal Country Down easily makes our list as one of the best golf courses in Ireland. Located in Newcastle, this course was created at the bottom of the mountains of Mourne. As you play the course you will be enjoying scenic views of the Bay of Dundrum before having Slieve Donard (one of the mountains) staring you right in the face. There are many blind drives to leaving you hoping you are in the fairway for your 2nd shot. The fairways do undulate quite a bit and the greens can seem rather small compared to other courses.
The Royal Country Down Golf Club plays 7,200 yards from the tips making it a rather long course for Ireland. When you factor in Ireland's unpredictable weather and wind, it can make it a long day if you aren't accurate with the irons. Hole 4 and 9 are the features holes for this golf course. The 4th is a very scenic par 3 with more bunkers than you can count and 3 peaks off in the distance. Hole 9 is one of the more photogenic holes as you hit 80 feet below with views of Slieve Donard peak.
If for no other reason than to enjoy a fun day of golf, the Royal County Down is one of the top destinations you must visit.
Address
Royal County Down Golf Club
36 Golf Links Road
Newcastle Co Down.
BT33 0AN, Northern Ireland
Office / Tee Times Tel: +44 (0) 28 4372 3314
3. Mount Juliet Golf Club
– Kilkenny County
Jack Nicklaus was given the pleasure of creating an inland course known as Mount Juliet Golf Club. With a backdrop on an 18th century country estate, this 7,000 yard course won't give you the scenic views of the Atlantic Ocean, but it will provide you a memorable day as you navigate the course trying to avoid water hazards. This is a more lush rolling style course that has a very 'American' vibe.
When you play Mount Juliet Golf Club you will be in the presence of greatness. It's hosted the Irish Open three times and the most popular golfer, Tiger Woods, has won the American Express Championship here. As long as you can keep the ball in the fairway (most wish of golfers), this is a fun golf course to play.
Address
Mount Juliet Estate,
Thomastown,
Co. Kilkenny, Ireland.
Tel: +353 56 777 3000
4. Dooks Golf Club
– Kerry County
With more captivating views of Ireland, the Dooks Golf Club won't disappoint. Nestled up on Dingle bay, the golf links navigate through a field of sand dunes and contoured greens. This is one of the more traditional Irish link style golf courses and will pose many challenges if you happen to not be in the fairway.
Built back in 1889 it has been redesign a couple times with the latest being in 2002. If you find yourself in Kerry County, break out the clubs and go play Dooks Golf Links.
Address
Dooks Golf Links
Glenbeigh, Co Kerry, Ireland
Tel: +353 (0)66 9768205
5. Ballybunion Golf Club
– Kerry County
For those avid golfers who really want a challenge, it's time to put your skills to the test at Ballybunion Golf Club. This Ireland course has some of the most scenic seaside views to go along with extremely challenging sand dunes that will test your nerves. On a calm day the course is somewhat beatable, but if the wind picks up, just enjoy the fact you are playing one of the best links style courses in the world.
Each hole is in their own right a featured hole. The 7th known as 'Castle Green' has a tee that looks like it's going over the cliff while you see waves crashing into the shore. Hole 11, which may be considered the signature hole is known s "Watsons" which is a long 472 yard par 4.
Many golfers consider this the best course in Ireland and find it to be a true test of golf in every form.
Address: Sandhill Road, Ballybunion, Co. Kerry, Ireland.
T +353 (0) 68 27146
6. Old Head Golf Links
– Cork County
Located in Cork, Ireland, this majestic golf course almost feels like you are on your own island. As you play the course you will be able to view very scenic cliffs and caves below your feet as you try to concentrate on hitting the ball. If that isn't enough for yo yo also get to drive through an ancient gateway like you are in a video game.
Old Head is a par 72 course that plays roughly 7,100 yards from the tips. Half the course you can enjoy unbelievable views as you play along side the cliffs and battle the winds as they pick up and then go away at a moments notice. The club house is also pristine and offers caddie services and even spa showers. This is just another perk to making it one of the best golf courses in Ireland.
Address:
Kinsale
Co. Cork P17 CX88
Ireland
Phone (+353) (0)21 4778444
7. The European Club
– Wicklow County
The European Club is one of the newer golf courses in Ireland (opening in 1993), but that doesn't take away from it's beautiful scenery and historical feel as you play through high dunes and the Irish sea. It is a par 77 links course with 20 unique holes. They put a little character into the course and even on hole 12, they have a 125 yard long green (good luck trying to 2 put). Hole 7 is a signature hole and voted in the top 100's golf course holes in the world.
This will most likely be the last links course built in Ireland.
Address: Ardanairy, Brittas Bay, Co. Wicklow, Ireland
Phone: +353 404 47415
8. Druids Glen
– Wicklow County
Often referred to the "Augusta of Ireland", the Druids Glen in Wicklow is both challenging and scenic as you make your way through stunning landscape. The Irish opened has been played here several times do to it's heritage and varied challenges. As you play the course you still get the feel of historic Ireland and even on hole 12 you can view some ancient ruins.
At Druids Glen, one must stay in the fairway to have a decent chance at a good score. There is water everywhere, narrow fairways, and 'Amen Corner' which goes from hole 12 to 14. If you do make it all the way through the course, 17th will be the last big challenge as you play a 200 yard par 3 onto an island. All we can say is good luck as you try to beat Druids Glen.
Address: Leabeg Upper, Newtown Mount Kennedy, Co. Wicklow, Ireland
Phone: +353 1 287 0800
9. The K Club
– Kildare County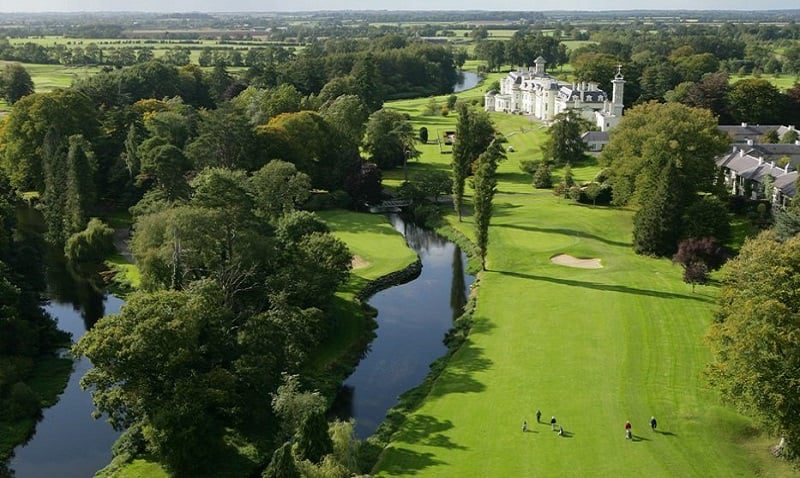 If you are looking for luxury, The K Club resort in Kildare County is the place for you. As most travel into this place by helicopter, you will be quickly greeted as you head to the tee box for a majestic round on the links.
Tips play at almost 7,400 yards so hopefully you can drive the ball like Rory McIlroy. The Ryder cup was played here back in 2006, putting them on the map and making it one of the best courses in Ireland. The holes can be rather intimidating at The K Club due to all the hazards you need to navigate through. From bunkers, water, trees, and a rough you will break a club in, few golfers can say they beat this course.
Address: Straffan, Co. Kildare, Ireland
Phone: +353 1 601 7200
10. Royal Portstewart
Derry County
Just like most golf courses in Ireland, the Royal Portstewart hosts some scenic views of the Atlantic ocean as you play this pristine course. Built back in 1894 and renovated in the 1980's, there is a historic feel to the Royal Portstewart with newer challenges. Rising dunes litter the golf course and if winds pick up you may find yourself stuck in several of them trying to recover from what looked like a good shot.
The Royal Portsteward is a must see course when visiting Ireland. Each hole has it's own charm making it into our top list.
Address: 117 Strand Rd, Portstewart BT55 7PG, UK
Other notable golf courses you should play in Ireland:
Rosapenna (Sandy Hills)
County Louth
The Mount Wolseley Hotel and Resort, Co. Carlow
Royal Belfast, Co. Down
Waterville
Portmarnock (Red & Blue)
Tralee
Lahinch (Old)