Best Places to Hike in Atlanta, Georgia
Strolling through the city streets is a great way to exercise, but sometimes you have to get away from the pavement and into nature. Hiking is a great way to exercise while getting fresh air and exploring new places. It's also a great form of cardio that doesn't require any extra equipment or gym membership. All you need is a good pair of walking shoes and you're ready to go.
Besides exploring new places and a good cardio workout, hiking has many other benefits. It can help improve your mental health, reduce stress levels, and allow you to take in some spectacular views that you would never see from the city streets. Hiking is also a great way to get some Vitamin D from the sun, which can be challenging during winter.
Maybe you're visiting Atlanta and want to explore the surroundings, or perhaps you live in the city and are looking for a nearby getaway. Either way, plenty of great hiking trails in and around Atlanta offer a chance to commune with nature without traveling too far.
Hiking is a great way to simultaneously experience the beauty of nature and get some exercise. This article will explore some of the best hiking trails in Atlanta and what to wear and bring with you on a hike. Also, we will provide some tips on how to hike safely and enjoyably. The Atlanta area has many beautiful hiking trails perfect for a day trip or a weekend getaway. Whether you're a seasoned hiker or are just looking to get started, read on for everything you need to know about hiking in Atlanta.
Arabia Mountain Top Trail
Length of Trail: 1.3 miles
Entrance Fee: Free
Location: 4158 Klondike Rd, Stonecrest, GA 30038
Phone: (770) 484-3060
Arabia Mountain Top Trail is a quick and easy getaway that's packed with natural beauty. Located just 30 minutes from Midtown Atlanta, Arabia Mountain is the perfect destination for a day trip or weekend excursion. The landscape is diverse, with plenty of opportunities for picturesque views. You can explore miles of hiking trails, take in the stunning views from lookout points, or cool off in one of the many streams and ponds. Because it's so close to the city, you can easily make a day trip of it without feeling like you're spending hours in the car. Whether you're looking to escape the hustle and bustle of city life or enjoy some time outdoors, Arabia Mountain is the perfect place to go.
Sawnee Mountain Indian Seats Trail
Length of Trail: 4 miles
Entrance Fee: Free
Location: 2500 Bettis Tribble Gap Rd, Cumming, GA 30040
Phone: (770) 781-2215
Sawnee Mountain Preserve is a 3,000-acre nature preserve located in Cumming, Georgia. The preserve is home to various landscapes, including forests, meadows, streams, and lakes. There are also several trails for hiking, running, and horseback riding paths.
The preserve offers stunning views of the Appalachian Mountains' rolling ridges and the Georgia coastal plain. The trails range from easy to challenging, making the preserve perfect for both beginners and experienced hikers. In addition to the scenery, the preserve is also home to various plant and animal life, making it a great place to explore and learn about the natural world.
Whether you're looking for a challenging hike or a peaceful stroll through nature, Sawnee Mountain Preserve has something to offer everyone.
Piedmont Park Loop Trail
Length of Trail: 4 miles
Entrance Fee: Free
Location: 1320 Monroe Dr. NE, Atlanta, GA 30306
Phone: (404) 875-7275
Piedmont Park Loop Trail is a sought-after location for its picturesque scenery and walking trails. Situated in the heart of Atlanta, Piedmont Park provides a much-needed respite from the hustle and bustle of the city. The park's loop trail is a popular destination for walkers and runners, as it offers stunning views of downtown Atlanta and the surrounding area.
In addition to its scenic beauty, Piedmont Park is also convenient for those who live or work in the downtown or Midtown areas. The park is just a short walk from many of Atlanta's major attractions, making it the perfect place to enjoy a quiet moment in nature. Whether you're looking for a place to take a stroll or the sights of Atlanta, Piedmont Park is sure to please.
East Palisades Trail
Length of Trail: 3.4 miles
Entrance Fee: $3
Location: Sandy Springs, GA 30339
Phone: (770) 952-0370
Hike, explore, and enjoy the scenic beauty of this hidden bamboo forest along one of Atlanta's most popular hiking trails — the East Palisades Trail. With its peaceful river banks and lush greenery, it's no wonder that more people than ever are vying for a chance at finding what lies in store behind these trees!
There is so much excitement when hikers finally stumble upon their destination after walking carefully through tall grasses filled with blue flowers or seeing firsthand how smooth stones were turned into artistic images during erosion processes centuries ago. This hidden bamboo forest is truly a hidden gem in the Atlanta area and should not be missed by any nature lover!
Island Ford Trail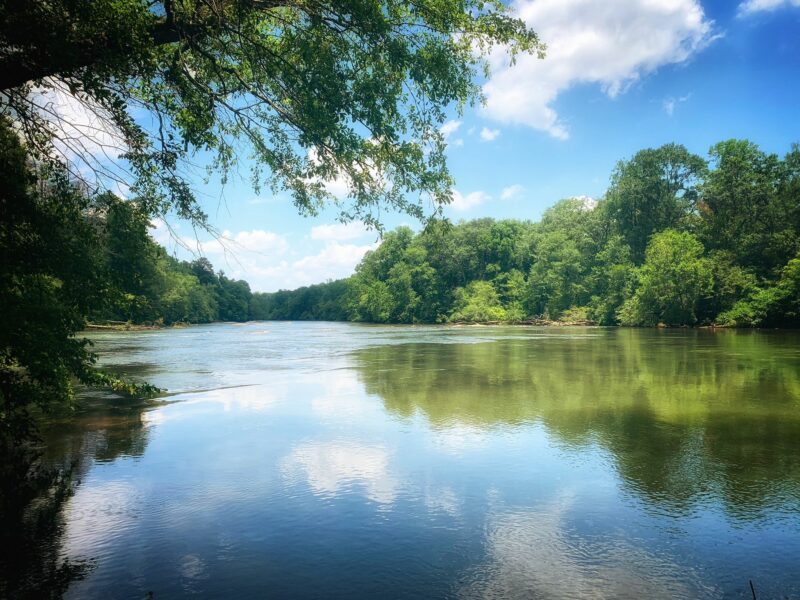 Length of Trail: 5.4 miles
Entrance Fee: $5
Location: 1978 Island Ford Pkwy, Atlanta, GA 30350
Phone: (678) 538-1200
Explore this 5.4-mile (8.7-km) loop trail near Atlanta, Georgia, and enjoy the beauty that awaits you on your adventure through nature! The path is generally considered an easy route with little elevation change, so it's perfect for beginners or those looking to get away from their busy lives without too much difficulty. It's also dog-friendly, so bring your furry friend along for the hike! Just don't forget water and food for them as well.
Tips for Hiking in Atlanta
Before we get into the best hiking trails in Atlanta, let's review some tips to make your hike more enjoyable.
1. Wear the Right Shoes
Did you know that the type of shoes you wear hiking can make a big difference in your experience? Hiking boots are made to protect your feet from rocks, mud, and other debris on the trail. They also have a stiffer sole than other shoes, which is helpful when hiking downhill. If you're not used to wearing hiking boots, they may feel a bit heavy at first, but they will quickly become more comfortable the more you wear them.
When choosing the right shoes for hiking, many people think that any old shoe will do. However, this could not be further from the truth! Choosing the wrong shoes for hiking can lead to blisters, soreness, and injuries. So what makes a good pair of hiking shoes? Below are some key factors to consider:
Support: A good pair of hiking shoes should provide arch support and cushion for your feet. This will help prevent pain and fatigue during your hike.
Waterproofing: Hiking in wet conditions can cause your feet to get wet and cold very quickly. Good waterproof shoes will keep your feet dry and comfortable throughout your hike.
Traction: Hiking shoes should have good traction to prevent slipping on wet or loose surfaces.
2. Dress in Layers
Dressing in layers is one of the most important things to remember when hiking. This is especially important when hiking in colder climates or during the winter months. By dressing in layers, you can ensure that you stay warm and comfortable while hiking, regardless of the weather conditions.
Dressing in layers is also essential for hikers visiting a warmer climate. Even if it is hot outside, the temperature will drop once you start hiking up a mountain or into a more shady area. You can take on and off layers depending on the variable temperatures.
3. Bring Plenty of Water
Hiking can be a fun and rewarding experience, but it's important to remember to bring plenty of water with you. Dehydration can set in quickly when hiking, leading to dizziness, nausea, and, in the worst cases, death.
To stay safe and healthy while hiking, make sure to bring an ample supply of water with you. A gallon of water per person per day is a good rule of thumb, but adjust this amount depending on the climate and your activity level.
If you're planning on being out on the trail for an extended period, consider bringing along a means of purifying water. This will allow you to drink from streams and other sources without becoming ill.
4. Bring a Hiking Map
Hiking without a map can be dangerous and can lead to getting lost. Maps are essential tools that help hikers navigate their way through unfamiliar territory. They can also help identify landmarks, points of interest, and potential hazards. Hikers should always bring a map with them on their trips, regardless of their familiarity with the area.
A good hiking map will show you the area's layout, including all the trails, elevation changes, and points of interest. It will also indicate where water sources are located and what kind of terrain you can expect to encounter. Hiking maps are usually created by aerial photography or topographical data, which gives a more accurate landscape representation than general road maps. If you're hiking in an unfamiliar area, bring a detailed map so you don't get lost.
5. Bring a Hiking Companion
Hiking with a companion is essential for safety reasons. If something happens and you get lost, injured, or have another emergency, it's much easier to handle if you have someone with you. Hiking with a friend also makes the experience more fun. You can chat and enjoy the scenery together. Plus, having someone to help carry gear is always good.
If you don't have anyone to hike with you, always inform someone where you're going and how long you expect to be gone. If an accident occurs and you don't return or get in contact with them, they'll be able to contact authorities or go looking for you to help.
Conclusion
If you're looking for an outdoor activity to enjoy in the Atlanta area, hiking is a great option! Hiking trails are plentiful and offer something for everyone. Whether you're a beginner or an experienced hiker, there's a trail waiting for you. In this article, we've listed some of our favorite hiking trails near Atlanta. So pack your sunscreen and water bottle, and get ready to hit the trail!
If you're new to hiking or just visiting Atlanta, check out these five excellent trails that will leave you wanting more. From easy hikes great for beginners to strenuous treks perfect for seasoned hikers, there's something for everyone on this list. And don't forget to bring along plenty of water and snacks — you'll need them on these hikes! Make sure to wear comfortable shoes, too; you'll be doing a lot of walking on these trails.
With so much beauty surrounding us here in Atlanta, it would be a shame not to take advantage of it by going on a hike. The next time you find yourself with some free time, grab your friends or family and head out onto one of these incredible trails.