Barton Springs Pool – Austin, Texas
Address: 2131 William Barton Dr, Austin, TX 78746
Barton Springs is one of the most unique warm springs we have discovered within the United States. It's over 3 acres in size with geothermal waters that feed into the area. Hundreds of people love coming to Barton Springs, especially during the weekends to get out of the heat and enjoy a fun day in the park.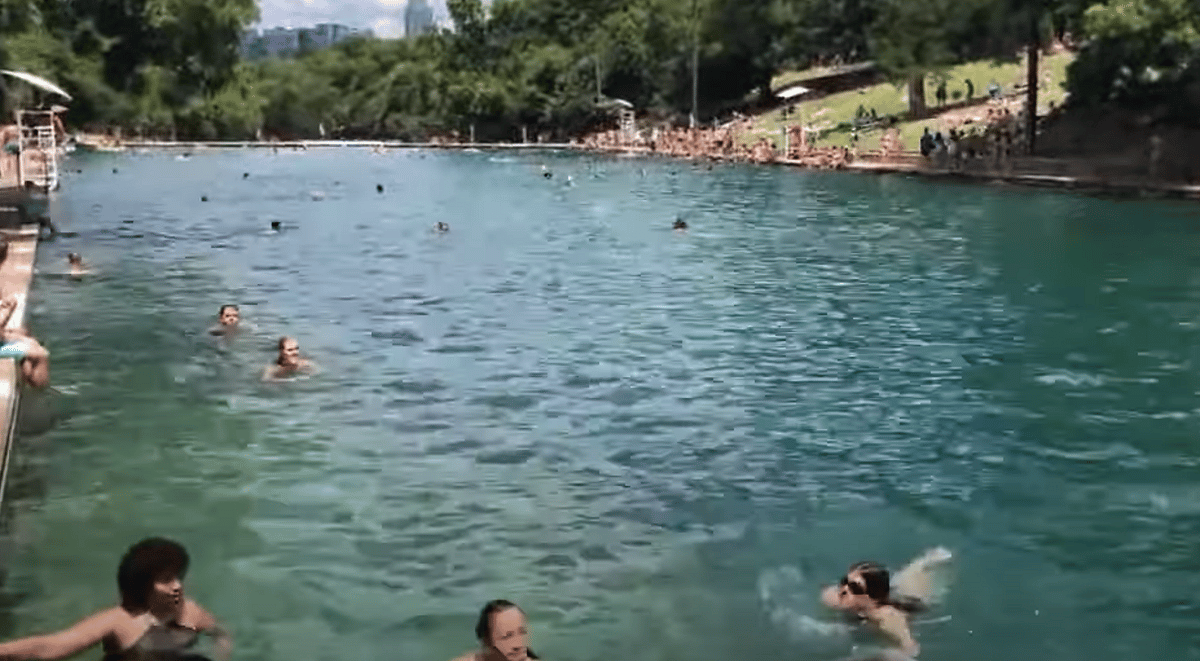 Details about Barton Springs Pool
It's a natural body of water fed by underground springs and has been open to the public since 1837. The pool is 3 acres long, 75 feet wide and up to 25 feet deep at its deepest point. With its crystal clear waters, limestone bottom and lush green surroundings, it's easy to see why Barton Springs Pool attracts so many visitors each year. The temperature of the spring-fed pool remains constant throughout the year – between 68°F (20°C) in winter months and 72°F (22°C) during summer months – making it perfect for a refreshing dip any time of year!
While swimming may be popular here, there are plenty of other activities that can be enjoyed at Barton Springs Pool too such as picnicking on the grassy knolls overlooking the water or relaxing under one of several large shade trees nearby. The surrounding area also offers plenty for visitors to explore including Zilker Park which features numerous trails for walking or biking plus playscapes for kids as well as Umlauf Sculpture Garden & Museum with over 150 works from renowned sculptor Charles Umlauf.
You can also take part in some aquatic wildlife viewing along Lady Bird Lake where you might catch sight of turtles, ducks or even alligators! Of course no visit would be complete without taking a dip in Barton Springs Pool itself! Swimming is allowed from 5 am until 10 pm daily but if you're looking for something more than just laps then check out their aqua classes which offer yoga sessions held inside the pool as well as guided nature walks around its perimeter. For those wanting to make a day out of it they also have food trucks located right outside plus picnic tables scattered along both sides so you can refuel after your swim session before heading back home refreshed and rejuvenated!
There are four main geothermal springs that flow up into the insanely large pool. The first is known as upper spring and is just west of the waters. The second is the main spring which you'll feel if you go over the diving board. The third known as the Eliza spring is located near the food stands, and the last is old mill spring which is near the garden area.
Even with four natural springs flowing up, the waters don't get very hot due to the size of the pool. Year round it maintains a temperature of 68-70 degrees. However, that doesn't stop roughly a million people visiting every year to enjoy a day of fun and relaxation. In the summer it's the perfect temperature to cool down and in the winter time warm up.
Directions to Barton Springs Pool
From Austin take Texas W 6th street towards Barton Springs Road for 2 miles. Once on Barton Springs Road it's roughly 3 miles to reach your destination. There is ample parking located at the park as well as shuttle services if needed.
You'll notice quite a few signs around the park that talk about the history of the area as well as a federally protected Salamander which lives in the marshlands of the area. There is a good chance you will see quite a few as you walk around the grounds. Happy Soaking!
Location and Map of Barton Springs Pool
2201 William Barton Dr, Austin, TX 78746
512-974-6300