Arizona Hot Springs Map
People who visit Arizona typically go for the perfect winter weather, world class golf courses, and the wide range of attractions such as visiting the Grand Canyon. However, the state has some not so well known places to visit including several natural hot springs to relax and unwind in after a day of adventure. The map below will give you an idea of the locations of these both primitive and resort springs to visit. Each has it's own amazing history and well worth the drive to get to.
As you can see in the map the hot springs are scattered from northwest Arizona down to the southeast, with most being centrally located around the Phoenix area. The city is going to offer more of the resort style experience while venturing out will give you the wilderness experience. Whichever you prefer, each natural hot spring on the map will feel you leaving well relaxed and ready to take on your next adventure.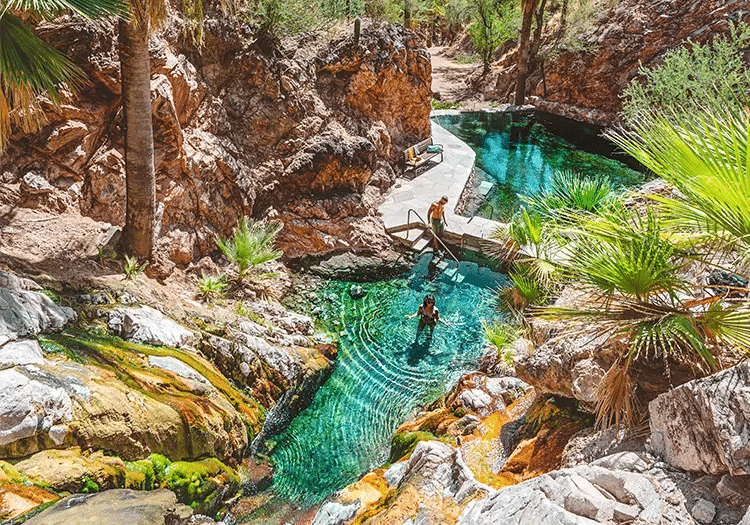 On the above map we listed out 8 of our favorite Arizona natural hot springs for you to relax in. These include:
Listed out Hot Springs in Arizona Map
Castle Hot Springs
El Dorado Hot Springs
Essence of Tranquility Hot Springs
Hot Well Dunes Hot Springs
Kaiser Hot Springs
Ringbolt Hot Springs
Sheep Bridge Hot Springs
Verde Hot Springs
If you plan on visiting Arizona for a week or more, or even live there, it won't be hard to knock out all these springs from your bucket list. A few do involve a bit of hiking, but nothing you can't handle. If you also find a spring while adventuring around the state, let us know and we will add it to the map. Happy Soaking!
For More Information on each spring check out our Arizona hot springs page.