When people hear the words "New York," the first thing that pops into their mind is the city itself and the stunning statue of the great Lady Liberty. However, there's more to New York than the city and you'll find that with a little bit of curiosity, there are dozens of possible ways to enjoy yourself. Amusement parks in New York are some of the highlights of visiting the state. Even better, there are so many of them that you don't have to limit yourself to the city center!
A Guide To Visiting Amusement Parks in New York
Going to an amusement park is always an exciting trip. However, don't let the excitement take you over! Make sure that your plan leaves you fully prepared to tackle the day ahead. Here's what to pack and what to remember when you're going to one of the best amusement parks in New York:
Dress for the weather. Most amusement parks open up in the summer, so make sure you're wearing light and airy clothes to prevent heatstroke. If there's a chill, bring a jacket along so you can adjust according to the temperature.
Wear comfortable shoes. It cannot be stressed enough: you'll be walking for hours at a time at the amusement park. Your shoes should provide enough arch support so you can go from ride to ride or stand in line for a few minutes at a time. Some amusement parks have acres of space so your shoes will be your biggest ally!
Wear and bring sunscreen with you — preferably something that's at least 100 SPF. Most amusement parks have their rides stationed outdoors which can leave you exposed to the sun for hours on end. Make sure to apply generously and often to avoid a painful sunburn.
Plan your trip around the rides. Some of the best amusement parks in New York have an online page detailing their different rides. This lets you figure out which rides you like best so you can make a beeline for those rides. Determine your order of priority so there's no way you'll be missing out on the attractions you want to experience.
Buy tickets online if possible. You'll appreciate how online tickets can get you through the door without waiting in line. This helps you get started with the activities as soon as possible, putting you right in front.
Get there early. Amusement parks are incredibly popular — especially during the summer season. Arriving early combined with printed tickets gets you through the door quickly so you can have your pick of rides.
Bring food and water. An amusement park experience is never complete without sampling one or two of the delicacies on offer, like cotton candy or popcorn. If you want healthy food while avoiding the long lines, however, bring your own! This saves you on the cost of food plus you don't have to waste precious time in queues. Most parks have designated spots for dining so you never have to worry about tables. If you can't bring food, at least bring lots of water since all the excitement can get you dehydrated fast.
Bring extra clothes with you. It might seem like too much work but you'll appreciate the extra clothes after a wet ride! Of course, some amusement parks don't have wet rides and if that's the case, an extra set of clothes may not be necessary. For the kids, a few extra shirts can help, especially during the summertime.
Best Amusement Parks in New York
If you love a healthy mix of thrilling rides and fun games, here are some of the top New York amusement parks you can visit.
Adventureland, Farmingdale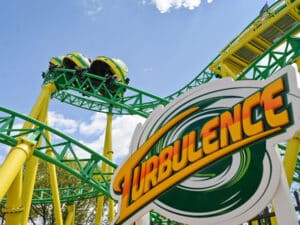 Adventureland has been the top amusement park on Long Island since opening its doors in 1962. You can find it on Route 110 but it only opens seasonally, that is, during the summer months. Covering a total of 12 acres of property, Adventureland started with just four rides and gradually expanded to 37 total rides. The original four included the boats, the carousel, the Little Dipper coaster, and the Iron Horse train. Of the four, the last one continues to operate to this day as a family ride!
Of the 37 attractions, you get a variety of rides to satisfy thrill-seekers, family vacationers, water enthusiasts, and even little kids. Thrill-seekers will surely enjoy the Rattlesnake Coaster, which is one of the newest additions to the park. There's also the classic Mystery Mansion ride which takes you through a haunted house packed with ghosts and monsters! Family rides include an Air Balloon ride and the amusement-park staple merry-go-round. There are also 11 rides specifically for children to keep them entertained.
Visitors can also enjoy some of the games on site, like the ring toss, whac-a-mole, the arcade, goblet toss, and more.
Address: 2245 Broadhollow Rd, Farmingdale, NY 11735 | Phone: 631-694-6868 | Website: https://adventureland.us/
Adventurer's Park, Brooklyn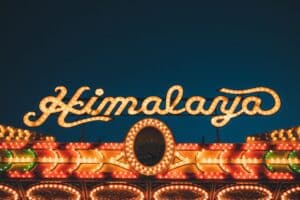 The Adventurer's Park in Brooklyn is considered a "small" amusement park by New York standards. If you're in Brooklyn though, don't miss the chance to check it out! The cozy atmosphere of this amusement park offers old-school feels with enough rides to keep everyone happy for a full day. All attractions require a minimum height of at least 36 inches for a solo ride so make sure to measure the kids before taking them here!
Once you're in, Adventurer's Park offers a wide range of attractions including the mandatory Ferris Wheel and the merry-go-round. There's a Kiddie Himalaya, Planes, Frog Hopper, which is a variation of a drop tower, tea cups, a water ride, and more! Adventurer's Park uses tickets per ride so keep that in mind when you enter. Note that they open seasonally.
A concession stand is available on site where you can buy all the snacks, candies, and popcorn that you want.
Address: 1824 Shore Parkway, Brooklyn, NY 11214 | Phone: (718) 975-2748 | Website: https://adventurerspark.com/
Bayville Adventure Park, Bayville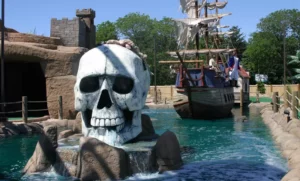 Bayville Adventure Park boasts one of the best miniature golf courses on Long Island so if you love the sport, this should be at the top of your destination list. As an amusement park, Bayville doesn't disappoint. It's a family-oriented park that even caters to birthday parties on site! The outdoor attractions are operated seasonally but the indoor ones are available all year round! Popular indoor attractions include rock climbing, the arcade, and a fun house.
Those who are looking for a bit more thrill in their visit can check out the Bumper Boat Safaris, Bungee Bounce Dome, Mystery Funhouse, Adventure Tower, and the crowd-favorite Water Slide! What makes this park unique is its international crab races where you can bet or sponsor a crab to win! When you're done for the day, an ice cream and soda shop is available on site.
Address: 8 Bayville Ave, Bayville, NY 11709 | Phone: 516-624-7433 | Website: https://bayvilleadventurepark.com/
Deno's Wonder Wheel Amusement Park, Coney Island, Brooklyn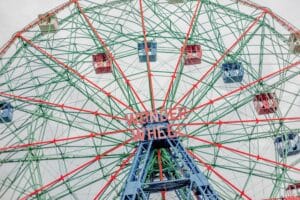 Deno's Wonder Wheel Amusement Park is home to the New York City landmark, the Wonder Wheel. This was built in 1920 and continues to run to this day without any height restrictions for its passengers. It's a piece of NYC history, so a visit to Deno's Wonder Wheel Amusement Park will never be complete without riding this 156-foot-tall eccentric Ferris wheel.
After the wheel, however, you get to pick from a total of 22 rides and attractions — three of which are thrilling roller coasters. From there, you can check out the Jet ride, boats, big trucks, fire engines, jumping motorcycles, Rio Garden Train, Bumper Cars, Speedway, and more. The Spook-a-Rama is a particular favorite for visitors and takes you through a 45-second ride packed with ogres, demons, and other scary creatures. There's also food onsite in case you get hungry.
Address: 3059 W 12th St, Brooklyn, NY 11224 | Phone: 718-372-2592 | Website: https://www.denoswonderwheel.com/
Kids 'N Action, Brooklyn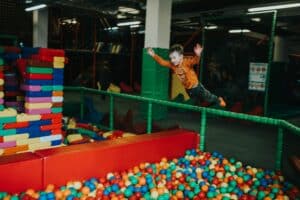 From the name itself, you can already tell that this Brooklyn-based amusement park is kid-centric. Most of the activities are focused on children, although adults can still have a grand time using their attractions. It's a fairly popular place where kids can have their birthday parties and burn off some much-needed energy. Most of the rides are available indoors so you don't have to worry about seasonal operations.
Popular activities inside include a train ride, a roller coaster, bumper cars, and even soft play activities where kids can jump around with zero risks. There's even an arcade and a net climbing feature where players can live out their dreams of being Spiderman. There's a toddler section, too! Note that socks are required for playtime so make sure that your kids have them on. Otherwise, you might be forced to buy them onsite.
Surprisingly, the amusement park is also a favorite spot for corporate events. It's a great space for team building and there are times when certain portions are reserved for specific events. We recommend checking online for their bookings before heading out so you don't waste a trip!
Address: 1149 McDonald Ave., Brooklyn, 11230 | Phone: 718-377-1818 | Website: https://kidsnaction.com/
Luna Park, Coney Island, Brooklyn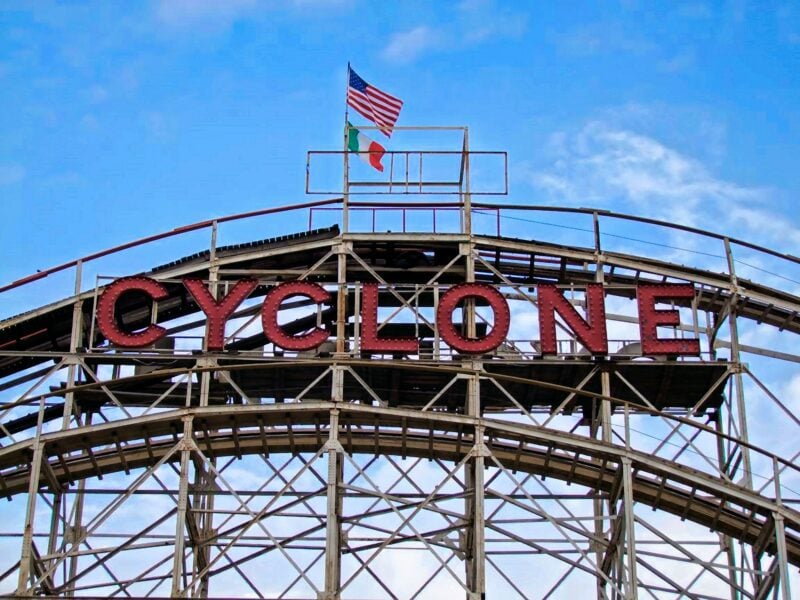 Covering 14.5 acres of real estate, Luna Park currently stands on the previous site of Astroland. It has a total of 28 attractions including 6 roller coasters of varying degrees of thrill. Perhaps their most famous attraction is the Thunderbolt roller coaster which stands at 115 feet and has a drop of around 112 feet, moving at a maximum speed of 56 mph.
If you're not sure about this thrill ride, you can also try out their Victorian Garden Rides or even the Family Rides so that every family member can enjoy the activity. There are also select kiddie rides for the little ones including the carousel, the circus candy, fire patrol, convoy, and tea party. A secondary section has also been added since 2011 where you get more picks including the extensive Luna Park Arcade, public murals named the Coney Art Walls, and Brooklyn Mini Golf.
Address: 1000 Surf Ave, Brooklyn, NY 11224 | Phone: 718-373-5862 | Website: https://lunaparknyc.com/
Castle Fun Center, Chester
The Castle Fun Center offers a collection of games and attractions designed to keep everyone in the family entertained. The park offers both indoor and outdoor activities, with indoor activities located inside a stunningly realistic castle! Regardless of the weather, Castle Fun Center offers its guests a host of activities like Laser Tag, Laser Maze, Rock Wall, and an arcade! After a few hours, you can head on out to Jesters Restaurant & Pub for some snacks and drinks.
For outdoor activities, there are carousels and even a camping ground for those who want to stay the night. Castle Fun Center is also known for hosting parties and events to give groups the full carnival experience. They also coordinate with surrounding schools for field trips and have special offers for school holiday tours.
The park has an event calendar available online so if your dates are flexible, you can schedule visits around the upcoming events. The park operates using Castle Cards that you can buy for $1 each. These cards can be loaded up with points and all you have to do is swipe them every time you want to go for a ride. Since these points don't expire, you can use any unused points for the next season!
Address: 109 Brookside Ave, Chester, NY 10918 | Phone: 845-469-2116 | Website: https://thecastlefuncenter.com/
Great Escape & Splashwater Kingdom, Lake George
Don't be confused. The Great Escape and Splashwater Kingdom simply underwent a name change sometime in 2012. It's fondly referred to as the Lake George Great Escape Theme Park, but others call it the Great Escape & Splashwater Kingdom. No matter what you call it, the Great Escape remains a favorite destination if you happen to be in upstate New York.
The park is owned by Six Flags and started operating as early as 1954. It originally opened its doors as a Mother Goose-themed amusement park and segmented its 351 acres worth of space into specific parts. There's the Fest Area, the Ghost Town, the Hot Rod USA, Timbertown, Hurricane Harbor, and others. The International Village and Storytown is a must-see because it still has the original setup of the 1954 amusement park, allowing you to take a walk through the past.
Each area offers a collection of rides. For example, Ghost Town lets you choose from an array of attractions like the Marshal's Stampede, the Condor, and two of the most thrilling roller coasters today — the Canyon Blaster and the Steamin Demon.
Address: 1172 State Route 9 Queensbury, NY 12804 | Website: https://www.sixflags.com/greatescape
Huck Finn's Playland, Albany
With years of heavily felt presence, Huck Finn's Playland continues to provide park-goers an excellent and exciting experience with each visit. It has a total of 16 rides, including one heart-stopping roller coaster.
The park is named after the titular Huck Finn and operates seasonally from May to October. Most visitors to the park are kids since the rides are very child-friendly, with some attractions specifically designed for toddlers. There's also the mandatory Ferris Wheel, bump cars, carousel, and, of course, a roller coaster where adults can have a thrilling ride.
The park has been known to host birthday parties, team-building events, and other activities. Note that rides are sold based on tickets so you'll want to get an entire booklet if you want to ride them all! Special group rates are available for large gatherings. All in all, Huck Finn's Playland is a very accommodating space for the family.
Address: 25 Erie Blvd, Albany, NY 12204 | Phone: 518-242-7575 | Website: https://www.hucksplayland.com/
Niagara Amusement Park & Splash World, Grand Island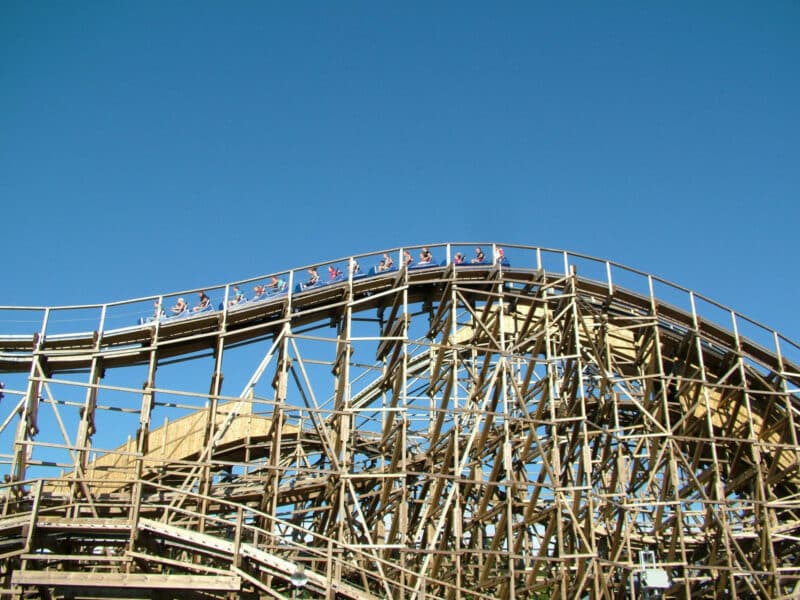 Niagara Amusement Park & Splash World covers a total area of 85 acres with a combination of theme park and water park. If you're looking for wet rides, this is the place you want to visit since they offer a total of 7 different water activities. The Dragster Drench is a crowd favorite as it races you down the water slide at top speed. For the kids, there's the Dinosaur Pool and the Surf Hill which is a little tamer and a lot safer.
There are also several thrilling rides, including the infamous Silver Comet which was modeled after the Comet roller coaster. The Silver Comet is a wooden roller coaster that started operating in 1999. In 2010, it was honored as one of the top 50 worldwide best wooden roller coasters. It has a maximum vertical angle of 50 degrees and moves with a top speed of 50 miles per hour!
Address: 2400 Grand Island Blvd, Grand Island, NY 14072 | Phone: 716-770-1770 | Website: https://niagaraamusementpark.com/
Olcott Beach Carousel Park, Olcott
The Olcott Beach Carousel Park prides itself as a "vintage kiddy park." It has old-school rides and a very nostalgic feel that appeals to the kids and the adults who want to relive their younger days. The "beach" in the name is just right because you can see the beach from the carousel. The smell of salty air is unmistakable and with the wind, the park provides a very relaxing and refreshing ambiance for its visitors.
The park itself is a beautiful mecca for fun and adventure. There are classic attractions like the carousel, carnival games, entertainment, magicians, and even a fortune-teller! At night, the park loosens up to feature local musicians and grown-up food options.
If you're visiting Olcott Beach Carousel Park with the kids, make sure you go in the morning. If you're going with other adult friends, however, the nighttime events will offer you the best entertainment.
Address: 5979 E Main St, Olcott, NY 14126 | Phone: 716-778-7066 | Website: https://olcottbeachcarouselpark.org/
Seabreeze Amusement Park, Rochester
The Seabreeze Amusement Park is aptly named because of the cool breeze that comes in during the summertime. Not surprisingly, a lot of people love to visit this park because of its cool ambiance combined with exciting activities. The family amusement park covers roughly 35 acres and visitors have a total of 25 rides to choose from! It's a combination of an amusement park and a water park, so if you plan to visit, bring an extra set of clothes in case you get wet.
Notably, this park is one of the oldest in the United States. According to the National Amusement Park Historical Association or NAPHA, Seabreeze is the fourth oldest park still operating in America.
Over the years, the amusement park has been upgraded to include new rides and the old ones revamped. There are the 1938 Bumper Cars and the 1949 Kiddie Boats for the little ones. For the adults, there are four roller coasters — each one of varying levels of excitement. The Jack Rabbit is a piece of history since it was built in 1920 and is one of the oldest operating wooden roller coasters in the country. It features a 75-foot drop and runs for 2,150 feet of track. Don't worry; it's perfectly safe! If you want something a little newer, however, there's the 2004 roller coaster named: Whirlwind, which is a spinning coaster.
Address: 4600 Culver Rd, Rochester, NY 14622 | Phone: 585-323-1900 | Website: https://seabreeze.com/
Six Flags Darien Lake, Darien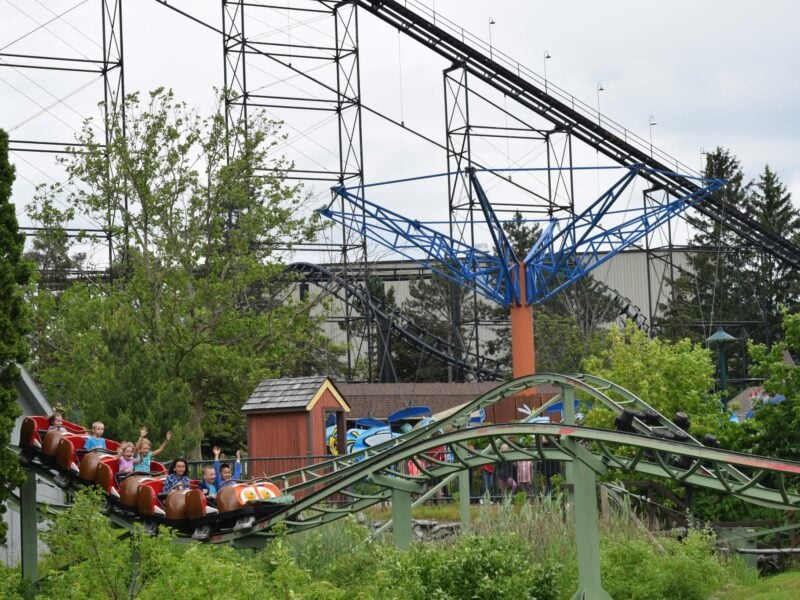 Six Flags is a very prominent name when it comes to amusement parks. They're known for having numerous locations all over the United States and New York is one of them. The Six Flags in Darien Lake occupies around 1,200 acres worth of property, making it one of the biggest in the country! In fact, the amusement park welcomes more than a million visitors every year.
It has a total of 45 attractions, 8 of which are roller coaster rides plus 10 water rides. They still have the Hoot N Holler which is a kiddy roller coaster ride that started operating in 1981. For the adults, there's the Tantrum. It was built in 2018 and features a 97-degree drop, a bunny hop, a pretzel inversion, and a top speed of around 52 mph! Don't ride this one unless you're ready!
There are also family rides like the Sleighride, the Scrambler, and the Pirate Boat. Once you're tired, you can take in some of the shows like the Galaxy Theater, the Grand Theater, the Gazebo Stage, and more. On-site, you can also find restaurants, campgrounds, and even a lodge for you to stay the night!
Address: 9993 Alleghany Rd, Corfu, NY 14036 | Website: https://www.sixflags.com/darienlake
Sylvan Beach Amusement Park, Sylvan Beach
The Sylvan Beach Amusement Park is an outdoor park that features a wide array of rides for kids and adults. From teacups to roller coasters to bumper cars, the park has everything to keep the whole family entertained. One of their top attractions is the roller coaster which offers you an excellent view of the beach as you ride above and then quickly plunge below. Kids will enjoy Laffland or try their hand at mini golf before heading to the concessionaires for much-needed food. Of course, the mandatory Ferris wheel is also available, plus a few tilt and whorl games. You can buy and print tickets online or schedule a birthday bash right on the ground. Note that the park opens seasonally, so make sure to check their operating days for the year.
The site offers a comprehensive map of the area so you'll never get lost! We recommend checking out this map before heading on out to the location.
Address: 112 Bridge St, Sylvan Beach, NY 13157 | Website: https://www.sylvanbeachamusementpark.com/
Ready for Some Amusement Park Fun?
Spending some time in these amusement parks in New York is an excellent way to enjoy a break and bond with the family. The thrilling rides combined with good food make for a memorable day — whether you're with family, friends, or other loved ones. With so many amusement parks in New York, we hope that this list helps you narrow down your options!