Sunbeam Hot Springs – Idaho
Situated on the Salmon River within the Salmon-Challis National Forest, Sunbeam Hot Springs is a great primitive and underdeveloped section of warm pools for you to relax and soak in as you enjoy breathtaking views of Idaho's natural beauty. It's an easy drive from the city of Stanley making it a very popular destination during the summer months.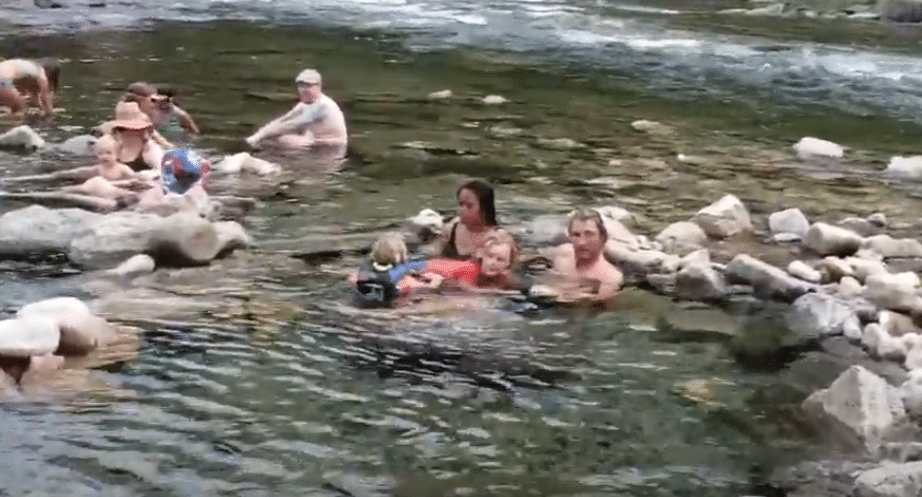 Details about Sunbeam Hot Springs
Sunbeam Hot Springs is a natural hot springs located in the Salmon River Mountains of Central Idaho. The area has been used for centuries by Native Americans and early settlers as a place to relax and heal from ailments. It was named after Sunbeam Creek, which runs through the area.
The hot springs are fed by an underground source of volcanic heated water that rises up into several pools with temperatures ranging between 95-106 degrees Fahrenheit. This makes it perfect for soaking in its healing properties while taking in some stunning scenery. The unique geothermal environment also allows visitors to take advantage of other activities such as snowshoeing, hiking, camping, fishing and more during their visit. In addition to its calming atmosphere and therapeutic benefits, Sunbeam Hot Springs is known for its picturesque views of the surrounding mountains and valleys including Mount Bennett Peak at 10,000 feet above sea level.
Visitors can even catch glimpses of elk herds roaming around nearby meadows or bald eagles soaring overhead if they're lucky! The hot springs provide a wonderful refuge from everyday stressors allowing people to reconnect with nature's beauty while restoring balance within themselves physically, mentally and spiritually. With no artificial chemicals or additives added there's no need to worry about any negative side effects either – just pure relaxation!
Many visitors have been coming back year after year since discovering this hidden gem tucked away in Idaho's wilderness so don't be surprised if you find yourself returning too! Whether you're looking for an escape from city life or seeking out health benefits like improved circulation & joint pain relief; Sunbeam Hot Springs is sure to offer something special each time you visit!
The natural mineral waters start from a pipe that comes out of the mountain at a blistering 160 degrees. It quickly cools down as it cascades down the hill and into the river. Over time people have made several different pools to relax in by forming rock walls to keep the warm waters in. You can adjust the temperature of each pool by moving the rocks around to adjust the flow of water from the river. It's best to go doing the summer and early fall months as the river can overflow the rocks in winter time making the hot springs unusable. There is also a changing room and bathroom near the parking area.
Clothing is optional, but most of the time you won't see any naked people due to the popularity of the springs. If you want to stay the night, there are quite a few amazing camping areas around the river with epic views of the stars at night.
Directions to Sunbeam Hot Springs
From Stanley, Idaho
1. Start on Ace of Diamonds Street and head west
2. Make a right onto Wall Street which will be your first cross street
3. Make a right onto Eva Falls
4. Make a left onto State Highway 75 North
5. Continue on the highway until you reach your destination
For those looking for something to do for the day, head down to Sunbeam Hot Springs and rejuvenate your body and soul while enjoying breathtaking views of Idaho. Happy Soaking!