Alabama offers couples a variety of romantic getaways all throughout the state. From luxury resorts to quaint bed and breakfasts, their is no shortage of places to rekindle the flame by spending some quality time with their loved one. Here are some of our favorite romantic locations to consider.
1. Grand Hotel Marriott Resort – Point Clear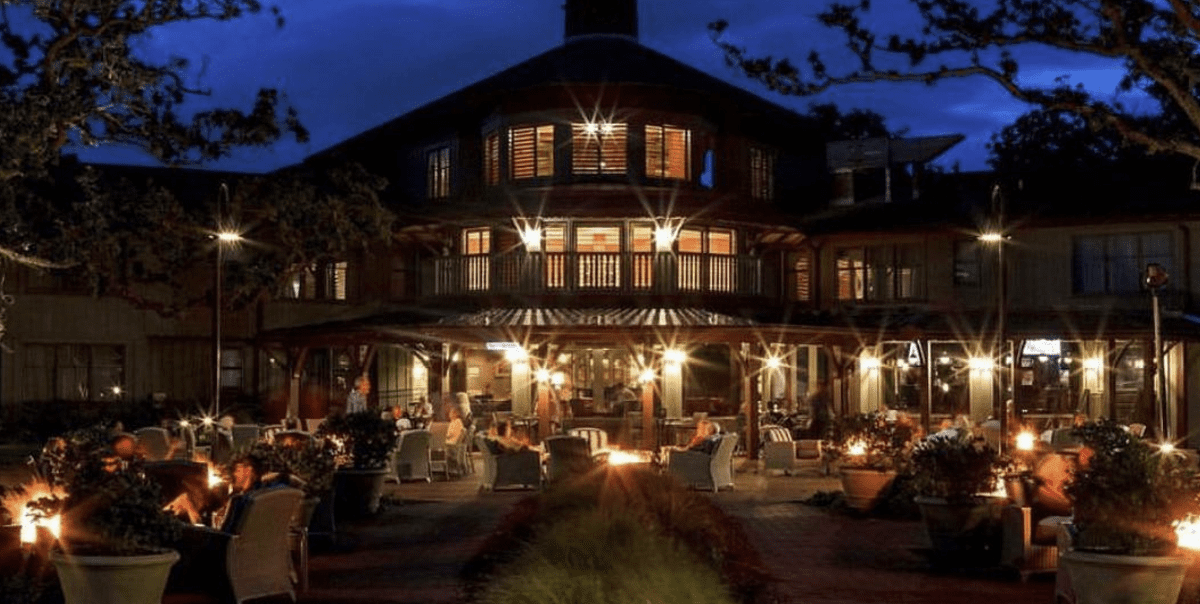 Grand Hotel Marriott Resort in Fairhope, Alabama is a luxurious resort located on the shores of Mobile Bay. The resort offers stunning views of the bay and its surrounding area, as well as easy access to nearby attractions such as the historic downtown district and Mobile Bay's beaches.
The Grand Hotel Marriott provides guests with a range of amenities designed for a romantic getaway. Take advantage of their outdoor pool, two championship golf courses, tennis courts, or spa services at Spa Palazzo. There are also several restaurants onsite offering delicious cuisine from around the world.
Here are some of the amenities you can expect when staying at the Grand Hotel Marriott Resort:
Golf – Enjoy a round of golf at one of two championship courses designed by Arnold Palmer and Jerry Pate. The Robert Trent Jones Golf Trail also features three additional courses near the resort.
Spa – Relax with a massage or facial in the luxurious spa facility that includes eight treatment rooms and sauna/steam facilities. Services include Swedish massage, hot stone therapy, reflexology, aromatherapy and more.
Dining – Experience fine dining with views overlooking Mobile Bay at Southern Roots Restaurant or enjoy casual fare while watching sports games in The Lobby Bar & Grill featuring American cuisine and local craft beer selections
Pool – Take a dip in one of four outdoor pools surrounded by lush landscaping or relax poolside with complimentary beverages from pool bar service available daily from 11am-6pm (weather permitting).
Fitness Center – Stay fit during your stay with access to modern fitness center equipped with cardio machines as well as free weights and cable weight machines for strength training exercises.
Address: One Grand Boulevard Point Clear, AL 36564 | (251) 928-9201 | Website
2. Turquoise Place Resort – Orange Beach
Turquoise Place Resort is a luxurious beachfront resort located on the shores of Orange Beach, Alabama. This upscale resort offers guests an array of world-class amenities and services including two outdoor pools, a lazy river with water slides, indoor hot tubs, saunas and steam rooms, poolside dining options, and private beach access with cabanas.
The property also features an on-site spa offering a variety of relaxing treatments such as massages and facials. The spacious suites at Turquoise Place feature fully equipped kitchens, separate living areas with flat screen televisions, and private balconies or patios that offer stunning views of the Gulf Coast's white sand beaches.
People looking for a romantic getaway often enjoy booking here due to its convenient location near local attractions such as The Wharf Amphitheater and Adventure Island amusement park. Turquoise Place Resort has everything you could want when it comes to on and off site entertainment. The next time you need a romantic weekend, come see why this makes our list of best places to go.
Address: 26302 Perdido Beach Blvd, Orange Beach, AL 36561 | (877) 720-5864 | Website
3. Gorham's Bluff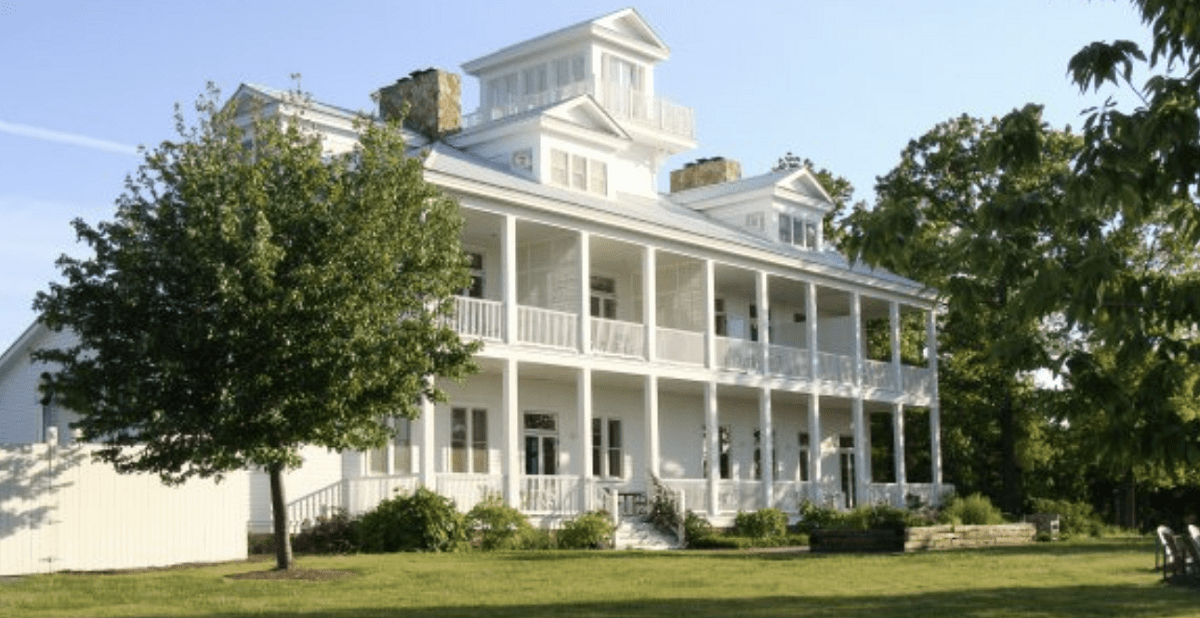 Gorham's Bluff is a small, picturesque village located in the northeast corner of Alabama. The cottage sits atop a bluff overlooking the Tennessee River and was founded in 1883 by Captain John Gorham, an American Civil War veteran. The village has been designated as a National Historic District due to its unique architecture and natural beauty. Gorham's Bluff consists of several historic homes and buildings such as the old post office, jailhouse, general store, school house and two churches that were built between 1880-1910.
There are also numerous restaurants offering delicious cuisine and fine dining for those looking to end the day with a romantic dinner after exploring all that Gorham's Bluff has to offer! This places truly defines the term romantic getaway.
Address: 101 Gorham Dr, Pisgah, AL 35765 | Website
4. Grand Bohemian Hotel – Birmingham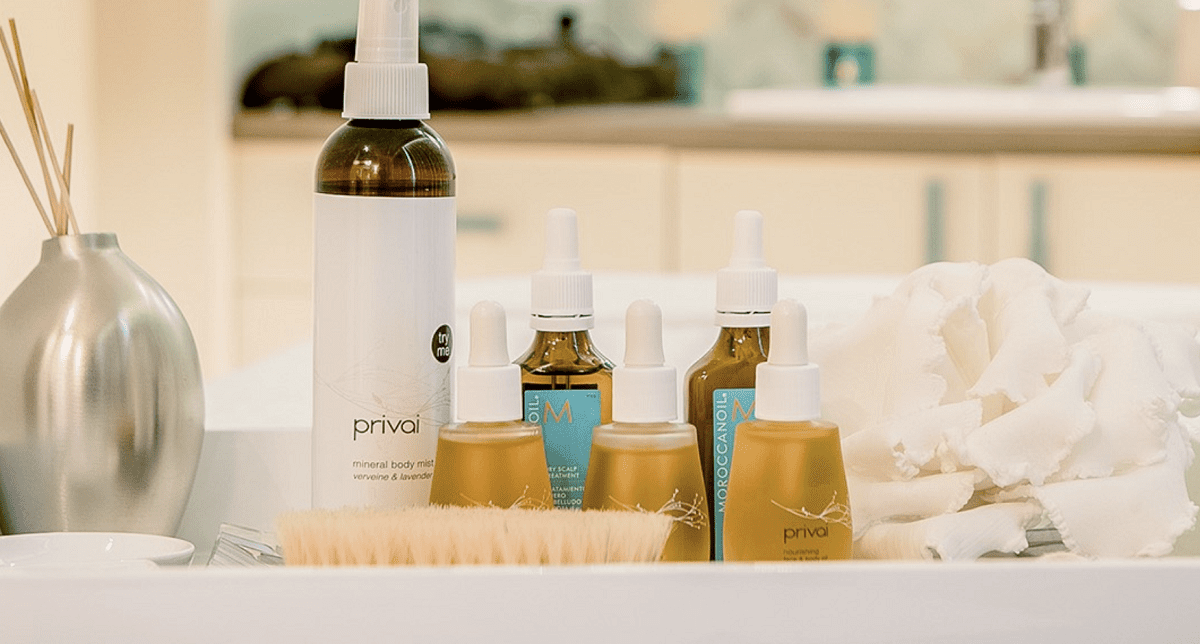 The Grand Bohemian Hotel Birmingham is a luxurious boutique hotel located in downtown Birmingham. It offers guests an array of amenities that are sure to make their stay comfortable and enjoyable. From spacious suites with modern furnishings and plush bedding to delicious on-site dining options, this hotel provides everything you need for a memorable stay in Alabama's largest city.
Guests can take advantage of the complimentary Wi-Fi throughout the property, as well as 24- hour room service. The hotel also features an outdoor pool area with cabanas and grills for guests who want to relax outdoors. There is also an on-site spa offering massages and other treatments designed for ultimate relaxation.
At the end of the day, unwind with a cocktail or two at Habitat Lounge located inside the lobby. The Grand Bohemian Hotel will provide you with the perfect romantic getaway and an unforgettable stay.
Address: 2655 Lane Park Rd, Birmingham, AL 35223 | Phone: (205) 414-0505 | Website
5. River Rest Bed & Breakfast – Talladega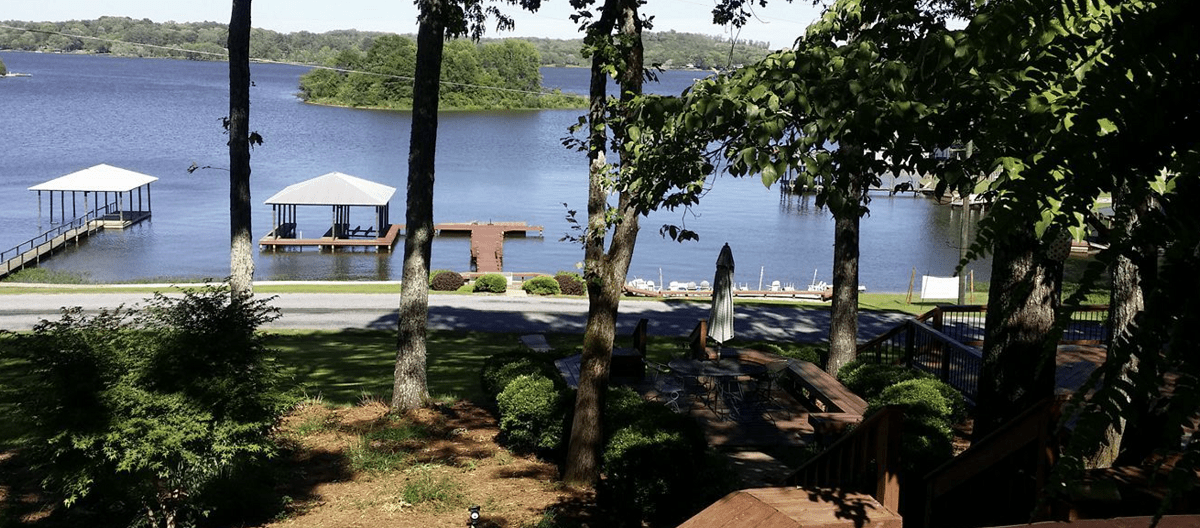 River Rest Bed & Breakfast in Talladega, Alabama is the perfect place to stay for a peaceful and relaxing romantic getaway. Located on the banks of the Coosa River, this charming bed and breakfast offers guests stunning views from its wraparound porch, as well as comfortable accommodations.
The rooms are spacious and feature private baths with luxurious amenities such as fluffy towels, plush robes, and high quality toiletries. Each room also includes complimentary Wi-Fi access so you can stay connected while away from home. Other features include air conditioning or heating to ensure your comfort no matter what time of year it is outside.
At River Rest Bed & Breakfast you will find plenty of activities both inside and out to keep you busy during your visit. Enjoy walking along the riverbank or taking a dip in one of the many nearby swimming holes before having a romantic dinner at their fine dining restaurant.
There's also an on-site spa offering massages or facials if you're looking for some extra relaxation during your stay. And don't forget about all of the great attractions Talladega has to offer like NASCAR racing events at Talladega Superspeedway! If you're looking for a romantic weekend escape or just want some restful R&R, River Rest Bed & Breakfast is sure to provide an unforgettable experience!
Address: 3883 Griffitt Bend Rd a, Talladega, AL 35160 | Phone: (256) 368-8153 | Website
5. Mentone Inn – Mentone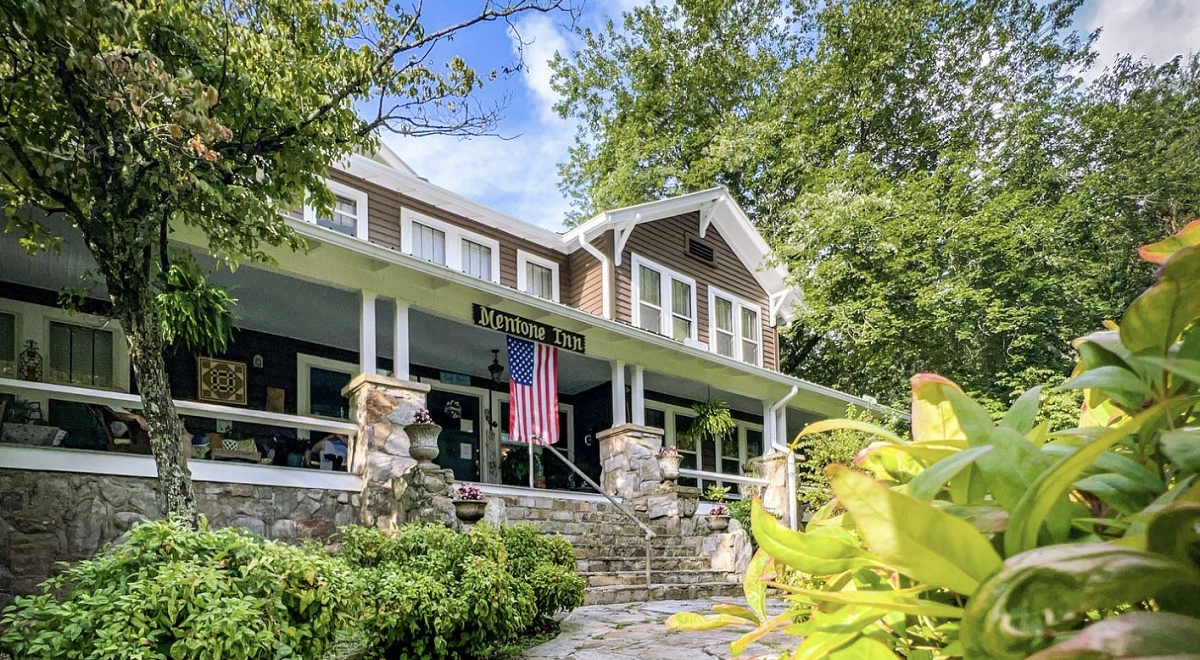 The Mentone Inn is a historic hotel located in the small town of Mentone, Alabama. Built in 1895, it has served as as a romantic getaway for travelers and tourists since its opening. The inn offers guests a unique experience with its rustic charm and stunning views of the surrounding mountains.
Guests can choose from several different room types ranging from standard rooms to more spacious suites depending on their needs. Guests can also enjoy some time at Mentone Inn by taking a dip in the outdoor heated pool or simply lounge around in one of several Adirondack chairs with scenic views of Lookout Mountain Valley!
Address: 6139 AL-117, Mentone, AL 35984 | Phone: (256) 634-4836 | Website
6. The Beach Club Resort & Spa – Gulf Shores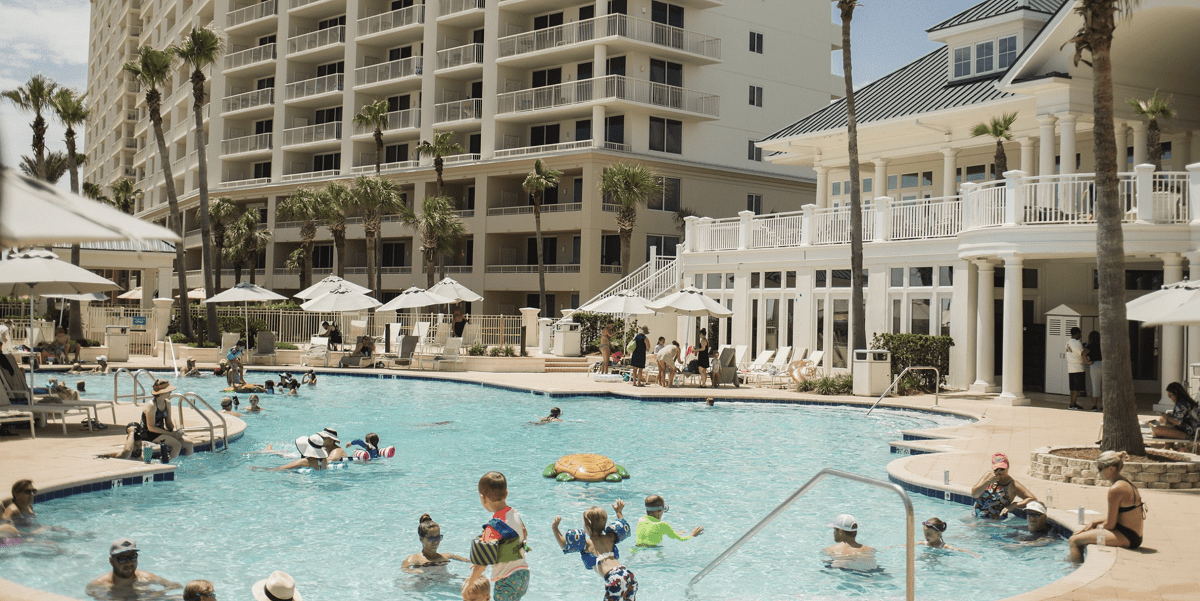 The Beach Club Resort & Spa has been recognized as a top family beach destination in Alabama for visitors seeking a romantic getaway. Located on the beautiful white sand beaches of the Gulf Coast, this resort offers guests an array of activities and services to enjoy while vacationing.
For couples looking to relax and reconnect, The Beach Club provides luxurious suites featuring private balconies with breathtaking views of the ocean and pool area. Guests can also indulge themselves at the spa where they can experience signature treatments such as hot stone massages and deep tissue facials.
Families will appreciate all that The Beach Club Resort & Spa has to offer including spacious two-bedroom villas equipped with full kitchens allowing them to prepare meals when desired. Kids will love playing on over 10 acres dedicated just for them featuring attractions like mini golf courses, swimming pools, lazy rivers, game rooms, playgrounds and more!
Address: 925 Beach Club Trail, Gulf Shores, AL 36542 | Phone: (888) 224-7684 | Website
7. Renaissance Birmingham Ross Bridge Golf Resort & Spa – Hoover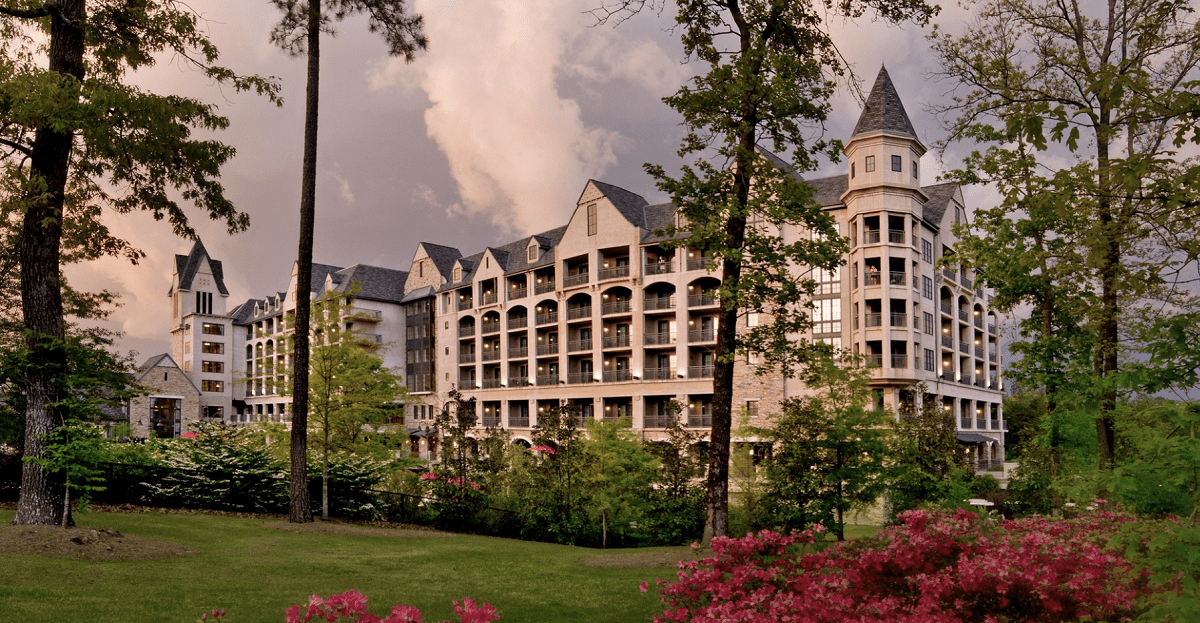 The Renaissance Birmingham Ross Bridge Golf Resort & Spa is an award-winning luxury resort located in Hoover, Alabama. The resort offers a unique and luxurious experience by offer a huge selection of amenities such as a championship golf course, spa treatments, fine dining options, and luxurious accommodations.
Guests can relax in style at The Spa at Ross Bridge which offers various massage therapy services along with:
body wraps/scrubs
facials
manicures/pedicures
aromatherapy
reflexology treatments
hot stone massages
If that isn't enough, be sure to check out the outdoor pool area, complete w cabanas & lounge chairs. All these amenities make Renaissance Birmingham Ross Bridge Golf Resort & Spa one incredible destination spot worth checking out for your next romantic getaway.
Address: 4000 Grand Ave, Birmingham, AL 35226 | Phone: (205) 916-7677 | Website
8. Fort Conde Inn – Mobile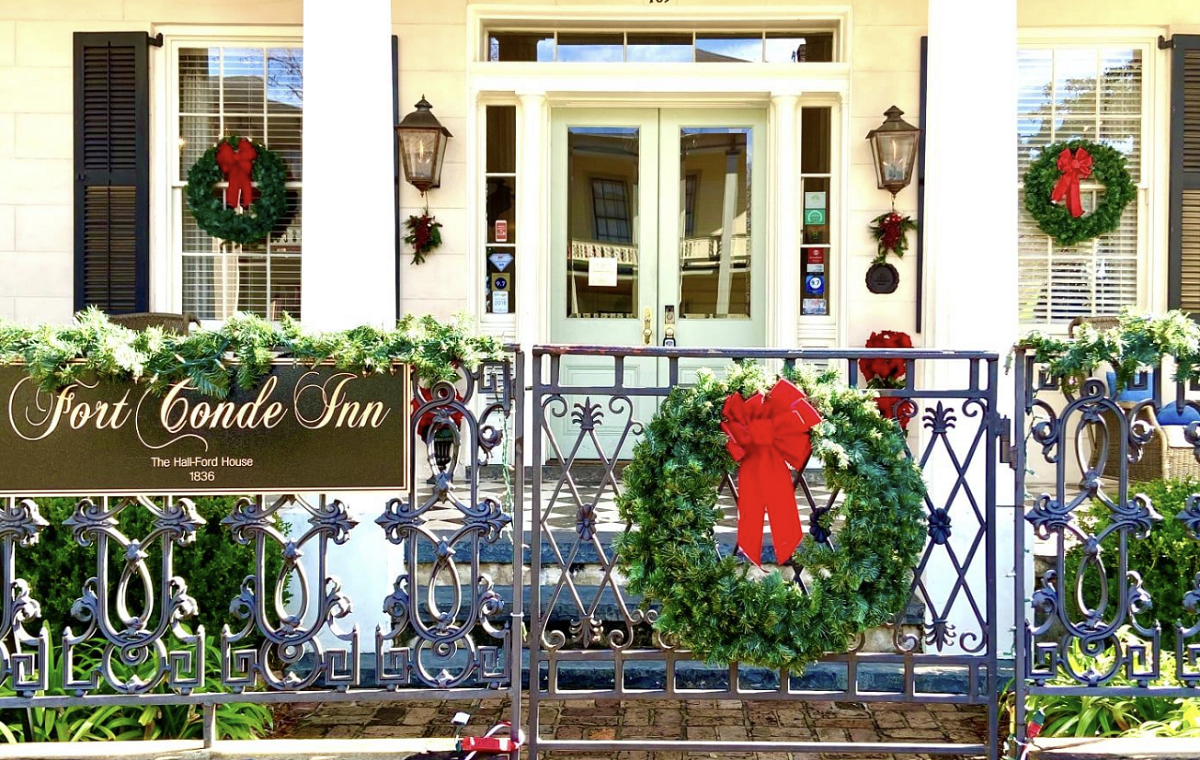 Fort Conde Inn is a historic bed and breakfast located in historic downtown Mobile, Alabama. Built in 1836, the inn was originally home to the commanding officer of Fort Conde, a military fortification that protected Mobile from attack during the War of 1812. The Inn has since been restored and now offers luxurious accommodations for travelers looking for an authentic romantic getaway experience.
The beautiful Greek Revival-style mansion features 20 individually decorated guest rooms with modern amenities like flat screen TVs, complimentary Wi-Fi access, private baths with luxury toiletries, and plush robes. Guests also enjoy access to on-site amenities such as a heated pool and hot tub surrounded by gardens.
For dining options, guests can visit Magnolia Ballroom which serves classic southern dishes using local ingredients or they can opt to dine al fresco at their outdoor courtyard café overlooking Bienville Square Park. In addition to meals prepared by their culinary team of chefs, guests are offered an extensive selection of wine available in the hotel's Wine Cellar Bar & Lounge.
When not enjoying all that Fort Conde Inn has to offer its guests can explore nearby attractions like the USS Alabama Battleship Memorial Park or Dauphin Street Art District.
Address: 165 St Emanuel St, Mobile, AL 36602 | Phone: (251) 405-5040 | Website
9. Red Bluff Cottage – Montgomery
Red Bluff Cottage is a charming, family-owned vacation home nestled in the hills of Montgomery. It's an ideal place for anyone looking to get away from it all and enjoy some peaceful seclusion. Located on over 30 acres of rolling hills and forests, Red Bluff Cottage offers guests stunning views of the surrounding countryside for a ideal romantic setting.
With its two bedrooms and one bathroom, this cozy cottage can comfortably accommodate up to six people. Amenities include a fully equipped kitchen with modern appliances, satellite TV, Wi-Fi access throughout the property and plenty of outdoor activities such as hiking trails, fishing spots, and a swimming pool.
Address: 551 Clay St, Montgomery, AL 36104 | Phone: (334) 264-0056
10. Malaga Inn – Mobile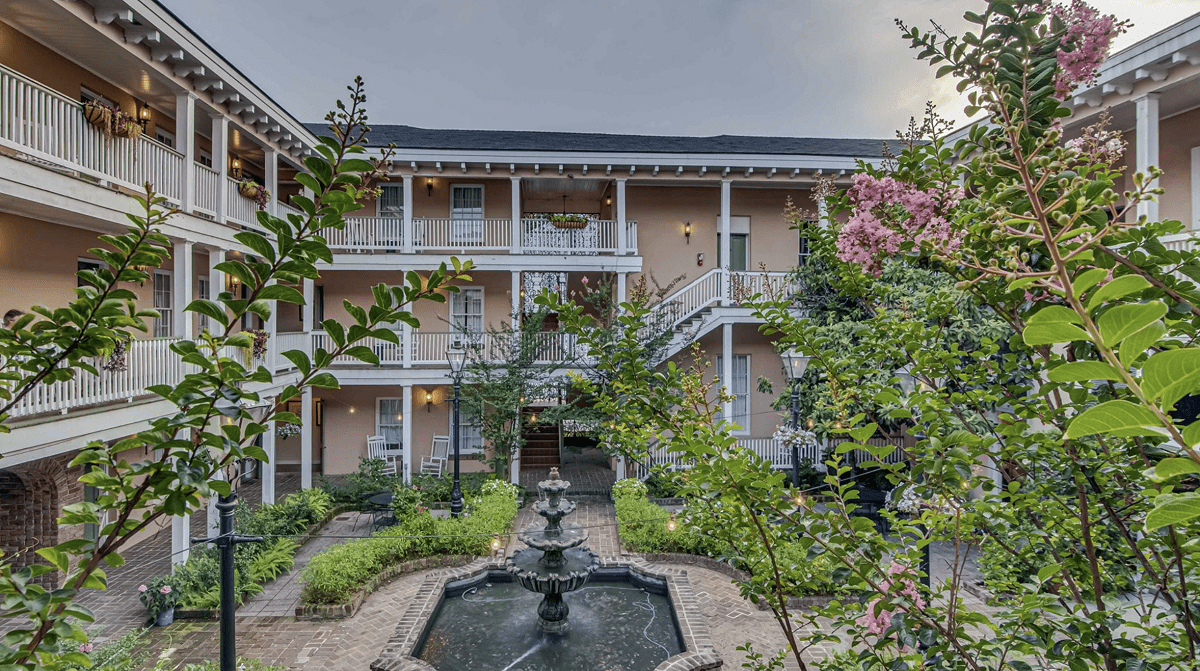 Malaga Inn is a historic hotel located in downtown Mobile, Alabama. The inn was constructed in 1906 and has been listed on the National Register of Historic Places since 1985. It is one of the few surviving examples of early 20th century architecture in Mobile.
The Malaga Inn features Mediterranean Revival-style architecture with an Italianate façade that includes large arched windows, deep eaves, and ornamental iron balconies. Inside are luxurious guest rooms with period furnishings as well as modern amenities such as flat-screen TVs and wireless internet access.
The Malaga Inn also boasts two award-winning restaurants: The Club Room Restaurant & Bar serving classic American cuisine and La Cocina Mexican Café offering authentic Mexican dishes crafted from recipes passed down through generations. Both offer outdoor dining options during warmer months so guests can enjoy their meals on the beautiful terrace overlooking Bienville Square Park.
Address: 359 Church St, Mobile, AL 36602 | Phone: (251) 438-4701 | Website
11. Perdido Beach Resort – Orange Beach
Perdido Beach Resort is a beachfront hotel located along the Gulf Coast of Alabama. With its white sand beaches, emerald waters and breathtaking sunsets, Perdido Beach Resort is an ideal destination for those seeking a relaxing getaway.
Some of the main amenities featured at the resort are:
Indoor and Outdoor Swimming Pools
Fitness Center
Hot Tub
3 Onsite Bars
5 Restaurant Dining Options
Easy Beach Access
Aquatic Adventure Excursion Service
Accommodations include modern style rooms with private balconies with scenic views of the oceanfront. The resort has over 340 luxurious rooms ranging in standard sizes up to romantic suites. The location also offers a wide range of activities including paddleboard yoga, volleyball courts, kayaking, children's beach activities, sailing, wave runners, splash pool movie nights and live music entertainment.
Address: 27200 Perdido Beach Blvd, Orange Beach, AL 36561 | Phone: (251) 981-9811 | Website
12. Marriott Shoals Hotel & Spa – Florence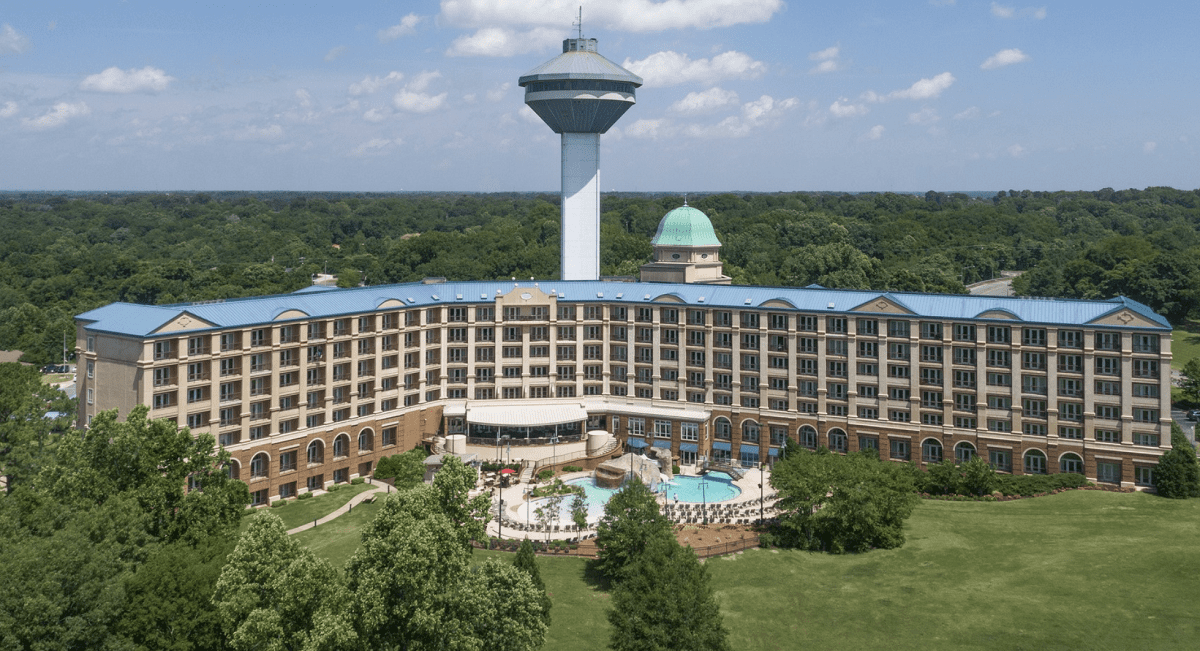 Marriott Shoals Hotel & Spa is a luxurious hotel located in Florence, Alabama. The hotel offers a wide range of amenities and services designed to make your stay as comfortable and romantic as possible. From its on-site spa to the fitness center, this Marriott property has something for everyone to enjoy.
The guest rooms at Marriott Shoals are equipped with modern amenities such as flat screen TVs, mini-fridges, and microwaves. Guests can also enjoy complimentary Wi-Fi access throughout the entire facility. The hotel's restaurant serves up delicious American cuisine while the bar offers an array of cocktails and beers to choose from.
The on-site spa provides guests with relaxing treatments such as massages, body wraps, facials and more. There is also a full service hair salon available for those who want to get their hair done before or after their treatment sessions. Marriott Shoals Hotel & Spa is sure to provide everything you need for a memorable stay in Florence!
Address: 10 Hightower Pl, Florence, AL 35630 | Phone: (256) 246-3600 | Website
12 Amazing Alabama Romantic Getaway Options
1. Grand Hotel Marriott Resort
2. Turquoise Place Resort
3. Gorham's Bluff
4. Grand Bohemian Hotel
5. Mentone Inn
6. The Beach Club Resort & Spa
7. Renaissance Birmingham Ross Bridge Golf Resort & Spa
8. Fort Conde Inn
9. Red Bluff Cottage
10. Malaga Inn
11. Perdido Beach Resort
12. Marriott Shoals Hotel & Spa