Renova Hot Springs – Montana
Located on the Jefferson River, Renova Hot Springs is the perfect natural primitive rock pool for you to enjoy. A little off the grid, many visitors go during the summer and fall seasons to soak in Montana's waters, while socializing with friends and family. For the few brave, taking a plunge into Jefferson River gets the blood flowing before climbing back into the warm waters to finish off the perfect day.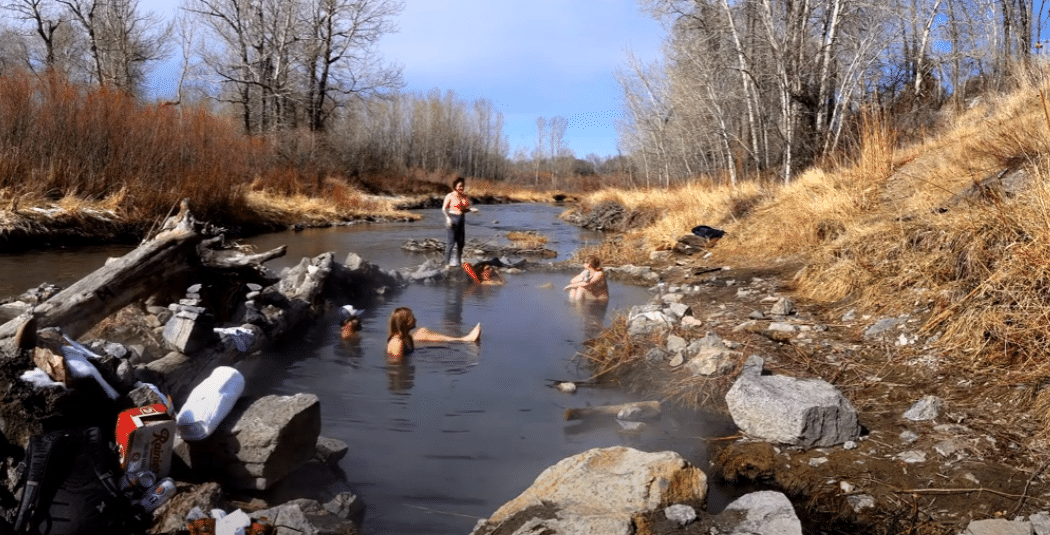 Details about Renova Hot Springs
There are two main pools at Renova Hot Springs for you to soak in. Each one has been built by rock walls to control the flow of water in. The temperature of each hot springs pool averages between 110 to 120 degrees which you can cool down if you like by moving some rocks. During the winter and spring season the river tends to take over the pooled areas making them unusable so it's always best to go in the summer and early fall. Clothing is optional and you may see a few naked people early in the day or late in the evening.
The primitive Renova Hot Springs in Whitehall, Montana is a unique natural hot springs located on the banks of the Jefferson River. The warm water flows from deep underground and fills two large pooled off sections. Set among towering mountains and rolling hillsides, it offers visitors a serene setting for relaxation and rejuvenation. The sections of hot springs pools by trees, providing shade and privacy.
Directions to Renova Hot Springs
From Bozeman, Montana
(Map)
1. Start on I-90 Wests towards Whitehall
2. Merge onto Highway 287 to Waterloo (10 miles)
3. Make a left at Waterloo junction which will have you cross a bridge over Jefferson River
4. Make a left after the bridge on Loomont
5. After 3 miles, make a left at the T onto Rocks Road.
6. Travel north for another 4 miles which is having you drive back down the river until you find the parking section for the springs.
Once you park it's only a short hike down a hill to reach Renova Hot Springs. This is a great primitive hot spring in Montana and one you need to put on your bucket list. Happy Soaking!
Camping near Renova Hot Springs
There are several campgrounds in Whitehall that offer varying levels of amenities and activities depending on your preferences. The nearby Beaverhead National Forest has several campgrounds that provide basic facilities such as restrooms and fire pits. Some campsites also have
picnic tables or grills available for barbecuing meals outdoors.
If you're planning an extended stay then there are multiple RV parks within easy driving distance from Whitehall where you can hook up your vehicle to electric power sources and other utilities while still enjoying all that nature has to offer.