Pitt and Sylvan Springs in the Econfina Creek Water Management Area are natural springs that have been a source of recreation for centuries. The area is located in North Florida, just south of Tallahassee, and contains two main springs: Pitt Spring and Sylvan Spring. Both offer excellent swimming opportunities with crystal-clear water surrounded by lush vegetation on all sides.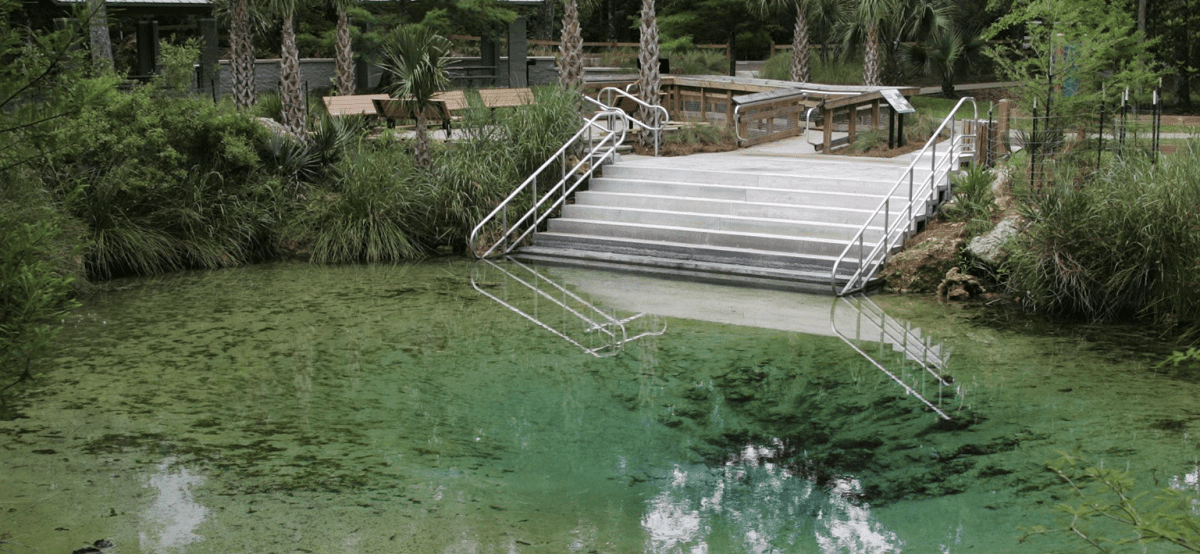 Details about Pitt Springs and Sylvan Springs
Pitt Spring is the larger of the two springs, measuring approximately 100 feet across at its widest point. It's fed by an underground river system that runs through limestone caverns beneath the surface and produces up to 28 million gallons per day – enough to fill an Olympic sized swimming pool every 15 minutes! People can enjoy snorkeling or scuba diving here as well as simply floating around in tubes or rafts while admiring the incredible wildlife below.
Sylvan Springs is much smaller than Pitt but has equally impressive features. Its spring run is only about 20 feet wide but it's incredibly deep at roughly 80 feet! This makes it perfect for experienced divers who want to explore its hidden depths. There's also plenty of room for swimmers who just want to take a dip in its cool waters after a long hike down from nearby trails above ground level.
Both Pitt and Sylvan Springs provide visitors with a unique opportunity to experience nature firsthand. Whether you're looking for adventure underwater or just a peaceful place to relax and unwind, these natural wonders will not disappoint!
The Pitt-Sylvan Springs community is home to a variety of wildlife species as well several activities such as fishing, hunting, canoeing and kayaking. The main source of water for this region comes from the Econfina Creek which runs through both springs. The creek provides fresh drinking water to residents while also providing habitat for local wildlife like river otters, alligators and bald eagles. The creek also supports a healthy population of fish species such as bass and panfish.
Activities and Pitt and Sylvan Springs
Outdoor Activities: Pitt and Sylvan Springs have plenty of outdoor activities available. Visitors can rent kayaks or canoes to explore the many nearby rivers or lakes. Fishing is also popular at both parks with a variety of species from bass to blue gill swimming in the waters. Camping is allowed in designated areas at both parks including RV hookups.
Directions to Pitt and Sylvan Springs
Location: 6315 E. Highway 20, Youngstown, Florida 32466
From Jacksonville, FL: Map
From Mobile, AL: Map
1. Head east on US-231 N toward Main St for 1 mile
2. Turn left onto Pitts Rd for 0.4 miles
3. Turn right onto Sylvan Springs Rd for 0.5 miles
4. Destination will be on the left