Hot Springs in Phoenix
Phoenix Arizona is well known for it's perfect winter season weather and activities to do in the area. From golfing some of the best courses in the world to relaxing in one of their natural hot springs, you can find endless enjoyment when visiting this beautiful state.
Here are some of our favorite Phoenix hot springs to grab a good soak.
Map of Hot Springs in Phoenix
Click on a location in the interactive Phoenix hot springs map below to find more information about each spring and how to get there.
Castle Hot Springs – Near Phoenix, AZ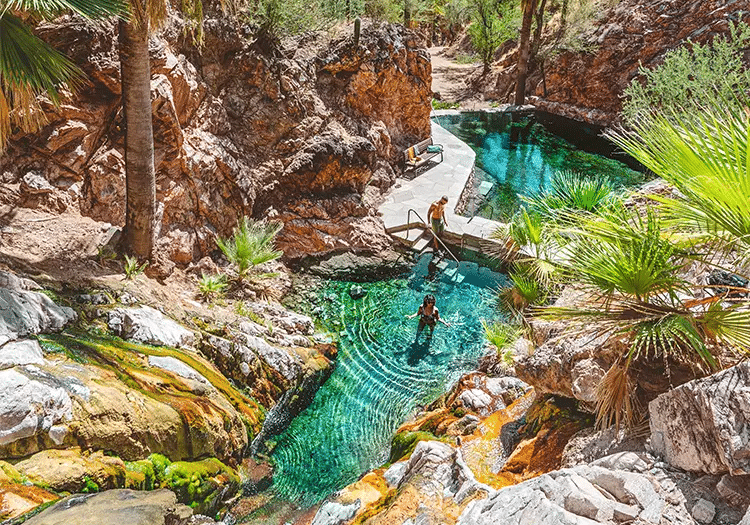 With over 120 years of rich history, Castle Hot Springs is unique in that it is the hottest spring in the state not heated by magma. At first just like most springs the locals used the pools for their healing benefits. As time when on Frank Murphy transformed the underdeveloped area into a wellness retreat attraction people from all over the world.
At the Phoenix facility there are several unique hot springs for you to relax and unwind in. Each one has a feeling of a tropical paradise with very scenic views of the surround landscapes. Once you have finished soaking in the natural waters, head back to your five start luxury room which includes:
Spring Bungalows – Book your own private room with an outdoor tub filled with the hot spring natural waters as you watch the sun set over beautiful Phoenix, AZ.
Sky View Cabins – One of the most enjoyable accommodations at the resort. Not only do you have your own private hot spring tub, but each cabin comes with it's own telescope to catch a glimpse of the stars at night.
Historic Cottage – If you want to really pamper yourself, book a stay at their historic cottage where famous people such as the Roosevelts have stayed.
Standard Lodging – You don't have to spend a lot of money to still stay at Castle Springs. Their standard lodging also includes the mineral waters pumped into your bathroom for a relaxing soak.
Address: 5050 East Castle Hot Springs Rd, Castle Hot Springs, AZ 85342, USA
Season: Year round
Website: castlehotsprings.com
El Dorado Hot Springs, Tonopah, AZ
Phoenix is also home to El Dorado Springs which is famously known for it's perfect ph level, giving the natural springs an odorless and silky smooth feeling to your skin. It's just a short drive from the main city and will leave you rejuvenated after a long day of activities.
There are both private and public pools you can soak in:
Public Hot Springs – Desert Pete is a nude only hot spring located at the facility with it's own private shower and chairs. Sunset is a more public area that can seat up to 6 with the perfect sunset looking over Saddle Mountain. The third option is desert view with is very much like sunset with the perfect backdrop as you relax at the springs.
Private Hot Springs – The Desert Saloon gives you the perfect space for you to be away from the world and enjoy the spring to yourself.
Address: 41225 Indian School Rd, Tonopah, AZ 85354, USA
Season: Year round
Website: el-dorado.com