The Best Arkansas Attractions – Things To Do
Home to the only diamond field in North America, Arkansas offers a unique blend of outdoor and historical attractions in the region. Graced with a sea of natural resources, the state is not only culturally rich but also artistically rich.
On the one hand, you have the famous Hot Springs National Park with its bathhouses as steamy as it has a long history that enriches the state's identity. On the other hand, you have the five exceptional decades of American art surrounded by the lush landscapes in the Crystal Bridges Museum.
From the replica Oval Office at the William J. Clinton Presidential Library to the Buffalo River's wild waters, you'll have an array of opportunities to reignite your love for travelling and discovering interesting places throughout Arkansas. The state is not only the birthplace of several contemporary traditions practiced throughout the country, but it also features a unique blend of places to visit.
So, sit tight as we take you through some of the top attractions in Arkansas.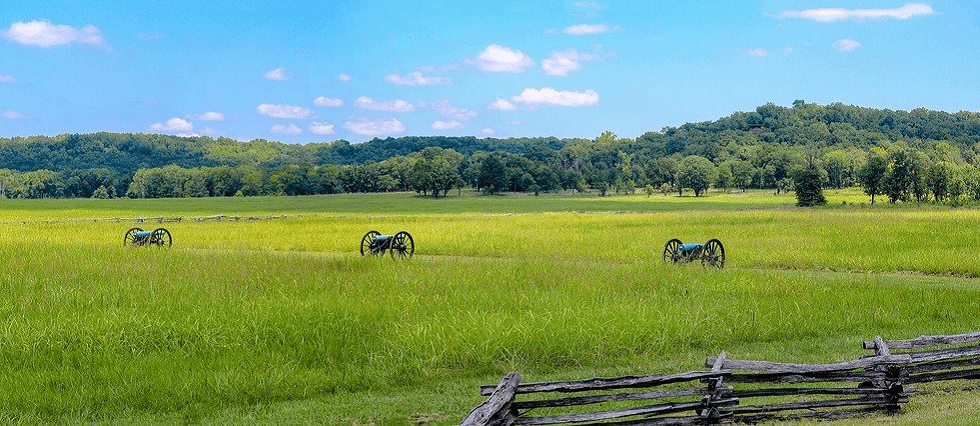 Best Arkansas Attractions and Activities
Things To Do in Arkansas by City
Buffalo National River, Northern Arkansas
This free-flowing and unpolluted river made it to the 1st spot in our itinerary and for solid reasons. If you've headed to the state for its wilderness, here's where you'll have it all. Paving through the Ozark Mountains, this river is a natural and protected habitat for bobcats, deers, and many other wildlife creatures.
Some of the best activities to pursue in the area include canoeing, kayaking, horseback riding, camping, and hiking, especially during the pleasant breeze of summer. Whether you're a backpacker looking for an economical getaway or a parent seeking quality time with their family, head over to the Buffalo National River and leave the rest to Mother Nature.
Clinton Presidential Center, Little Rock
On the fence about what places to visit in Little Rock?
The Clinton Presidential Center is one of the premium sites to visit in the magical city of Little Rock. Standing on the Arkansas River edge, this centre is in the middle of a 28-acre park. Not only is it a popular venue for several local events, but it also serves as a presidential museum and library.
Some rotating and permanent exhibits profoundly revolve around insights into the former President's career and life. There are many photos, artefacts, and a full-fledged replica of the popular Oval Office to leave you enthralled as you stroll through this wonderful building.
You may be wondering what the concept behind the building is. Is it a mere attempt at allowing people to peek into a former President's life? Or is it a building only for the sake of it? Interestingly enough, it was created to resemble a bridge, and the idea itself came from the famous six bridges over the river of Arkansas.
However, metaphorically, the concept is worlds apart from what we consider it to be. Unbeknownst to most people, it fundamentally stands as a bridge between the future and the past.
Crater of Diamonds State Park, Murfreesboro
Yes, you read it right. Crater of Diamonds State Park is exactly what it sounds like, a hub of natural diamonds. What's more interesting is that it's open to the public.
Located in the southwest, this park is one of the most sought-after attractions in Arkansas that draws people from all over the country. The best part about it is that it's only a short drive from Murfreesboro. Now that we're on the subject let's dig deeper. Did you know that over 75,000 diamonds have been unveiled in this region since 1906? In fact, the popular Strawn-Wagner Diamond was also uncovered in the very spot.
Even today, you can find a wide variety of diamonds in the region, ranging in colours from brown to white and also yellow in some cases. While the park is majorly known for its natural diamonds, it also features a campground with over 52 sites, a water playground, and a museum.
Hot Springs National Park
These hot springs that were believed to have healing properties date back hundreds of years. They've stirred the curiosity of locals and international visitors for several years in a row. Located in the Ouachita Mountains, this park has had its doors open to visitors all year round, ever since 1921.
Today, it consists of wonderful old bathhouses used in a number of forms. In fact, the Fordyce Bathhouse in the vicinity is known to be the park's visitor centre. However, it isn't one of the top attractions in Arkansas for its bathhouses alone. It also features a plethora of hiking trails and an observation tower.
Fayetteville
Lying deep inside the Ozarks, Fayetteville is the third-largest city in Arkansas. Only a few miles away from the Boston Mountains, this city that features several restaurants, bars, and shops is the focal point of youthfulness. However, it is primarily known for the mighty University of Arkansas campus.
The university hosts a number of festivals, theatrical performances, live music events as well as arts and culture exhibits, thanks to its active and thriving student body. Then, the gorgeous downtown is another sight to see with its landscaped gardens and beautiful old buildings.
Dickson Street definitely tops the list when it comes to places to visit in Fayetteville. There are boutiques and public buildings alongside a farmer's market, nightclubs, and several historic landmarks.
Furthermore, the area in the city's surroundings is a hub of terrific cycle paths and hiking trails. So, if you're looking to flee from the city centre to somewhere quieter and more serene, this is the place to be.
Eureka Springs
If you're a history enthusiast looking to go back in time, Eureka Springs is exactly what you may be seeking. Home to some of the oldest yet well-preserved Victorian-style buildings, the city has several mansions, manor houses, and structures that remind you of the days gone by.
While you embark on this journey and step back in time, don't forget to go down the cobbled streets with beautiful streetscapes that will surely leave you mesmerized. If you're wondering why we've included an entire city in the list of places to go to in Arkansas, let us help you break it down.
While it may primarily be considered a city, it is indeed a popular resort town that came to be known as one in 1879. Furthermore, since it has several cold-water springs, people also find themselves enticed to visit it as the springs are believed to have healing properties.
However, apart from just wandering the town, you can also pursue activities such as horseback riding, hiking, and cycling in the nearby forests and mountains. One of the classic Arkansas tourist destinations, Eureka Springs, is something you would want to miss out on.
Eagle Crest Golf Course, Alma
The Eagle Crest Golf Course is one of the finest places to visit in Alma and not only for its widely spread-out golf course but also additional amenities. This is where you may be able to learn a thing or two about golf. Eagle Crest Golf Course is only one part of the Eagle Crest community, yet it also stands as a focal point.
Interestingly enough, the man credited for designing it is none other than Mark Hayes, a three-time PGA tour winner. Furthermore, this public course is by far one of the topmost spaces to play the sport.
If you're running low on certain essentials, don't worry because the well-stocked golf shop is there to fulfil all of your golfing needs. This one is made to accommodate you as you set out to perform, from towels to tees and gloves to caps.
If playing golf isn't entirely what you're here for, don't be taken aback because we still have you covered. With the inauguration of the RV Park in one of Arkansas's premier courses, you can simply choose to stay the night in this facility and wake up to the views of lush grass greens and immaculate zoysia fairways. After all, there's no better spot to enjoy Arkansas's spectacular views and unmatched beauty than here.
Blue Mountain Lake, Logan County
Your next trip to Arkansas shouldn't go without this one, particularly if you're someone looking for a bit of recreational fun on the way. Blue Mountain Lake is known for its modern campgrounds and several other amenities. However, nothing beats its supremacy when it comes to water and land-based activities.
Its first-rate bird dog field trial area is only one of the many places that draw local and foreign tourists. Furthermore, since the lake is located between two national forests, it's packed with mind-blowing sights of natural beauty. All in all, there is a range of activities at Blue Mountain Lake to keep you occupied as you take in the serenity.
ArcBest Performing Arts Center, Fort Smith
This well-maintained and gorgeous property is one of the finest performing arts centres in the country. Inside the versatile Fort Smith Convention Center, it features a large theatre with seating for up to 1300 guests. Furthermore, there's also space for company backstage facilities along with extraordinary electrical, lighting, and sound setups.
What's more? The performing arts centre is also home to the internationally recognized orchestra called Fort Smith Symphony. It hosts both internationally and nationally recognized lineups for theatrical productions, musicals, comedy shows, and even touring concerts. It is also a popular venue for large presentations, recitals, award ceremonies, live speaker events, and pageants.
Downtown Splash Pad, Fort Smith
While there are several wonders of history, making for some of the best places to visit in Fort Smith, your children may not find them amusing enough. Even though the city is known for its excellent historical sites, it may not be a big hit when taking your kids out. So, here's one way to reward them while you're out and about in Fort Smith.
Here at the Downtown Splash Pad, you can come to spend a day in the sun while your children enjoy other amenities of the park, such as kid-friendly spots and, of course, ten splash fountains. If you've been unfortunate enough to travel to Arkansas during the peak of summer when it's brutally hot, this should be a great way to cool off. However, once the sun goes down, you'll have a whole display of bright LED lights illuminating the dancing fountains.
The Momentary, Bentonville
The Momentary is part performing arts space and part contemporary art museum. This is where rising artists emerge from, through their exhibitions, shows, and performances, making it one of the best creative hubs in the region. However, this isn't where it all ends. For years, communities have gathered here in large numbers to reunite themselves through theatre, music, and art.
Even though it's a fairly recent addition to downtown Bentonville, it has been a major focus for most visitors, thanks to its interesting history. Formerly used as a cheese plant, this space now hosts regular and rotating events featuring bars, eateries, outdoor art shows, and exhibitions.
The best part? It's free and surrounded by exquisite garden views made primarily for your afternoon picnics. Here, you can also purchase gifts and prints by famous artists as souvenirs for friends and family.
Farmers Market, Springdale
There's certainly no limit to the best places to explore in Arkansas. However, we often tend to limit our focus to state parks, museums, theme parks, important buildings, etc., while disregarding the authentic and enriching experiences that let us see a city in its true essence. The farmers market in Springdale is one such place that allows you to explore the place using a different lens. It may not be a sprawling building or a hub of bars and clubs, but it is what truly represents the city.
This local farmer's market may seem like any other market, but only once you pay a visit will you be able to recognize all that sets it apart. Here, you will not only be able to pick up many unique products under the sun, but you will also be able to meet locals and share a good time together.
After all, it has been the city's go-to open-air market for almost two decades. However, you may want to do your research beforehand because it is usually open from May until October. Located near the Jones centre, this market is known for its street food, baked goods, and of course, fresh fruits along with locally made health and body products.
Arvest Ballpark
Last but not least, if you're a baseball fan but don't wish to break your bank on a hotdog and beer, then the Arvest Ballpark is a must-visit spot. Since the state is home to a small league baseball team, this park is where you can enjoy a good game while staying lowkey.
What's better than spending a day watching an exciting game while saving your valuable bucks? However, you may want to check the schedule out carefully before planning a complete itinerary since the season often lasts from April to the Labor Day weekend, featuring over 130 games altogether.
The Arvest Ballpark may not be a primary Arkansas attraction, but it is surely a feast for a true baseball fan. Unless you don't mind money spilling out of your pockets, we'd suggest not keeping this one out of your itinerary.
Wrapping Up
Let's conclude on the note that Arkansas is undeniably a US gem, not only because it allows you to dig for diamonds (for real) but also because it is home to magnificent caverns, art galleries, and of course, top-notch architecture. While we've attempted to round up some of the top attractions in Arkansas, make sure not to limit yourself to this list.
There are plenty of spots to fascinate you in Arkansas, and it's a place for adventure seekers as much as it is for lovers. With gorgeous scenery and beautiful historic buildings all around, you will have countless opportunities to experience the state in all its glory.
Make sure to look for fun indoor and outdoor activities, and don't hesitate to walk down the local markets even if they're not the equivalent of sprawling buildings and happening nightlife. They're undoubtedly the best way to experience the state as authentically as possible.
So, as we've reached the end of this article, let's reiterate that Arkansas is a hub of national parks, recreational activities, art shows, and theatre. From fishing to hiking and camping, there's an array of activities to pursue right at your disposal. Moreover, it's also a blend of natural, historical, and contemporary sites to feed your senses as you educate your mind.