The Best Vermont Attractions – Things To Do
Dotted with quaint towns, rolling hills, towering snow-capped mountains, and vast expanses of wilderness, the Green Mountain state is known for its incredibly diverse topography. It packs plenty of picture-postcard views and diverse outdoor activities, most of them for free.
The attractions that draw tourists to Vermont include forested mountains, glowing red maple trees, fun-filled theme parks, sailing on mountain-ringed lakes, and tours of history museums. Whether it's skiing in the winter, covering challenging hikes, or touring historic houses, you'll find it – and more – in Vermont.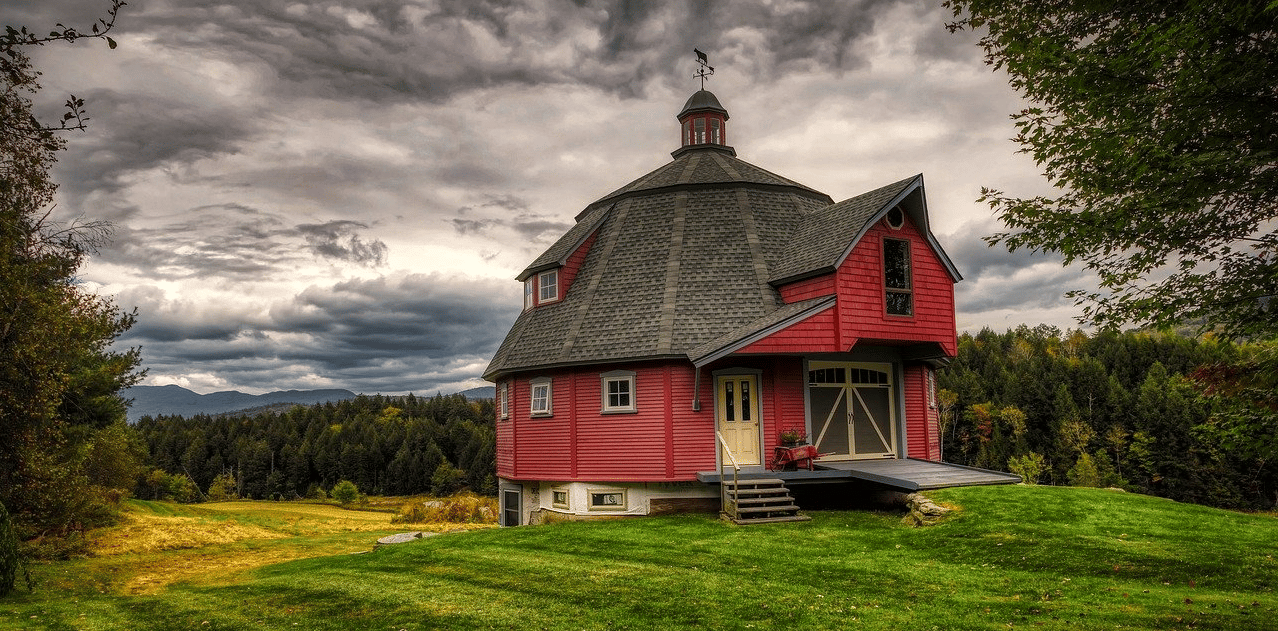 Best Vermont Attractions and Activities
Things To Do in Iowa by City
To make sure you get the most out of your trip, use our guide covering all the top attractions in Vermont.
Billings Farm and Museum
The Billings Farm and Museum is tucked in a quiet neighborhood of Woodstock, Vermont and is filled with world-class museums and a dairy farm.
Fun fact: The dairy farm is a restored 19th-century farmhouse and now serves as an ideal way of experiencing rural life in Vermont, away from the hustles and bustles of city life.
You can experience hands-on tours of rural life and enjoy cool activities such as dairy cows and barnyard goats. Walk inside the barn to see an impressive collection of rare artifacts and distinguished works of art that represent years of expertise. The collections are especially strong in American artwork, with landscapes and portraits by noted artists from America.
Visit Billings Farm and Museum if you want to take a detour of history and learn about the stories of people who have helped shape these lands.
Stowe
Stowe, Vermont, is the unofficial destination for all outdoor activities in New England, from mountain biking and rock climbing to hiking and swimming. Visit during the peak of Autumn to view and photograph the fall foliage as the leaves change their colors. Winter is fun here too, so if you want to experience the best skiing trails this side of New England, then Stowe is a must-visit place.
Learn about the incredible history of sports in Vermont at the Vermont Ski and Snowboard Museum. Must-visit trails can be found at Stowe Recreation Path with a 5.5-mile-long greenway that winds its way between Topnotch Resort and Stowe Village. Besides bringing motorized vehicles, you can do pretty much everything here, such as walking, snowshoeing, running, rollerblading, and skiing.
Visit Smuggler's Notch State Park to really connect with nature by traversing those towering 1000-foot cliffs. End your day at Stowe by tantalizing your taste buds with delicious ice creams at the Ben & Jerry's Waterbury Factory. Free samples are also available!
Vermont Historical Society Museum
It might not be the most famous museum around, but the Vermont Historical Society Museum is still the place to go for history buffs and art enthusiasts? Why? The museum is filled with exhibits related to artifacts that celebrate the history of the Green Mountain State. You will also find delicious food and spot unique flora and fauna.
Don't forget to check out the military coats used in the Revolutionary War – a sobering realization of the perils of war. The museum also preserves taxidermy animals that used to live near the Winooski River decades ago.
Depending on when you visit the museum, you may get to see several special events, free events, and those requiring a low-cost purchase. The Vermont Historical Society Museum is an important place to visit if you are interested in learning about the history of Vermont. With so many things to do here, you are bound to have an interesting time.
Vermont Institute of Natural Science
The Vermont Institute of Natural Science was established in 1972 as a place to preserve nature and inspire tourists who come to visit. If you are traveling to learn more about nature and getting up close and personal with local flora, this is the place for you.
Tourists visit the museum from around the country to see raptors, eagles, hawks, songbirds, and owls in their natural habitat. The Forest Canopy Walk gives you a quick walk around the nature center and lets you see birds flying around the treetops. You may also see the birds during feeding time, an enlightening experience.
Make your way to the meadows for a close encounter with reptilian species like snakes and turtles. If you are an animal lover, then the Vermont Institute of Natural Science should definitely be on your list of places to explore in Vermont.
Lake Champlain
Lake Champlain is positioned amid the gorgeous Adirondack Mountains of New York and the Green Mountains of Vermont.
There are countless outdoor attractions in Vermont, but this lake's expansive and scenic landscape makes it worth your time. Of note is a massive body of water that stretches all the way from Vermont and New York into Quebec, Canada. There is much to do here, from camping and hiking to boat tours and swimming.
Lake Champlain can become especially crowded during seasonal events and holidays. Busy events have a bulletin posted to keep tourists in the loop about activities that are taking place.
Boat tours are highly suggested if you want to experience the best that Lake Champlain has to offer. You get to cover the entire lake and see the best that nature offers while the waves splash around you. Explore 580 miles of shoreline, the majority of which is untouched and serves as a haven for wildlife.
Over 310 species of birds and 81 species of fish call the lake their home. Rumors have it that a 20-foot 'serpent' called "Champy" – with tourists regularly reporting sightings of the creature.
Regardless of whether you believe the folklore of Lake Champlain, it is the ideal spot for families, couples, and anyone who wants a peaceful, quiet getaway by the shores.
Marsh-Billings-Rockefeller National Historical Park
Situated in a quiet neighborhood of Woodstock, Vermont, the Marsh-Billings-Rockefeller National Historical Park sits upon a 643-acre campus. It preserves and exhibits the best that nature in Vermont has to offer, from mountains and valleys to forests and streams. The park is open throughout the year and is filled with activities, including guided tours and workshops related to nature.
The historical park has several hiking trails, suitable for hikers of every skill set. Hikers will bask in identifying wildlife, forestry, and lakes under the shade of towering sugar maples and 400-year-old hemlock trees.
We suggest visiting the park in the winter for a chance to visit the most famous tourist spots. The mountain slopes are covered with powdery white slopes in the winter and are ideal for skiing, snowshoeing, and tubing.
And while you're at the historical center, don't forget to take a guided tour of the Rockefeller home. It is filled with artwork, gardens, forests, and historical artifacts.
Tour a Maple Farm (any maple farm)
It comes as no surprise that Vermont's state tree is the sugar maple. The leaves turn a blazing red and yellow in the fall, giving Vermont its beautiful glowing foliage. This tree also produces a sap known for making maple sugar and maple syrup. Vermont is the top producer of maple syrup in the nation.
You can take a tour of any one of the hundreds of sugar houses from February through April when commercial activity is at its peak. You can even try free samples of golden syrup with no additives or preservatives added.
Local farmers also throw sugar parties where they serve horse wagons full of fresh cider doughnuts.
The most popular sugar farm is Morse Farm Maple Sugarworks, an 8th-generation family-owned maple syrup farm. You can take guided tours of the entire process, from harvesting the trees to making the actual syrup. Morse Farm also has a theater with videos detailing the farm and family history. A local gift shop has a wide selection of maple products and souvenirs you can take home.
Fairbanks Museum & Planetarium
Interactive exhibits, educational programs, and a state-of-the-art planetarium are just some of the highlights of the Fairbanks Museum & Planetarium. The museum serves as a unique intersection of history, science, and astronomy. It has piqued the curiosity of thousands of curious travelers with unique exhibits and artwork collections. The museum was founded in 1891 and is listed on the National Register of Historic Places.
The more than 175,000 works in the collections are as wide-ranging as they are bewildering. Not surprisingly, particular attention is given to Vermont artists. Some of the artifacts discovered in the region. They may include dolls, toys, and others. Besides these, you can also see taxidermy animals on display.
Unique collections of objects from around the world that celebrate their unique culture are also found here. Fairbanks Museum provides guests with a unique experience of history, contemporary artwork, and astronomy.
Green Mountain National Forest
If you are looking for awesome places to visit in Vermont, make sure to check out Green Mountain National Forest. It covers a whopping 399,000 acres of land and is filled with hikes that offer a challenge to even the most seasoned hiker. Be sure to take advantage of the sweeping views, as some of the scenic landscapes are not visible from anywhere else in Vermont.
The Green Mountain National Forest can be visited throughout the year, with each season offering unique nature experiences. With that said, summer is the ideal time for planning an outdoor getaway. Fall months are perfect for those hoping to see the picturesque foliage and leaves change their colors, And of course, skiing is only possible during the months.
Other popular activities of Green Mountain National Forest include canoeing, kayaking, and hiking. There are many trails that make their way through the first to natural landmarks like cliffs, lakes, and waterfalls. You will get to spot the occasional coyotes, bears, and deer – just make sure to keep a distance!
Moss Glen Falls
This towering 125-foot tall waterfall is a series of drops that fall in quick succession. The waterfall is easy to access by walking through a small trail and is surrounded by breathtaking landscapes. It is located just outside the Historic Village in Stowe and will take around 15 minutes to reach. The hike is easy for everyone, including children and pets.
The unique positioning of giant boulders gives the waterfall its unique streams as the water cascades into the pools. It is not advised to go swimming because of the sharp and jagged rocks found here. Don't forget to bring your camera to capture the scenic views of the waterfall. Many artists have used the captivating beauty of the waterfalls as inspiration for drawings.
Smugglers' Notch Resort
If you are a thrill-seeker, then there's only one way to go, and it's down, down, down. At least it is if you're zip-lining and swinging your way across trees. Get off the beaten path and test the inner adventurer in you as you ride across 4,500 feet of zip lines soaring high above the forest.
Smugglers' Notch also provides convenient family vacation experiences, including zip lining and other adventures. Companies can also book their corporate retreats and foster team spirit by taking part in numerous exercises.
There are plenty of options for both indoor and outdoor activities, including skiing in the summer. You can also sleep in the same spot as bootleggers from the 1920s. Whether you are traveling with children in tow, friends, relatives, or coworkers, Smugglers' Notch provides a convenient getaway for everyone.
Paramount Theater
This old-fashioned theater has been drawing crowds since 1913, making it one of the oldest in Vermont. The architecture mimics the design of Victorian-era opera houses and is complete with plush seats, lavish decorations, and vintage fixtures. It is the kind of place that wealthy people from the 19th century go to.
Notably, the theater shows both new releases and old films across various genres. It also hosts various live shows and educational events that celebrate history, culture, and art.
The Lincoln Family Home
The Lincoln Family Home is a stunning example of Georgian architecture that was the norm in most English-speaking countries between 1714 to 1830. It serves as the family home of President Lincoln's surviving family members. His son, Robert Todd, was the first owner of the estate that was designed by renowned architects Shipley, Coolidge, and Rutan.
Don't worry though, it is no longer occupied by the Lincolns. The family left the premises in 1975 and the mansion is dedicated to tourists. You can take self-guided tours of the 400-acre grounds and explore 13 historic buildings, or get more insights with group tours.
The main attractions of your visit will be a 1903 Pullman car, a solar-powered goat cheese and fairy processing facility, and a dedicated garden. Visitors will appreciate the walking trails sprawling throughout the grounds.
Quechee Vermont
Quechee Vermont is the equivalent of the Grand Canyon. It may not be as big as the Grand Canyon, but it packs a ton of breathtaking views. At a depth of 165 feet, it is located in the deepest gorge in Vermont. The gorge was formed by glacial activity some 13,000 years ago.
Of note is the Ottauquechee River which provides you with exciting water activities including rafting at the bottom. For less adventurous activities, you can take a walk to the Mill Pond Falls for views of a 30-foot waterfall. The local Quechee Gorge Bridge connects White River Junction to Woodstock and spans 285 feet across. It was built in 1911 and is a testament to structural engineering.
Killington Resort
Killington Resort is the de facto destination for skiers and anyone who likes to prowl about in the snow. It is filled with steep slopes winding down from Vermont's second-highest mountain. Killington is referred to by locals as the "Beast of the East" because of a sharp 3050-foot vertical. It is a massive fall, to say the least.
For skiers, the Green Mountains boasts several terrain parks and two half-pipes. There are nearly 155 trails that cater to all skill sets – for beginners to experts. You can also use any one of the 21 lifts to go up the mountains. Some of the trails also have jumps and ramps.
Ben & Jerry's Factory Tour
Ben & Jerry's Factory has a worldwide reputation for its delicious ice creams and frozen yogurts. It was founded in 1978 in Burlington, Vermont, and has occupied an important place in the Green State's history. Visitors can tour the factory to learn more about the iconic ice cream and sample a free scoop.
Besides trying the ice cream, you can also see the production process in action. You can also see a video presentation that details exactly how Ben & Jerry's came to dominate the world of ice cream. After taking a tasty tour of the factory, you can drop by at the Flavor Graveyard to see lesser-known flavors that were discontinued because they didn't make the cut or weren't as popular.
Wrapping Up
There is so much to do in Vermont – from hiking in its Green Mountains, and fully equipped campgrounds for outdoor lovers – that you could spend several vacations here. You will have to return to Vermont to explore every nook and cranny.
We hope our list of attractions in Vermont will help you get the most out of your trip. Send us your comments if you believe that we've missed an important place or attraction in Vermont, and we'll update this space with your suggestions.