Delaware may be a small state but it has much to offer. The vibrant, picturesque state has become a major tourist destination.
The state's appeal mostly comes from its diverse culture, rich history, and sweeping landscapes. Home to everything from sleek theme parks to rugged mountains, Delaware has something for everyone.
The tricky part is narrowing down the places to go during your trip. There is so much to experience in Delaware that you will need some good planning to fit all those experiences into your travel itinerary.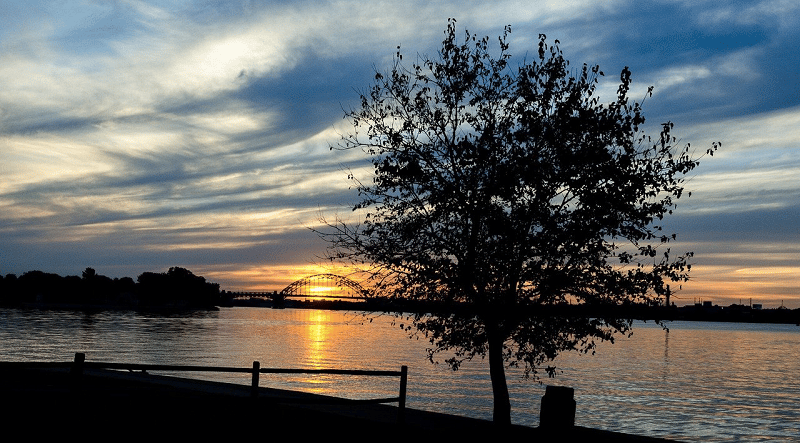 Best Delaware Attractions and Activities
Things To Do in Delaware by City
So grab your calendar as we take you through our list of the best things to do in Delaware!
Air Mobility Command Museum
Aviation buffs and history enthusiasts will have a great time at the Air Mobility Command Museum. The facility contains a wide collection of aircraft and other antique works from WWII. The collection also extends to large cargo transport airplanes used to carry military aircraft from WWII.
Visitors can climb inside the planes and get a first-hand experience of the cockpits. Most of the aircraft are well-preserved so they give you a good perspective of the 1900s. It is strongly suggested to take guided tours so that the eager staff can teach you more about the flights. From pilots who have flown the planes, you can learn about their experiences flying the airplanes.
Finally, there is a flight simulator that lets you fly a virtual plane – it's as close to flying a real plane as you can get.
Rehoboth Beach Boardwalk
Rehoboth Beach Boardwalk is buzzing with fun-filled activities that include restaurants, shops, amusements, and other attractions. You get the luxury of staying close to a public beach and a one-mile boardwalk that provides you with some of the best ocean views in Delaware. The boardwalk is lined with festivals, events, and strolls throughout the year.
Keep in mind that the boardwalk can get very crowded from May through August because of the pleasant and serene waters. When you've had your fill of the beach, you can visit nearby shops, bars, and restaurants to buy souvenirs and delicacies.
Rehoboth Beach is a public beach and is open to everyone free of charge. Make sure to come early and book your parking spots!
Brandywine Creek State Park
Brandywine Creek State Park is among the last remaining wilderness areas in Delaware. It is located just three miles north of Wilmington on 933 acres of windswept landscape. The park has become a popular place for photography because of the dramatic views, so make sure to bring your camera!
Of course, you can take part in all kinds of activities such as hiking, swimming, and fishing. Paddle a kayak for a quiet time out, cycle along the many trails, or go searching for wildlife. The state park has several trails catered toward different difficulty levels.
Fishing enthusiasts will be able to hunt for all kinds of species, including smallmouth bass, crappie, and bluegill. You can bring your fishing rod or buy one at a nearby store. The state park is mostly known for its stunning tulip poplar trees almost 200 years old. You are very likely to spot deer, songbirds, and other exotic wildlife at the state park.
Brandywine Zoo
Say hello to exotic animals at Brandywine Zoo as you come up close and personal with species. The zoo was established in 1905 and is now one of the biggest attractions in Delaware. It sprawls over a tiny 4.7 acres of land but provides you with an action-packed day with a chance to marvel at exciting exhibits and animals that will spark your curiosity.
You will find everything from invertebrates and reptiles to birds and mammals. Brandywine Zoo is home to all kinds of animals. However, some exhibits are dependent on the type of weather and may not be available for viewing. Make sure to check the website for more details on availability because some operations may shut down due to extreme weather. The zoo can get very crowded on certain days, but it will make your day memorable.
Brandywine Zoo is open every day and the fees depend on the season.
Zwaanendael Museum
The Zwaanendael Museum was founded by the Dutch in 1631 and is said to be the first-ever European colony in Delaware. The museum has a storied past and is filled with artifacts dating back several hundreds of years covering maritime, military, and social aspects of history.
Popular exhibits include artifacts from ships and sailors in Delaware and wreckage from the HMS DeBraak, which was lost in 1798. There is also one peculiar artifact that will pique your interest, The Zwaanendael Merman. It is believed that the unique sculpture was made in China in the mid-19th century and is made using an interesting combination of materials such as fish, hair, ivory, glass, dye, and a shrunken monkey head. The merman is part of Second Floor Galleries.
The Delaware Contemporary
The Delaware Contemporary isn't like your typical museum filled with old artifacts. Instead, the attention is geared towards contemporary art. This museum is a popular place for artists to feature their work in technology, art, and design.
There are several exhibits and educational resources to raise more awareness about art. A total of seven galleries and 26 studios can be found at the museum. Entry to the Delaware Contemporary is free; however, it is highly encouraged to give a donation of $10. The museum is open throughout the week except on Mondays.
Prime Hook National Wildlife Refuge
If you're wondering about places in Delaware to 'get away from city life, you'll want to put on your hiking boots and visit the Prime Hook National Wildlife Refuge. Sprawling over 10,000 acres of land with a varied landscape that includes wooded forests, grasslands, and marsh, the wildlife refuge is an important place for wildlife.
Keep an eye out for these animals as you stroll the wildlife refuge. There are various activities to do including fishing, cycling, boating, hiking, and hunting.
There are plenty of designated trails for wandering around. Most of these trails are well maintained and marked based on ease of difficulty. Several trails are less than a mile in length, while others cover several miles and may take a few hours to cover. The trails will provide you with stunning vistas of timeless beaches and ancient buildings dating back centuries.
Make sure to stop by at the local visitor center if you have a child for events catered toward children such as archery lessons and puppet shows.
Don't forget to bring your camera to take amazing pictures of the scenery. Prime Hook National Wildlife Refuge doesn't get crowded and provides you with a quiet time to explore nature at its finest. If you want to get away from city life, then this is the place to be. This is why it is called a refuge.
Fenwick Island State Park
Fenwick Island State Park is tucked between South Bethany and Ocean City and is open throughout the year to visitors. It sits over 344 acres of land and is the ideal spot for sun-seekers. Its warm waters and sandy beaches provide visitors with an excellent place to unwind and enjoy the views of the ocean.
The best part is that the park has lifeguards on duty to make sure no accidents happen! You can rent water crafts from nearby stores to start your voyage on the ocean.
The ocean beaches of Fenwick Island are a prime spot for fishing. Note that you will need a fishing license when fishing in tidal waters.
A popular activity at Fenwick Island is to look for crabs at night with a flashlight. Make sure to check the park's program list for more details on crab hunting!
The bottom line is that Fenwick Island State is the perfect place for family friendly amenities and scenic trails.
Dover International Speedway
There's nothing more adrenaline-inducing than watching fast cars duel it out on the raceway. The Dover International Speedway is one of the largest racing locations in Delaware and hosts NASCAR races throughout the year. The racetrack is only one mile long but offers a grueling challenge to drivers, which is why it is nicknamed the "Monster Mile".
It is an excellent place to visit with your family or by yourself. The speedway has a seating capacity of up to 85,000. Make sure to book your tickets early before they get sold out.
Don't want to watch the races? You can also camp at any one of the campgrounds or RV lots available for rent at Dover International Speedway. The campgrounds are equipped with electric hookups and water.
Nemours Mansion and Gardens
You can be forgiven for not hearing about the Nemours Mansion and Gardens.
It is the largest formal French garden in North America, complete with a massive 105-room mansion. The Nemours Estate comprises 200 acres of land and was built to resemble a French chateau.
The main attraction are the gardens which are a sight to behold. You can explore them on self-guided tours at your own pace or hire staff members to provide you with more details about the estate's history and story. They will be more than happy to answer your questions if you are keen to learn more.
Jonathan's Landing Golf Club
Golf continues to be a popular outdoor activity even though Delaware gets very hot in the summer days. Jonathan's Landing Golf Club is known for providing golfers with natural environments, well-maintained gardens, and fairways.
The club comprises two properties, three championship golf courses, and programs for both competitive and recreational players. There is also a state of the art tennis and fitness center where you can practice. There are several dining venues to try out the local cuisine and endless social events.
Just make sure to book your space in advance if you want to play because the club can get crowded during peak season.
Spence's Bazaar
Rumors have it that Spence's Bazaar is the oldest market in Delaware – the place has been around for over 85 years now! It is popular among the flea market crowd and is believed to be orders of magnitude better than the competition.
Most items for sale come from local artisans and Amish farmers with an emphasis on collectibles and vintage items. There are both indoor and outdoor retailers that provide a place for hundreds of vendors to sell everything from jewelry and vintage clothing to baked goods and cheese.
It is easy to spend several hours on-site because of the sheer variety of souvenirs you can buy. This massive flea market is open Tuesdays and Fridays with an indoor and outdoor market on Saturdays.
Delaware Seashore State Park
Located at the cross section of the Atlantic Ocean, Rehoboth Bay, and the Delaware River is the popular Delaware Seashore State Park. South of Delaware is full of Atlantic coast beaches. These beaches are less developed compared to the ones found in Maryland. But that's a good thing for nature buffs because you can explore the outdoors in all its glory.
Delaware Seashore State Park has been open for visits since the 1960s. The place is mostly popular among surfers, fishers, and anyone who likes to spend time near the waters. Despite its rugged remoteness, there are several places for dining and lodging to rest your legs.
Killens Pond State Park
Killens Pond State Park is the perfect spot to plan your very own adventure, whether it's kayaking, trekking, sunbathing, or exploring the wilderness. The pond comprises nearly 70 acres of land and offers visitors with a wide range of outdoor activities including swimming, canoeing, and fishing.
There are several fully equipped campgrounds that are open throughout the year. You can also visit an interactive nature center that's very popular among tourists with curious children. The state park has its own water park called the Killens Pond Waterpark featuring four speed slides and a leisure lot.
Make sure to bring your children to the waterpark where they can relax and rejuvenate.
Delaware Museum of Natural History
Delaware Museum of Natural History is a unique museum that lets you explore nature like you've never done before. It is the only museum with a complete collection of dinosaur fossils in Delaware and a massive collection of birds' eggs. There is a model of a giant squid at the entrance that will mesmerize viewers.
The museum was founded in 1975 to raise more awareness among people about nature and preservation. Over 75,000 visitors and tourists come to the museum every year to experience the unique exhibits.
The museum has dedicated a special exhibit called "Nature Nook" with hands-on science activities geared towards children.
Wilmington and Western Railroad
The iconic Willmington and Western Railroad has played an important role in developing the economy of Delaware for over a century before being turned into a tourist destination in the 20th century. The railroad terminal now offers a great way for tourists to experience the city in a unique way.
Take part in train tours where you will be briefed by knowledgeable guides who will tell you about the state's storied history. The tours are the perfect way to traverse important historical places of Delaware that you may have otherwise missed.
Lums Pond State Park
The Lums Pond State Park is located in poplar and oak woodlands that surround the largest freshwater mill pond in Delaware. The pond provides visitors with an opportunity to engage in various outdoor activities. Whether you are traveling alone or with a family, you will never run out of things to do in this sprawling 1790-acre state park. Rent a boat if you want to explore the water or go camping to become closer to nature. There are several trails available to cover on foot, cycle, and even horseback.
Cape Henlopen State Park
Cape Henlopen State Park is located near Delaware Bay and boasts over 6 miles of coastline. The state park gives visitors the chance to escape into the nature and a wide assortment of activities such as sunbathing and swimming.
You will also find many trails geared towards bikers and hikers, including a three mile trail that winds around the park. Helpful placards are located at strategic areas of the park to provide hikers with information. Try playing at any one of the basketball courts or the disc golf course if you are feeling competitive.
Wrapping Up
These were just a few of the most fun activities to do in Delaware. The state may be small in size, but it is packed with unique attractions and cool things to do that you'll wish your vacation was longer. Hopefully, our list will help you make the most out of your trip to Delaware.
Share your comments with us if you feel that we missed an important tourist destination or activity and we might update this list with more information!