West Virginia, also known as the Mountain State, has diverse landscapes and cultures, offering adventures to thrill-seekers, families, and everyone else. It is widely known for its rolling mountains that run the gamut of outdoor activities.
The state is also popular among history buffs because of its storied history, its role in the Civil War, and artwork. West Virginia has many parks that are home to natural caves, impressive springs, and other unique attractions thanks to its geography. Discover some of the best attractions in our list of things to do in West Virginia.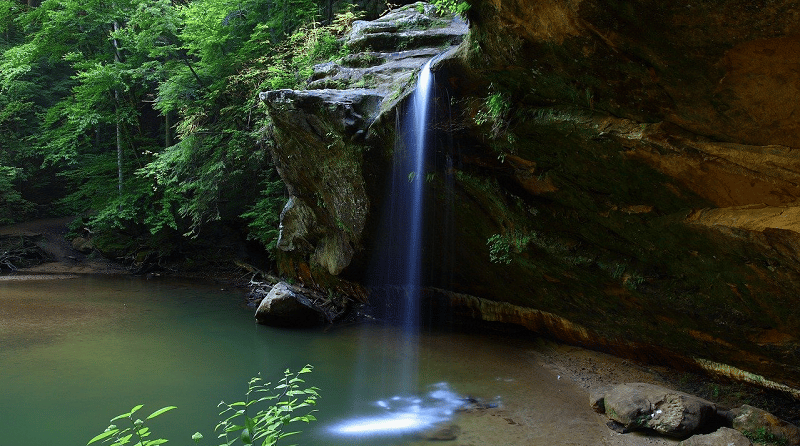 Best West Virginia Attractions and Activities
Things To Do in West Virginia by City
New River Gorge National Park
Spanning nearly 70,000 acres, it would be an understatement to say that New River Gorge National Park is massive. The park is one of the most popular vacation spots in West Virginia boasting campgrounds, restaurants, lodges, and all kinds of outdoor activities.
You can take your time doing all kinds of things, such as hiking, horseback riding, water rafting, fishing, biking, and more. Besides its outdoor activities, New River Gorge National Park plays host to several events that occur throughout the year. Just keep an eye out for events you are interested in and the time your vacation just right.
The park is of particular interest to birders, who come seeking species like the Blue-winged Warbler or Scarlet Tanager. Families will also enjoy rock climbing, hikes, and other activities. The park permits fishing with a license and welcomes visitors throughout the year.
While you're in the park, you can visit the New River Gorge Bridge, an impressive steel arch bridge spanning 3,030 feet across and offering panoramic views of the park. Don't forget to bring your camera!
Blackwater Falls State Park
Blackwater Falls State Park is 2,358 acres big and is located near the picturesque Allegheny Mountains of Tucker Country. The park gets its name from its amber waters that got their color because of the tannic acid from red spruce needles and fallen hemlock.
The park offers nearly 20 miles of hiking trails packed with excitement at every corner. You can also consider camping, fishing, bicycling, or taking a scenic drive. If you're looking for more adventure, you can conquer challenging crags or go river rafting. You can certified guides who will teach you the skills needed to scale the Allegheny Mountains.
You can rest your legs at the nearby lodges and inns that offer scenic views of the densely forested park. A popular place to visit in the park is Lindy Point because it offers beautiful views of the park. You might also consider bird watching, hiking, and walking the nearly 0.8 mile trail. It takes only 18 minutes to complete and will be the highlight of your trip. Check out the breathtaking Elakala Falls that descends into the Blackwater Canyon.
Another focal point for visitors is Pendleton Falls, a gentle waterfall that is the result of a Pendleton Run descending into the Blackwater Gorge.
So if you're at odds about what to do in West Virginia, a visit to Blackwater Falls State Park will offer plenty of recreational opportunities.
Beckley Exhibition Coal Mine and Youth Museum
The Beckley Exhibition Coal Mine and Youth Museum is fittingly located at the New River Park in Beckley. It was a historical coal mine that operated as a drift mine from 1889 onwards and is now turned into a tourist destination. The interactive tour will give you a glimpse into the lives of the average coal miner as they toiled in grueling conditions to make a living.
Visiting the dark coal mine offers a sobering reminder of the harsh life of coal miners. Another bonus point is that the tours are often guided by real coal miners who used to work these mines. They share their perspectives and experiences as miners.
The mine is open every day from 10 AM to 5 PM. Just check the official website before visiting to confirm that they are offering tours.
Your ticket to the coal mine also includes a visit to the Youth Museum, specially designed for children. The interactive museum offers interesting exhibits for children, such as the Appalachian frontier, replicas of historical buildings, and the solar system that your little ones will love to learn about.
The knowledgeable staff is more than happy to teach you more about the exhibits in an engaging way. Finally, there is a gift store that you can visit to buy souvenirs and other novelties to help you remember the trip.
Monongahela National Forest
The Monongahela National Forest has nearly 921,000 acres of land and was first established in 1920 to protect navigable streams. The forest has interesting geographical features with varying rolling hills, cascading waterfalls, and towering mountains. It is no surprise that the forest is home to one of the most ecologically diverse areas in the country.
The diverse terrain supports nearly 225 different bird species, 70 fish species, and 75 species of trees.
The park is a safe haven for climbing enthusiasts because nearly 100,000 acres of the land is dedicated to rock climbing. This part of the park is known as Spruce Knob-Seneca Rocks National Recreation Area and attracts rock climbers from around the world. Local experts offer several rock climbing operations.
The Seneca Rocks Discovery Center, located at the base of Seneca Rocks, offers stunning views of the land and has indoor rock climbing walls for beginners. The center is a great place to learn more about the area.
Beginners are encouraged to get in touch with Seneca Rocks CLimbing School to learn more about rock climbing. Monongahela National Forest offers exceptional rock climbing experiences that visitors may not find elsewhere.
Smoke Hole Caverns
Smoke Hole Caverns is a majestic show cave located near Smoke Hole Canyon. Legend has it that moonshiners used the cave during the prohibition. Today, Smoke Hole is a family-run business owned by Jerry and Janet Hedrick. A fascinating attraction in the cave is an unusual stalactite known as "The World's Largest Ribbon Stalactite".
The cavern has a range of unusual helictites and even has a crystal cave coral pool – one of only two in the world. It is worth noting that the cavern has been heavily changed to make it more tourist-friendly, resulting in extensive damage to the natural rock formations of the cave.
The Greenbrier
The Greenbrier is a National Historic Landmark spanning over 6,500 acres of land on the Allegheny Mountain. It has a long standing reputation as a grand and luxurious resort with an influential place in history. The hotel is frequently toured by presidents, royalty, and foreign dignitaries.
People of note who have stayed here include Prince Rainier and Princess Grace of Monaco. Interestingly, the hotel has a dark past and was used as a detention center for German and Japanese diplomats when World War II was declared. The hospital was later used as a hospital for nearly 25,000 patients.
An underground shelter was built to protect the entirety of the US Congress from nuclear attacks. The shelter has now been decommissioned and is open to the public for tourism.
Besides tourism and accommodation, the Greenbrier also provides over 50 different activities, including horseback riding, golf course, and tennis. Golf enthusiasts would be interested to learn that the Greenbrier was – and still – used as a venue for championships.
Nearby campsites and cabins offer a place to stay for tourists who need a break from all the swimming, fishing, biking, and hiking. Winters are a great time for skiing because the 78-mile-long Greenbrier River Trail is used for cross country skiing. Finally, the Greenbrier is the ideal spot for couples because of its Legacy Cottages – which look like they were pulled out of a romance movie.
Carnegie Hall
Carnegie Hall is a must-visit for art enthusiasts because the historical venue plays host to a wide range of musical, dance, and theatrical performances. Events and live performances take place in Carnegie Hall throughout the year.
Carnegie Hall is also reputed for its collection of art and history exhibits. The galleries feature work from local and international artists.
Visitors will get to enjoy walls packed with signed photos and complex carvings. The hall itself is a work of art due and is known for its Renaissance Revival architecture. History buffs should visit the Rose Museum to learn more about the history of Carnegie Hall.
Ticket prices for the live performances tend to vary – so do make sure to check the official website for more details. The hall has its own cafe with delicious food and drinks that will end your day on a goodnote. Don't forget to drop by at the local gift shop for souvenirs.
Lost World Caverns
Located 120 feet under the earth's surface is the Lost World Caverns. It is recognized for breathtakingly unique rock formations that attract thousands of tourists every year. Visitors can explore the formations in self-guided tours or hire guides to learn more about the magnificent formations.
Most self-guided tours take only 45 minutes to explore. Interestingly, the cave served as a vertical drop that farmers used to discard dead livestock and other trash. The cave was opened for tourism in the 1970s when a proper entrance was dug out and all the trash was removed.
Keep an eye out for the "Bridal Veil" – a beautiful column of white calcite that will pique your curiosity. Visitors can also take part in gemstone mining to enjoy the thrill of finding semi-precious gemstones, minerals, and other precious stones.
Interested visitors can also visit the natural history museum to learn about the cave dweller who once used to call this place home. End your trip on a high note by visiting a large picnic area where you can bring your own lunch against the backdrop of a scenic landscape.
The cave is open every day for tourism, except on major holidays such as Thanksgiving, New Year's Day, and Christmas Eve.
West Virginia Botanic Garden
West Virginia Botanical Garden is a popular botanical garden in the country. Beautifully laid out over 85 acres, these gardens should be on the top of your list of things to do while in West Virginia. Located on the scenic Tibbs Run Preserve, the gardens are easily accessible on foot and by car.
The botanic garden serves as an oasis of color amid the hustle and bustle of Morgantown. You can take a stroll through the various flowering plants and gardens or rush for the nearest attractions.
The fairy garden pays homage to folklore, complete with a leprechaun and a fairy house. The garden is particularly vibrant when the flowers burst into bloom in the summer months. Watching all the flowers bloom in their unique ways is a sight to behold. Large manicured lawns fill the spaces between the gardens and serve as the ideal place to sit and enjoy coffee or have a picnic with loved ones.
Heritage Farm Museum and Village
Heritage Farm Museum and Village is located in Ohio River Valley and pays tribute to the rich history of Appalachia and West Virginia's culture. The museum contains over 15 log buildings, five of which are dedicated to providing unique accommodations inspired by the local culture – including a train caboose.
Visitors can check out the log church, homestead site, petting zoo, blacksmith shop, and a machine discovery zone. You can take part in guided and self-guided tours to learn more about the museum.
Seven interestingly themed museums serve as timestamps of the history of Appalachia. Finally, you can plan group tours, parties, and other activities. Just make sure to check in with the friendly staff in advance.
Harpers Ferry
Take a step back in time by visiting Harpers Ferry, a small town that sits along a stretch of water where the Potomac and Shenandoah Rivers meet. There is much to do at Harpers Ferry – whether you like to explore art and history or explore the great outdoors.
You could learn more about art and history by visiting local museums and exhibits. There are historic battlefields that provide insight into the wars that shaped the culture of modern-day West Virginia.
Outdoor activities include hiking, rock climbing, and camping. The trails range from easy to difficult for all fitness levels. Don't forget to check out the stunning historical sites such as the John Brown's Fort, an armory used during the Civil War, and Jefferson Rock, a church that was built in the 1800s. With so many things to do in one place, you owe it to yourself to check out Harpers Ferry.
West Virginia Penitentiary
This ghastly prison provides an insight into the harsh justice system with an astonishing history. It was built in 1876 and housed some of the toughest criminals. West Virginia Penitentiary is known for widespread prison riots, gang violence, organized crime, a trail of dead bodies, and, of course, electrocutions.
Over a hundred prisoners were executed on the premises – which led to rumors of hauntings and ghost sightings. West Virginia Penitentiary was meant to intimidate the onlooker with its gothic-inspired architecture and adornments of turrets.
Visitors can take themed tours of the penitentiary that are open to the public throughout the year. Visitors can also take part in a 90-minute tour to learn everything about the lore, art, and history of the criminal justice system in the country.
Mystery Mondays are more popular because they offer more action-oriented tours of the penitentiary where tourists can participate in climbing competitions. Other interesting attractions include games such as ghost hunts, escape from the prison, and night tours – geared toward horror.
Lake Shawnee Amusement Park
If you're looking for something more… unconventional, then head onto Lake Shawnee Amusement Park. The place has a reputation for hauntings and paranormal sightings. Rumors have it that the park served as a burial ground for Native Americans and was the site of numerous violent deaths and freak accidents.
Most visitors to the amusement park are ghost hunters and paranormal experts. It was even featured on ABC as one of the most haunted places in the world. Visitors have reported strange footsteps and sounds of children. One visitor complained that they are locked in a ticket booth – even though the doors don't lock.
So are all of these rumors true? Find out for yourself as you take creepy tours of the amusement park. It is best visited at night.
Wrapping Up
So there you have it, these were just some of the attractions and things to do in West Virginia. It would take several trips to explore all these features, so mark your favorite ones on your travel itinerary now.
Let us know if we missed a destination worth visiting, and we may update this space with more information!