The Best North Dakota Attractions – Things To Do
With an unspoiled countryside and massive unaltered natural spaces, North Dakota has enticed explorers and adventurers for decades. The rugged state is rich in natural scenery and unrivaled mountain views that could take anyone's breath away.
More than the total of its lush forests, towering mountains, and pristine wilderness, the state maintains its connection with its wild past. It is dotted with luxury mansions from a bygone era and remnants from the Wild West, making it ideal for historians to explore.
Best North Dakota Attractions and Activities
Things To Do in North Dakota by City
If the above sounds like your ideal getaway, here is a list of things to do in North Dakota for the perfect vacation.
Theodore Roosevelt National Park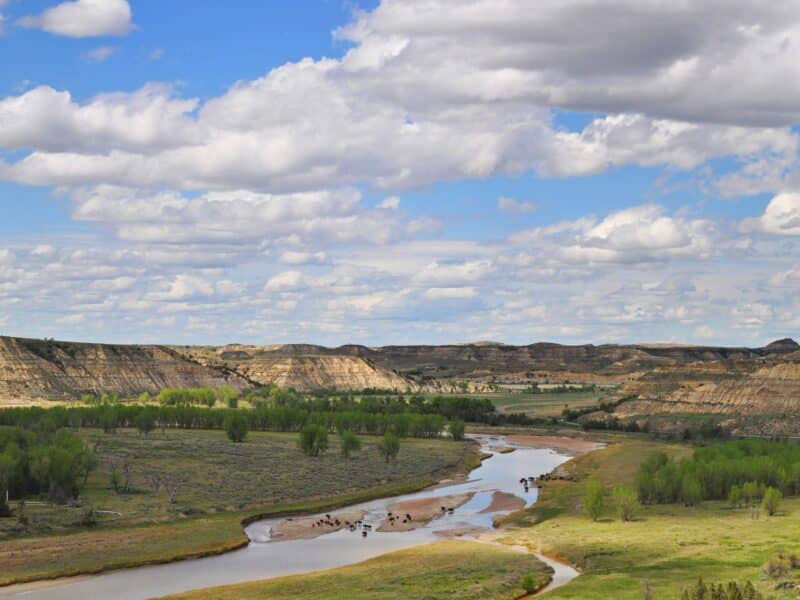 North Dakota is home to remarkable national parks comprising thousands of acres. One of the most popular is Theodore Roosevelt National Park, which covers a whopping 70,000 acres across three park units. This sprawling, wide-open space provides visitors with the definitive North Dakota experience, and no visit to the state is complete without hiking through these scenic lands.
The wilderness unit of the park, comprising nearly 30,000 acres, encompasses jaw-dropping landscapes with stunning lakes, towering buttes covered in trees, and petrified forests.
While you're here, make sure to keep an eye out for wild horses (just make sure to keep your distance). You can make your way to the Coal Vein Trail in the South Unit to see even more of these animals.
Then make a pit stop at the Cannonball Concretion Pullout to look at otherworldly rock formations. The namesake pullout is located in the North Unit of the park and is filled with bizarre spherical objects with a reddish-brown hue. Experts believe that these boulders were formed within sedimentary rocks such as sandstone.
You really can't go wrong by spending your vacation in any of the three units in the national park with hundreds of miles of hiking trails. Some of the most iconic hiking routes include the Boicourt Overlook Trail South Unit, Buck Hill South Unit, and Little Mo Trail North Unit.
It is common for visitors to camp at the park with plenty of space for RVs. The good news is that the park has free campgrounds for visitors.
The Bison Monument in Frontier Village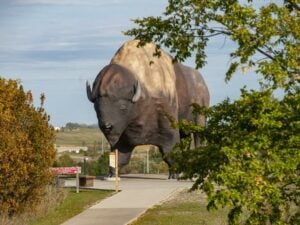 The Bison Monument, said to be the largest in the world, stands at a height of 26 feet tall and weighing in at 60 tons. Construction of the imposing sculpture was finished in 1959 and has enthralled visitors for decades.
The monument was designed by Elmer Peterson, who also worked on the metal eagle sculpture in Jamestown and the bronze statue Anne Carlsen Center. It didn't take long for the bison monument to become one of the most popular tourist attractions in the Midwest.
You might also find actual bison grazing near the monument. Keep your eyes peeled for the rare albino bison. For more information about these magnificent creatures, you can make your way to the National Buffalo Museum nearby.
Other interesting sights to explore in the village include pioneer buildings including a drugstore, jailhouse, schoolhouse, church, and more. Once you've had your fill of everything related to bison, make your way to a nearby gift shop to buy handmade souvenirs to support local artisans.
North Dakota Heritage Center

Located in Bismarck, the North Dakota Heritage Center is a major point of interest in the Midwest states. As its name suggests, it is dedicated to preserving the history of North Dakota, dating back to ancient civilizations several millennia ago to modern times. The center strives to provide an informative yet entertaining experience and offers everything from informative videos and artifacts to tell the story of North Dakota.
The museum itself is very large and is divided into four galleries based on different themes and subjects. You can take a self-guided tour of the thousands of exhibits that line the halls, or you can sign up for a guided tour to learn more from an expert guide.
Some of the most popular exhibits include the skeleton of a Tyrannosaurus Rex and a scale model of the Hubble Space Telescope. Visitors may also want to see the Northern Lights Atrium. The structure's unique glass architecture creates spectacular displays at night.
Finally, you can visit the onsite cafe for refreshments and souvenirs.
Scandinavian Heritage Park
History buffs will want to visit this ancient outdoor museum to learn about the history of the five Nordic civilizations: Iceland, Norway, Sweden, Finland, and Denmark. The heritage park is home to a log house from Norway built over 240 years ago.
It is recommended to tour the Scandinavian Heritage Center for a more insightful experience. Furthermore, the park has access to a tourist information center and a gift shop with a wide range of Scandinavian-inspired souvenirs and gifts.
Major attractions at the park include a 25-foot sculpture of a horse known as the Swedish Dala, a replica of the Scandinavian Stave Church, and a grass-roofed storehouse from Norvegia (known as a stabbur).
Roger Maris Museum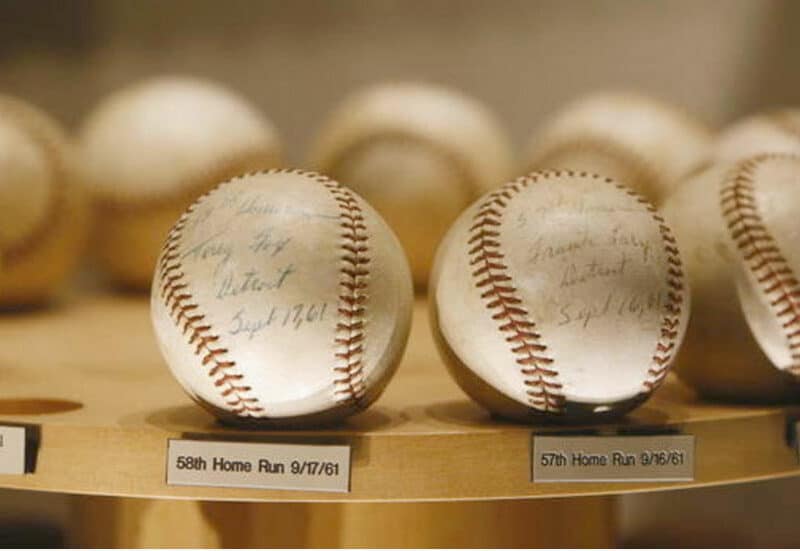 The sports culture of North Dakota is worth exploring by visiting the Roger Maris Museum. It is a museum built to honor Roger Maris and contains all kinds of memorabilia related to one of baseball's greatest players.
For the uninitiated, Roger Maris played for the New York Yankees as a former outfielder, hailing from Fargo, North Dakota. He was the first baseball player ever to hit a record 61 home runs in 1961, beating the previous record held by Babe Ruth of 60 home runs in 1927. This museum takes an in-depth look into his exciting career and his endless list of achievements.
The best part about the museum is that it is located within the West Acres Mall that is open throughout the week. This provides abundant opportunities for shopping to visitors once they have completed a tour of the museum. Don't forget to purchase souvenirs at the nearby gift shop to take home to your loved ones.
Red River Zoo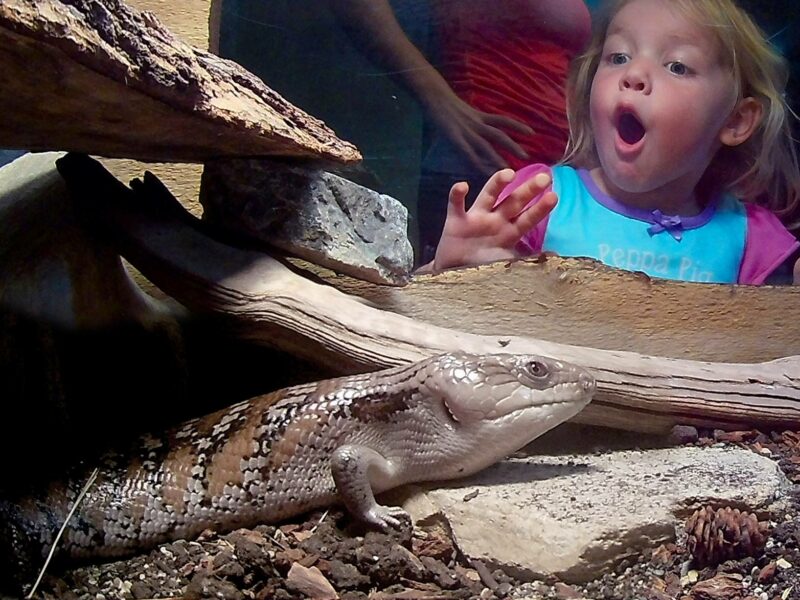 With over 600 animals in their natural habitats, the Red River Zoo is one of the most popular zoos in North Dakota. It was opened in 1999 and continues to add new animals to its list. The facility is spread over 22 acres of land and has acquired many conservation accolades.
The zoo's primary purpose is to spread awareness about exotic wildlife species native to the local area. You will find animals like the grey wolf, swift fox, bactrian camel, pallas cat, and the North American river otter.
The zoo also provides up close and personal encounters with docile animals such as red pandas and baby camels. Other facilities to visit include centers dedicated to birds, fish, reptiles, and amphibians.
Fargo Air Museum
Aviation enthusiasts might want to prioritize a visit to the Fargo Air Museum known for its unique collection of aircraft. The non-profit museum is located at Hector International Airport in Fargo and has been open to visitors since July 2001. This sprawling 150-foot by 150-foot facility is decorated with two colorful hangars featuring aircraft from around the world.
Most of the aircrafts are skyworthy and some of them are used to entertain visitors on the runway outside. The primary purpose of the museum is to educate tourists about the aviation industry and generate more interest. Visitors may also want to check out the massive aviation library to find rare books on aircraft and aviation.
An onsite gift shop lets you purchase all kinds of memorabilia to take home. Note that the museum is open from Tuesday to Sunday for free. Children under five qualify for free admission. Military vets can receive discounted tickets.
The North Dakota State Capitol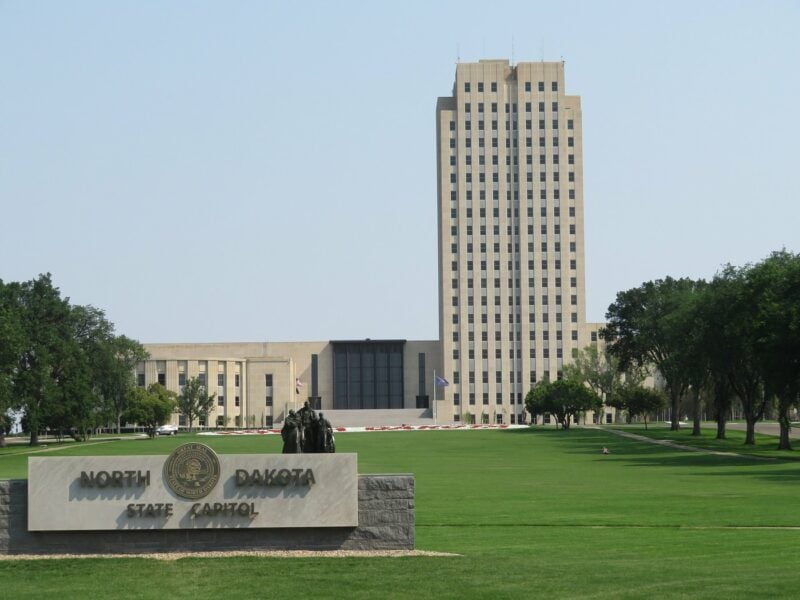 The State Capitol of North Dakota is where laws are created, debated, and approved. Even if you're not interested in politics, the State Capitol warrants a visit if you want to learn more about the legislative process.
The towering 18-story building features the Art Deco style that was popular in the 1930s during the Great Depression. It features an iconic tower at one end that should provide plenty of photoshoot opportunities. The building replaces the original State Capitol that caught fire and was completely destroyed in 1930.
It is recommended to visit the observation deck on the 18th floor of the State Capitol building for sweeping views of the city. The building also features elevator doors crafted in cast bronze. The doors mainly depict the history of the Dakotas and stay true to the culture of the Wild West. It features sculptures depicting cowboys, Native Americans engaged in battle, explorers, a miner, and a farming family.
You can choose to explore the building on your own or hire a guided tour for more educational insights about the public building.
West Acres Shopping Center
The West Acres Shopping Center stands among North Dakota's top shopping centers and is home to over 100 stores. From major international stores to local mom-n-pop boutiques, you can find just about everything in the world here at your disposal.
If you're not in the mood for retail shopping, you can visit the place for its ambiance alone. Once you get tired of all that, you could head to the sprawling 750-seat food court for a quick meal. There are a variety of cafes that serve all kinds of food, from bakeries and gelato stores to vegan cafes and organic restaurants.
The shopping center is open throughout the day, but some shops may close around 8 PM.
Dakota Zoo
Dakota Zoo is one of the best tourist attractions in Bismarck, North Dakota. The zoo first opened its doors in 1961 and has continued to grow over the years. It has a modest 90-acre zoo where it houses over 600 animals. You will find all of the usual suspects at the facility, including tigers, alligators, tortoises, and even arctic foxes.
A major attraction at the zoo is a Big Cat Complex featuring safe tunnels that allow you to get very close these exotic animals.
The zoo's main purpose is to educate and inform visitors about conservation efforts. It allows interaction with select animals and also plays host to a wide range of events that will spice up your visit. Note that the zoo is mostly open in the months of April through September, and only open to visitors on Saturdays and Sundays throughout the remaining months.
Fort Mandan Overlook State Historic Site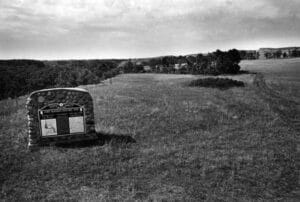 Fort Mandan is a time capsule that gives you a brief glimpse into what life was like over 200 years ago. It features fully furnished quarters that depict the history of the brave men who camped at the fort.
The fort was built by Lewis and Clark because they needed a base camp for winter. It was here that they were introduced to their famous guide, Sacagawea and interviewed several tribal people. Although the original fort has been devastated by a river, archaeologists and historians have recreated parts of the fort for explorers to learn about the history of North Dakota.
The site includes various exhibitions that will pique your interest, including coal combustion products, the Fort Mandan Visitor Center, and a play area with an outdoor Kiwanis playground. An imposing steel sculpture of Lewis' dog greets the onlooker. It is said that the dog refused to eat food and died of grief after the death of his owner.
Besides sightseeing, there are plenty of walking trails, ski trails, and picnic areas to spend your time.
Maah Daah Hey Trail
The Maah Daah Hey Trail is one of the best hiking trails in North Dakota as it provides sweeping views of the state's raw rugged beauty. It connects the northern and southern areas of the Theodore Roosevelt National Park and is spread out over 100 miles.
The sprawling trail system offers a unique opportunity for hikers and backpackers. The abundant hiking trails allow you to stumble upon hidden landscapes and cross paths with numerous wildlife habitats including coyotes, deer, bison, and bighorn sheep. The scenery along the way includes inspiring views of the gorgeous prairie and the rocky Badlands.
Some of the trails are well-marked and well-traveled, and the view of the prairies encourages hikers to take their time with their visit.
You can cover the trails on foot, bike, or horseback ride. Visitors tend to camp at the trail after completing their hike. It can take several hours – and even days – to fully cover the trails. The best option is to collaborate with another hiking party along the trail.
International Peace Garden
The International Peace Garden holds a special place in North America as it is nestled across the borders of Canada and the United States of America. It was created over 80 years ago in 1939 and allows visitors to camp, hike, bike, and spot wildlife from a safe distance.
Thousands of tourists visit this iconic garden that encompasses 2,300 acres of flowers, waterfalls, and freshwater lakes. The garden also provides access to camping facilities for anyone who wants to plan an overnight stay.
There are facilities for hosting conventions, reunions, and weddings.
The stunning Formal Garden is a major highlight of your visit to the facility. It has a collection of over 155,000 flowers located on walkways and terraces. Meanwhile, the soothing sound of flowing waters can be heard throughout the garden.
The garden is open throughout the year and features a gift center where visitors can buy all kinds of souvenirs to take home.
Lake Sakakawea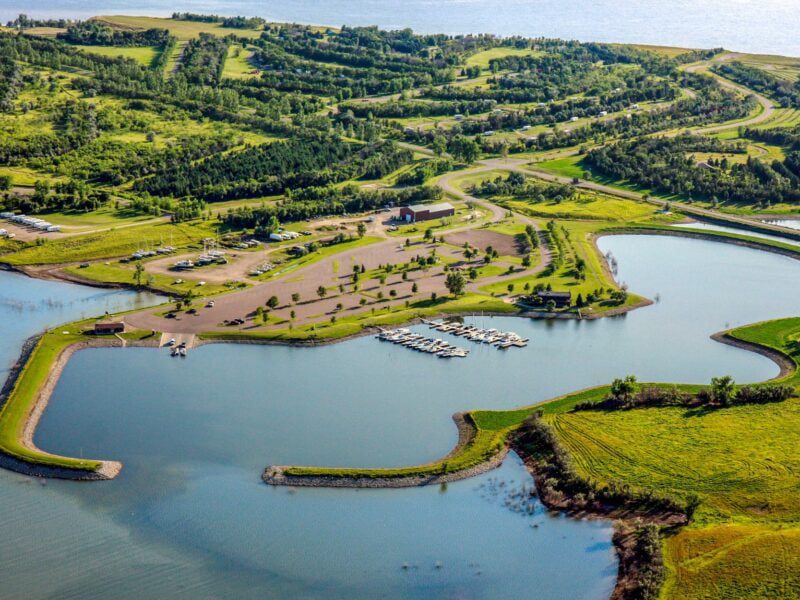 Did you know that Lake Sakakawea has more miles of coastline than all of California? The lake is known for some of the best swimming spots in North Dakota that will make your vacation complete.
Stretching nearly 200 miles long, Lake Sakakawea is the third largest manmade lake in the country. It is named after Sacagawea, a Shoshone explorer who helped Lewis and Clark complete their chartered mission objectives
You can find two state parks very close to the shore of the lake. These are Lake Sakakawea State Park and Fort Stevenson on the western banks of the lake. Both offer fully equipped campgrounds with access to water and other facilities such as boat rentals.
Popular activities at the lake include motor boating, kayaking, and sailing. Furthermore, the lake offers year-round fishing opportunities. Hiking is also very popular at the lake.
Wrapping Up
So there you have it, these are just a few of the best places to visit in North Dakota.
The state has an abundance of natural outdoor attractions with plenty of activities to do such as rock climbing, hiking, and swimming.
Whether you are interested in outdoor adventure, culture, history, or just want to grab a bite to eat, there is a little something for everything in North Dakota. There is so much to do in one of the most scenic states in the country that your trip is bound to be a memorable one. Even if you only have time to visit a few of the places recommended above, you won't leave disappointed.
Safe travels!