The Best New Hampshire Attractions – Things To Do
There are very few locations on the planet as iconic and geographically diverse as New Hampshire. When you think of New Hampshire, images of waves crashing against a rocky shoreline, tall pine trees, and giant lighthouses immediately come to mind.
The miles and miles of forest woods are filled with white deer that hold their own mysterious aura as they evade predators and leave their mark on nature. A unique thing about New Hampshire is that it never disappoints tourists who arrive at the state with these picturesque goals in mind. Tall pine trees crown various agricultural lands throughout the private estate. And littered between them are dozens of forests with an endless variety of wildlife, including deer.
Best New Hampshire Attractions and Activities
Things To Do in New Hampshire by City
But there's more to New Hampshire than just nature – and between its educational museums, arts and crafts, historic attractions, and beautiful gardens, you will have endless choices when it comes to things to do in New Hampshire. Discover the best places to visit in New Hampshire using our list of top attractions as your guide.
Mt. Washington Cog Railway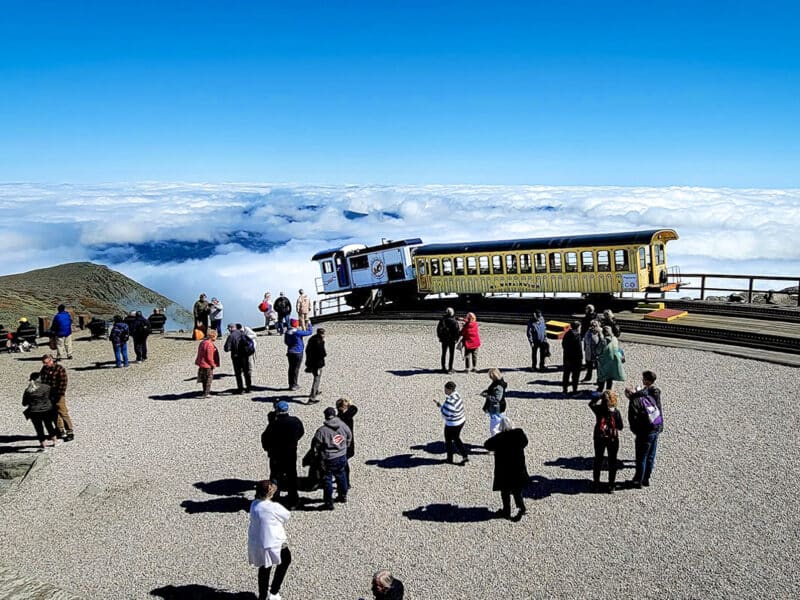 Mount Washington is spread out across four states and offers some of the most breathtaking sights – if you can reach its summit at a height of 6,000 feet. There are several ways of crossing this off your bucket list. The easiest is to take a ride on the steep Cog Railway that was founded in 1869 and has carried countless tourists to the top.
The scenic train ride is open from May through October, but you'll have to act fast because ticket sells out really fast. Once you reach the summit, you'll be treated to sweeping views of the surrounding vistas.
You will also find a number of modern buildings, a cafeteria, restrooms, gift shops, and more. But your go-to location would be the Sherman Adams Visitors Center which is home to a small museum packed with unique artifacts.
A fair word of warning though: it can get windy here so make sure to clutch on to your goods tight!
The Flume Gorge
The Flume is a natural chasm found some 800 feet from the base of Mount Liberty. Its walls tower over 80 feet and are separated by 12 to 20 feet.
The Flume Gorge was formed some 200 million years ago when molten rock cooled under the surface of the earth. The erosion exposed the rock and formed sharp cracks, allowing water to force its way into the cracks and form ice. This laid the groundwork for the 20-foot natural chasm that has been carved into the solid granite of the mountain.
Getting to the Flume Gorge will require you to go on a 1.5-hour hike. The walk includes a lot of walking uphill and stairs – so make sure to bring your water bottles with you because this will be a test of your physical fitness. It can get crowded in the afternoon, so make sure to plan accordingly.
Fun fact: Tourists used to visit the Franconia Notch from as early as 1938 via the first-ever aerial tramway in North America. The aerial trip may even let you see the Presidential Range and other mountains across New York, Vermont, and even Canada if the weather permits.
Cannon Mountain
Your visit to New Hampshire is not complete without heading over to Cannon Mountains. There are plenty of outdoor activities to do here regardless of the time of the year, including rock climbing and skiing. This mountain is about 4,000 feet high and forms part of the stunning New Hampshire White Mountains.
Visitors should check out the dozens of ski resorts, including the Cannon Mountain Ski Resort for an amazing skiing experience. There are ski trails available for individuals with all skill sets including beginners, intermediary, and advanced skiing skills. Make sure to try the easy ski trails if you are just getting started.
Profile Lake
If you can't get enough of the outdoors, then head over to Profile Lake in Franconia. It is located near the White Mountains and is one of the most peaceful getaways you can plan in New Hampshire. The best time to visit Profile Lake is in the summer. It is situated under a rock called the Old Man of the Mountain which collapsed in the early 2000s.
Profile Lake's serene waters provide tourists with the perfect opportunity to bring a boat or canoe. You can easily rent one nearby. Another perfect option is to spend a quiet moment by yourself or with a better half out on the water while eating lunch. In any case, we definitely recommend kayaking if you are out on a solo trip.
Echo Lake Beach
Echo Lake Beach is the perfect spot for swimming in New Hampshire. It is located very close to Cannon Mountain and spans across 40 acres – so you'll never run out of swimming space. You will also find lifeguards here in the summer, so you know someone has your back in case things go haywire.
Echo Lake Beach has become a popular tourist spot for locals and visitors alike, especially when it gets hot outside. It is also family-friendly so you can bring your children here. There is a trail that goes around the water to picture-perfect picnic spots where you can stop to catch your breath and take in all the nature.
The Architecture in Portsmouth
The architectural marvel of historic homes in Portsmouth on the Piscataqua River will give you a glimpse of the past – some 200 or 300 years ago. The place is dotted with buildings with unique architecture all the way from the colonial era.
You can go on a self-guided tour or join a guided bike tour to check out some of the most popular sites of interest and historic points. Portsmouth also has other historical points of interests including the Museum of Dumb Guy Stuff, an eccentric exhibition that pays homage to boyhood in the 1960s; explore the USS Albacore, a submersible that played a pivotal role in the Cold War, or check out the delicious craft brewery at Earth Eagle Brewing.
Charmingfare Farm
This makeshift farm, which looks eerily similar to a zoo, is found in Candia, New Hampshire. It is the ideal place to explore with families and children in tow. It is home to some of the cutest animals you can set your sights on, including roosters, horses, and other animals.
But that's not why you're visiting Charmingfare Farm: the main draw of the farm is to become familiar with farm life. During your visit here you will get to interact with farmers and learn more about the kinds of equipment they use, how they feed their livestock, including horse rides, and how to pick pumpkins.
The farmers also host special events throughout the year including sleigh rides, live music, and other fun activities at Charmingfare Farm.
Diana's Baths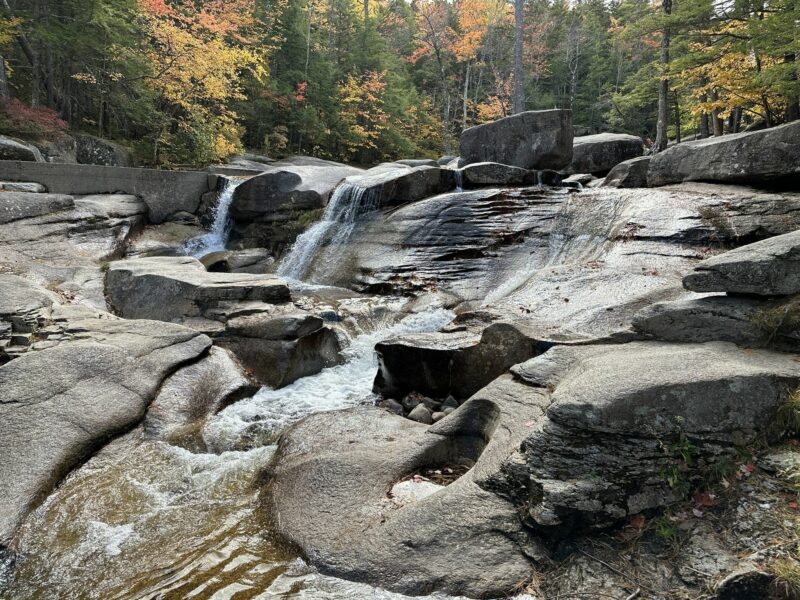 Diana's Baths, also located in the White Mountains, is one of the most breathtaking natural formations in New Hampshire. It is made up of a series of small pools and waterfalls. The back trail spanning one-mile winds through Diana's Baths and is full of amazing sights to explore. .
Don't forget to bring your camera to capture the stunning waterfall views during your hikes. It is highly recommended to dip in the crystal clear water pools or just plan a picnic with your friends.
Seacoast Science Center
Seacoast Science Center gives you a chance to get up close and personal with the fascinating creatures of the sea and learn how you can do your bid to protect them. The center's main goal is to maintain the ocean's deteriorating health.
It does this by providing a number of interactive educational programs and interactive exhibits to inspire the public to promote a healthier ocean. When children come face to face with marine life and other animals, and explore the ecological diversity of reefs, they are likely to become inspired.
Once you've had your fill of the mesmerizing sea creatures, make sure to visit the gift shop to pick some unique souvenirs and other memorabilia.
The Ice Castles
The Ice Castles in New Hampshire is a stunning attraction that looks like it was pulled straight out of a fantasy novel. The Ice Castles are made of thousands of icicles that create an enchanting look.
The ice castles were created by founder Brent Christensen who wanted to inspire his six kids out of the house. His first ever ice construction in an ice cave gave his children all the excuse they needed to explore the outdoors. He has since applied the idea on a grand scale for thousands of children.
The best time to visit the ice castle is at night when everything is lit up and even more dramatic. But you may want to explore the Ice Castles during daylight hours when there are fewer crowds – and when it's warmer.
Another attraction is the ice slides where you can race with your friends and family down a fun slide. Just make sure to book your reservations in advance because the Ice Castles do tend to be sold out, especially in the summer. In any case, the ice castles definitely deserve a spot on your itinerary and are a truly fascinating place to explore.
Mystery Hill
Also known as America's Stonehenge is the rather mysterious Mystery Hill. It is located in Salem, New Hampshire and spread across 30 acres of a private estate. Experts believe that the Mystery Hill is a collection of several archaeological rock formations throughout the property.
The rock structure draws visitors from around the world to brainstorm ideas about how they were formed in the first place. But there's more to explore in Mystery Hills such as strolling the hiking trails littered throughout the property and snowshoeing in daylight. Depending on the time of the year, you may also see special events hosted by her.
Loon Mountain
This rugged and beautiful mountain provides a playground for locals and visitors who enjoy the outdoors. The scenic mountain-top resort provides you with unlimited recreational fun including bike riding, disc golf, hiking, gondola sky rides, and more.
The activities ramp up during the winter months when visitors can enjoy skiing, snow tubing, and snowboarding. Besides the endless recreational opportunities at Loon Mountain, visitors can try the delicious food at the two restaurants: Boyle's Break House and Summit Cafe.
Finally, the resort is open year-round and provides visitors with all kinds of amenities such as equipment rentals, repair shops, ski training, and much more.
Benson Park
Enjoy the peace and quiet of this spacious park in Dover, New Hampshire. It is located on 166-acre of forestry and is home to plenty of outdoor recreational areas. Visitors will get to explore the fun side of nature with friends and family.
The park also offers various amenities including playgrounds, picnic tables, and nature trails to explore. Another key area to visit is Friends of Benson Park, an old barn that was repurposed into a small museum and has a collection of historical artifacts.
There are plenty of hiking trails that are suitable for hikers of varying skill levels, with interesting sightseeing opportunities along the way. You can also bring your dog to run their hearts out at the Hudson Dog Park. Finally, you can cap your trip by visiting a 9/11 memorial that pays respect to the local heroes who lost their lives.
All in all, Benson Park is the perfect place for visitors to get the most out of their visit to New Hampshire.
The Northern Forest Canoe Trail
Winding its way through Canada and many of the New England States is the massive 740-mile Northern Forest Canoe Trail with over 22 rivers and streams.
A massive portion of the trail passes through areas of New Hampshire, making it an important location to visit. The New Hampshire trail runs through the Errol-Berlin Corridor and makes its way through the Androscoggin River and other mesmerizing sights.
During your canoe trail, you will experience wilderness in its purest form. The best way to enjoy your canoeing experience is to bring plenty of trail maps and planning guides – you don't want to get lost!
Polar Caves Park
Polar Caves Park opened its gates to visitors in 1922 and has been a source of constant joy for all generations. It has 9 granite boulder caves that will take forever to explore, several nature trails aimed at varying skill sets, and an animal park filled with ducks and deer. The park is open throughout the year, regardless of the weather conditions.
Making your way through the well-lit caves and witnessing the granite boulders is a sight to behold. All nine caves offer unique features to explore and obstacles to maneuver.
In addition to the marvelous granite caves, the park also lets you try mining for gems at the Baker River Mining Sluice. Just make sure to wear proper gear to enjoy the great outdoors. Enjoying the fresh air against the backdrop of the White Mountains makes for an unforgettable experience.
End your trip by visiting the main lodge to purchase gifts, memorabilia, snacks, and souvenirs.
Canobie Lake Park
Get ready for nonstop action and thrilling rides by visiting Canobie Lake Park. This amusement park served as a trolley park but also serves as the premier destination in New Hampshire for thrilling rides and other adventurous activities.
Most of the rides are suitable for infants, older children, and adults. In addition to the thrilling rides, there are plenty of arcade games to be enjoyed too.
All the games offer players an opportunity to win exciting prizes. The park also hosts live shows including dance parties for children, character appearances, and even weekly fireworks. End your trip by reenergizing with delicious foods from the dozens of eateries. and stalls.
Squam Lakes Natural Science Center
Of course, New Hampshire is a top attraction for mountaineering activities, but there's so much more to do… visit Squam lakes Natural Science Center to get up close and personal with live animal exhibits and natural science.
The tour provides several exhibit trails and hiking trails where visitors get a chance to spot live wild birds, bobcats, mountain lions, and other exotic animals. The best part about the center is that it lets you observe the animals in their natural habitat – undisturbed and untouched by manmade obstacles.
Besides touring live animal trails, you can also book their river cruises where you can see wildlife from a safer distance. Other attractions include private charters that you can book with your friends and family. Finally, the center is filled with several hiking trails that are catered to varying skill levels.
Wrapping Up
As you can see, there is a wide range of stunning attractions to visit in New Hampshire. From breathtaking mountains to sun-kissed lakes and magnificent rivers, you cannot go wrong by planning your trip to New Hampshire. Make sure to use our list of New Hampshire attractions to plan your travel itinerary.
Feel like we missed something? Send us your feedback and we'll update this space with more information!