Peninsula State Park Camping – Wisconsin
Situated in Door County, this 4,000 acre state park in Wisconsin has over 450 camping spots for you and your family to enjoy. There are endless activities including hiking, swimming, boating, golfing, beach, theater, and even a historic lighthouse to view. If you need something to do for a weekend, try camping at Peninsula State Park. You won't regret it.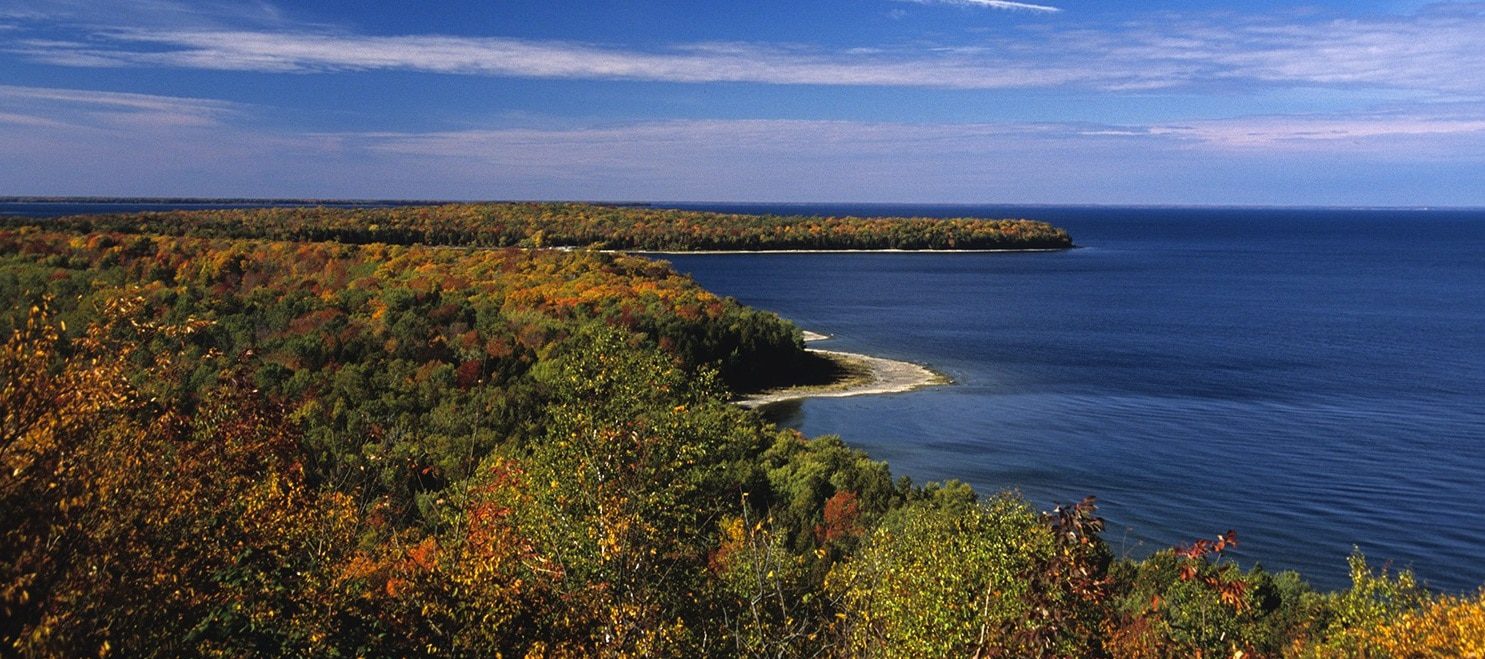 Peninsula State Park Camping Details and Map
Address: 9462 Shore Rd, Fish Creek, WI 54212
Phone: 920-868-3258
Website: dnr.wisconsin.gov
Type: Primitive
Campsites: 468
Amenities: Picnic Tables, Fire Pits, Electrical Hookups (at select campsites), Restrooms, Showers


There are several different campgrounds at Peninsula State Park to enjoy:
North Nicolet Bay Campground
There are 44 campsites located here, all primitive with tent camping. It's the only location where you can swim at the sandy beach. There are some volleyball nets and boat rentals available. This is a very popular campground so make sure to book a reservation early. Restrooms and showers are available.
South Nicolet Bay Campground
143 campsites are available for reservation with roughly 50 including electrical hookups. It also is nestled alongside the beach and has a boat launching area. Restrooms and showers are available.
Tennison Bay Campground
This is the largest camping area with 188 sites to choose from with about half of them including electrical hookups for RVs. There is a small playground area for kids and a boating launch area primarily used for kayaks. There is no swimming in the area so you'll have to head over towards Nicolet Bay if you want to get in the water. Restrooms and showers are available.
Weborg Point Campground
This is the smallest campsite with only 12 sites, but all with RV electrical hookups. There is also a enclosed shelter located at this campground that you can reserve (has a nice fireplace). Restrooms and showers are available.
Welcker Point Campground
As the most family friendly area, there are 81 campsites to choose from. This is the most primitive of all the sites with no electrical hookups. Restrooms and showers are available.
If you haven't been to Peninsula State Park yet, it's definitely worth making a trip over or even a weekend getaway. Not only is the camping spectacular, but the amount of activities will leave your kids forgetting about their phones for a while and enjoying the great outdoors. Happy Camping!