Cedar Cliff Falls – Ohio
Just a short drive away from Columbus or Dayton, Ohio is a a hidden gem tucked away within Indian Mound Reserve. Cedar Cliff falls is a manmade waterfall built to power the Harbison Mill (shut down in the early 1900's), but you'd never guess as it was built to blend into the natural landscape of the wilderness.
It's roughly a 3 mile easy hiking trail loop to access Cedar Cliff Falls. We recommend taking your time as there seems to be breathtaking views around every corner. Once you park at the trailhead within Indian Mound Reserve you'll begin trekking through forest with an abundance of plants and wildlife. As you wind around the path you hit Lower Gorge Trail which is the first area to stop and take in the very scenic cliffs. In fact you even walk under a overhanging cliff which is one of the main attractions within the park. Within about a third of a mile you'll arrive at some stairs that lead you up to the top of Upper Gorge Trail and towards a bridge that has you cross above the river. Here is where you can first observe Cedar Cliff Falls and one of the most spectacular views along the entire journey.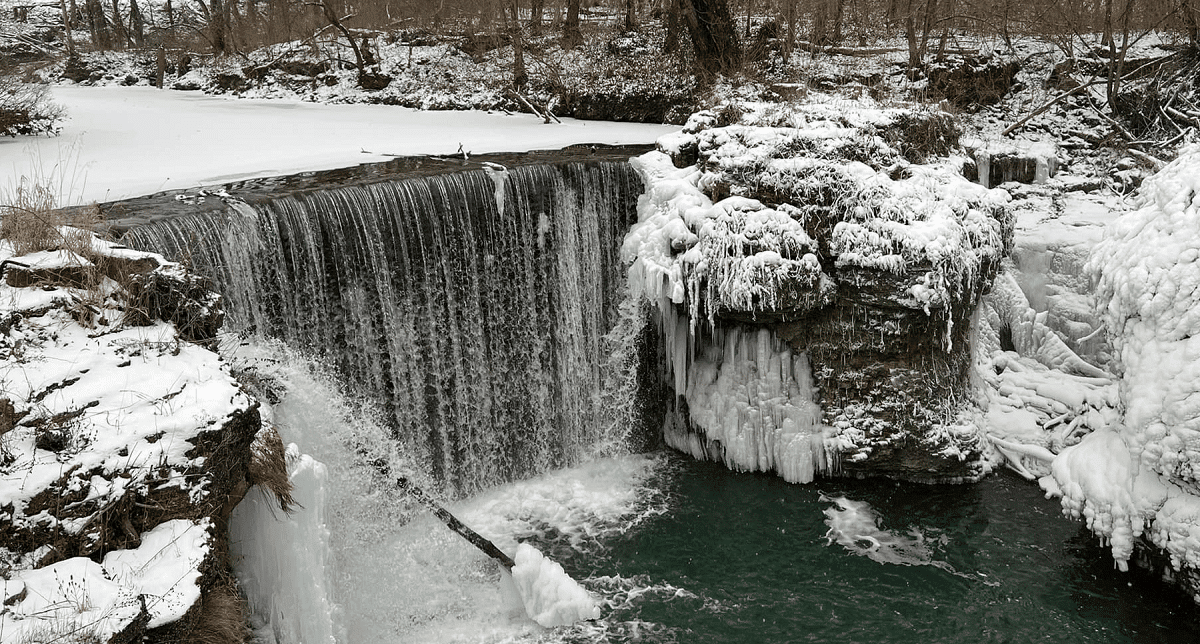 You'll find many people enjoying Cedar Cliff Falls all year long, although summer tends to be the busier times for people to get out and hike. The manmade waterfall is a 20 foot damn with the cascade waters flowing down into a swimming hole. Beautiful landscape and historical landmarks such as the old mill enhance the experience and will have you going back in time to see how settlers lived. All said and done there is over 170 acres of wilderness adventure to explore with a great waterfall to cap off the perfect day!
Map and Location of Cedar Cliff Falls