The Best Texas Attractions – Things To Do
There is a lot to love about Texas. From its breathtaking mountains to its diverse, quirky culture, there's a little something for every type of tourist.
Some of the beautiful places in Texas include a luscious gorge streaming with waterfalls, and impressive stalactites of the Natural Bridge Caverns. Texas is filled with numerous kinds of attractions. Its extreme weather doesn't stop it from being a popular destination for tourists as they look for lovely verdant fields, green rolling hills, unique museums, and stunning architecture.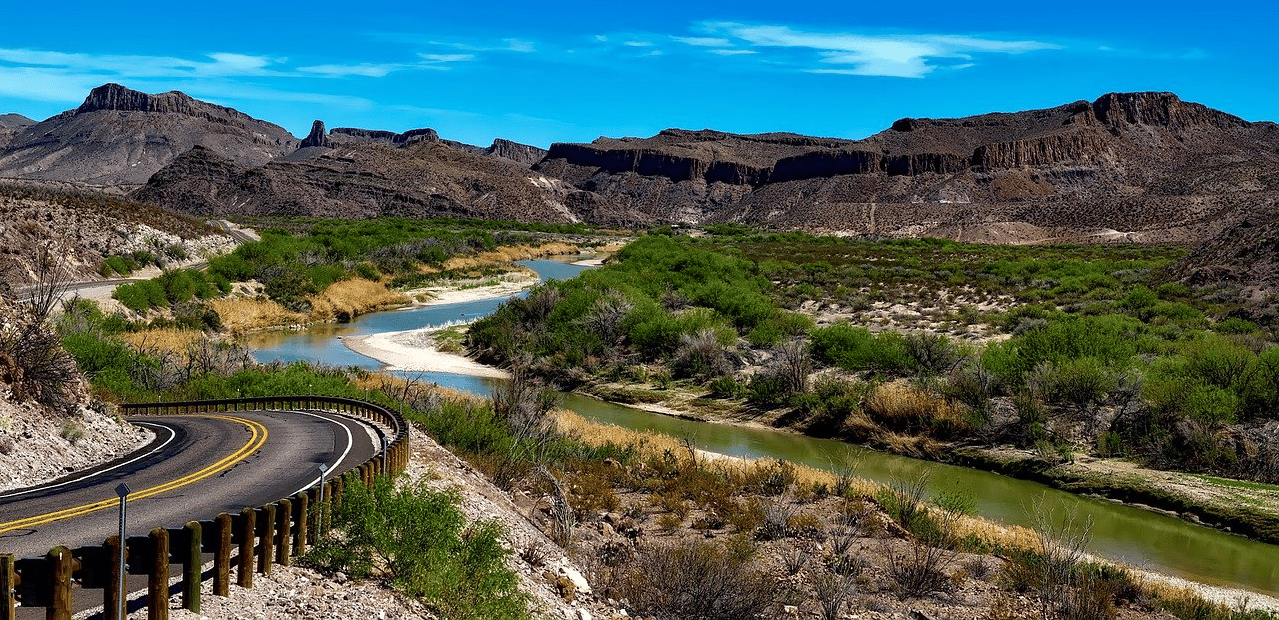 Best Texas Attractions and Activities
Things To Do in Texas by City
It's a true staple of the American Old West with a lot to offer. We've rounded up our list of the best things to do in Texas.
The Alamo
The Alamo is one of the most popular historical sites in Texas and a must-visit destination. It is described by many historians as the 'jewel of Texas heritage' and rightly so. The church-turned-fortress was built in 1744 by Franciscans to spread the message of Christianity among local Indians.
Things took a turn for the worse when the Alamo was repurposed into a fort in 1836, where a small group of just 187 soldiers barricaded themselves to fend off an invasion by the Mexican army.
Although the soldiers in the Alamo were killed, their valiant effort was used as a rallying cry to bolster the spirits of the state's soldiers, leading them to victory over Mexico.
South Padre Island
South Padre Island is a popular tourist destination on the tropical tip of Texas, which is bordered by the Gulf of Mexico and Laguna Madre Bay. It offers a wide stretch of sand and stunning views of the sun-kissed sea. Visitors can participate in water sports activities ranging from sailing and kiteboarding to dolphin cruises and paddle boarding.
You may also get a chance to spot the rare Ridley turtles as they race to the water after hatching. The island is also known for providing enchanting views of the Milky Way at night. The beach is also ideal for children as they hunt rare treasures and shells.
Big Bend National Park
Located in West Texas's Chihuahuan Desert is the Big Bend National Park. The park draws visitors from all over the world as they travel for miles to see its hills, springs, waterfalls, and streams.
Sightseeing is also a popular activity at the park as visitors get to spot over 400 different species of birds. Hikers can enjoy trails, and families can stop by at any of the gardens and secluded coves for a memorable day out. Don't forget to bring a camera to capture the rare animals!
Are you going to the park in the winter? Snowfalls are a rare sight in the Big Bend and the park makes headlines when they do occur. It's also a wonderful and enlightening place for a quick walk.
Parasailing is a fun activity and provides just the right amount of adventure to many tourists. It is a great way to explore the park and its incredible sights. You could go solo or share the experience with a friend or better half. Soaring through the air is a memorable experience with amazing views.
Consider a trip to Big Bend National Park if you are looking for the best activities to do in Texas. It is one of the best places in the state and a national treasure of the country.
The Sixth Floor Museum in Dallas
The Sixth Floor Museum in Dallas was a tribute to President John F. Kennedy when he was assassinated by Lee Harvey Oswald on 22 November 1963. The museum offers an interactive tour that provides glimpses to visitors into his life and times, from his presidential campaign and term to rare artifacts and footage photographs.
Detailed facts about the president's legacy and sobering records of his assassination are shown here. To pay your respects and learn a little about the life of President John F. Kennedy and his loved ones, visiting the museum is one of the top activities to do in Texas.
Houston Museum of Natural Science
The Houston Museum of Natural Science is one of Texas's most fun places to be. It boasts a wide range of exhibits and displays catered to all age groups. The museum is home to 16 permanent exhibits housed over four stories and will take forever to explore.
The museum's main draw is the popular Morian Hall of Paleontology – where it almost looks like it was pulled straight out of a Jurassic Park movie. The exhibit is filled with prehistoric replicas and towering fossils that will give you goosebumps. Another popular attraction for kids is the Cockrell Butterfly Center, spanning three stories and featuring exotic insects and a rainforest exhibit.
Of course, there is also a planetarium where you can lay your eyes on some of the world's most priceless gems and minerals.
Padre Island National Seashore
Located to the south of Corpus Christi is the Padre Island National Seashore. It is an interesting location spanning over 70 miles comprising of rolling green hills and beaches. Padre Island is said to be the world's biggest underdeveloped barrier island and is home to exotic animals and those rare sea turtles.
Bird watching is one of the main activities here as hobbyists worldwide gather to check out over 350 bird species (mostly migrating to different parts of the world). Other activities you can check out include basking in the sun at the sandy beaches, riding atop horses to cover the shoreline, and even dolphin cruises.
Rent a paddleboard for two hours with your better half for a quiet day out.
Pro tip: Make sure to go paddle boarding in the morning because it could get really hot in the afternoon).
Once you've had your fill of the sea, you can explore the island by driving around in a little scooter car called the 'scootcoupe.' The tiny cars are fun to drive for both adults and children alike, and they go up to 40mph! Just don't crash into anyone!
And of course, don't forget to stop by Sea Turtle Inc, a conservation center that protects sea turtle eggs and releases the hatchlings into the sea. A visit to the facility will provide a memorable insight into the journey of sea turtles.
Hamilton Pool
Hamilton Pool is a beautiful swimming hole located a short drive from Austin and offers breathtaking natural beauty that makes you feel closer to nature. This gorgeous jade-green swimming pool was designated as a nature preserve by Travis County Commissioner's Court in the 1990s.
The pool was formed several thousands of years ago when an underground river collapsed into a grotto due to massive erosion. This resulted in an emerald-green natural pool surrounded by awesome rock formations. It also boasts a 50-foot trickling waterfall that would provide you with excellent photo ops.
The pool is part of the Balcones Canyonlands Preserve, which spans over 31,000 acres of land and is home to endangered species like the Black-capped vireo and exotic invertebrates. The water is so clean and clear that you can see all the turtles and wish swimming around you.
Note that you will have to pay an entrance fee at the check-in booth to enter the park. You can then begin your adventures with a quick dip into the pool. Availability isn't guaranteed and permission is granted based on the bacteria levels of the pool. So always check the official website before planning your visit to the pool!
Pro tip: Make reservations before a visit to Hamilton Park. Your car may be turned away if you arrive without a reservation!
Texas State Fair
The State Fair of Texas is a favorite pastime activity for locals and tourists alike. It may be the only thing you hear about once you move to Dallas. Least to say, the fair should be on your bucket list.
It was created in 1886 and managed to survive into 2022. The fair mostly starts in September and lasts for almost a month.
You've probably also heard of the delicious cuisine and deep-fried treats. But there is a lot to do beyond the food. Take a ride on the Texas Skyway for panoramic views of the midway. Both children and adults will enjoy the thrills of the ride, especially when everything is lit up.
Follow this up by riding the massive Ferris wheel, nicknamed the Texas Star. The iconic Ferris wheel is 216 feet tall with a capacity of up to 264 passengers in its 44 gondola baskets.
Once you've satisfied the adventurer in you, stop by at the Main Stage to listen to live musical performances. The fair has hosted musicians such as Flo Rida, Kacey Musgraves, and Summer Dean musicians. Make sure to check their official website if you want to catch your favorite artists performing live.
After you've checked out the live performance and ridden Texas Star, visit the lake and book one of the many swan boats.
Cap your day by binging on the delicious fried foods. You will find a massive variety of fried foods that you never knew existed – and you'll also find health-conscious treats too. In any case, you won't be going hungry at this fair.
Dallas World Aquarium
The Dallas World Aquarium is a massive aquarium and a popular attraction for kids in Dallas, Texas. It boasts several permanent exhibits that showcase a mix of local and exotic marine wildlife. The aquarium is famous for having the planet's biggest sharks that would give thrills to onlookers.
Of course, there are plenty of other fun activities besides that. One exhibit features a replica of the Orinoco Rainforest with toucans, ibises, sloths, and other colorful species.
Dallas World Aquarium is open every day until 5:30 PM. Entrance tickets start at $26.95.
Guadalupe Mountains National Park
The highest mountain in Texas, Guadalupe Peak, towers over the landscape at 8,751 feet. It is surrounded by four other peaks that are just as impressive: Shumard Peak at 8,615 feet. Bush Mountain at 8,631 feet, Bartlett at 8,497 feet, and Hunter Peak at 8,368 feet.
Guadalupe Mountains National Park contains several tourist attractions, including the towering El Capitan and Guadalupe Peak, the tallest place in Texas.
Keep in mind that there are no nearby restaurants or gas stations in or near the park, so make sure to fill your car with gas. Cell phone signals can be poor here, so you're bound to get more solitude here. You may not be able to use Google Maps as effectively here and we recommend bringing in paper maps of the park to learn more about the topography.
Exploring the park would take around 2 to 3 days. This should give you enough time to check out all the famed attractions here, including the Devil's Hall Trail, Pine Springs, and Guadalupe Peak Trail.
There are plenty of hiking and camping opportunities here. You will have to pay fees to obtain permits for camping and staying overnight in the wilderness.
Next, plan your escapade to Pine Springs Campground at an elevation of 5,822 feet. It has dozens of RV sites in the parking lot where you could camp out in solitude – but you may need a reservation. Campground services include pay phones, flush toilets, and potable drinking water.
Be sure to visit the Salt Basin Dunes, which will take you through spectacular gypsum grains and white-capped dunes over 2,000 acres.
Museum of Fine Arts Houston
The Museum of Fine Arts in Houston was established in 1900 and has grown to have a collection of nearly 70,000 works of art and several enlightening exhibits. It is constantly adding new expansions and renovations that provide visitors with a strange combination of history lessons and exposure to modern art.
The exhibits can be found in three buildings called the Audrey Jones Beck Building, Nancy and Rich Kinder Building, and the Caroline Wiess Law Building. These exhibits cover artwork from different cultures and eras, including sculptures and drawings of African-American and Chinese Origin.
You will see an artwork collection that spans nearly five millennia and covers the cultures of Asia, including India, the Himalayas, Korea, and Japan.
Kimbell Art Museum
A visit to Kimbell Art Museum is a popular thing to do in Texas. It was founded in 1965 by Key Kimbell, a wealthy art aficionado, to preserve art, sculpture, and other antiquities from around the world.
It lets you get up close and personal with works from Rembrandt, Monet, El Greco, and Picasso and artifacts from ancient cultures in Europe, Asia, and Africa.
Despite being a small museum, Kimbell Art Museum has nearly 350 artworks to see. The bulk of the collections come from the classical period in Europe, but there is much more to do, including a library with over 60,000 books!
It's all very delightful!
Six Flags Over Texas
Six Flags Over Texas is a family entertainment center spread out over 212 acres of land and features thrilling activities for people of all ages. Visitors can choose from over 40 exhilarating rides and entertaining shows. And, of course, there are food stalls at every corner to keep you full.
Popular rides include the Texas SkyScreamer – named after the endless shrieks from passengers as they are spun at massive speeds over a 400-foot tower. Other attractions include "The Joker," which drops you from a height of 12 stories and "The Riddler Revenge" that is bound to make your head spin as you literally swing from a giant pendulum.
The park has something for everyone.
Fort Worth Zoo
Fort Worth Zoo may be one of the best vacation spots in Texas and is bound to be on the bucket list of animal lovers and nature enthusiasts. It has over 42 animal species, including mammals, reptiles, and birds. Many species here are either endangered or at risk, making them a treat to see in person.
The zoo has been operational for over a hundred years and gives you a chance to get up and close and personal with exotic animals. There are different sections in the zoo to explore different species.
Fun fact: This is the only zoo in America with a collection of all the Great Ape species, including gorillas, chimpanzees, and orangutans.
While here, you'll get to feast your eyes on lions, giraffes, hippos, penguins, and so much more.
Wrapping Up
Texas is a great choice for tourists and provides a mixture of natural attractions, unique locations, historical sites, and everything else in between.
It will take multiple trips to get the most out of your visit, so it's a good reason to use our list of best activities to do in Texas on your travel itinerary.
Let us know if you agree with our list or if we missed your favorite spot. We might just update this space with your suggestions!