The Best Kentucky Attractions – Things To Do
With some of the country's most beautiful and rugged scenery, Kentucky is filled with endless recreational opportunities. From the towering Appalachian mountains and densely forested wilderness areas to the fast-running rivers and intricate cave systems, Kentucky offers something for everyone.
There's rarely a dull moment in Kentucky. Most tourists come to the state to take in the scenic landscapes and participate in outdoor activities. However, there's more to Kentucky than meets the eye, from the bustling nightlife of Louseivelle, the quirky museums in Danville, and haunted hotels – you will find plenty of vacation things to do in Kentucky.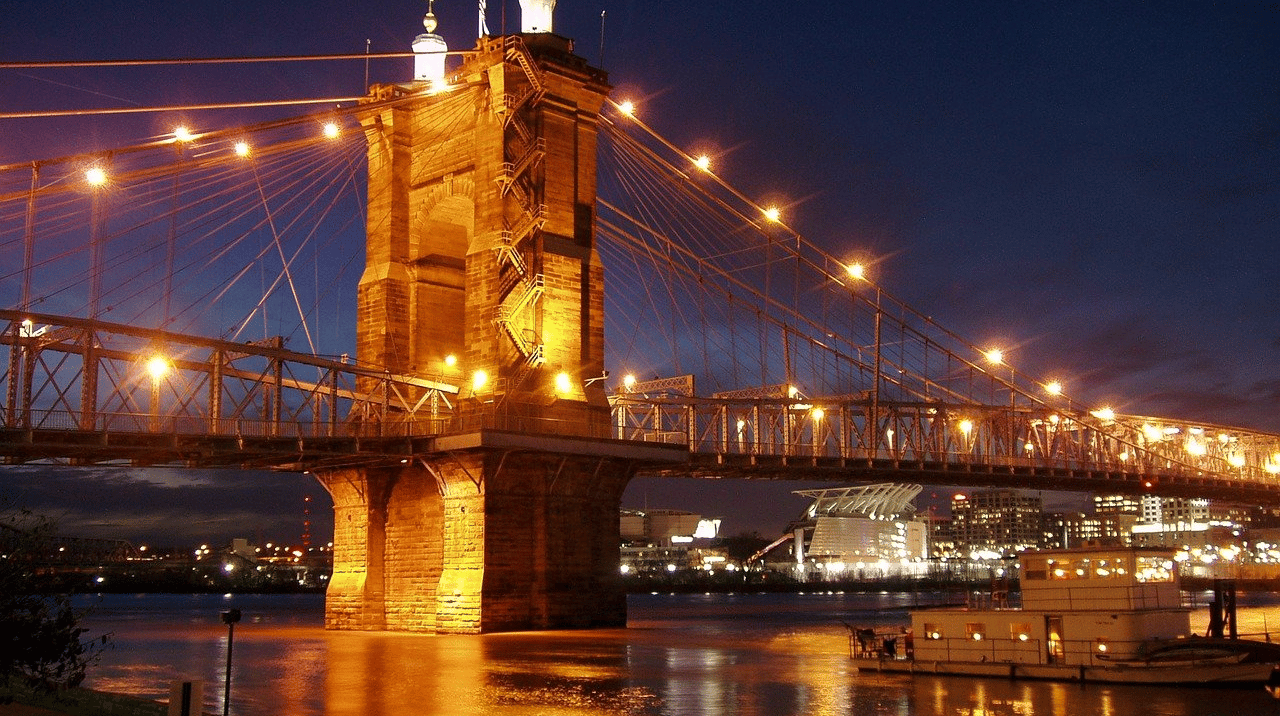 Best Kentucky Attractions and Activities
Things To Do in Kentucky by City
This guide will give you a list of top tourist attractions in Kentucky that you can add to your travel itinerary.
Fort Knox
Fort Knox has cemented its legacy as one of the most important historical sites in the United States. The sprawling 190,000-acre army post housed the Army Human Resources Command, United States Bullion Depository, Accessions Command, and more. Visitors can visit the fort for free or take guided interpretive tours that volunteers provide from 11 AM to 3 PM.
One of the most interesting sights in Fort Knox is the General George Patton Museum. It is a collection of weapons that are carefully designed by the critically acclaimed artist Leonardo da Vinci. There are special educational exhibits dedicated to veterans who gave up their lives for the country.
Cumberland Gap National Park
If you're unsure of what to do in Kentucky, then Cumberland Gap National Park is the ideal option with endless possibilities. It is the go-to spot for nature enthusiasts and families looking to bond over nature.
You will come across a sprawling network of mountains, vegetation, and diverse animal life spread out over 25,000 acres. There are dedicated hiking trails that are over 80 miles for visitors who want to test their endurance. Other trails are as small as a quarter of a mile, while others are 20 miles long.
Visitors can explore the land on foot, biking, water rafting, or on horseback rides. Fishing enthusiasts can hunt for rare species that they won't find elsewhere. While you're here, don't forget to visit the 68-foot tall Cumberland Falls and a moonbow that can be seen on moonlit nights.
The park also plays host to all kinds of events throughout the year. Some of these include the Overnight Canoe Adventures, Nature Photography Weekend, and a Native American Weekend.
Harland Sanders Cafe and Museum
Everyone knows about the beloved Kentucky Fried Chicken, but very few people know about the man behind the scrumptious fast food.
Harland Sanders Cafe and Museum is where it all began – the home of KFC. The museum provides a very different experience than most KFC outlets you will find. It is designed to bear a close resemblance to the original kitchen that Sanders designed in the 1940s. The museum contains various insights and tidbits that will tell you more about the cafe's climb to popularity.
You can't get a more authentic KFC experience than by visiting Harland Sanders Cafe and Museum.
Louisville Mega Cavern
Louisville Mega Cavern is a very niche item that you can add to your Kentucky list, but it's well worth the trip for those who love mining, caverns, and everything related to caves. Louisville Mega Caves provides visitors with a hands-on experience related to cavers and tries to make every effort to create excitement. The best way to get around the 17 miles of cavers is by ziplining.
Another popular method is the Mega Tram – an underground SUV pulled railway system. The best time to visit Louisville Mega Cavern is during the holiday season to experience Lights Under Louisville. This light show lasts 30 minutes long and has been voted as one of the top ten in the country.
Louisville Slugger Museum & Factory
It's hard to miss this museum on account of the 120-foot-tall replica of Babe Ruth's Louisville Slugger. Take a step inside to learn how the Louisville Slugger is made from a simple piece of wood into a tool that is used by baseball players to make impressive records.
The factory began production in 1884 and continues to make baseball bats to this day. Baseball fans from around the world tour the factory to learn more about the game. The next-door museum contains memorabilia, collectibles, and rotating exhibits to keep things interesting.
The most prized item in the museum is the bat Hank Aaron used to hit his 700th home run. Other attractions in the museum include a pitching simulator, batting cages, and a 17-ton limestone baseball glove that kids love to climb. This museum is a must-visit for anyone who likes baseball.
Kentucky Derby at Churchill Downs
Are you a fan of races? Head on over to Churchill Downs where you can watch live races. It is one of the most exciting events in the states and will definitely give you goosebumps. You could place bets if you like gambling, or simply enjoy the horses racing each other.
Don't worry if you happen to visit during the off-season – you can still visit the grounds.
A nearby Kentucky Derby Museum provides you with more information about horse racing history. You can trace the history of the event from its humble roots in 1875 and explore unique artifacts, including collectibles that once belonged to legendary horse trainers.
The museum also provides insights into how the horses are trained and bred. Visitors can also enjoy exhibits on trainers and jockeys, a cemetery that pays tribute to past champions, and a 360-degree theater.
Keeneland
If for some reason you can't take out the time for the Kentucky Derby in Churchill Downs, then you might want to visit Keeneland. It is a historically significant racetrack that has been the subject of interest from tourists. More importantly, Keeneland has been designated as a National Historic Landmark.
It was founded in 1936, and since then, has played a crucial role in the horse breeding sector. Besides horse racing, Keeneland's immaculately landscaped grounds are open to the public every day. Even if you're not too keen on horse races, you will definitely appreciate the beauty of the rolling hills and scenery.
Daniel Boone National Forest
Sprawling across more than 708,000 acres of forestry, the Daniel Boone National Forest is an epic stretch of land that draws tourists from far and wide. With elevations ranging from 300m to 400m and beyond, the national forest offers beautiful views, wildlife and is one one the highest points in the state.
The sheer variety of terrain and rainfall across 3,400 miles of gorges and ravines gives it one of the most diverse ecosystems in the country. It is no surprise that the forest is home to wonderful natural features that serve as a backdrop to endless outdoor recreation.
Notably, the forest is home to hundreds of hiking trails that are catered to all experience levels, The largest trail, called the Sheltowee trail, extends for nearly 273 miles and will prove to be taxing for the toughest of athletes. You could also try something more gentle, such as the Barren Folk Accessible Heritage Trail, which has a 0.75 mile trail that documents the tale of the people who occupied the nearby mining town.
In addition to the hiking trails, visitors can also fish, hunt, horseback ride, and fish. The winter months allow visitors to take part in activities such as skiing and snowshoeing on the trails. Regardless of the time of year, Daniel Boone National Forest is the perfect Kentucky attraction.
Red River Gorge
The famous Red River Gorge is a rite of passage for nature lovers, so if you're planning a trip to Kentucky make sure to check it out. It spans over 29,000 acres of land that is scenic, serene, and altogether beautiful.
It is situated in the Daniel Boone National Forest and is home to the most beautiful rock formations in the world. Its unique sandstone cliffs and rock formations draw rock climbers and tourists alike. Apart from looking good, the Red River Gorge is an official national geological area.
Some of the most amazing activities include zip lining across the beautiful scenery, underground kayaking, and horseback riding. You can hunt game here (make sure to follow the guidelines outlined in the Kentucky Department of Fish and Wildlife), cover numerous trails, go for a swim, or row a canoe. There is always something fun to do here!
Mammoth Cave National Park
It is said to be the world's longest cave system, with over 412 miles of caves from Baltimore to Boston. Explorers continue to discover new passageways and it is believed that there is no end to the cave – it could be part of one giant cave system for all we know. Another interesting thing to note is the sheer biodiversity of the cave with over 130 animal species.
Mammoth Cave has also encapsulated thousands of years of human history as explorers continue to discover artifacts belonging to cave dwellers from centuries ago.
Key highlights include the Snowball Dining Room with stunning rock formations, the intimidating Frozen Niagara, and the massive stalagmites and stalactites. A top attraction in the park is the Mammoth Dome, which is over 200 feet tall, and the Ruins of Karnak, because of the giant limestone columns that give the illusion of a ruined temple.
Despite its reputation as one of the most difficult cave systems globally, Mammoth Cave is a popular destination among families. Just make sure to stick to your tour guide!
All tours to the cave are ticketed, and hikers are advised to be prepared for cooler temperatures. Besides exploring the park, you can take part in horseback riding, hiking, bicycling, canoeing, and swimming.
The only complaint visitors had is that flash photography is not allowed here.
Kentucky Horse Park
There are many reasons to explore the bluegrass hills of Kentucky Horse Park. It is home to the world's best horse farms, increasing your admiration for horses. The best time to visit the park is in summer, and you may even get a chance to ride a horse yourself.
Kentucky's relationship with horses can be traced to the earliest days when frontiersmen came through the Cumberland Gap on horseback. The state has been the go-to place for horse racing, horse breeding, and events – mostly because the rolling green hills are the perfect place to raise these animals.
Some of the most famous events at Kentucky Horse Park include the Kentucky Derby, held every year in May. But there's more to Kentucky Horse Park than the races. For example, the horse parks provide a unique insight into the lights of these majestic animals.
Other exhibitions include a Kids Barn for children to meet smaller animals, the Breeds Barn where you can see rare breeds, and the Hall of Champions, which is home to retired champion racehorses. You will also want to visit rare horses at the Al-Marah Arabian Horse Galleries.
While you're here, visit the International Museum of the Horse, which documents the history of horses and their role in shaping the country's culture.
Muhammad Ali Center
The Ali center was founded to celebrate the life and times of the legendary boxer turned philanthropist. Tourists are introduced to Muhammad Ali through an orientation film that provides a glimpse of his life. There are various exhibits that further expound on the humanitarian principles on making the world a better place.
Visitors are treated to artifacts, multimedia presentations, and various collections. The main attraction of the center is Muhammad Ali's role as a role model during the Civil Rights era and his numerous charitable acts. An important exhibit that celebrates Muhammad Ali's work is the Children's Hope and Dream Wall, a collection of artwork from children contributors worldwide.
There are three galleries in the center, which mostly feature rotating exhibitions.
Kentucky State Capitol
One of the top things to see in Kentucky is the Kentucky State Capitol itself!
Situated in Frankfort, it's more than just the legislative center of the state – it is also one of the most scenic places to visit in Kentucky.
Occupying over 34 acres of land, it is surrounded by beautiful gardens that are expertly maintained and manicured, with unique monuments scattered around the site.
The building reaches over 212 feet in height and was built in the year 1793 by lead architect Frank Mills Andrews who was inspired by Beaux-Arts. Most people widely considered the building to be one of the most beautiful capitals in the world.
Touring the building is a rewarding experience because you will get more insights into the legislative systems of the state and some key details about the building's history. You can choose from self-guided tours or paid guided tours to get more insights from well-learned guides.
While you're here, don't forget to check out the First Lady Doll Collection!
Breaks Interstate Park
Breaks Interstate Park (also known as the Grand Canyon of the South) is a five-mile gorge that goes 1,650 feet deep. This is the deepest gorge in the Mississippi! It was discovered by Daniel Boone and now serves as an important attraction for tourists. There are dozens of hiking trails at Breaks park – none of which exceed over 1.5 miles in length.
There are plenty of things to do here, besides hiking and rafting. You could go mountain biking, horseback riding, geocaching, rock climbing, and more.
You can rest your legs at the comfortable Rhododendron Restaurant that serves local delicacies. It's also a great spot for live events and musical performances. Just check the official website for more information about ongoing events.
Diamond Caverns
Your trip to Kentucky probably won't be complete without a visit to Diamond Caverns. It was discovered in 1859 and has been open to the public for tourism ever since. In fact, it is the fourth oldest show cave in the world.
The cave system is presented by state of the art lighting and features unique deposits of colorful calcite and thousands of formations that decorate the caves. The best part is that you can bring your camera here to document your experiences.
The tours are available throughout the year.
Apple Valley Hillbilly Garden and Toyland
Apple Valley Hillbilly Garden and Toyland pays tribute to the by-gone era of roadside attractions. It includes rather unconventional exhibits such as "Technologically IMpaired" (three beer bottles in a computer monitor0 and "Jack and the beanstalk" (an automobile jack nailed to a tree).
It was built by Keith Holt, who returned to Kentucky from Los Angeles after 20 years to live on his grandparents' land. He slowly filled the land full of folk art and older items. The museum includes a bizarre and unique collection of toys and folk art that will be memorable to anyone who visits.
Wrapping Up
Kentucky is a friendly, warm, and diverse state, and its unique geological features and culture mean that you will never run out of things to do.
With an abundance of outdoor attractions such as mountain climbing, hiking trails, and more, nature enthusiasts will fall in love with Kentucky. You can also plan a more laid back vacation by exploring theaters, museums, and resorts – of which there is no shortage.
Kentucky delivers on all fronts – just make sure to update your travel itinerary and use our list if you need to!