The Best Michigan Attractions – Things To Do
Michigan is a northeastern state bordering Canada in the east and Ohio in the south. Nicknamed "the Great Lakes State," Michigan is a popular vacation destination marked by flowing forests, towering sand dunes, and sky-piercing mountains.
From the gleaming metropolis of Beverly Hills to the rolling sand dunes of Saugatuck Dunes State Park, you can enjoy all kinds of sights, experiences, and adventures in Michigan. Adventure enthusiasts, for example, will enjoy camping in the Huron Mountains and hitting the rivers for hiking, kayaking, and swimming.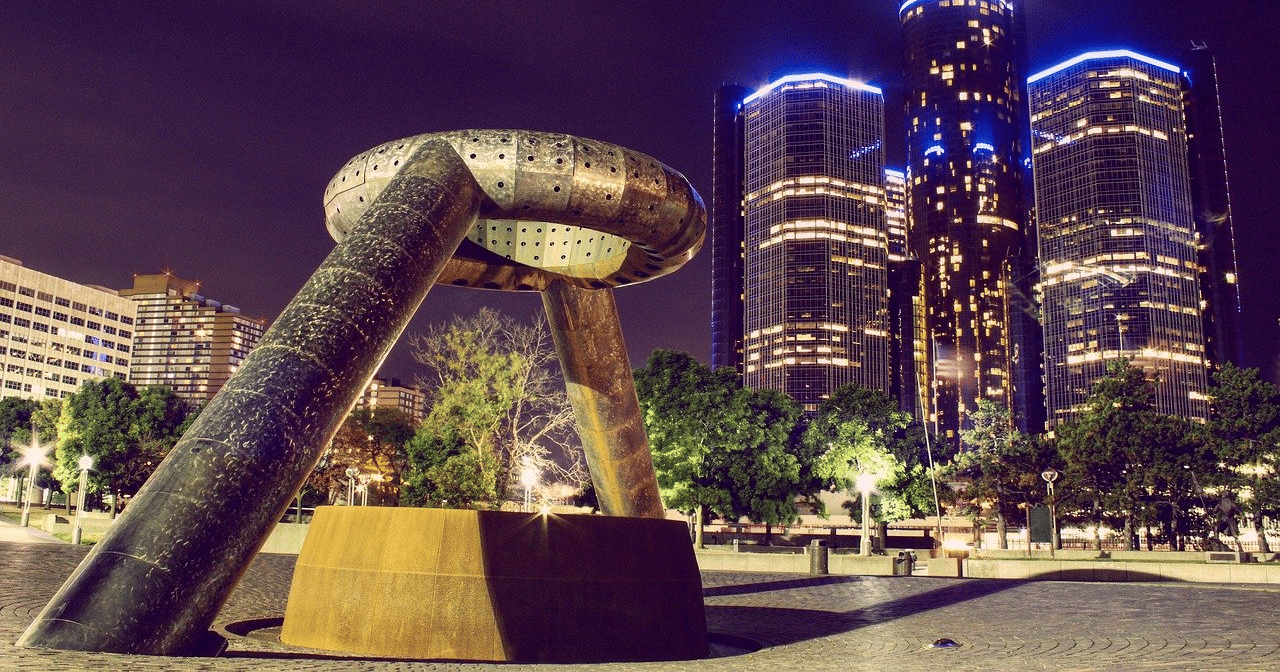 History buffs wouldn't want to miss the many museums and landmarks strewn across Allegan. Artists, on the other hand, need to make a trip to the botanical gardens, galleries, dance halls, and vineyards for some inspiration. Michigan also plays host to special festivals throughout the year, including the Lakes of Fire events in Rothbury.
Best Michigan Attractions and Activities
Things To Do in Michigan by City
Ready to get the most out of your trip to Michigan? Check out our round up of the best attractions in Michigan.
Mackinac Island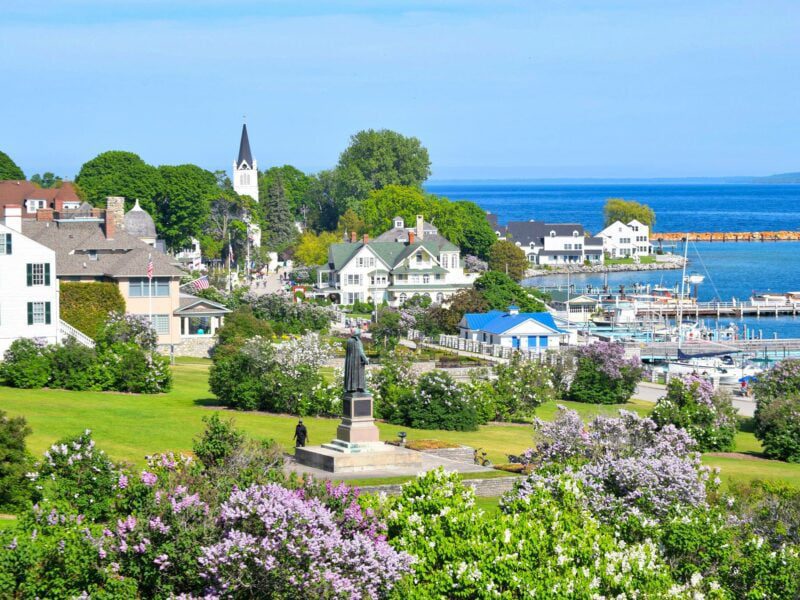 Take a step back in time by visiting Mackinac Island, a Victorian-themed island that has become Michigan's most popular summertime resort town. It is probably one of the last remaining places on earth where people still travel by horses and carriages! Mackinac Island offers you an immersive historic experience thanks to the timeless architecture and unique transportation options.
Tourists can arrive by ferry or plane at a small airport and then are brought to their destinations by horse carriages. These carriage 'taxis' can be found throughout the island – however, most tourists prefer to get around on foot or by bicycle. The lake is also home to thrilling water sports to try such as body boarding, jet skiing, and even scuba diving.
Families can cool off in the summer by splashing in the calm waters of Lake Huron or exploring over 40 miles of bridle paths on horseback rides. Other fun activities include learning stories about ghosts and visiting the dramatic Arch Rock, a limestone that is over 150 feet above the water.
Mackinac Bridge
Stretching over 26,372 feet is Mackinac Bridge, the largest suspension bridge in the country. It connects the Upper and Lower Peninsulas over the Straits of Mackinac. This bridge is often cited as a civil engineering marvel, and many people believed that it would be impossible to build a five-mile long suspension bridge over 200 feet above the water.
The biggest engineering roadblocks were the high winds and sub-zero temperatures that brought along blinding snowstorms. Today, the bridge plays an important logistical and commercial role for Michigan. You can experience the architecture by walking over the amazing bridge.
Detroit Institute of Arts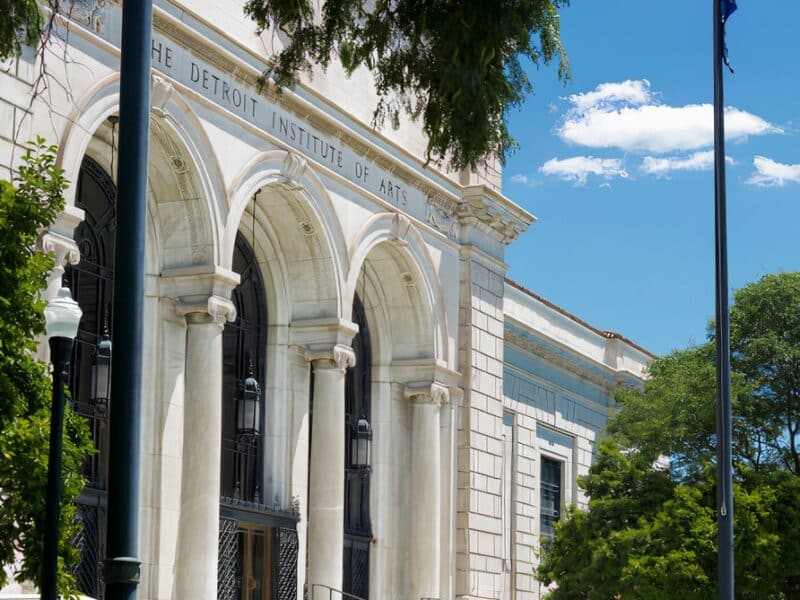 Detroit Institute of Arts is one of the most iconic places to visit in Detroit, Michigan.
Even if you've never been there, you've probably seen it in countless TV shows and movies. The giant museum pays homage to the motor city's past as the global center of the automotive industry.
It is one of the largest art museums in the country with more than 65,000 pieces of art spread out across 100 galleries. You're bound to recognize some of them, including paintings by Picasso, Matisse, and Van Gogh.
In addition to exploring the art galleries, you can also visit the nearby Detroit Public Library and Detroit Historical Museum to take a peek at the stunning architecture.
Sugarloaf Mountain
The Auto State is known for its high points too. Sugarloaf Mountain is arguably the most beautiful areas of Michigan, and it's rife in hiking trails and rock formations. In total, the mountain reaches an elevation of 1,300 feet and is known for offering some of the best panoramic places in the world.
The stunning natural beauty of the area attracts both tourists and locals alike, and there's always plenty of room to stretch out and enjoy the views.
Many of the cleared pathways and steep trails have a remote, rugged quality to them but walking along will be a rewarding experience as you'll see views of stunning forests laced with ancient trees. Upon reaching the summit, you will see dramatic views of Hogsback Mountain, Presque Isle Park, and Marquette.
Pictured Rocks National Seashore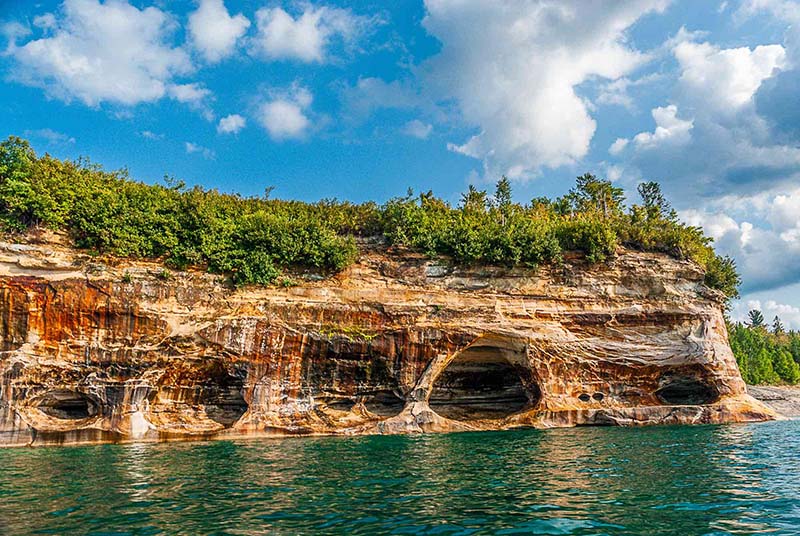 This untouched shore on the south of Lake Superior is home to emerald waters crashing against rock and copper ores.
The rugged seashore gets its name from the dramatic sandstone cliffs that are streaked with colorful mineral stains. There are over 42 miles of seashore to explore with opportunities to bask in pristine beaches and seek out the beauty of stunning waterfalls.
There is a myriad of activities depending on the time of the month, from kayaking and hiking to snowshoeing, there is something for everyone throughout all seasons. If nothing else, we recommend hiking the Chapel Loop trail. It's a 10-mile loop that passes through some of the most visually beautiful parts of the seashore, including spots you would not be able to see by kayaking.
Don't want to traverse the 10 mile loop trail? You can walkways stop by at Chapel Beach, a jaw-droppingly beautiful beach that is surrounded by a thick canopy of forests and soft white sands. This section can be completed in under 3 miles. The cliffs around the island are a pleasure to explore too!
Pierce Stocking Scenic Drive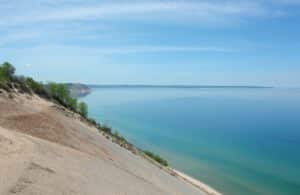 Located in the heart of the Sleeping Bear Dunes National Lakeshore, this 7.4 mile loop through the towering sand dunes takes you Beech-Maple forests to the stunning vistas of Glen Haven, Glen Arbore, and nearby inland lakes.
It could be the highlight of your visit to Michigan. There are several points of interest along the way, including massive sand dunes, thick forests, and the Lake Michigan Overlook, which is located 450 feet above the lake and is known for picturesque views of sunsets.
A cursory look at the tall pine trees reveals that they were probably planted at about the same time, several years before this region became a natural lakeshore. It is believed that the pine trees were planted by owners to improve their land and prevent soil erosion by providing a windbreak.
We recommend renting out a sports car to truly enjoy Pierce Stocking Scenic Drive, although the speed limit is 20 miles per hour. Note, that you will have to pay an entry fee at the start of the Scenic Drive if you don't already have a pass for the Sleeping Bear Dunes National Lakeshore.
Manistee
A visit to Michigan wouldn't be complete without dropping by at Manistee. It's population is just over 6,000 and is surrounded by Manistee Lake, Manistee River, and Lake Michigan. The acres of shoreline, rivers, and forest land make Manistee the perfect spot for nature enthusiasts.
The best part about Manistee is that most national treasures are very accessible, so even if you're not keen on hiking and biking, you can participate too. You can explore Manistee's logging history as you drive by the Manistee Riverwalk to the thick black willow trees of Manistee County. Keep an eye out for the occasional white tailed deer and the red fox.
Don't forget to visit the Arcadia Marsh Boardwalk, the most Instagrammable place that is easily accessible. The diverse wetlands are home to diverse animals and plants. And if you're up for a little off road adventure and don't mind long trails, stop by at Arcadia Dunes where you can fill your lungs with some fresh air.
Petoskey Area
This quaint little town is brimming with gourmet restaurants, high-end stores, and tasting rooms that culture enthusiasts would love to explore. There are endless waterfront homes with "For Sale" signs. And while you're here, keep an eye out for the Petoskey stone. It's a unique rock and fossil that has become a fun activity for kids and adults alike. The fossilized coral stones are only found at Petoskey's shores.
It is believed that the stones were formed after years of sediment accumulation over dead corals, and gradually became a part of Alpena Limestone. This unique ecological history makes Petoskey an important spot for treasure seekers and other nature enthusiasts. However, finding these stones is easier said than done – but you may find a few by paying attention to tips from locals.
Your trip to Petoskey Area won't be complete without taking a self-guided trip to the Mushroom Houses of Charlevoix. Earl Young, a renowned architect, built thirty homes in this idyllic town that look strangely familiar to mushrooms. These homes were built using large boulders and rafter tails. Make sure to check them out during your tour!
The Outdoor Discovery Centre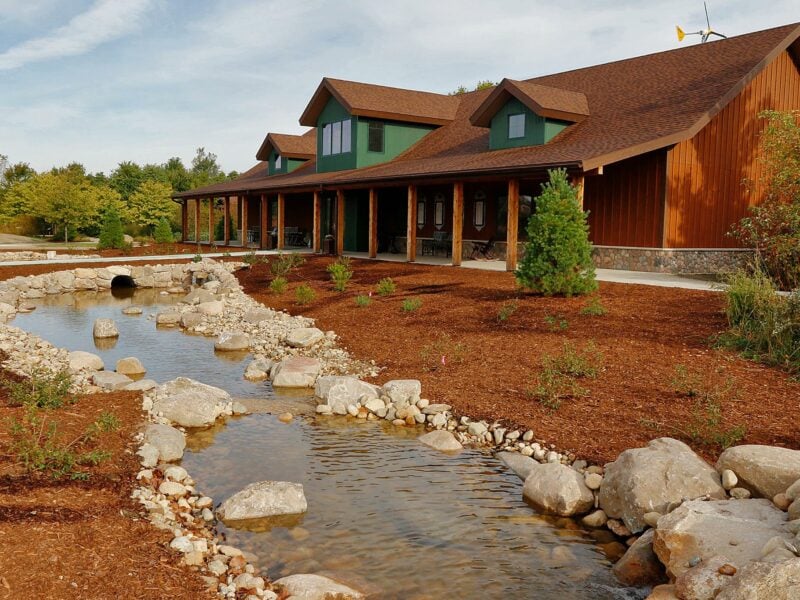 This non-profit discovery center took on the gargantuan task of restoring over 130 acres of farmland into a natural landscape. The organizers have done an admirable job, and as a result, the area is now home to diverse ecosystems. The center provides tourists and community members with an up close view of nature that they wouldn't find in an urban environment.
Besides excellent learning opportunities, you can also hike along the walking trails and chance upon diverse wildlife.
Frederik Meijer Gardens & Sculpture Park
The Frederik Meijer Gardens & Sculpture Park has got it all: gardens that delight the sense, activities for the kids, and horticultural landscapes that will captivate the attention of all gardening enthusiasts. Bring your young ones to the children's garden who may enjoy the hands-on learning experience.
You can also visit the peaceful Japanese Garden that is home to twin waterfalls. Visit the five story Lena Meijer Conservatory for a chance to see some of the rarest plants in the world. Visitors also witness the real-time transformation of Monarch butterflies. Breathtaking sculptures can also be found throughout the indoor and outdoor spaces.
Isle Royale National Park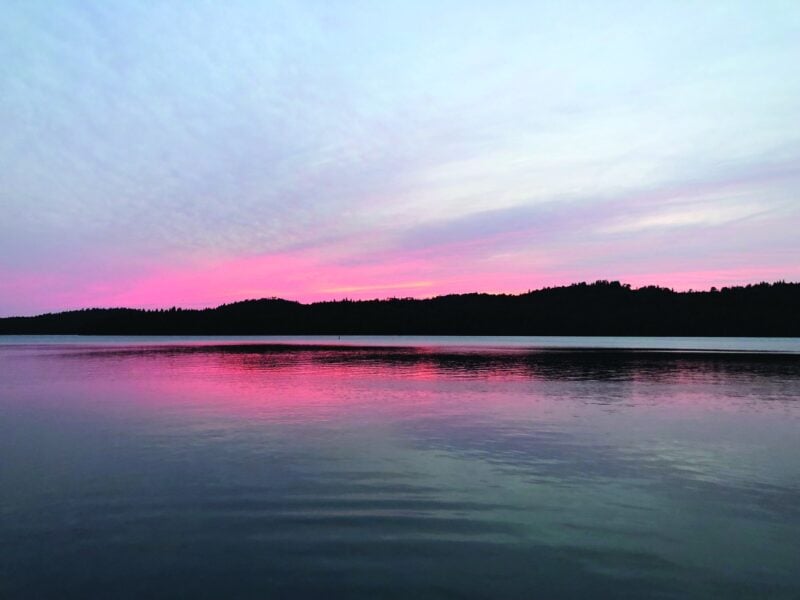 When the great outdoors is calling, answer it with a trip to Isle Royale National Park. Located in northwestern Lake Superior near the Canadian frontier, this national park is sculpted by ice glaciers and is home to many streams, lakes, and thick forests.
The unique ecology of the park makes it possible to accommodate a variety of wildlife including foxes, moose, ospreys, falcons, otters, and more. Most backpackers will see a falcon or two on the trail, and several have been spotted by passengers while on their short walk near Rock Harbor Lodge. A few otters have also been seen during the summer in recent years.
There are over 165 miles of trails for exploring by foot, lots of fishing spots, and watersport activities including boating, kayaking, and canoeing. The island offers an educational experience for both young and old. Often at night, when the moon is bright, you can hear the wolves hauling.
Great Lakes Bay Region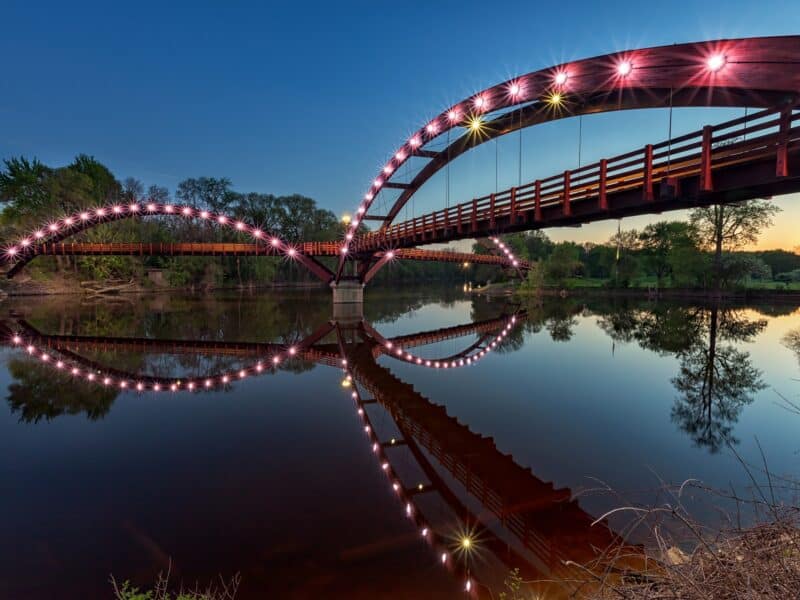 Great Lakes Bay Region offers easy access to deep turquoise waters that are sure to please sailing aficionados. Upon arrival, there are several of ways of exploring the archipelago by water or land. Whether you embark upon a hiking trip in the untouched wilderness or explore its many bays and coves by boat, Great Lakes Bay Region lives up to its reputation.
If you're new to kayaking and want to learn more – without worrying about thrashing waters – you'll want paddle the Chippewa River. It is located about two hours north of Detroit that runs around 90 miles through calm waters that make you feel in control. You can also pass by wildlife and may spot a bald eagle during the hunt.
The Japanese Cultural Center and Tea House may become your go-to place for authentic tea in the Mid West – as it is for many tourists in Michigan. You can take part in their courses to learn everything from bonsai to origami and become truly immersed in Japanese culture.
Or you could forget about the complexities of the world by treating yourself to any one of the dozens of giant indoor waterparks throughout the Bay. Our favorite is Zehnder's Splash Village Hotel & Waterpark, reputed to be one of the best waterparks in the country. It is known for those daunting six-story rides that can stretch on for hours.
Escanaba
Escanaba has many attractions that you'll have to block an entire afternoon to experience. From gorgeous waterfalls to delicious brews and everything in between. This port city is also home to some of the oldest trees in any Michigan state park – some of which are over 1400 years old. You can spot these trees during your trails winding through beech and maple hardwood forests.
You can learn much about Escanaba by driving along the calming Maywood History Trail or by visiting the Fayette Historic Townsite and the Delta County Historical Museum. Since this is a port city, you can find a wide range of water sports such as scuba diving and fishing in the summer. Winter offers cross-country skiing, snowmobiling, and snowshoeing.
St. Ignace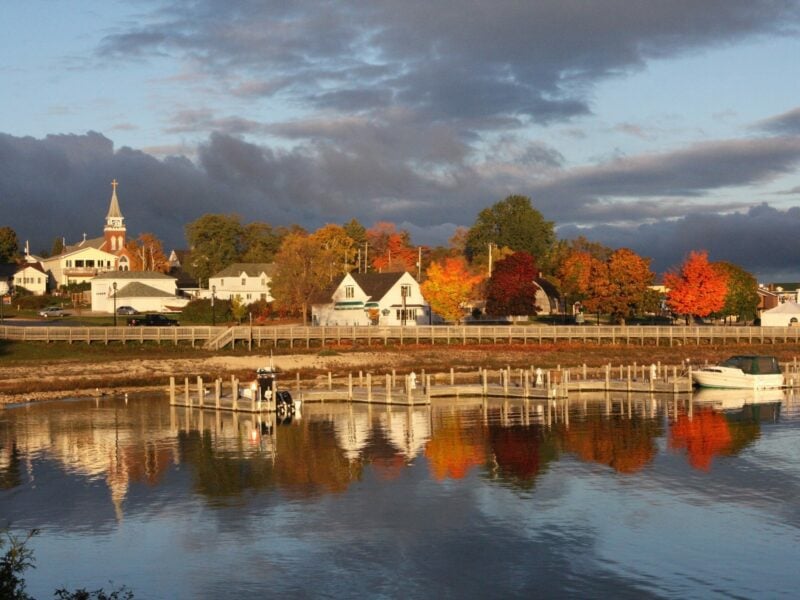 Filled with unsurpassed natural beauty and attractions is the quaint town of St. Ignace. This unassuming town is located near the northern shore of the Mackinac Straits and is almost entirely surrounded by water from three sides.
This makes St. Ignace the ideal spot for anyone who is interested in water sports. Popular activities to try include fishing for your dinner, parasailing, and hiring a boat tour to visit one of the many nearby islands. Take your children to Garlyn Zoo with over 30 acres of exotic animals that include tigers, lions, monkeys, grizzly bears, and even camels!
Estivant Pines Nature Sanctuary
This nature sanctuary is maintained and preserved by the Michigan Nature Association to protect the last remaining old-growth white pines in the state. A quick stroll through the forest feels a living nature museum featuring towering trees that reach up to 125 feet. The undergrowth is filled with all kinds of plants, including ferns and orchids.
There are over 85 species of birds and small animals here that you can observe through three trail loops. Some of the world's largest trees are found at the Memorial Trail Loop, but Cathedral Trail Loop is also just as fun to explore – consider walking both trails to get the most out of your trips.
Michigan Historical Museum
Fun for the whole family, the Michigan Historical Museum in Downtown Lansing is a must-travel destination when you're traveling with kids to the auto state. This space will reward your young ones with curiosity. Exhibits provide you with a detailed overview of how the state evolved and grew to what it is today.
The museum offers four levels for exploration and more than 25 permanent and changing exhibits. There are other opportunities to learn more about Michigan, including a walk-through copper mine, a historic one-room schoolhouse, and the Highland Park Assembly line.
Wrapping Up
There were just a few of the best places to explore in Michigan.
Michigan is a dream destination for everyone – whether you're by yourself or with family. The Great Lakes State is filled with fun activities and it's simply not possible to get bored in this ever-moving part of the country.
It may not be possible to explore everything in one trip, but this is why it is recommended to come back for more. Start planning your vacation today to get the most out of your trip to Michigan.