Idaho Attractions You Shouldn't Miss Out On!
Are you wondering, "What makes Idaho worth exploring?" From its friendly communities to its rich heritage, this gem of a state is truly the epitome of the classic Western American experience. However, nothing defines its essence better than the lakes, mountains, trails, and adventures within them.
On the one hand, the summer season draws explorers from all over the region to hiking trails and scenic terrains. On the other hand, the state's great ski resorts are always worth a pause in your travel plans.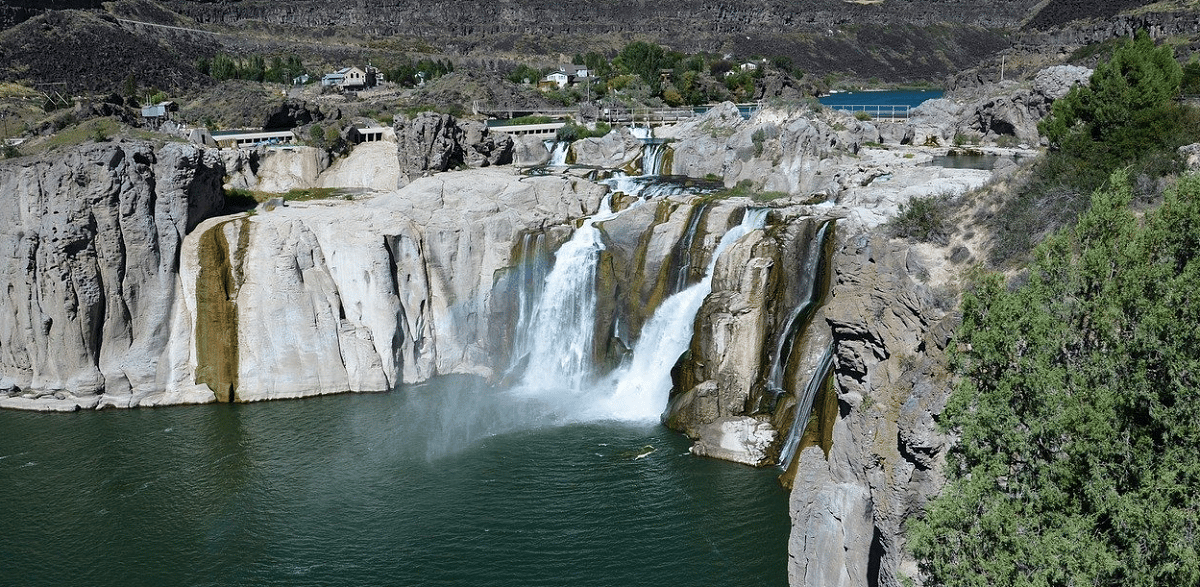 Best Idaho Attractions and Activities
Things To Do in Idaho by City
So, it's time to hit the road and start the year with a bang! Idaho has something for everybody, whether you're looking for a thrilling skiing experience to blow off steam or some tranquility to rejuvenate and reconnect with yourself and your family. Who knows? You may as well end up revising your list of famous attractions in America and for good.
Lake Coeur d'Alene, Coeur d'Alene
The serenity of this majestic lake is all you need to get a much-needed breather. Not only is it the perfect spot for a weekend getaway, but it also brings along with it a rich history that goes back to the 19th century. As you sail through the lake on a steamboat and allow the spot to captivate your senses, you will enrich your mind with the radiant views of the hiking trails and forests that define its boundaries.
Speaking of its rich history, it wasn't until 1889 that steamboat traffic was finally initiated in the region. Before this, movement on the local rivers and lakes was limited to moving supplies and carrying out mining activities.
However, interestingly, the history of the lake itself goes well back to the last ice age when glacial deposits stirred its creation. Today, it stands as one of the most sought-after Attractions in Coeur d'Alene and rightfully so. All it takes is a single visit to become familiar with the aesthetics and adventures of this 25-mile long lake. From simply sitting in a corner and rejuvenating to enjoying activities such as sailing, fishing and boating, Lake Coeur d'Alene has a lot more to offer than what appears to the naked eye.
Hells Canyon, Grangeville
Is it even possible to talk about the Attractions in Grangeville without mentioning Hell's Canyon? Hell no. Known for its magnificence, Hells Canyon is a gorge that may welcome its visitors to the sight of rugged terrains at first. However, the further you go, the more you'll come across an abundance of splendors and scenes to fill your heart and soul with pleasure. Whether you plan to explore the area by car or on foot, you'll find yourself amazed every step of the way.
One of the most popular ways to enjoy this deep gorge is by exploring numerous horseback riding and hiking opportunities. At the same time, it's also important to acknowledge that Hell's Canyon may not be everyone's cup of tea, which makes it all the more exciting to explore.
From activities like rafting that expose you to a plethora of sights not meant for the weak-hearted to hiking, which is a rather laid-back sport, the "valley" as we should rightfully refer to it is filled with adventures for every soul that seeks them. However, this naturally wild spot is not only a haven for explorers who step out in summer. The winter months also welcome tourists to mind-blowing scenic views blended with the surrounding National Forest.
Davis Beach, McCall
One of the main features of this beach that appeals to tourists and locals alike is the soft sand. Moreover, this coastline is far from the hustle-bustle of nearby cities, and it isn't usually filled with large crowds. However, the biggest factor that contributes to its popularity among parents is the safety of the shoreline. It's great for kids to make sculptures and castles out of the sand and enjoy the beach to their fullest.
Furthermore, the calm and cool waters are just the right spot to teach your little ones how to swim. After all, what's a family weekend getaway without a new skill to teach your kids? So, rejuvenate as you listen to music or read a book as you let your skin soak in the warmth of the sun.
Looking for an expert tip? Don't forget to visit the nearby areas on Payette Lake, as they're known to offer paddleboarding, kayaking, boating, jet skiing and much more.
Shoshone Falls, Twin Falls
We've all heard about the heavily famed Niagara falls, but did you know that Shoshone is also considered the "Niagara of the West?" Frequently visited for its incredible views, Shoshone Falls is undeniably one of the best Attractions in Twin Falls. This 212-foot-tall waterfall spreads over an area of 900 feet and falls throughout the year, with a surge observed from April to July.
Is that it? Well, no; there's more to it than what meets the eye.
If you're in for more than just the views this spot offers, you may as well explore the Dierks Lake adjacent to it. Filled with scenic overlooks, swimming spots and hiking trails, you'll have your soul yearning to return here in no time. So, pack your lunch and get ready to enjoy more than just the breathtaking view of the fall.
Craters of the Moon National Monument, Arco
There's something about a tourist spot that offers more than just views and activities for visitors to indulge in. This lunar-like landscape in the south of Arco was created thousands of years ago by volcanic eruptions. Even though the last two millennia haven't witnessed even a single lava eruption, the threat still manages to lurk as the area is deemed geologically active.
However, if you're experieeencing wanderlust, this may just be the perfect spot for you to visit. This Unique monument has several caves to explore. Besides, the free permits acquired at the entrance station should be put to good use, shouldn't they? Craters of the Moon National Monument may be regarded as one of the finest attractions in Arco. Still, it is located between the small towns of Carey and Arco, making the spot accessible to visitors on both ends.
Boise River Greenbelt, Boise
Who would've known that a mere urban pathway could have managed to become a tourist attraction? Well, Idaho is not known as a state of wonders for nothing. The Boise River Greenbelt, which extends through the heart of Boise, is a non-motorized pathway built solely to showcase a refreshing tree-lined route. Not only this, but this stunning pathway also links all the best of the city's parks together.
Initially constructed to address the problem of riverbank pollution back in the 1960s, the Boise River Greenbelt now stands as one of the fascinating Attractions in Boise. Apart from displaying the rich natural environment of the city, the pathway is also widely used for daily commutes.
So, if you're searching for a quick escape into nature, there's no better spot than the Boise River Greenbelt to explore. The cherry on top, it also allows you to access the famous Julia Davis Park, the campus of Boise State University, and of course, the Anne Frank Human Rights Memorial.
Bruneau Dunes State Park, Bruneau
The Bruneau Dunes State Park spreads over a 4800-acre land and offers some of the finest views of tall sand dune structures in the United States of America. Whether you choose to walk barefoot over the sand or embark on a hiking adventure, there's no end to the number of sports you can partake in here. Feel free to slide down these enormous structures by renting sandboards and have the time of your life as you enjoy the wondrous environment by camping or renting cabins.
What's more? Bring your horses along, too, because the overnight area is perfect for catering to them while you enjoy the outdoors. There's no limit to the list of activities you can pursue in these dunes. From birdwatching to fishing, the Bruneau Dunes State Park knows how to quench your thirst for adventure.
Redfish Lake, Custer County
Waiting to immerse in nature but with nowhere to go? You may have scrolled through several pages that may have listed places to visit in America, but nothing can come close to the serenity and diversity offered by this one!
The Redfish Lake and Sawtooth National Recreation Area can finally put an end to your misery. Located inside the Sawtooth National Recreation Area, the Redfish Lake offers a sea of outdoor sports suited to everyone's preferences. From soft sports such as hunting, camping and hiking to much harder ones such as kayaking, whitewater rafting and rock climbing, there's an array of activities to help you charge up.
Oh, and if you're a wildlife buff, you're surely in for a bigger surprise. This area is home to some of the most sought-after varieties of snakes, mountain goats and bobcats. So, get ready to capture these and many more as you build up your wildlife photography portfolio. Feel free to rent a boat or a bike and explore the area in all its glory. If not, simply ask for a lake tour and enjoy the beautiful reflections of mountains and trees on the crystal clear waters as you sail through them.
Museum of Clean, Pocatello
Think you're a neat freak? Then, you'd better visit the place that serves as an abode for everything clean!
This incredible museum is home to hundreds of artifacts pertaining to the culture and history of cleaning, this incredible museum is unlike anything else you may ever have experienced.
From a centuries-old bronze toothpick to an odd yet interesting collection of toilet items, this place is meant to introduce your senses to a whole new experience. Among some of the many interesting things you may find here are:
An extensive library
Horse-powered vacuums
International paintings
A separate section for kids
Sandpoint, Idaho
Imagine crowning an entire city as a tourist spot. Sandpoint is surely a hidden gem not many find themselves aware of. Known for its picturesque sites, lakes and surrounding mountains, this small city is home to over 7000 residents. Situated on Lake Pend Oreille, this quaint town is the perfect spot for you to unwind and recharge your batteries as you allow yourself to pause and de-stress.
Rolling Hills of the Palouse, North Lewiston
Known to be heaven on earth for painters and photographers across the region, the Palouse is where you want to be if art is what runs in your veins. No wonder this spot is considered a "wonder" as it manages to stay picture-perfect almost every hour of the day and every day of the year. From the lush green hills in spring and the glowing golden color in fall, the Palouse is undeniably a tourist magnet and one of the most sought-after Idaho Attractions. This agriculturally rich spot will surely take your breath away with its astounding views and unmatched scenery, but at the same time, learning about its history will also leave you amazed.
Did you know that scientists have long been hypothesizing how these hills were not created typically? Yes, you read it right. The hills that extend to over 4000 square miles were not formed through water in the form of rivers or streams. In fact, you will also notice how the hills are disconnected and don't form ridges. So, how were the hills created after all? As it turns out, the hills result from loess, which is sediment comprising of blown wind. Upon going closer, you may realize that the hills appear a lot like sand dunes since they had been formed in almost the same way.
Sun Valley, Blaine County
Speaking of premier Attractions in Blaine County and not mentioning the Sun Valley? That's almost like drawing a stunning picture and leaving it uncolored. Sun Valley is not only a summer vacation and ski resort for the locals of Idaho, but it also happens to be the spot where several celebrities own properties. Nestled within the spectacular views of mountains, this valley is known to provide its visitors with a hell of a time. From snowboarding, ice skating, and skiing in the winter to fly fishing, hiking, horseback riding, and golfing in the summer, it's inevitably a hotbed for tourism all year round.
What's more? Sun Valley is where the renowned writer Ernest Hemingway wrote his best-seller "For whom the bell tolls," the ice-skater Sonja Henie shot a film, and several world ski races were hosted.
Silverwood Theme Park, Near Coeur d'Alene
The subject of Attractions in Coeur d'Alene is incomplete without the Silverwood Theme Park. Inaugurated in 1988, this theme park is nonetheless where North Idaho-ans come to seek thrill and loosen up. Over 45 miles from Spokane, Silverwood now comes under the category of major theme parks in the country, even though all it had to offer previously were carnival rides and a steam train.
Over 18 years ago, the features of the park were enhanced as an entire beach water park along with its slides, rides and attractions was added to the land. So, if you plan to wear your adventure boots, don't forget to try out Panic Plunge, Corkscrew, Aftershock, and Riptide Racer, among many other rides that will surely buzz you with excitement.
Route of the Hiawatha, Mullan
There is no attraction that does justice to the title of "crown jewel" more than the Route of the Hiawatha. This spot appeals to mountain bikers and those who seek awe-inspiring views in the middle of nowhere. This 15-mile long trail has seven high trestles and ten train tunnels to amaze its visitors.
However, the most exciting part about it is nonetheless the St. Paul Pass Tunnel. What makes this location an all-around escapade is how the trail goes entirely downhill, and the only way to bring your bike back to the top is through shuttle buses.
Wrapping Up
By now, it's safe to conclude that Idaho attractions aren't a subject one can cover in a single article. With over 25 state parks to explore, Idaho is the perfect package for those who wish to seek a complete experience. With its world-class routes, sand dunes and trails, the state offers a unique blend of adventures for everyone.
Remember, not every trip has to dig a hole in your pocket, and with a whole bunch of pocket-friendly spots mentioned here, you will never find yourself out of places to visit. Feel free to reconnect with Mother Nature, hop on a new ride and build your professional photography portfolio because Idaho is where you have it all.
If you're interested in finding out more touristy spots based on your state, stay tuned! Our location-specific articles will surely help you plan your next vacation with ease.