Best Waterfalls in Nebraska
You wouldn't think there would be many waterfalls in the great state of Nebraska, but in fact there are over 200 you can visit. Of course being a landlocked state, many aren't as picturesque as you'd hope for, but there are still some epic falls to still explore.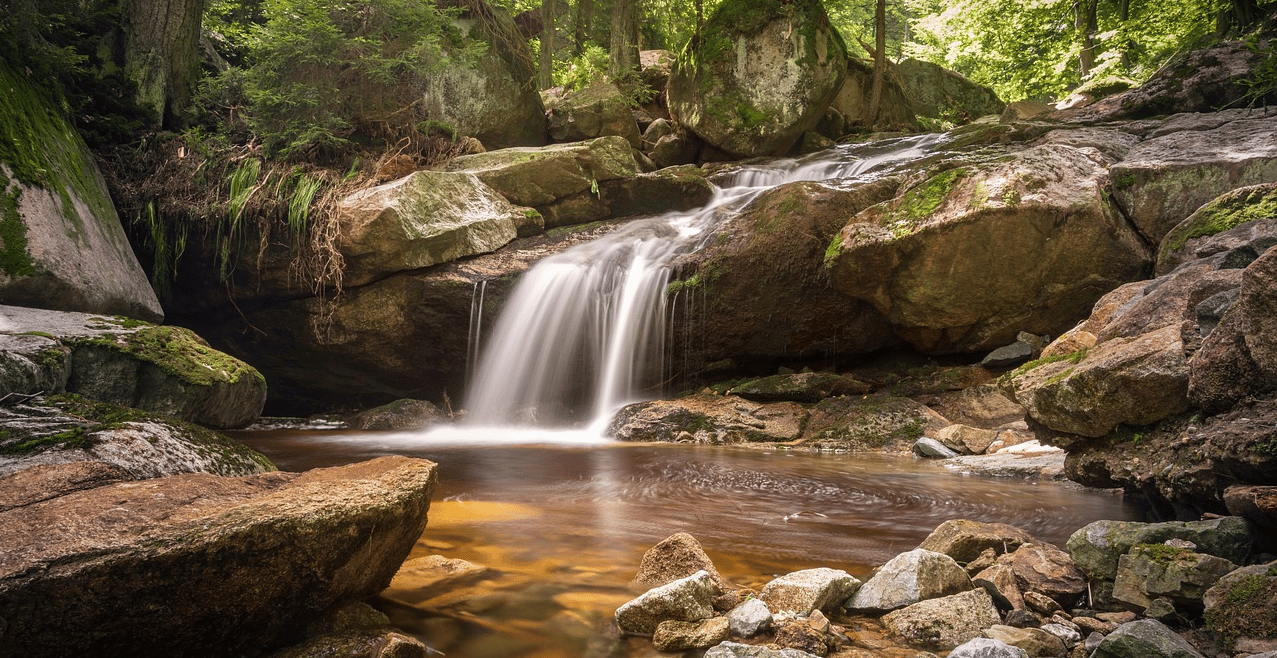 If you are looking to chase waterfalls in the state we highly recommend traveling to the western part where the Niobrara River runs, creating the cascading falls that can reach 100 ft of drop. There are many great hiking trails as well that will make your adventure a full day of connecting with mother nature, while rewarding you with swimming holes and scenic views.
List of Top Waterfalls to Visit in Nebraska
1. Berry Falls – Valentine, NE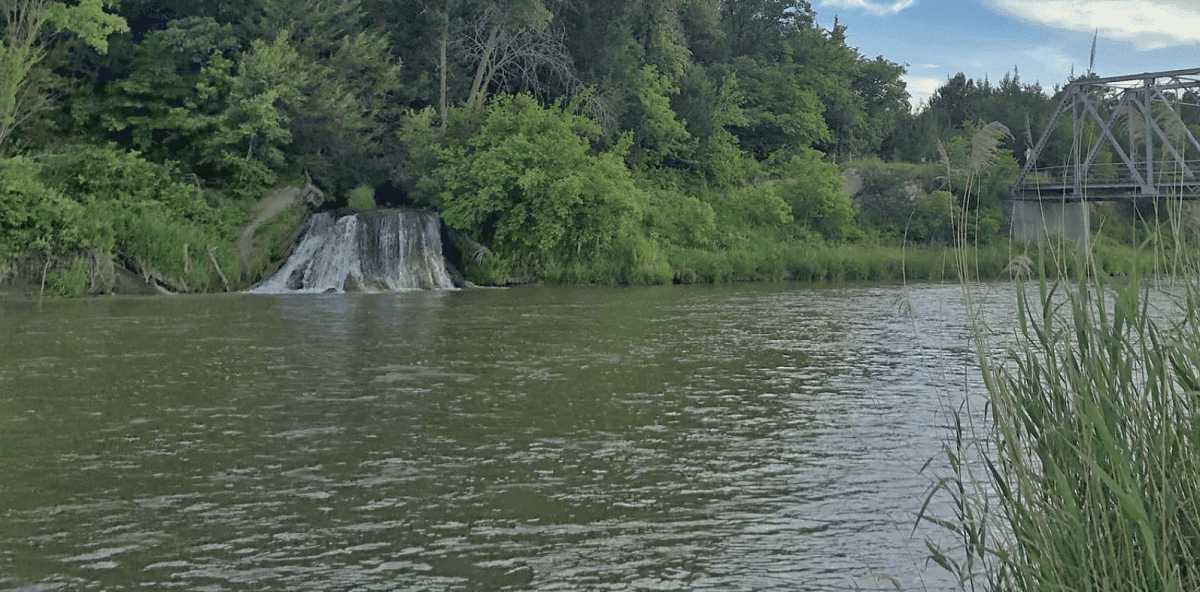 A short drive away from the city of Valentine you will fine a hidden gem alongside Berry Bridge. Although it's only an 8 foot drop of cascading waters, it's a popular destination for people looking for a day out in the sun with a nice swimming hole or and easy float miles down the Niobrara River. Because the falls have cascading waters 365 days a year, any time is the perfect time to enjoy this scenic waterfall.
Location: Berry Falls
Directions from Valentine, NE: Map
2. Fort Falls – Valentine, NE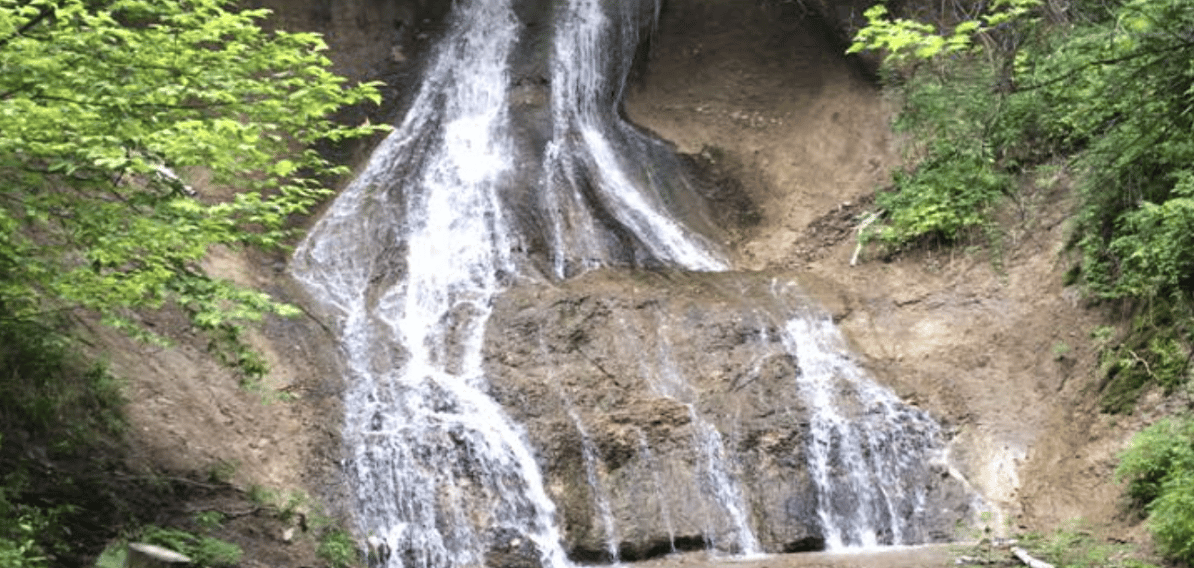 Showcasing several ecosystems native to Nebraska, Fort Falls is a popular waterfall located within Fort Niobrara National Wildlife Refuge. It's ease of access for both hikers and bikers make it a popular destination to spend a few hours reconnecting with mother nature. The cascading waters drop at a little over 30 feet down into a canyon which visitors can snap pictures from an adjacent bridge.
To get to Fort Falls, it's roughly a one mile hike through beautiful Aspens. The refuge added benches throughout the trails to allow you to stop and take in the sites or grab a quick snack before continuing on your journey. Although Fort Falls is open year round, we do recommend the springs to fall months as the trails can get quite slippery once the snow begins.
Location: Fort Falls
Directions from Valentine, NE: Map
3. Horseshoe Falls – Cherry County, NE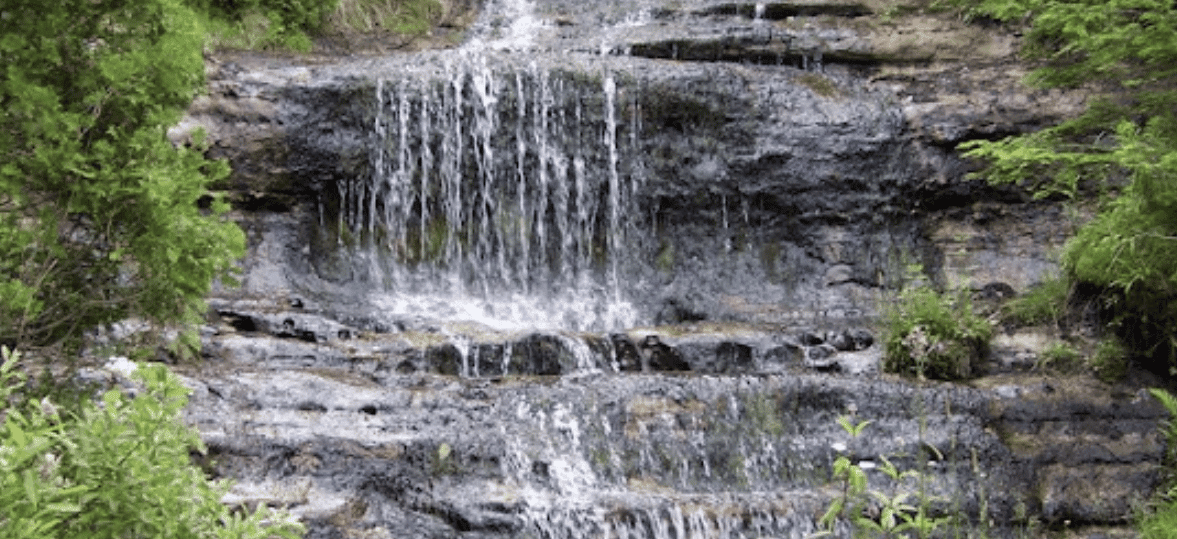 For the outdoor enthusiasts who like to head out on weekends for a hiking, camping, or fishing trip, Horseshoe Falls is the perfect destination for you. Most enjoy the horseshoe trails for it's breathtaking views and surrounding wildlife, but if you are willing to make the moderately difficult trek to the falls it won't disappoint. This is considered one of the secrete waterfalls within Nebraska due to it's location and accessibility. We do recommend bringing a day pack with water and food or even some camping gear and making it a two day adventure!
Location: Horseshoe Falls
Directions from Valentine, NE: Map
4. Little Cedar Falls – Cherry County, NE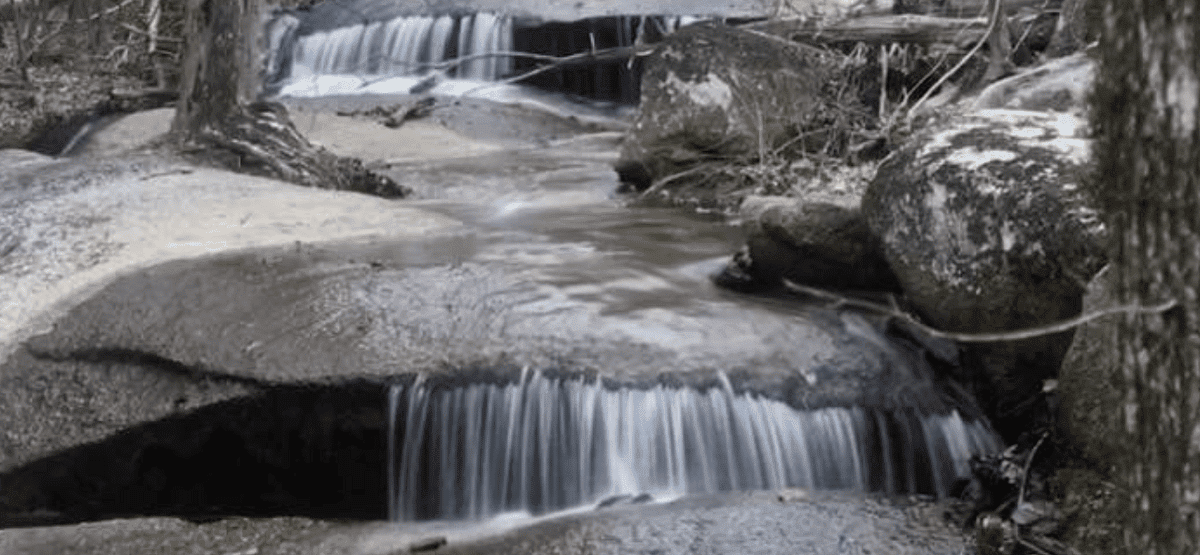 Another waterfall that isn't as popular as some others in Nebraska is Little Cedar Falls. With just a 10 foot drop of cascading water down into a swimming hole, it's more of a relaxing and peaceful area to explore than a picturesque destination. However, because it doesn't draw in the crowds it can be quite the romantic weekend getaway where you and your family can camp under the stars and explore Brewer Bridge Creek and all the hiking trails surrounding it.
Location: Little Cedar Falls
Directions from Valentine, NE: Map
5. Lower Smith Falls – Valentine, NE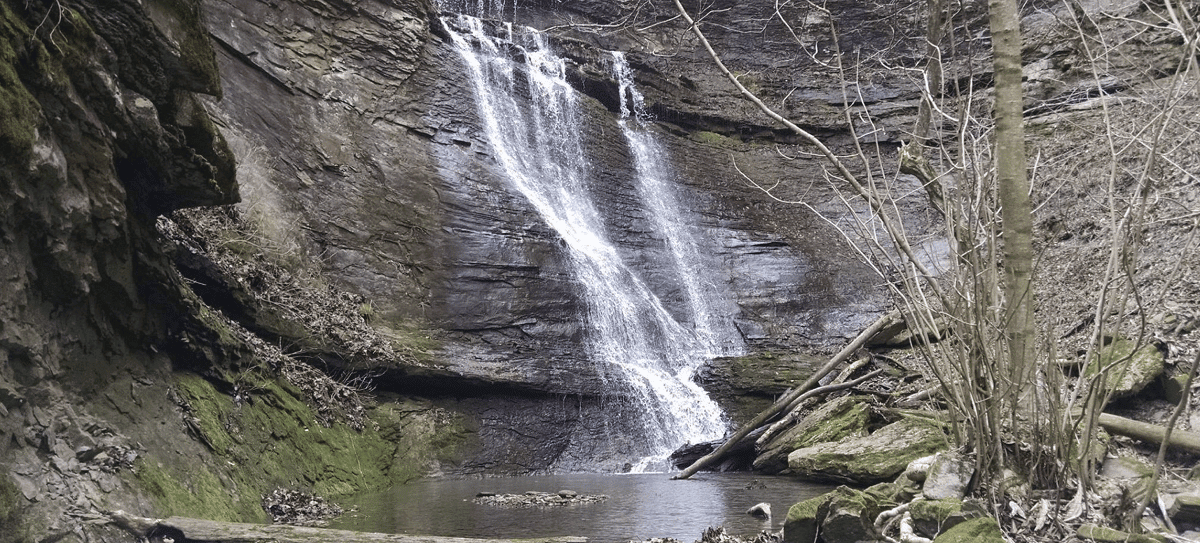 As you keep reading you'll come across one of the most popular (due to it's height) waterfalls in the state known as Smith Falls. However, there is a non so well known trail from there that leads you down to another very scenic section of cascading waters known as Lower Smith Falls. This canyon that feeds into the Niobrara River is the perfect destination if you want to get away from the crowds and enjoy your own slice of heaven.
Location: Lower Smith Falls
Directions from Valentine: Map
6.Platte River State Park – near Omaha
Although this isn't the most jaw dropping waterfall in Nebraska, the park itself is what makes this place magical. In the Spring or Fall when the leaves are blooming or changing colors, many will head to Platte River State Park to take in all it's beauty. There are park benches that line the smaller falls where one can read a book or just relax in mother nature as the cascading waters flow around you.
Most people like coming to Platte River State Park for it's outdoor activities such as:
Hiking
Fishing
Shooting and Archery Range
Biking
Kayaking
Because it's almost right in between Lincoln and Omaha, Nebraska, it's the ideal getaway for the day. There are even cabins available for rent if you'd like to stay the night under the stars. If you happen to be in the area, be sure you take the time to enjoy the park and wonder over to it's majestic waterfall.
Location: Platte River State Park
Directions from Omaha, NE: Map
7. Smith Falls – Valentine, NE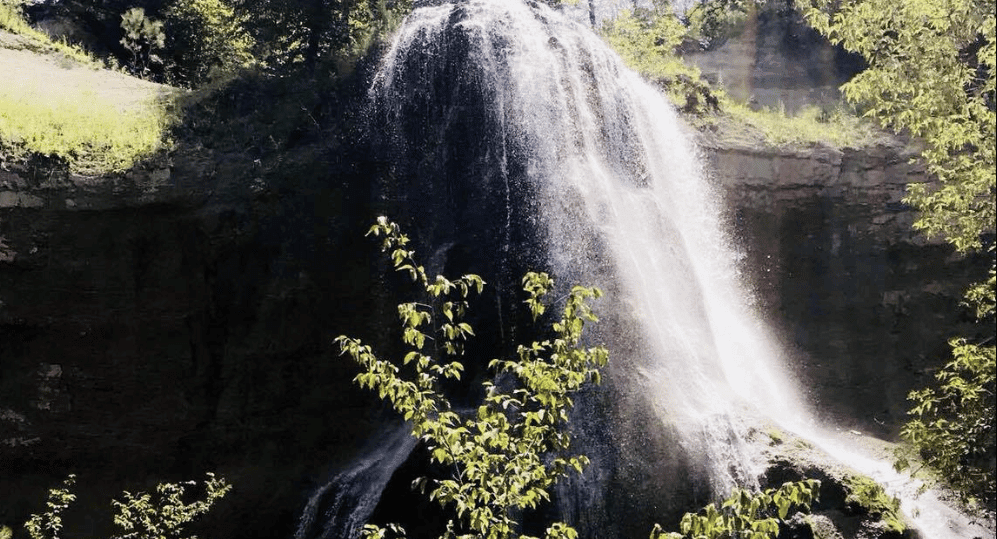 As the highest waterfall in Nebraska, Smith Falls is a popular destination for those looking to get out for a day of fun. Located within Smith Falls State Park near Valentine, visitors from all over the state come to camp, swim, kayak, hike, and more. We recommend checking out the falls in the Spring thru Fall months when the water is flowing at it's highest as it leads to some very picturesque views. There is a bridge where you can snap the best photo and even picnic areas nearby to enjoy a relaxing meal while listen to the cascading waters.
Location: Smith Falls
Directions from Valentine, NE: Map
8. Snake River Falls – Valentine, NE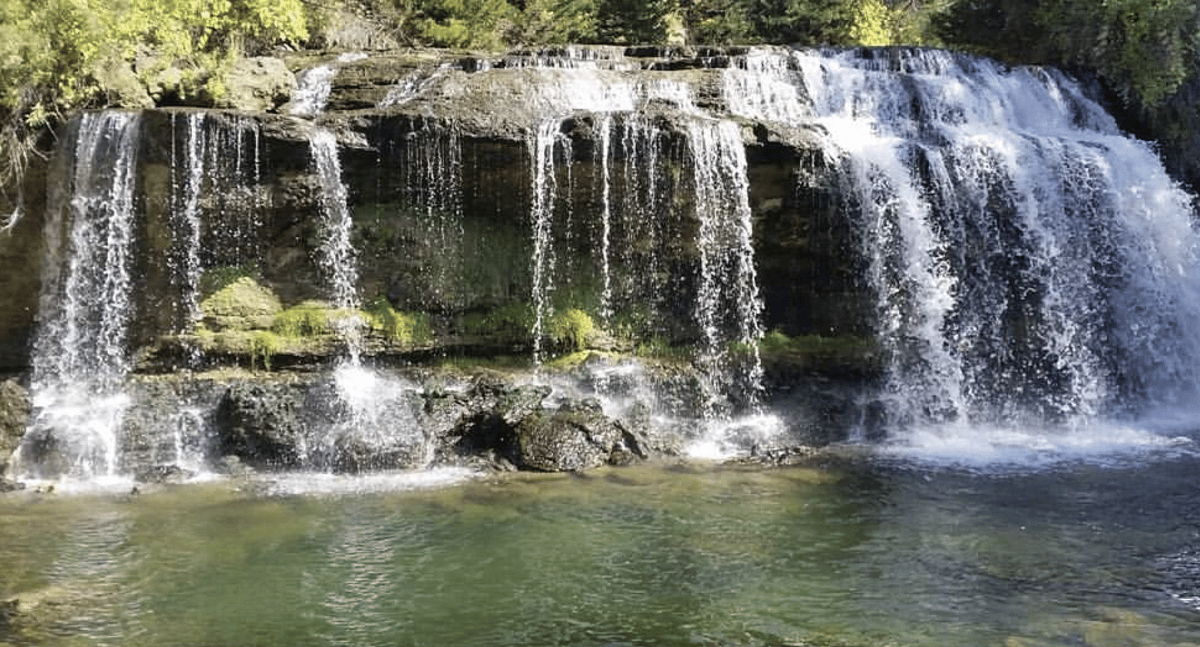 We consider Snake River Falls one of the most scenic places to visit in Nebraska. The tiered rocks that flow down to the waterfall is plucked from a movie and the surrounding landscape almost feels like you are in a different world. Many people love visiting this canyon for the hiking trails and epic views of the falls.
Location: Snake River Falls
Directions from Valentine, NE: Map
9. Stair Step Falls – Cherry County, NE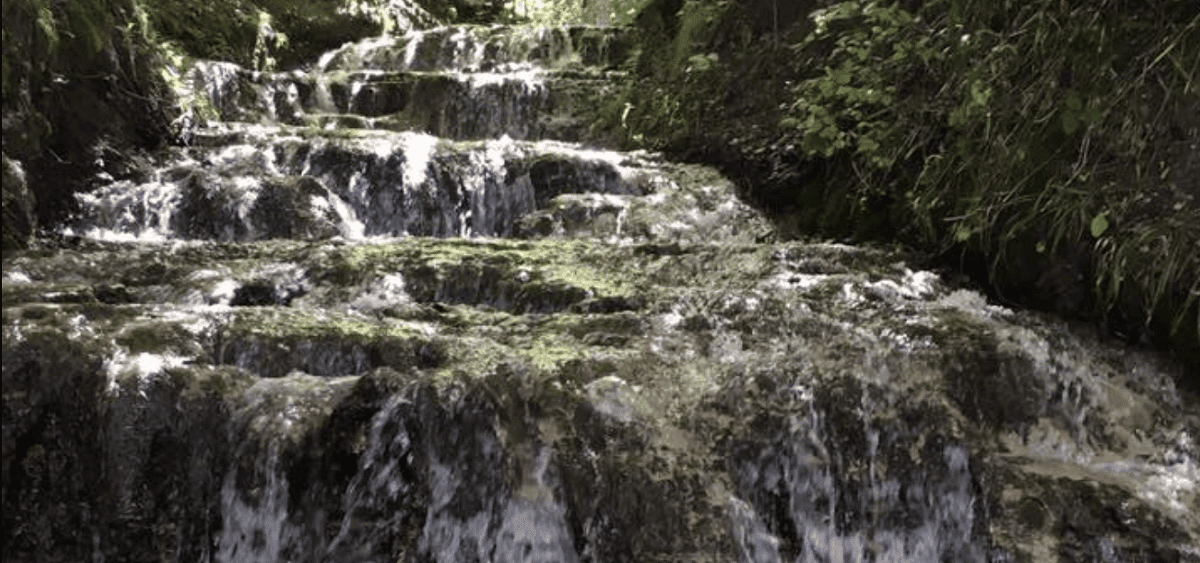 Another waterfall situated within the Niobrara River with a unique stair like structure for the cascading waters to flow down. Unlike other waterfalls in the state, this one take a little trekking to get to. We highly recommended starting up river and floating or kayaking down the the location. Because it's on private land please respect the area and leave the way you came. However, once you do arrive Stair Step Falls will take your breath away on the beauty of the rock formations and surrounding wilderness.
Location: Stair Step Falls
Directions from Valentine, NE: Map
10. Tyler Falls – Valentine, NE
Lastly we will leave you with one of the highest in elevation falls in Nebraska. It's not the most popular by any means, but it's one of the best fishing holes you will find in the area.
Location: Tyler Falls
Directions from Valentine, NE: Map
Map of Waterfalls in Nebraska
13 Best Waterfalls in Nebraska
1. Berry Falls
2. Big Falls
3. Fort Falls
4. Horseshoe Falls
5. Little Cedar Falls
6. Lower Smith Falls
7. Nature Falls
8. Platte River State Park
9. Rock Falls
10. Smith Falls
11. Snake River Falls
12. Stair Step Falls
13. Tyler Falls
Best Nebraska Waterfalls for Hiking
Fort Falls
Platte River State Park
Smith Falls
Best Nebraska Waterfalls for Camping
Berry Falls
Platte River State Park
Smith Falls
Best Nebraska Waterfalls That Aren't Crowded
Horseshoe Falls
Little Cedar Falls
Stair Step Falls
Best Nebraska Waterfalls For Swimming
Fort Falls
Platte River State Falls
Smith Falls